Sponsored Content
Haven't discovered Abu Dhabi yet? It's the laid-back United Arab Emirate with the world's most stunning new architecture, a forward thinking approach to everything from rollercoaster design to beach resorts, hundreds of islands and a heritage that spans millennia.
It's also the capital of the UAE and the national airline, Etihad Airways, flies direct from London, Manchester and Dublin to Abu Dhabi in under seven hours – with low to no jet lag in the equation. Could this be a new destination for the winter sun holiday wish list?
But what's most astonishing about Abu Dhabi is its culture, not only is it rich and diverse, in some places it's older than anywhere else on earth. Yet almost everything from art at the Louvre Abu Dhabi to falconry on the Liwa Desert is big on kid-appeal. If that's hard to imagine, here are the top child-friendly cultural experiences recommended by Abu Dhabi tourist board, take a look and be inspired.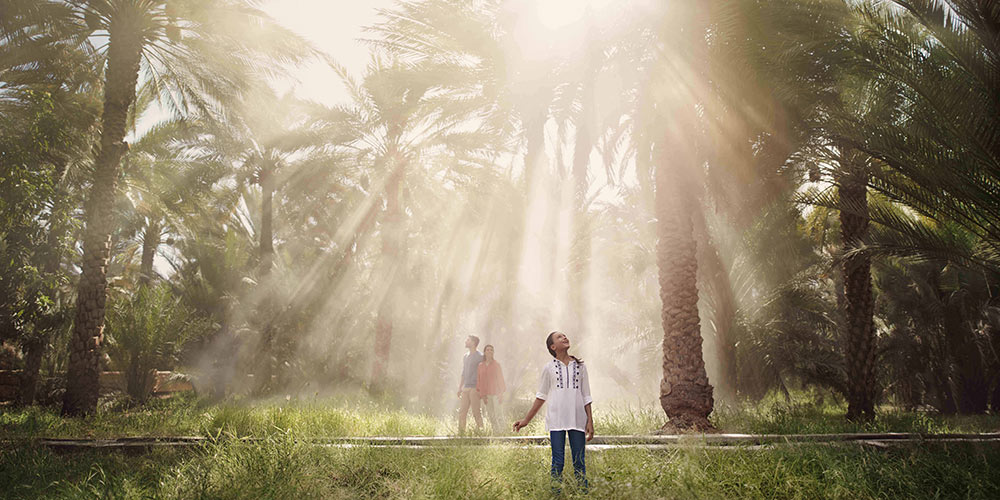 1/8

The ancient desert city of Al Ain

Al Ain might be less than two hours' drive from Abu Dhabi city, but it couldn't be more different. It's one of the oldest permanently inhabited settlements in the world, a UNESCO World Heritage Site and home to one of the UAE's only traditional Camel Markets, as well as impressive 19th century Al Jahili Fort.

Al Ain is fascinating, and extra appealing to kids because for every ancient element, there's a fresh, new adventure to be had. It's that clever balance of history and fun, woven through with art, Arabic customs and living culture which makes this one of Abu Dhabi's most memorable experiences.
Al Jahili Fort looks imposing and houses an incredible exhibition detailing the exploration of Rub Al Khali in the mid-20th century by British adventurer Sir Wilfred Thesiger.
Visit Al Ain oasis to see the traditional Camel Market, ancient irrigation systems and the remarkable date palm plantation.
Home to more than 4000 animals, Al Ain Zoo is also where kids can ride camels, feed giraffes and get up close to the cute residents of Elezba Petting Zoo.
Al Ain Raceway has the longest go-karting circuit in the UAE.
Go white-water rafting, ziplining, kayaking and surfing at Wadi Adventure.
Recently restored Hili Fun City is the longest running theme park in UAE.
Explore heritage arts and crafts, see artisans at work, and immerse in the atmosphere of evocative Al Ain Souk.
Find out more about Al Ain with Visit Abu Dhabi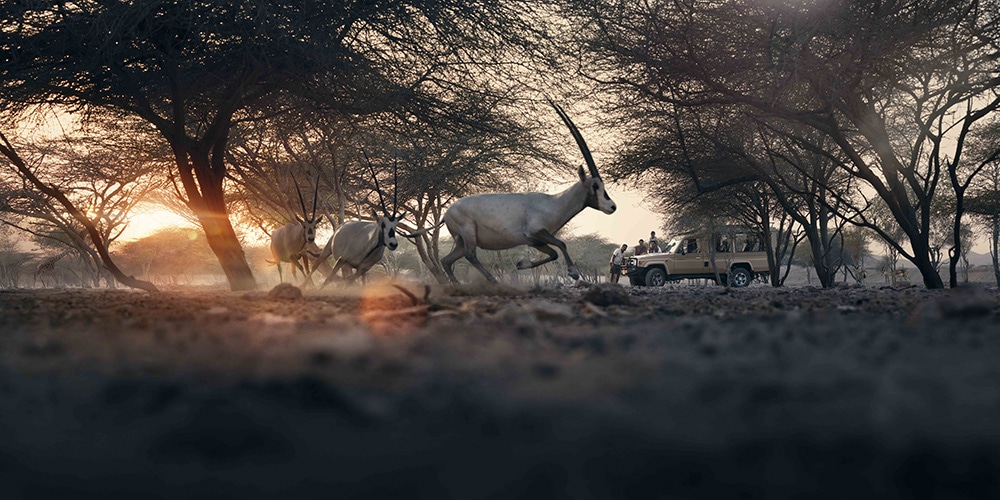 2/8

Arabian Wildlife Park, Sir Bani Yas Island

In 2014, World Travel Awards named Sir Bani Yas Island the 'World's Leading Sustainable Tourism Destination', and you don't have to spend long here to see exactly why.

Not only is the environment pristine and peaceful, over 80% of the island is given over to the Arabian Wildlife Park, which means more than 10,000 indigenous African and Arabian animals roam freely here, just as they would in the wild.

Kids can spot giraffes from cleverly designed, viewing platforms made from recycled materials. Purpose-built 4 x 4s are used for low-impact safari experiences in the company of expert local guides. There are immersive tours lasting several hours. And – depending on shyness levels, times of day and keen eyesight – families can observe anything from rare Arabian Oryx to cheetahs and hyenas.
Find out more about the Arabian Wildlife Park with Visit Abu Dhabi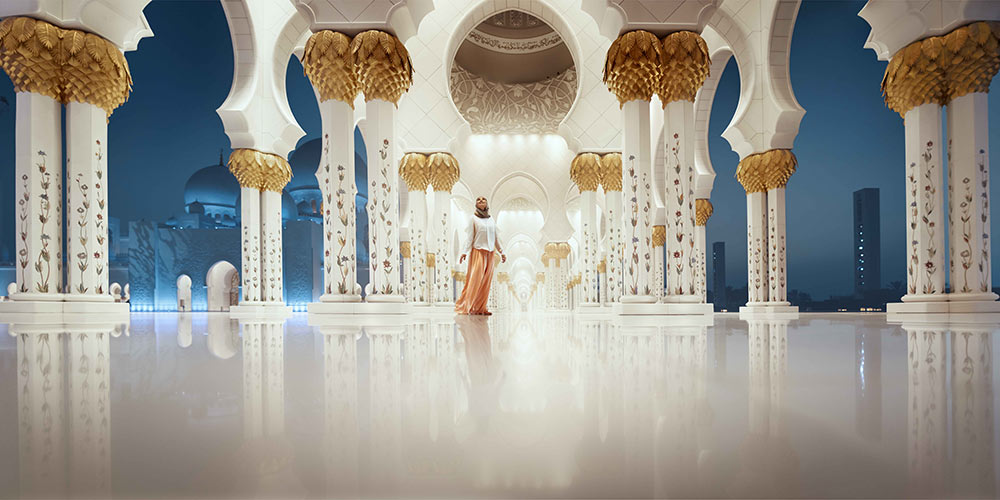 3/8

Sheikh Zayed Grand Mosque

Not only one of the world's largest mosques, Sheikh Zayed Grand Mosque, is one of the most extraordinary in both concept and construction.

It was designed by a collective of British, Italian and Emirati architects and harmonises architectural styles from different eras of Muslim civilisation with design references from several Islamic countries including Egypt, Morocco and Turkey. The result is an inspiring space where 40,000 people can come together at one time to worship or simply admire the singular beauty of the building.

Visitors are welcome and, unsurprisingly, the mosque is one of the most popular sites in Abu Dhabi. Even if kids aren't awed by the light filled prayer hall and calligraphy etched domes, they can't fail to be impressed at the immensity of the world's largest, hand-knotted carpet or one of the biggest chandeliers in the world.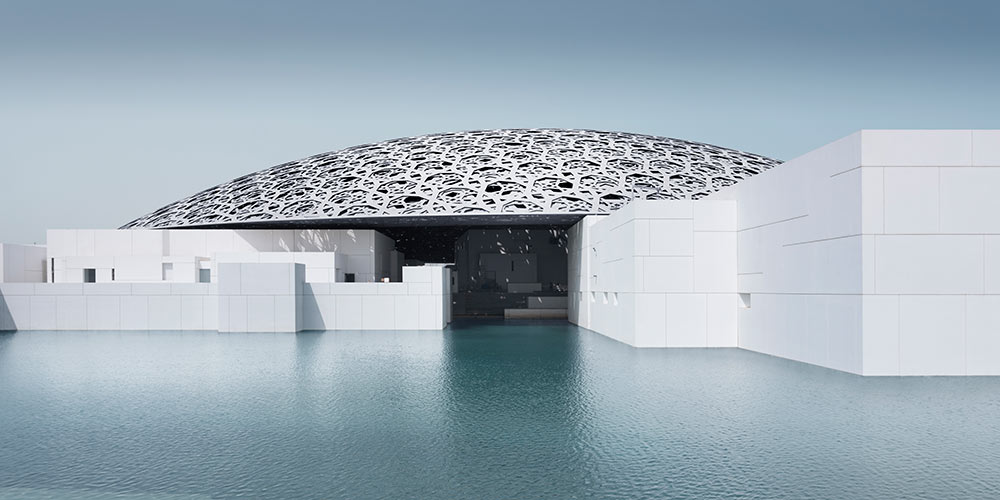 4/8

The Louvre Abu Dhabi, Saadiyat Island

One of the most exciting international art events in recent years, the long awaited Louvre Abu Dhabi opened in 2017, and was instantly recognised as a design masterpiece. It's the first truly eclectic museum in the Arab World and the 9200m² space, divided into separate galleries, houses a growing permanent collection along with temporary exhibitions and an ever-changing collection of loans from important French museums such as the Musée D'Orsay, Musée du Louvre and the Pompidou Centre.

This is the first Louvre Museum outside France and the only one with a Children's Museum. Created with six to 12 year olds in mind, its carefully curated exhibitions, interactive experiences, workshops and events are presented in both Arabic and English, designed to develop a spirit of inclusion and foster kids' natural curiosity and creative potential.
Find out more about The Louvre Abu Dhabi with Visit Abu Dhabi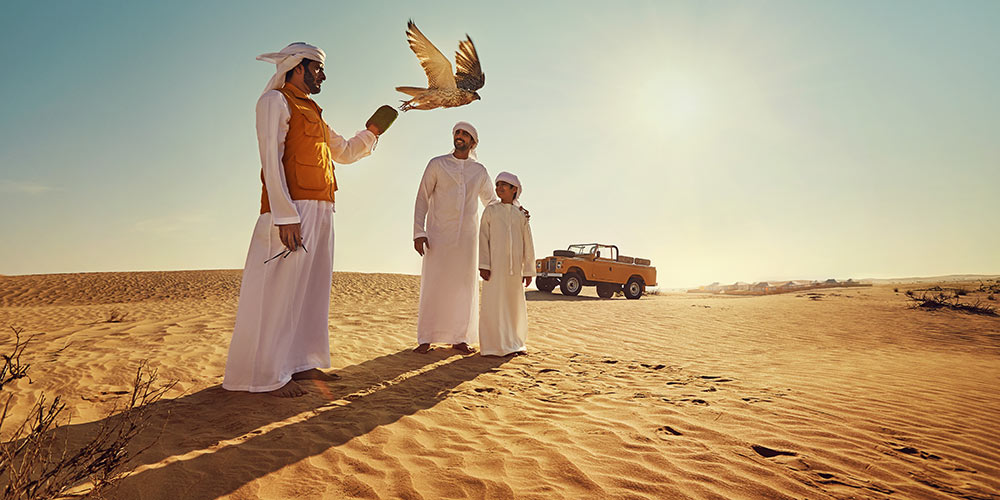 5/8

Falcon & Saluki Show, Al Dhafra

Just glimpsing the Liwa Desert's legendary dunes is an astonishing experience, they're immense and sit on the edge of mysterious Rub Al Khali: known as the Empty Quarter and the largest expanse of desert sand on earth. But add the excitement of majestic falcons and Saluki hunting dogs into the adventure and this may turn into the most enduring holiday memory for kids – and there's stiff competition for that prize in Abu Dhabi.

Thrilling Falconry & Saluki Shows put these highly skilled hunters through their paces and demonstrate the ancient art of training them. It quickly becomes clear why both creatures have always been integral to traditional Bedouin culture and a passion in the Arab world for centuries. Simply expect kids to be completely captivated by everything from the Salukis' extreme speed to the grace of predatory falcons in flight.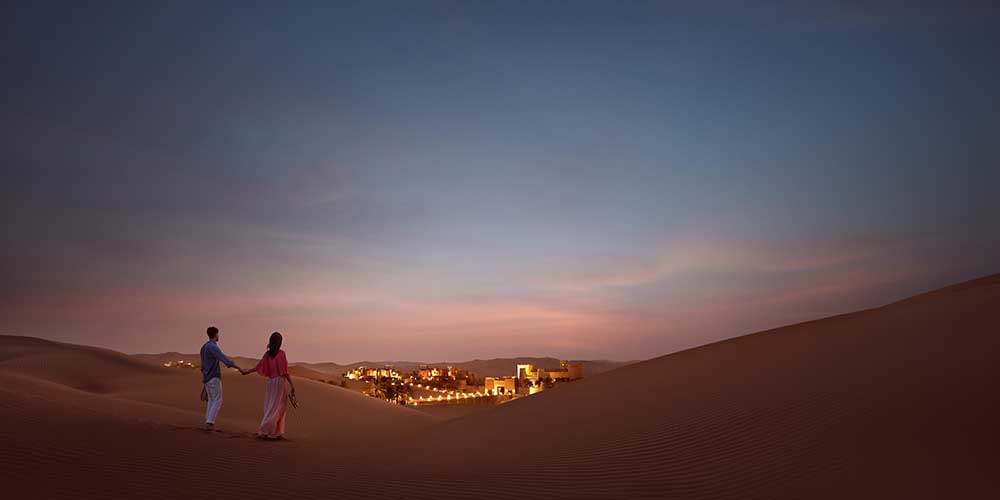 6/8

Al Dhafra 'where the desert meets the sea'

Al Dhafra is Abu Dhabi's western region, covers over half the emirate and is both gateway to Rub Al Khali and home to a magnificent beachy coastline which stretches for hundreds of miles.

Several of the UAE's best off-road experiences happen in Al Dhafra's stunning desert landscape: only the Sahara has higher dunes so it's a natural environment for anything from sand skiing and boarding to extreme off-roading. And if a visit isn't immersive enough, families can stay at Qasr Al Sarab. This opulent five star resort is more oasis than hotel, surrounded by the endless Liwa Desert and heartland of authentic cultural experiences and fun activities such as camel trekking, falconry shows and dune hiking.
Gateway to legendary Rub Al Khali, the Empty Quarter.
Liwa oasis incorporates an historic 100,000 tree-strong palm plantation, one of several UAE eco-systems recognised by the UN as contributing to biodiversity and cultural heritage.
The five Star Qasr Al Sarab, also known as the Mirage Palace, looks like an authentic desert fortress surrounded by towering dunes.
The region is famous for year-round festivals like Al Dhafra Festival which includes the world's most prestigious Camel Beauty Contest; Tel Moreeb Festival for desert driving fans; the Liwa Date Festival in July, and the spectacular 10-day Al Gharbia Watersports Festival in and around Mirfa Beach.
Find out more about Al Dhafra with Visit Abu Dhabi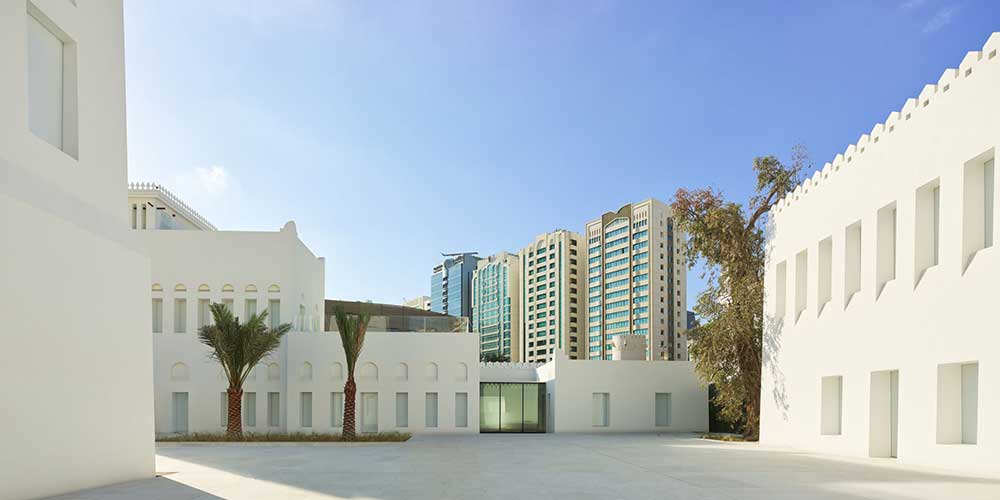 7/8

Qasr Al Hosn

The oldest and one of the most important monuments in Abu Dhabi, Qasr Al Hosn was built in 1790 primarily as a coastal watchtower to protect ocean trade routes and the island settlement. In the mid-20th century an Outer Palace was added the original watchtower to create the remarkable building you see today.

Across the centuries, Qasr Al Hosn has been home to Abu Dhabi's ruling family, a seat of government, a consultative council and the national archive. It's now the emirate's most significant living museum and keeper of its fascinating history. Don't miss the excellent Qasr Al Hosn exhibition which uses a mix of oral testimony and photography to tell the story of Abu Dhabi from its early fishing village days to the present.
Find out more about Qasr Al Hosn with Visit Abu Dhabi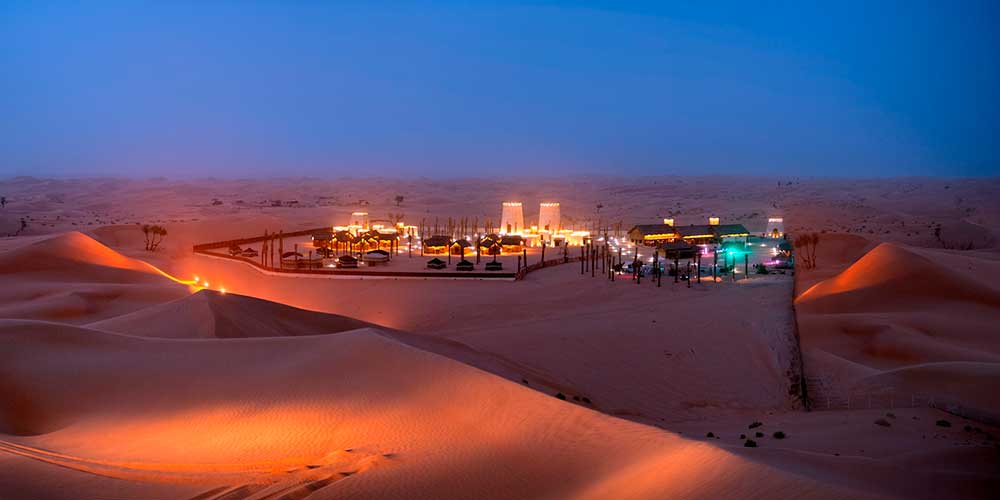 8/8

Arabian Nights Village, Al Dhafra

At Arabian Nights Village WIFI is emergency-only and there are no TVs so device-devoted kids will need to find other distractions. That's not too tricky, because the charming desert settlement might be designed to give you an experience of authentic Bedouin life, but it also offers plenty of non-traditional activities like fat-biking and camel riding, dune surfing, desert safaris, quad biking and dune bashing.

Families can choose to stay in Bedouin tents, a dramatic desert fort, palm houses or historic Bayt Al Bar desert houses. All guests eat together at the delightful Al Maqam restaurant, and there's a fabulous 200m² pool for cooling down during the day or swimming under a star-filled, velvety Al Dhafra sky.
Lowdown
Where
Capital of the United Arab Emirates and the largest emirate of all, Abu Dhabi covers over 80% of the UAE, borders Rub Al-Khal (the Empty Quarter) and incorporates the ancient city of Al Ain, as well as the desert region of Al Dhafra, and more than 200 developed and undeveloped islands.
How to get there
Etihad Airways flies direct to Abu Dhabi from Manchester and London, year round. Flights take from six hours, 50 minutes.
Where to stay
Abu Dhabi offers fabulous family resorts: beachfront, on islands and in desert oasis. Take a look at Etihad Holidays for great offers on hotels and flights.
Now you know how kid-friendly the culture is in Abu Dhabi, take a closer look at Abu Dhabi tourist board and discover everything else there is to know about family holidays in this laid-back, arty and exciting emirate.
And don't forget, fly from the UK or Dublin with Etihad Airways this winter, and your boarding pass automatically becomes The Extraordinary Abu Dhabi Pass for savings on family attractions, experiences, activities and much more.