After facing near-disaster 20 years ago, the waters of the Seychelles are fighting back. Family Traveller explores five stunning eco-minded resorts that your family will love…
Ever wanted to take your kids to the original Garden of Eden? The archipelago known as the Seychelles is just about as close to our western view of castaway paradise as you can get. Its 115 islands are scattered across the azure of the Indian Ocean – its inner cluster of mountainous granite islands are covered in fertile rainforest, while the outer group of largely coralline islands are smaller and flatter. The main islands of Mahe, Praslin and La Digue are home to beautiful family hotels, and the more remote islands are now five-star private hideaways with a keen eye on conservation.
Sadly, the marine wildlife surrounding the islands has suffered in recent times. Two particularly severe events, between 1996 and 1998, caused ocean temperatures to rise and the loss of 95% of the coral reefs to bleaching in some areas. This was compounded by the 2004 tsunami, which broke a lot of the dead coastal coral apart and allowed the debris to cover the surviving live coral. As a result, many of the islands' resorts, along with support from local NGOs like the Green Islands Foundation and WiseOceans, have teamed up to run programmes to restore the corals and encourage the reefs and wildlife to recover.
Here, we take a look at what the resorts and private islands are doing to protect their precious natural resources.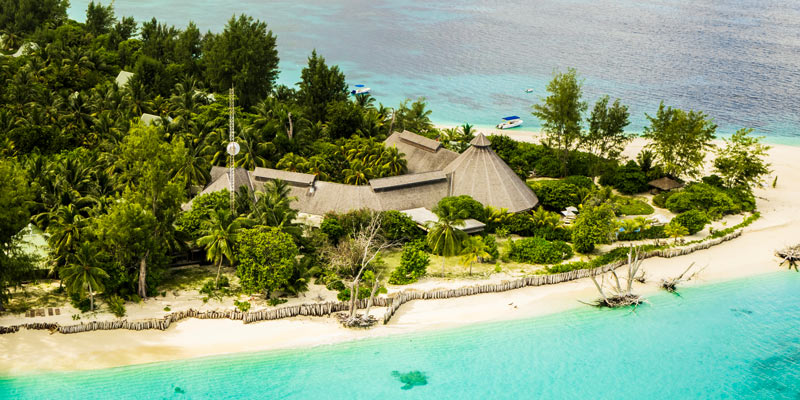 Denis Island
Denis Island is a private island can be reached from Mahe via a 20-minute flight with Air Seychelles, culminating in spectacular views of the resort as you touch down on the 800m grass runway, which bisects the northern end of the island.
The resort is set up to be as environmentally low-impact as possible. A working farm means the place is self-sufficient and produces all the beef, ham, cheese and poultry requirements of guests and resort workers. Children are encouraged to explore the farm and its daily workings, as well as the rest of the island, to their hearts' content.
Families are also encouraged to digitally detox, as there is no mobile phone signal anywhere on the island, and wifi is available only in the library, situated in the main resort. A number of sheltered shallow beaches are ideal for kids to safely explore, and there's some great snorkelling and diving on several reefs just offshore. The Green Islands Foundation has a constant presence on the island and is involved in a number of programmes aimed at reintroducing indigenous Seychelles bird species, as well as the hawksbill turtle, of which Denis boasts up to 400 breeding pairs. The island is in the process of applying for UNESCO protected marine island status for all the reefs surrounding the island.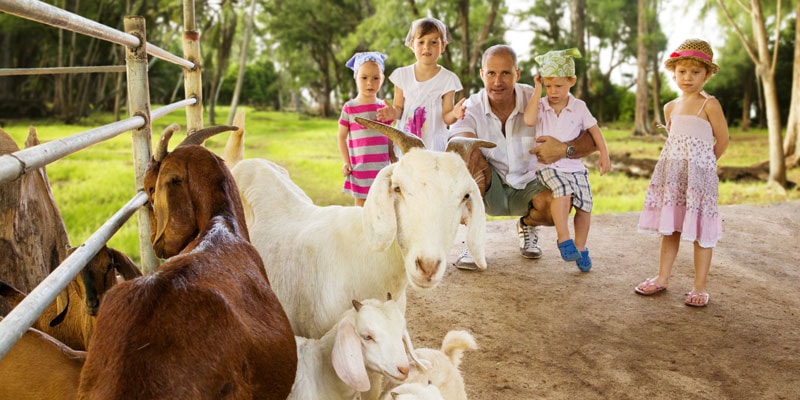 Stay seven nights sharing a Beach Cottage at Denis Island from £7,330 for a family of four. Includes breakfast, lunch and dinner, transfers and flights with Etihad.
Price based on two adults and two children under 12 sharing a Beach Cottage.
Find out more about Denis Island with Turquoise Holidays

North Island
Prince William and Kate allegedly stayed on North Island which is known for being the most private of private islands and takes the concept of barefoot luxury to stratospheric levels. The island is home to the Ark Project conservation and rehabilitation programme and there has been a huge effort made to turn what was a coconut plantation back into indigenous Seychelles rainforest. Part of this strategy has included the reintroduction of giant tortoises, who are quite happy to wander into your lodge garden at any point to give the lawn a quick trim.
Among the extraordinary organic luxury with high staff to guest ratio, North Island aims to be as sustainable as possible, using local materials (felled coconut trees etc) wherever possible for the construction of the resort. It was also one of the first private islands to apply to the government for international marine protection status for its entire surrounding coastline and outlying reefs. The result is the slow but steady return of both green and hawksbill turtles to the island for nesting.
There are only eight lodges here, and at £2,700 per person per night, it's only for the few – but on the upside, kids up to age 17 stay for free.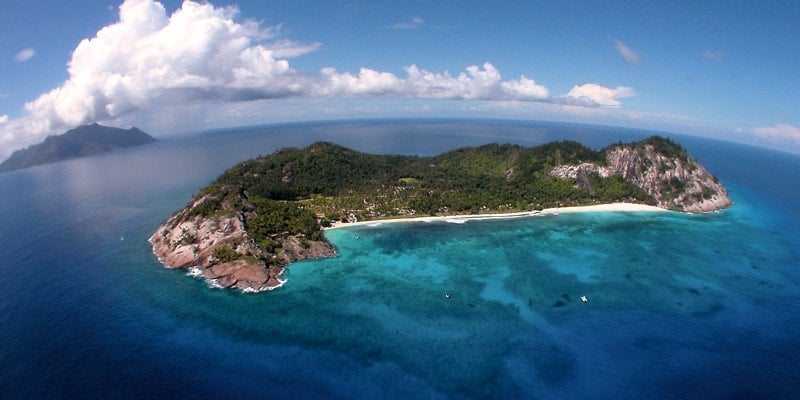 Stay seven nights sharing a Villa at North Island, Seychelles, from £29,900 per family of four, all inclusive, including inter-island helicopter transfer and flights with Etihad. Price based on two adults and two children under 12 sharing a Villa.
Find out more about North Island with Turquoise Holidays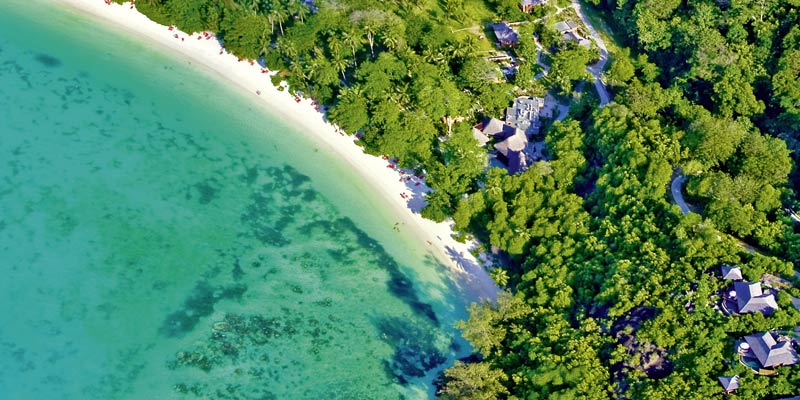 Constance Ephelia
Set in 120sq hectares of low-lying land on the southwest side of Mahe, one of the first things you notice about Constance Ephelia are the breathtaking mangroves.
These form part of a carefully managed programme to protect the seven different types of mangrove indigenous to the Seychelles, the nurseries of most sealife here. The mangroves – whose wildlife includes crabs, snails and adolescent fish and sharks – act as a barrier which stops fast-flowing river water from depositing silt and sediment on the outlying coral reefs, which are now making a recovery following their near destruction.
The whole resort is full of fun and educational things to do for kids like a daily kayaking trip into the heart of the mangrove forest, zip-lining through the Jungle canopy, and a Kids club which focuses on nature trails and activities handicrafts like basket weaving with local palm leaves.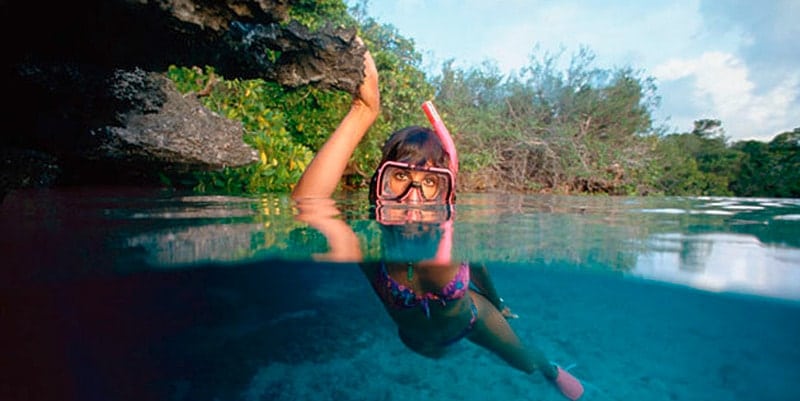 Stay seven nights sharing a Family Villa with Pool (two bedroom) at Constance Ephelia from £6,500 for a family of four. Includes breakfast and dinner, transfers and flights with Etihad. Price based on two adults and two children under 12 sharing a Villa.
Find out more about Constance Ephelia with Turquoise Holidays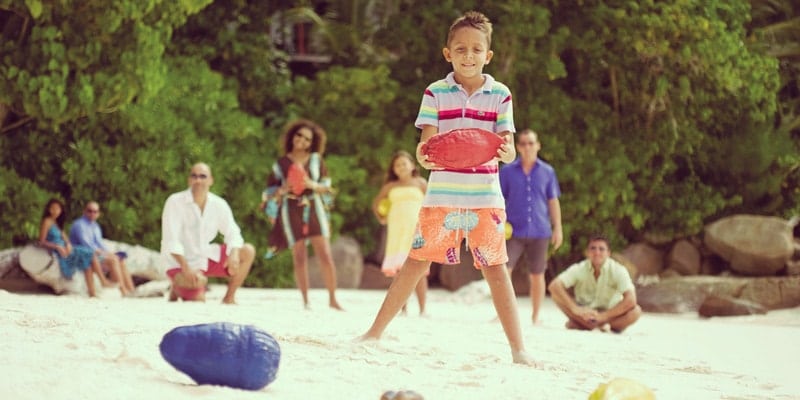 The expansive Four Seasons Resort on Mahe has a full-time dedicated team of three from NGO WildOceans stationed right at the centre of the resort's main beach, next to the kids' club. The beach in question forms a safe cove where youngsters who are confident in the water are encouraged to snorkel and take part in the coral-growing farm project. The WildOceans team offer daily activities including coral-transplanting lessons, and the bay has a rich diversity of marine life – anything from schools of baby squid to turtles can be seen most days. The SMAC Scuba Club also offers dedicated instructors.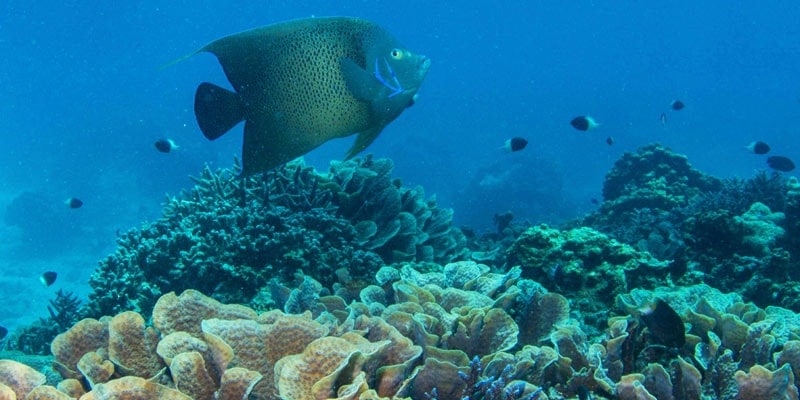 Stay seven nights sharing a Garden View Villa (Queen) at Four Seasons Resort Seychelles, from £7,800 for a family of four. Includes breakfast, return transfers and flights with Etihad. Price based on two adults and two children under 12 sharing a Villa.
Find out more about Four Seasons Seychelles with Turquoise Holidays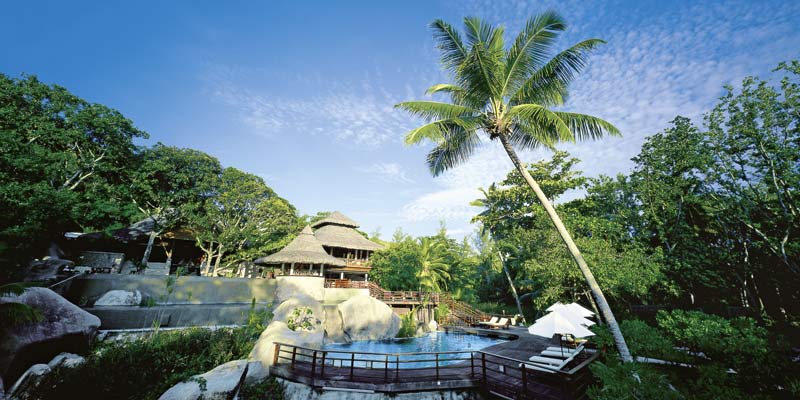 Constance Lémuria
Praslin is the second-biggest island in the Seychelles and can be reached either from Mahe (20-minute Air Seychelles internal flight) or directly from Dubai on Emirates.
The Constance Lémuria Resort is situated on the south-west side of the island, and boasts two of the best beaches in the country, including Anse Georgette.
This is probably the best resort at which to see juvenile green turtles year round, as they live in the numerous seagrass patches 20m from the shore. Robert, the resort's dedicated turtle manager, who has been in residence since 2006, has seen nesting turtle numbers rise from just 14 nests in 2006 to in excess of 90 nests a year for both green and hawksbill turtles last year. This has been achieved through a programme of education for all resort visitors and careful management and protection of all nesting sites.
The resort's other beach is the main watersports activity centre. Snorkelling, paddleboarding and kayaking are complimentary for guests. There is also a PADI dive school, which caters for children.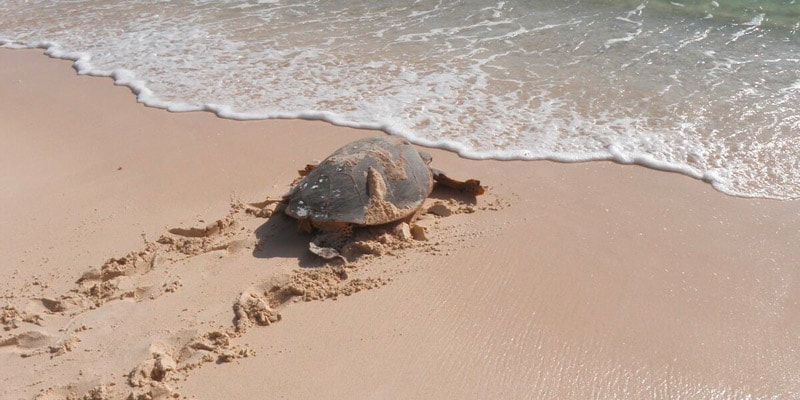 Stay seven nights sharing a Senior Suite at Constance Lémuria from £4,640 for a family of four. Includes breakfast, transfers and flights with Etihad.
Price based on two adults and two children under 12 sharing a Senior Suite.
Find out more about Constance Lémuria with Turquoise Holidays