Two luxury family resorts, one warm Mauritian welcome
A luxurious five star spa on the lovely north west coast of Mauritius or an exquisite beach resort on the eastern sands at beautiful Belle Mare? Which will you choose?

1/2

 Maritim Resort & Spa, Turtle Bay
In 62 acres of grounds officially titled, 'Most Beautiful Garden in Mauritius' and overlooking almost a kilometre of purest white sand, Maritim Resort & Spa's a true romantic right down to its toes in the warm, green-blue Indian Ocean. Exactly the kind of paradise pocket for strolling along the shore at sunset, sipping fruit-laden cocktails under towering palms and indulging in soothing spa treatments.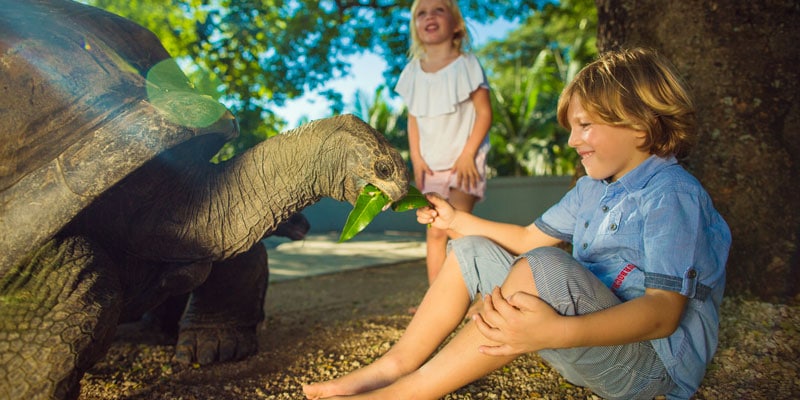 Much too honeymoon-idyll for kids? Well you might think so, until you hear about the cute animal farm, resident Aldabra Giant Tortoises, day-to-night children's club, acres of water sports and an innovative approach to entertaining kids endlessly. And of course, the mix of Creole warmth and natural Mauritian charm is a winning combination which even cooler than cool teens can't resist.
A paradise retreat with adventurous kids in mind
So how has Maritim managed the seemingly impossible and created a haven that's both opulent in the extreme and fun for kids too?
A lot of the credit goes to location. The resort's on Turtle Bay, equidistant between bustling Port Louis and colourful Grand Baie, on one of the most sheltered stretches of the north west coast: wonderful for peace and seclusion or paddle-boarding, sandcastle building, windsurfing, water skiing, snorkelling, diving and general, all round childish exuberance. The garden grounds are scattered with hauntingly lovely historic ruins, lush tropical planting and exotic scents drifting on gentle Mauritian air, but they're also a natural adventure playground, teeming with life and ready for as much excitement as the wildest little minds can conjure up.
The tortoises and pretty little animal farm are irresistible but most under 12s are keen on the Turtle Kid's Club. And since it's open from 9am to 10pm, quite a few parents can see the appeal too. There's very little to feel guilty about in stealing some grown-up space when your children are off having the time of their lives, learning as much as they're playing and getting a taste of a completely different culture at the same time – after all, that's part of the reason you take them travelling.
Notoriously difficult to please teenagers aren't forgotten in the Maritim mix either. On the beach and in the water, anything and everything from horse-riding to sailing is up for grabs. Nothing here comes without expert tuition and picking up new skills is much more fun under the Mauritian sun than it ever seems back home. And naturally, hanging-out and chilling is covered by beach barbecues, friendly competitions and downtime with free internet access and Wii games.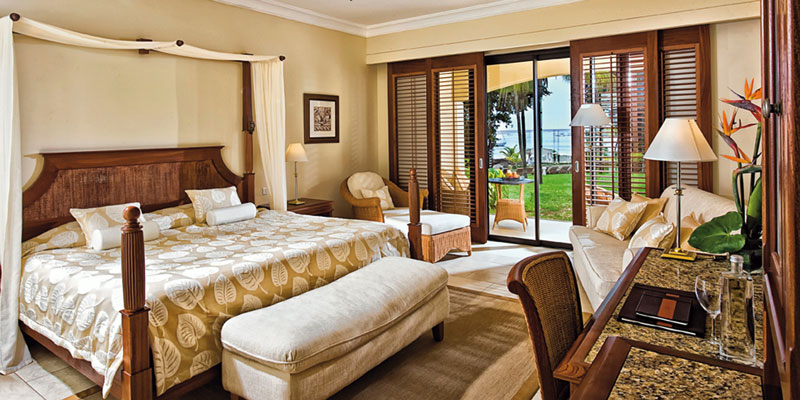 Practically perfect in every way possible
When it comes to practicalities like sleeping, Maritim has the details down to a fine art. Spacious rooms and suites are designed in a variety of styles and there's also the option of two bedroom villas with private pools for larger families. Personal preference applies equally to eating and from colonial elegance to easy-going Creole family-style cooking, how, when and what is almost entirely up to you. But with four restaurants, beach bars and nightly barbecues on the sand, you can look forward to being spoiled for choice.
---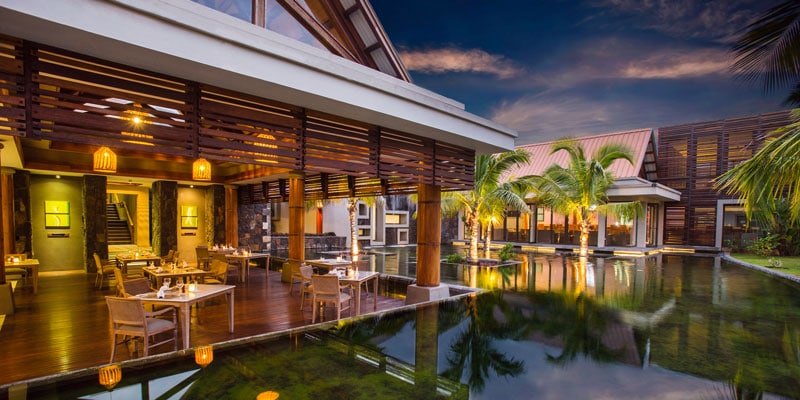 2/2

 Maritim Crystals Beach Hotel, Belle Mare
Mauritius isn't huge, but it is complex and from west to east there's a markedly different island personality. The west coast's home to the capital and big towns like Grand Baie, while the laid-back east coast has a slightly quieter atmosphere and a little more Creole in the mix. Maritim Crystals Beach Hotel sits on the sands at Belle Mare and oozes east coast character right down to lazy-day beach bars, tropical lagoons and fun clubs for kids and teens.
A fresh take on Mauritius's sweetest heritage
If sweet design is the first thing that strikes you about Crystals, you aren't mistaken. The entire resort's inspired by Mauritius's legendary sugar cane plantations and hints of that rich heritage are woven into everything. In the bright, airy family suites, sleek contemporary styling's softened with subtle candy colours. Restaurant are named after historic local estates. And, if you look closely, you'll even see sugar cane motifs engraved into pathways winding through the lushly planted hotel grounds.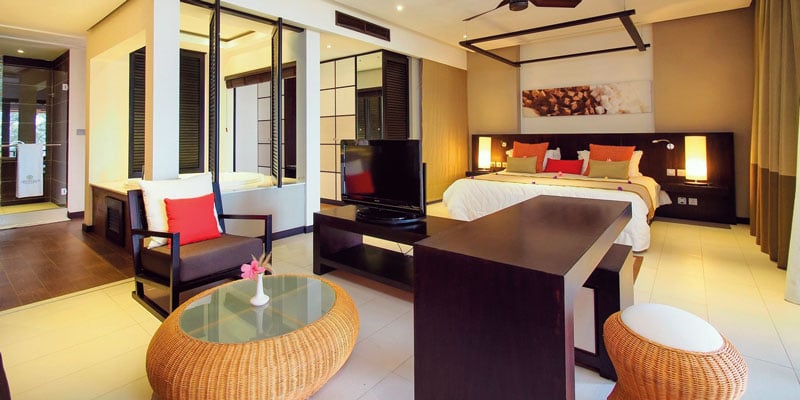 Family fun, kids clubs and easy-going east coast charm
Fortunately, sweetness and light isn't a pre-requisite for young guests. They can be as boisterous as they like on the beach, burn off energy with any number of water sports and splash around to their heart's content in the swimming pool. Ti Dodo Kid's Club has plenty of activities, games and creative play for three to 12 year olds. And at Crystals there's a dedicated Teen Club too with Wii games, billiards and a wildly imaginative entertainment programme.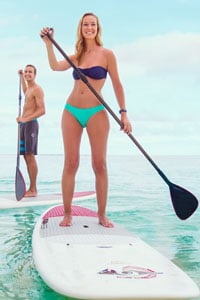 Which really only leaves you with time on your hands to fill. It's a tough choice between doing nothing much and letting Mauritius work its magic or opting for a more active approach on land or sea: Crystals has an 18-hole golf course, professional tennis courts, every water sport imaginable and can even arrange bikes, if you want to go exploring. Alternatively, you could always try the Wellness Centre – treatments with names like Exotic Paradise Ritual aim to instantly remove any guilt over a child-free few hours.

Beachy and barefoot bars, haute-cuisine and Creole home-cooking
There's another good reason to brush up on your paddle boarding, challenge the kids to petanque or take an interest in some serious swimming at Crystals: the food's amazing. Each of the hotel's four restaurants has a unique take on the island's famously rich, natural pantry and the team are masters of invention whether you crave snacks on the beach, Creole home-cooking, haute cuisine with a Mauritian twist or simple, fresh seafood cooked to perfection.
---
Still not sure which resort will win your family's heart? Have a little more insider information from the experts at Maritim Mauritius