Sponsored Content
Sometimes the simplest ideas are the ones that change everything. You certainly have to think that's the way things have been planned at LUX* Grand Gaube, another effortless resort on Mauritius seemingly incapable of doing anything uncool.
Now if you normally run a mile from brand philosophies, have no fear, LUX* Resorts merely believe every moment is precious, that you should be free to indulge on holiday, spend time together, take time to yourself, think a little, dream a little and ultimately reconnect with what's important in life. Which might be tricky to pull off in the day-to-day, but in a resort designed with the sole purpose of restoring balance, calm and joy, it's extraordinarily difficult not to find your equilibrium.
Like everything else at LUX* Grand Gaube, philosophy comes with a light touch. Kids will probably only notice that you're more fun, less rushed, up for adventures and trying new things, significantly better rested, refreshed and generally quite a bit longer on patience. Chances are you'll observe them growing more confident, revelling in the sense of freedom that LUX* Resorts tends to invite, prepared to push themselves a little harder with activities, keen to learn new stuff and quite a lot hungrier than usual. Which is fine because fresh, healthy snacks are pretty much on tap here and any excuse is a good one to try the resort's delicious homemade ice cream.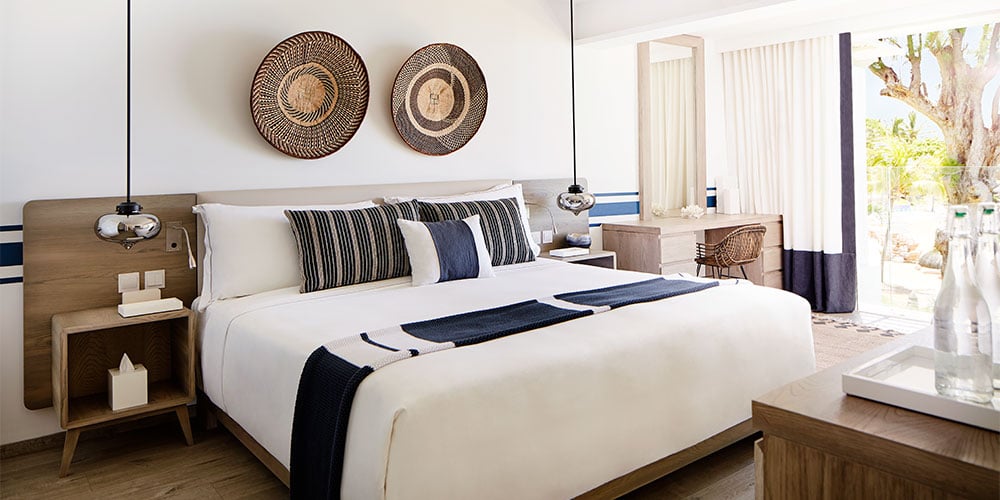 1/5

Family villas and suites designed by Kelly Hoppen
But originality isn't confined to philosophy in action here, it's even worked into the interior design. There are 5 LUX* resorts in the Indian Ocean with different look and feel, you will instantly recognise Kelly Hoppen's beachy, retro-chic signature in the resort's family villas and suites. As always there's lots of life's luxuries in the details, colours are creamy and calm, textiles arranged to soothe and tiny touches lift away any sense of 'hotel', giving you a feeling of your own personal space instead. Another tough trick to pull off, but clearly not for Kelly Hoppen whose flawless taste is matched only by her instinct for cocoon-like comfort. Of course, each of the three villas are individuals from the foundations up, they even sit on their very own peninsula. And if you're thinking they sound like the perfect setting to spend more valuable time together as a family, that's exactly the thinking behind their design.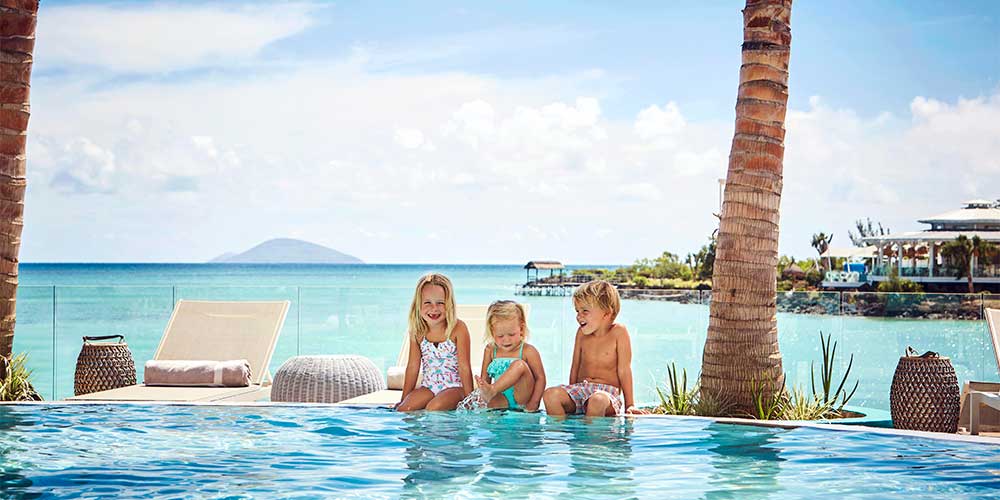 2/5

An original take on kid-shaped fun
Of course you're welcome to escape into a family-bubble completely, but be aware LUX* Resorts has many ways of tempting kids to get out and about, whether that's watching movies under the stars at Cinema Paradiso, searching the beach for exciting Message in a Bottle secrets, hanging heart's desires on the Wishing Tree or hanging out at PLAY, the creative kids club designed by LUX* Resorts with three to 11 year olds in mind.
Older kids and teens can get up to all sorts from guided bike rides round the island to water sports on the beach or even brushing up their game at the Tennis Academy or putting green. And creative kids can learn to take professional pics at Photo Fanatics or make amazing one-off holiday treasures with Junkart Studio and Gallery.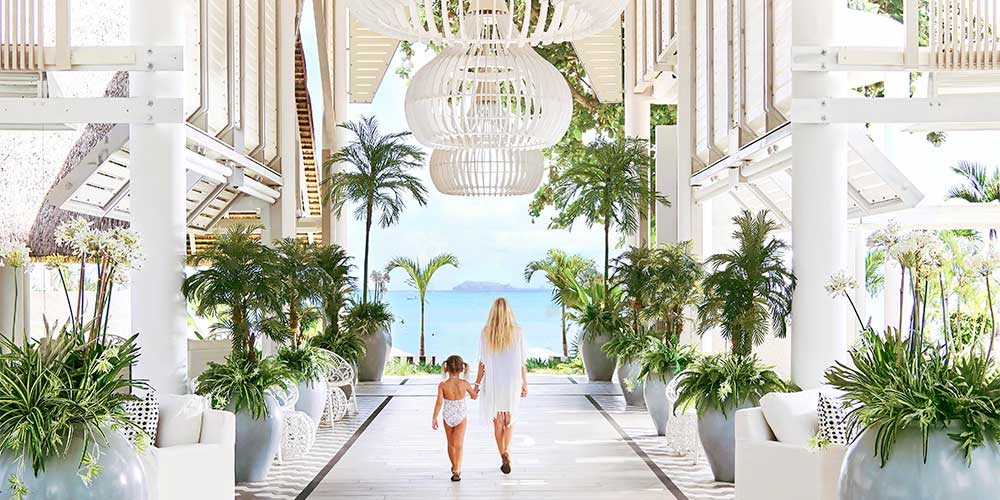 3/5

A clever mix of family time and me-time
When kids aren't off having a ball without you, trust LUX* Resorts to have plenty of together-time activities ranging from vintage favourites like a family cycle to more off-the-wall fun in the shape of Mother & Daughter pampering at the LUX* Me Spa. Obviously me-time is actively encouraged here too, and LUX* Me Spa is also a delightfully indulgent space to while away a few guilt-free, child-free hours to yourself.
If you're up for something more active, the resort has three carefully crafted fitness programmes designed to inspire, motivate or challenge. Guests also have preferential rates at neighbouring Mont Choisy Golf Club championship course. And because LUX* Resorts firmly believe in keeping things fresh, there are always pop-up activities and experiences to try, any time you're in the mood for something new and interesting.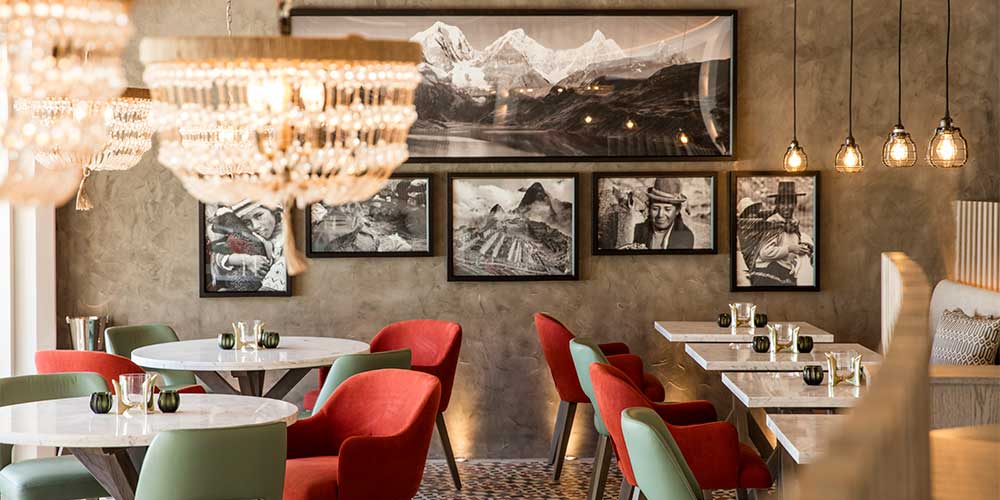 4/5

Ravishing restaurants and other indulgences
Suiting your mood is very much where it's at on the restaurant front as well. Choose from one-of-a-kind INTI with its open Hot Salsa grill kitchen, big sea views and beachy atmosphere or live cooking stations at The Palm Court. There's Levant authenticity at brand new Bodrum Blue or barefoot simplicity from Beach Rouge, (available in all LUX* resorts). And if you feel like being a grown-up for the night, Banyan is only the best excuse to have LUX* Resorts arrange some babysitting. Speaking of babies, LUX* Resorts is committed to letting you travel-light and supplies just about everything you need for your high-maintenance little travellers, so whether you want a full kit or just a few essentials, you only have to ask and whatever you need will be ready and waiting in your suite or villa when you arrive.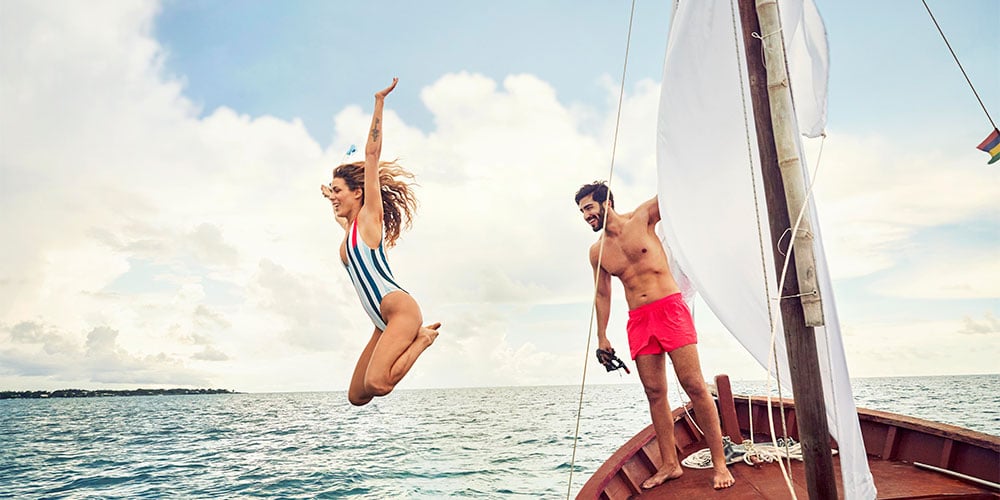 5/5

And then there's Mauritius too …..
Connecting you with Mauritius itself is another of LUX* Grand Gaube's skills. Though it's fair to say, the resort does have a bit of a networking advantage as it sits right on the north coast, minutes from lively Grand Baie, within easy reach of some of the island's loveliest west and eastern beaches and no distance at all from the deliciously wild and thrilling interior.
So whether you just want to go all out for incredible water sports, discover the marvels of Mauritian marine parks, delve into Creole culture and village life, trek rainforests in search of wildlife, go island hopping or waterfall jumping, you couldn't be in a better spot to try the lot – or do as little as you like, it's entirely up to you, and your family, of course.
Lowdown
Where
LUX* Grand Gaube, Grand Gaube, North Mauritius
20 minutes east of Grand Baie
One hour, 10 minutes north of Sir Seewoosagur Ramgoolam International Airport
How to get there
Direct UK flights to Mauritius take from 11 hours, 55 minutes
Family Villas & Suites
70m² suites, oceanfront with private terrace
Individually designed family villas with pools and gardens set on a private peninsula.
LUX* Grand Gaube has two swimming pools, two private Indian Ocean beaches and is set in secluded tropical gardens on Mauritius' sheltered north coast. Ready to reconnect and rediscover your joy? Connect with LUX* Grand Gaube and discover family holiday offers from now until October 2020.