Sponsored Content
Island escapes aren't just for grown-ups, says LUX* Belle Mare Resort & Villas. Which is good news for families because the island they're talking about is Mauritius, and when you want to retreat from the world for a bit – with your kids, of course – it's the ultimate fantasy isle for escapists.
Run away from everything except incredible LUX* Belle Mare
LUX* Belle Mare isn't short on ways to tempt you away from the day-to-day, beginning with its lovely location on the less-travelled east coast of Mauritius; long preferred by those who know the island well and can't resist peaceful beaches, quaint little villages and a sense of absolute serenity.
Naturally LUX* has brought plenty of its very individual self to the setting. So you can look forward to beautifully blended contemporary architecture, acres of shimmery tropical grounds, enormous swimming pools and heaps of space for kids to be kids, and for parents to have some space of their own – it's allowed, why else would they have the lush LUX* Me Spa and so many brilliant child-heaven distractions?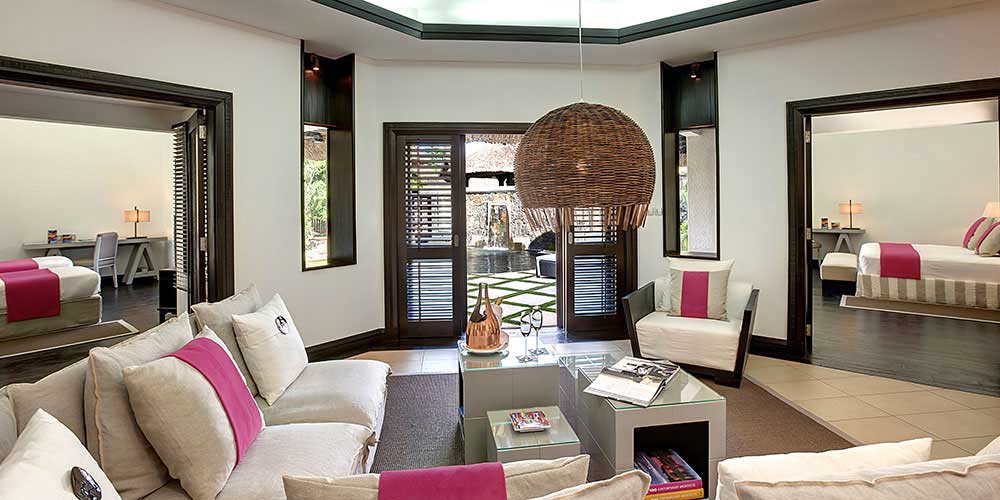 1/4

Family suites and villas to cocoon you in coolness
LUX* clearly believes families should wind-down, kick-back and let the holiday unfold just the way they want, which could very well be the reason for so much choice when it comes to suites and villas. All suites are designed by Kelly Hoppen, so can expect coolness in the extreme, woven through with fresh, bright colours and furniture from the lounge-around and leave-me-never school of cocoon-like comfort. Extraordinary views are a given. And there's even a choice of interconnecting Family Suites, another sign of LUX* understanding the balance of togetherness and me-time that turns a good holiday into a blissful one.
LUX* villas are also indulgently sized, individually designed, but made with larger families – or true freedom seekers – in mind. Each two bedroom Prestige Villa is secretively surrounded by the resort's lush, tropical greenery and has its own private garden and swimming pool. The Ocean View Villas are all about light, space and long looks at the Indian Ocean. Or you can opt for absolute decadence with a Beach Front Villa which has almost as many rooms outdoors as in, gaze-worthy views in every direction and a sense of total seclusion – obviously kids will love the personal swimming pools, sunset BBQs and adorably cute, thatched sun shelters.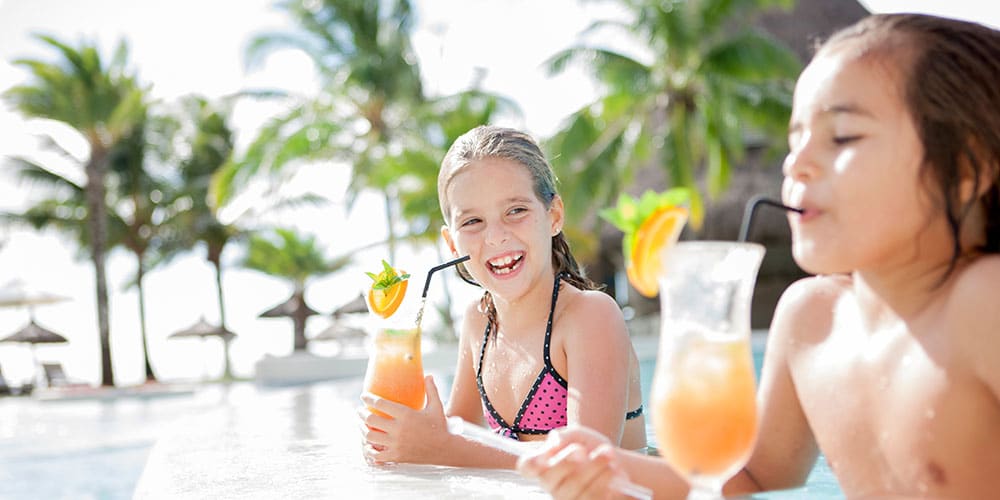 2/4

LUX* Belle Mare completely understands kids
When a resort has pretty little carts serving up homemade (fat-free) ice-cream and goes to the effort of hiding messages in bottles on the beach or planting a tree just for hanging wishes on, you know it really gets kids. LUX* Belle Mare is that resort and doesn't nothing to hide the fact, so younger guests can look forward to movies under the stars at Cinema Paradiso, sweet treats on demand and the type of featherlight attention that feels good, but doesn't curb free-spirits in the slightest.
PLAY is the all-day club for three to 12 year olds, open until 10pm every day and fully supervised by the professional LUX* childcare team. A focus on creative fun is perfect for bringing shy kids out of their shell, but there's plenty of outdoor and beachy adventure in the mix here too. Plus, PLAY likes to get children better acquainted with Mauritius, so island outings are another source of excitement.
LUX* more than looks after hard-to-please over 12s and teens at Belle Mare too. Studio 17 is custom-designed to satisfy all cravings for cool hang-out space, right down to games tables and iMac stations. But it also recognises that even older kids are just kids at heart and twins freedom with masses of activities on the beach, as well as island trips and up-close encounters with colourful Mauritian culture. All lightly supervised for parental peace of mind, of course.
And if that's not kid-centric enough, LUX* as good as gives Fridays over to the young with baking and cake decoration from Cake Boss in the afternoon and a major outdoor movie night after dark.
Find out more about PLAY and Studio 17 at LUX* Belle Mare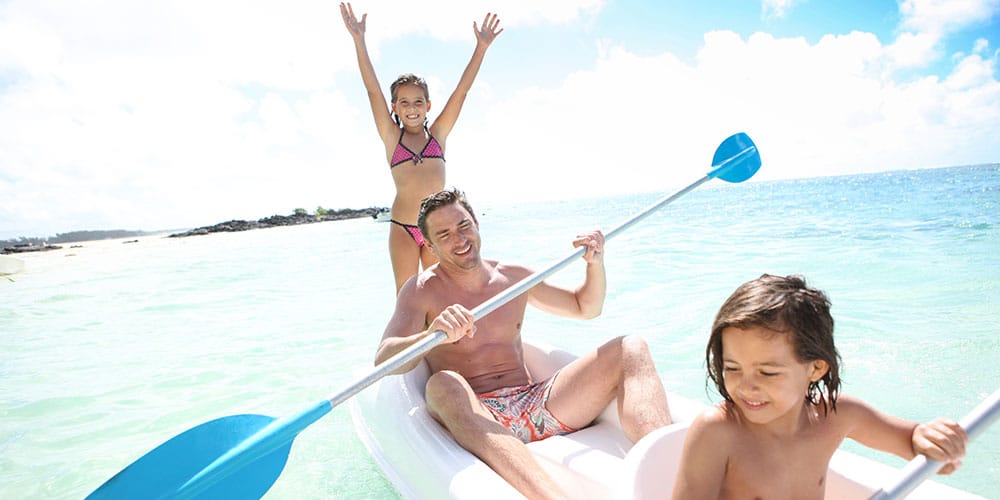 3/4

Laze all you like or be as active as you want
Any Indian Ocean family holiday will have a bit of lazing in the equation – the beach at Belle Mare makes lounging around a rule, and the resort's swimming pool is the largest by far in Mauritius, so don't even try to resist. But LUX* are just as big on activity and tempt you with endless water sports from paddle-boarding and kite surfing to wakeboarding, diving and snorkelling, there's even swimming with dolphins.
And dry land is no less energetic, whether you want to play tennis, get competitive with some beach volleyball or book a bike and head off to explore. LUX* Kids Tennis coaches future grand-slammers age three and over every morning. And for those guests in pursuit of wellness to go with the sunshine and fresh island air, evening outdoor yoga sessions make a soothing end to the day.
Find out more about family activities at LUX* Belle Mare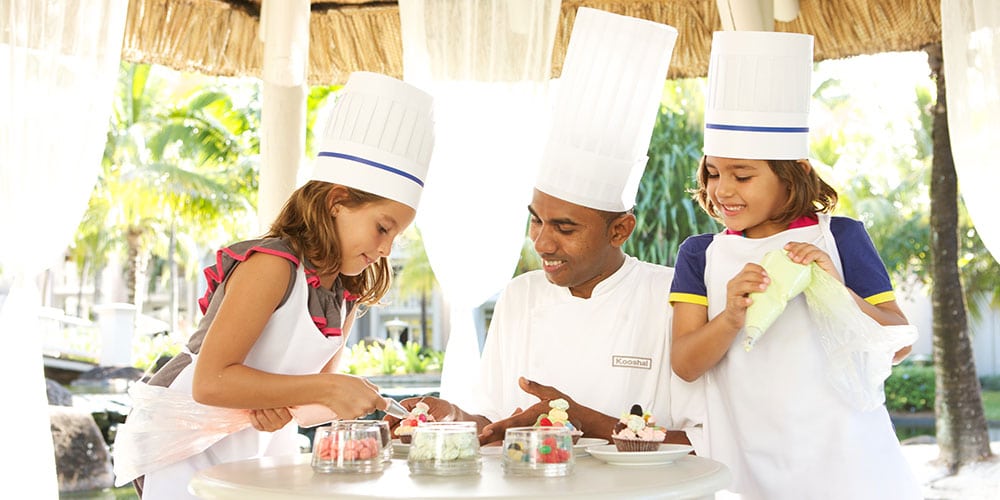 4/4

More reasons make LUX* Belle Mare your island escape
Apart from the idyllic location, heart-on-the-sleeve approach to caring for kids, endless activities and beautifully designed suites and villas, there are countless other seductive reasons to make LUX* Belle Mare your family's island escape:
Seven bars and restaurants, including MIXE for anytime eating poolside, contemporary Chinese cooking from Duck Laundry, and Beach Rouge by the Indian Ocean.
Amari by Vineet: The resort's Indian restaurant- a clean-lined but opulent space for the Micheline –star Chef Vineet Bhatia's scintillating fare. His masterful techniques makes the textures and flavours of India shine, in sumptuous, subtly dishes with contemporary flair.
Range of all-inclusive holidays with everything from water sports and activities to fantastic food.
Special family programmes and events designed to fit with school holidays and half-term breaks.
LUX* believe in healthy eating so even their homemade ice-cream is fat-free, plus they offer an excellent choice of vegetarian or vegan menus.
As well as offering a wide range of water and land sports, LUX* makes it easy for families to go Indian Ocean voyaging on catamaran cruises, try horse riding on the beach or organise adventures all over Mauritius.
Find out more about Family Holidays at LUX* Belle Mare
The Lowdown

Rate is as from EUR 1108 per night on Half Board  and EUR 1406 per night on All inclusive for a Family Junior Suite.
Based on 2 adults and 2 Teenagers .
Where
Belle Mare, Mauritius' east coast
One hour's drive north of Sir Seewoosagur Ramgoolam Airport
How to get there
Direct UK flights to Mauritius take from 12 hours, year round
Start planning your family's island escape with a closer look at LUX* Belle Mare Resort in Mauritius.