The Mauritius island escape made for families
Sponsored
Island escapes aren't just for grown-ups, says LUX* Belle Mare Resort & Villas. Which is good news for families because the island they're talking about is Mauritius, and when you want to retreat from the world for a bit – with your kids, of course – it's the ultimate fantasy isle for escapists.
Run away from everything except incredible LUX* Belle Mare
LUX* Belle Mare isn't short on ways to tempt you away from the day-to-day, beginning with its lovely location on the less-travelled east coast of Mauritius; long preferred by those who know the island well and can't resist peaceful beaches, quaint little villages and a sense of absolute serenity.
Naturally LUX* has brought plenty of its very individual self to the setting. So you can look forward to beautifully blended contemporary architecture, acres of shimmery tropical grounds, enormous swimming pools and heaps of space for kids to be kids, and for parents to have some space of their own – it's allowed, why else would they have the lush LUX* Me Spa and so many brilliant child-heaven distractions?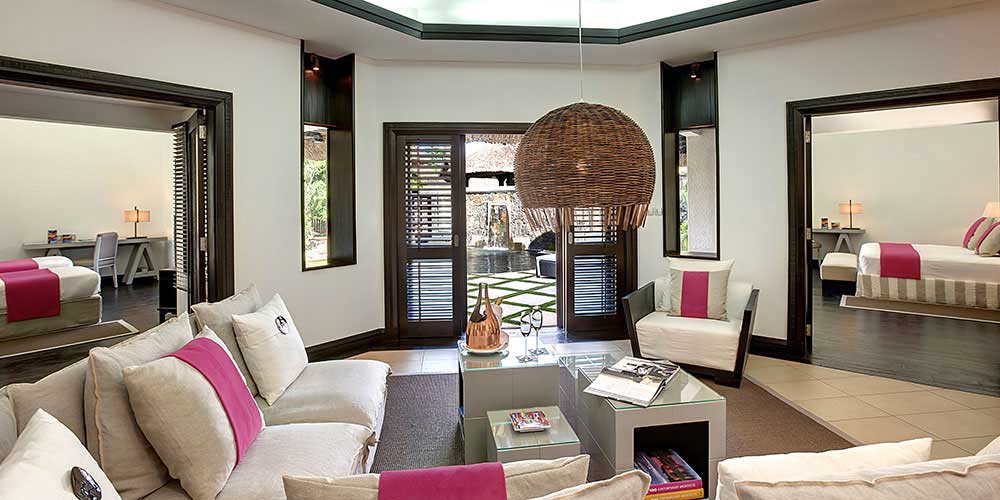 1/4

Family suites and villas to cocoon you in coolness
LUX* clearly believes families should wind-down, kick-back and let the holiday unfold just the way they want, which could very well be the reason for so much choice when it comes to suites and villas. All suites are designed by Kelly Hoppen, so can expect coolness in the extreme, woven through with fresh, bright colours and furniture from the lounge-around and leave-me-never school of cocoon-like comfort. Extraordinary views are a given. And there's even a choice of interconnecting Family Suites, another sign of LUX* understanding the balance of togetherness and me-time that turns a good holiday into a blissful one.
LUX* villas are also indulgently sized, individually designed, but made with larger families – or true freedom seekers – in mind. Each two bedroom Prestige Villa is secretively surrounded by the resort's lush, tropical greenery and has its own private garden and swimming pool. The Ocean View Villas are all about light, space and long looks at the Indian Ocean. Or you can opt for absolute decadence with a Beach Front Villa which has almost as many rooms outdoors as in, gaze-worthy views in every direction and a sense of total seclusion – obviously kids will love the personal swimming pools, sunset BBQs and adorably cute, thatched sun shelters.