Photographer, writer and mum ABI CAMPBELL knows the island's sunloungers like the back of her hand. But this time round, she wanted to properly explore this tropical paradise.
A fresh look
In a previous life, I was an inverted travel snob. Dedicated to roughing it, backpackerstyle, I thought it was a fastpass to the soul of a country. I had a powerful aversion to luxury resorts with token culture shows, and vowed, 'I'll never set foot in a place like that.' Two children later, I ate my words like an all-inclusive buffet. My priorities and convictions changed. I started dreaming of holidays that might fix my sleep deficit. Top of my list: childcare, sun and good food – to compensate for the 'mother's leftover-fish-finger diet'.
Finding a deal at the One&Only Le Saint Géran, Mauritius, I didn't look back, shamelessly booking the same week in the same room for three consecutive years. Flicking nostalgically through photo albums, I can barely differentiate one holiday from the next, except the kids get older and I grow progressively more unattractive in a bikini. Determined to make amends for missed opportunities to get acquainted with an island that should feel like a second home by now, I book one last visit. Same week, same room… different objective.
Claiming the best spot on the north-east peninsula, the Saint Géran has been around since 1975, and is still widely considered the jewel in the crown of the five-star circuit. Low-rise rooms open onto a flawless beach, and although the decor is now a little tired, the view more than compensates. Kids' club programmes provide excellent distractions, from cooking classes and banana-boat rides, to torchlit crab hunts. Service is top notch. It is in any resort's best interest to keep you on their property, and here, they do this by making it so good it's hard to leave.
Getting their little hands dirty
Touring the island by taxi is relatively affordable, but I opt for renting a car, hoping it might guilt us into getting out more. We start our adventures on the east coast road from Poste de Flacq to the town of Mahébourg for a visit to the H Rault Biscuit Factory. Inside a cyclone-beaten building, we get a glimpse of biscuitmaking methods dating back to 1870, using a root vegetable called manioc. Woman in vintage dresses grind, sieve and push floury squares around a primitive hotplate, while the kids feed dried banana leaves into the furnace. It's a sweet 20-minute hands-on tour, ending in a product-tasting. They aren't the most delicious biscuits we've ever eaten, but the vat of tea provided helps make them more palatable.
We head south to Riviera de Anguilles and La Vanille Réserve Des Mascareignes. One of my earliest holiday memories is riding a giant tortoise in the Seychelles, and I've often wondered if I was just tiny and have exaggerated the proportions of these creatures in my mind. When we arrive at this nature reserve, however, I'm thrilled to find these magnificent beasts are everything I remember, and that kids are permitted to ride them. Ellis and Jemima are beside themselves with excitement, and while there's other wildlife to admire, even the crocodile enclosure seems a bit lame after walking with these majestic dinosaurs!
We settle into a relaxed one-day-on/oneday- off sightseeing groove, and make the most of the hotel. Lying on my lounger, sipping a Long Island Iced Tea, I'm reminded of how my babies have grown as I watch them leap confidently into the pool and swim a whole length underwater. I feel a bit weepy about the lost days spent here, of swim nappies and floppy sunhats held on by chin elastic. I conclude that holidaying with kids doesn't get better or worse, just different.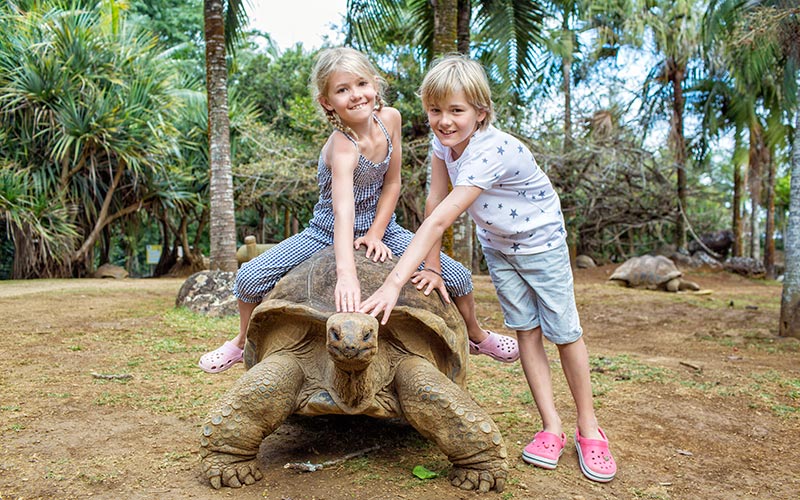 Child-friendly mountain trails
Twenty per cent of Mauritius is mountainous, yet trekking remains a relatively elusive tourist activity. With nominal research, I find a local guide called Yan. He knows the terrain like the back of his hand, tailoring private hikes to individual requirements. We arrange to meet at 7am at Black River in the south of the island, which requires a 5am start and a GSOH when I get lost, turn up two hours late and realise I've left our water and packed lunches behind. Yan has planned a child-friendly trail. The first part is a little steep, but the kids rise to the rocky challenge like rats up a drainpipe. Stopping at staggered vista points along the way, we are treated to stunning aerial views of the west coast. I begin to pity all the hotel guests who don't know what they're missing. On our descent, we study wildflowers and insects, ending our expedition by wading ankle-deep across a pretty gorge.
Having worked up a ferocious appetite, we ditch the guidebook and ask Yan to recommend his favourite restaurant. He sends us north to the village of Chamarel, and the restaurant, the Palais de Barbizon. This place is no-frills, and utterly charming, with its sunset mural and stray mutt. It feels like we've been invited into a Mauritian's home, even more so when we're informed there's no menu. Lunch consists of five types of local vegetables, most of which I've never even heard of, with grilled chicken or fish. We have an authentic home-cooked meal, the dishes as fascinating and colourful as the owner's personality.
In the same sleepy hillside village (and a little out of place) is the new-ish Curious Corner. It's a 5,000m2 air-conditioned space full of the coolest optical illusions I've ever seen. The experience starts in a study with antique-book-lined walls and Salvador Dali melting clock. Our mission: to find a hidden door to the next mind-bending room. Impressively, that is an entire living room and kitchen built on a ceiling. With an iPhone pic and 180 degree rotation we convincingly appear to have superpowers. This attraction is a great way to kill a few hours on a rainy day.
Passing through the village of Tamarin on the way back, we make a pitstop at La Route du Sel to see the 18th-century salt flats, dramatically positioned at the base of a mountain range. We learn all about the labourintensive process of making artisan salt, on a 15-minute tour, which pauses briefly when Ellis falls into one of the salt pools and angrily blames his sister (exhausted sigh). A shameless salt addict, I buy enough packets in the gift shop to cause an early coronary.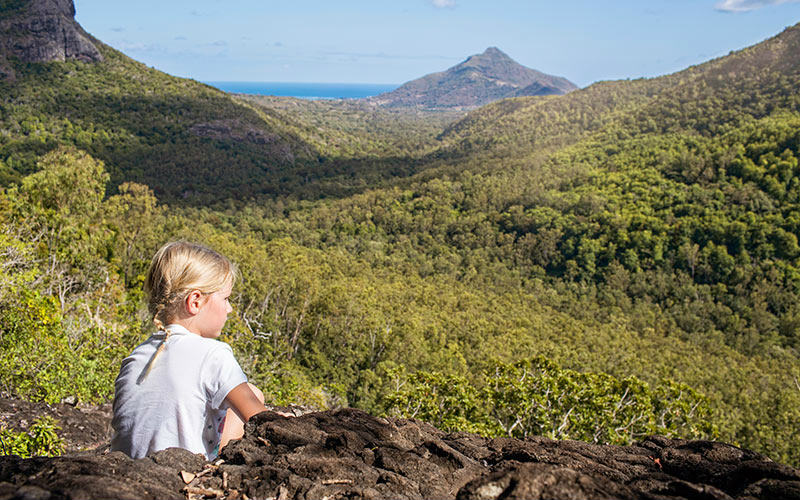 Under the sea
We arrive back to the hotel for a mother-and child massage to soothe our post-trek aches. Our treatments take place in a pretty wooden pavilion by a stream, with one open side to let nature in. Jemima looks tiny on her bed, and is excited and giggly. I know it's extravagant, but it's a joy to watch her range of facial expressions as she experiences the wonders of therapeutic touch for the first time.
Ellis and Jemima are too young to dive, so I book the closest thing to it: The Solar Under Sea Walk in the pretty marina of Grand Baie. A glass-bottomed boat transports us to a fixed pontoon near the reef, where we are given a brief safely talk and wetsuit. Submerged in the sea up to our necks, an impossibly heavy Captain Nemostyle helmet is lifted onto our shoulders and we sink to the ocean floor like a stone. I'm a control freak and, despite being only a few metres deep, and surrounded by frogmen, the experience taps right into my fight-or-flight mode. Knowing Ellis' tendency to trip over, I hang onto him with a vice-like grip, obsessively making the divers' 'OK??!!' sign. I only relax when we walk into a shoal of angelfish, who eat bread from our fingers with a thousand soft kisses. It's magic.
After a speedy lobster lunch in the marina, we drive to the Château de Labourdonnais in the village of Mapou to see a stunning example of colonial-style architecture. Inside the 150-year-old plantation house, we gain insight into the history of the house and island with the aid of innovative audiovisual displays and exhibits. It's beautifully executed. We finish the tour with a walk through the orchards to the restaurant, where the kids do a tasting of juices and jellies extracted from the fruit of 100-year-old mango, guava and papaya trees on the estate. I pull the long straw: six shot glasses, each containing a different flavour of rum.
Back at the hotel, we don our gladrags for our One&Only tipi dinner. Sitting on our hand-loomed rug in front of our Alice Temperley-designed tipi, we watch the sunset in all its glory. We're waited on by a butler while our private chef cooks next to our candlelit table on the beach. A bonfire is lit for us to dance around, and when only glowing embers remain, we move to our accommodation for the night, the tipi, where we put on tunes, leap off cushions, and roll around tickling each other until we cry, before turning in, spoilt rotten.
 
Off the sugar cane beaten track
Sugar cane dominates the landscape in Mauritius. At some point, you will see skyhigh plumes of steam spewing from factory chimneys, and recognise the unmistakable smell of burnt sugar. The factories don't advertise guided tours, but be persistent, and you'll get one. We visited a refinery called Terra, which produces a staggering 93,000 tons of sugar per year. Hard hats secured, we are walked and talked through the process of transforming raw cane into that sweet by-product the kids know oh so well. Ellis particularly enjoyed letting the refined sugar pour off the factory belt through his hands. This is heavy industry – it's noisy and hot, and may be a bit overwhelming for some, but for the adventurous and curious child aged eight and above, I would say this unique and visceral experience is a once-in-a-lifetime treat.
We move from one frenetic place to another: the market in the village of Centre de Flacq, open on Wednesdays and Sundays. The vibrant colours and fragrant aromas of spices and fruit are a welcome break from the oppressive factory floor. We rehydrate by draining a coconut with a straw, and grab ourself a hawker-stall biriani lunch. There is nothing touristy about this market – it's teeming with locals doing their weekly shop. There are clothes and a few handicrafts on offer, but more than anything, just come here to soak up the atmosphere.
On the way back to the hotel, we pass an unexpected Hindu festival. We stop to take it all in and are invited to join the celebrations. Down by the river, Ellis and I take part in 'puja' – a prayer ritual – by floating candles on the water, while one of the mothers draws a henna flower on Jemima's foot. It's a semi-permanent reminder of the rich and diverse culture of Mauritius that Jemima can take home to show her friends.
It's our last night at the Saint Géran. Seated for our farewell dinner, we're presented with souvenir menus with our names on. It's little touches like this that have kept us coming back. But I feel this meal should also be a celebratory one, as we have achieved what we set out to do. We're leaving culturally enlightened and enriched with so much more knowledge of this island than when we arrived. I know that when this year's Mauritius holiday album joins the shelf, it will be the one that stands out.
 The lowdown
How to get there
British Airways flies from Gatwick to Mauritius three times a week. The scheduled flight time is 11 hours, 55 minutes outbound, 12 hours, 20 minutes inbound. Fares start from £763 return, including taxes and charges; the equivalent child fare is £556 return. For further information or to book, visit britishairways.com.
Where to stay
A room at One&Only Le Saint Géran, based on two adults and two children sharing, costs from £260 per night. Seasonal offers available.

Where to visit
Curious Corner: Entry Adults: £4 Child: £2.50
Trekking: Three- to four-hour trek to Black River Gorges £27
Under water sea walk: The solar-powered sea walk is £25 per person. Children must be at least seven years old.
Nature reserve (giant tortoises):  Entry Child: £4 Adult: £7
Chateau Labourdonnais, house, orchards and rum distillery: Entry Child (4-12): £3.50 Adult: £7
Where to eat
Palais de Barbizon Chamarel +230 483 5078
Looking for somewhere extra special to stay in Mauritius? Check out the Residence resort, where tired mums and dads won't have to lift a finger all holiday.