At the end of 2016, the Family Traveller team left our HQ in chilly London and immersed ourselves in one of our favourite family-friendly destinations, Mauritius. Find out more about our innovative Made in Mauritius project here.
During our stay, Family Traveller editor Jane Anderson explored the island with our video team to find the best kid-friendly things to do. Follow their island journey in the video below!
See the best family activities in Mauritius:
[youtube id="VHSicOj4nU4″]
As you can see, Jane and our team quickly discovered that Mauritius is so much more than a beach holiday for families. This Indian Ocean island is a glorious playground of diverse activities and attractions from re-wilded islets now home to giant tortoises and ebony trees to Willy Wonker style sugar mills. Read on to learn more about the fabulous family attractions featured in the video above.
1/7

La Vanille Nature Reserve
For all ages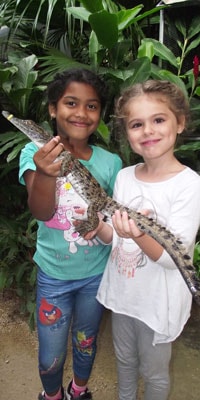 If you just have one day out with the family in Mauritius, La Vanille Nature Reserve should be high on your list. It has more than enough to keep all ages happy for a day and well worth the admission price. Set in an atmospheric rain forest valley, the big attraction here are the 2,000 Nile crocodiles which are bred here. Children can get close up (but not too close) to these incredible prehistoric looking creatures and watch their lightening strikes as keepers dangle great chunks of chicken over the side of their enclosures. Kids will learn fascinating facts. Did you know that the temperature crocodile eggs are incubated at determines the sex? (26-30 degrees for females and 30-33 degrees for males). This place is hands on and kids can hold a six-month-old crocodile feeling how soft its underbelly is. Its jaws are bound with a band as they are born with 68 teeth. Although they are a protected species, as they are bred in the park, you can head for lunch at The Hungry Crocodile Restaurant and tuck into crocodile burger which tastes a bit like chicken.
The other key attraction here are the Aldabra tortoises. This is also a breeding programme for redistribution back into the wild across Mauritius, Rodrigues and Madagascar. Families will encounter all ages of these incredible creatures from tiny babies to enormous beasts which can live over 100 years. Domino is aged 61 and weighs 275kg. La Vanille has just introduced a new activity where families can go into an enclosure of 5-year-old tortoises with buckets of carrot leaves and feed them. It's quite a site to have thirty tortoises heading towards you with beaks ready to chomp on your veg. Kids also get the chance to hold a baby.
And don't miss a look in the Insectarium where you can't fail to be wowed by the collection of 25,000 species of butterfly and beetle from around the world. Any children interested in the natural world will be over awed simply by the colours and shapes of these incredible insects.
Little kids will love the petting farm with ponies, donkeys, rabbits, pigs, wild boar, peacocks and ducks.
Price
Entry costs £12.25 per adult and £6.25 per child 3-7 years. A guide is included in your visit. Feeding the tortoise with souvenir photograph costs £15 per adult, £10 per child
2/7

Ile Aux Aigrettes Nature Reserve
For ages: seven and up

At this re-wilded nature reserve, families can travel back in time to discover how Mauritius looked like 400 years ago before the arrival of man. Covering 27 hectares ad just 800m off the southeast coast, families are taken on a guided tour with a ranger to discover endemic creatures and plants that have been successfully reintroduced here since it was declared a nature reserve in 1965 after the island was used by the British as a World War II base.
Mauritius has just 2% of its endemic forest left and half of it is on this island. As you journey through the incredible forest of rare ebony with rare orchids happily ensconced on their branches, kids will be in raptures as they spot giant tortoises reintroduced from the coral atoll of Aldabra in the Seychelles. There are 26 adult tortoises including Big Daddy, thought to be 100 years old, and 200 babies. Kids will also love to spot the Telfair skink, a reptile which help keep the mice population in check.
But it's the birds that really stand out here. Pink pigeons, the Mauritius Fody with their flame red heads in breeding season, and the tiniest bird on Mauritius, the Mauritius Olive White-Eye that look like they're wearing spectacles could well inspire your kids to become twitchers. The conservation work on this island is incredible. To put it in perspective, there are only 55 olive white-eyes on Ile Aux Aigrettes and only 300 in Mauritius.
Price
Guided tours cost £20 per adult and £10 per child aged 4-11 years including tour and boat across. Book your ticket by calling 230 631 2396 or email reservation@mauritian-wildlife.org
3/7

L'Aventure du Sucre
For ages: three and over

The converted Beau Plan Sugar Factory, now an impressive interactive museum, has something of the Willy Wonker magic about it. Kids will be awestruck by the 33m high chimneystack and walking in through a huge sugar heap. Inside this cathedral of sweetness is the original heavy machinery including cogs bigger than garages and boilers big enough to live in, which used to reach sweltering  temperatures of 300 degrees. Of course sugar is inextricably linked with the history of Mauritius and thereby tells much of the history of the island covering everything from colonial architecture to the abolition of slavery in 1835.
During the 19th century there were over 300 sugar factories. Today there are just four. Raj the martin and Floryse the mongoose guide kids round and they can also enjoy the spy holes, talking pipes, videos and questions posed with questions under wooden flaps. Best of all is the tasting in the shop. Mums and dads can check out the vanilla, coffee and honey flavoured rum, whilst kids dig into exotic jams such as banana or pineapple and vanilla. Yum! Passing the swaying sugar cane fields on the way back to your hotel will have far more impact after a visit here, not to mention in their humanities lessons.
Price
Adults £9.50, children age 6-13 £4.75
4/7

Fredérica Nature Reserve
For ages three and over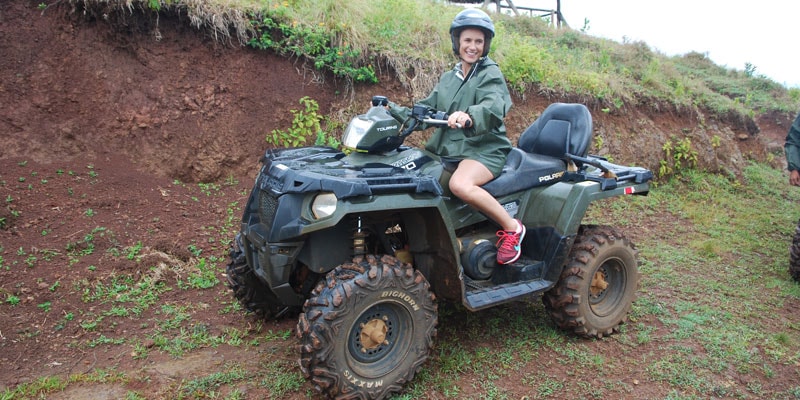 To immerse yourselves in the glorious nature of Mauritius head to the Fredérica Nature Reserve, some 1300 hectares of pristine vegetation and breathtaking views in the south of the island. Families can head here for an exhilarating ride on a quad bike, buggy or 4×4 safari truck with your kids. Teens will especially love the excitement of soaring up and down the mud tracks with incredible views out over the endemic green countryside and turquoise blue lagoon and sea beyond, waterfalls and pineapple fields.
If you're lucky you'll spot herds of Java deer, wild boar, the rare Mauritian Black Bulbul and Echo Parakeet, saved from extinction by the Mauritian Wildlife Foundation. And for a special treat come for a Night Safari at twilight when stags, wild boar and bats come out of their hiding places which finishes at a cosy lodge with drinks and nibbles round a camp fire.
All visits are guided and depart at 9am or 1pm. Quad drivers must be 18 years old, passengers from 12 years. Buggy driver from 16 years and passengers from 5 years. 4X4 safari truck takes passengers from 3 years accompanied by an adult.
Price
2 hours in a four-seater family buggy with a guide costs £155
5/7

Mahebourg Market
For ages three and up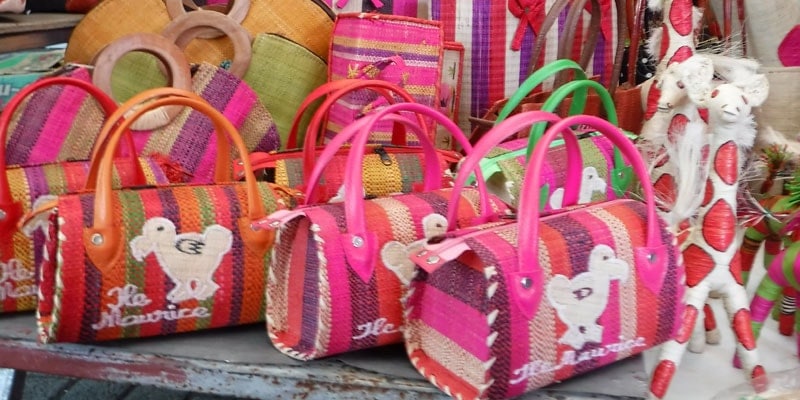 Give you children a taste of real island life with a visit to the Monday market in  Mahebourg in the southeast. The fruit and veg are a sight to behold with exotic piles of lychees, tiny pineapples, coconuts, mountains of fresh herbs and chillies next to less recognizable vegetables such as calabash and margoze.
There's no one to hassle you and lots of locally made goodies to buy at a great price with a bit of gentle bartering. For great gifts and souvenirs pick up a genuine silk pashmina for just 7.50, colourful woven baskets for £10, Indian necklaces £3.75, Indian style skirts and dresses £5, carved wooden boxes with a secret lock £5.
Afterwards stop by Restaurant La Vielle Rouge (6313980) on Rue Hangard in Mahebourg for a genuine Mauritian lunch on the veranda. Treat the kids to their first fish curry wrapped in a banana leaf with peanuts and orange. Delicious and not too spicy for young palates! Mains around £7.
6/7

Seakarting
Fun Adventure
For ages: six and over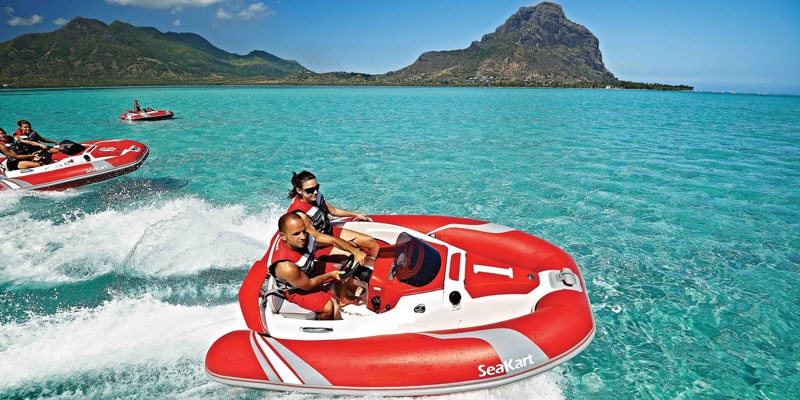 Kids will think you're the coolest parents on the planet when you take them seakarting. These nifty red and white machines cruise around the south west coast of Mauritius over tropical waters and coral reefs. Stop at Crystal Rock, the unspoilt Benitier's Island and the imposing Le Morne Brabant mountain. You might even spot dolphin too.
Price
One hour costs £138 per Seakart (up to two adults and one child). Half day costs £243 per Seakart (up to two adults and one child)
7/7

Casela World of Adventures
For all ages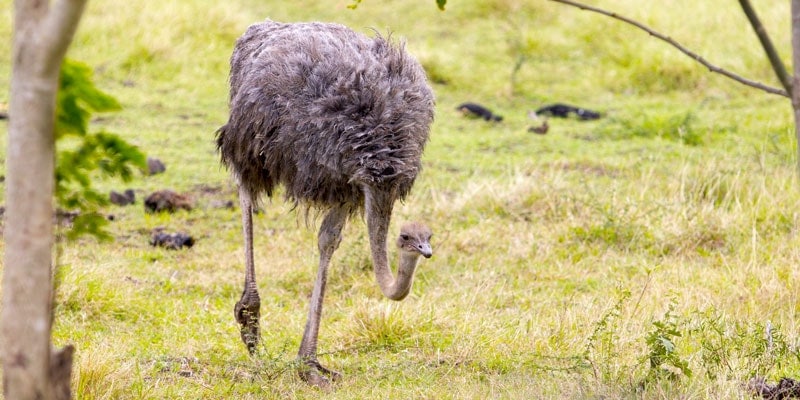 For more animals adventures you can't go wrong with a visit to Casela World of Adventures. Here your kids can encounter zebras, ostriches, antelopes, white rhinos, impalas and kudus. In the petting farm they can try tilapia fishing, animal feeding, take a pony ride and even be a zookeeper for the day (8-14 year olds).
Price
Basic park entrance costs £18.50 per child 12 and over, £11.90 per children 3-12 years