For a scuba fanatic, there are few places better to learn than the Maldives. So diving diva Mariella Frostrup couldn't wait to see her 10-year-old son take the PADI plunge in the Indian Ocean idyll.
Don't forget your snorkel!
Bleary with jet lag after a long, hot, hallucinogenic sleep, I stumble onto the beach, where a man in black is hovering 5m above the water. In this eerily post-apocalyptic seascape, flat turquoise sea stretching as far as my eyes can trace, he looks surprisingly at home, firing jets of water from his feet like some futuristic hybrid – part man, part bird, part Jesus. The kids, needless to say, are entranced – as is Dad, who's arrived just in time to see this curious apparition topple over with an almighty splash and disappear headfirst beneath the surface. With some relief, we spy a jetskier whose machine is connected to the submerged man via a fat hose, just as, Lazarus like, he re-emerges upright from the water and shoots back into mid-air. Jet Pack Joy Ride, as Molly and Dan christen this newest watersport, is the perfect startling beginning to a week entirely devoted to the pleasures of the ocean.
They say money can't buy you happiness, but Landaa Giraavaru, the Four Seasons hotel in the UNESCO-designated 'Biosphere' of the Baa Atoll in the Maldives, does everything it can to disprove that theory. At this private island devoted to your pleasure, each day rolls into the next in an orgy of lazy indulgence or frenetic activity, dependent on your desires. 'You know the really great thing about here?' my daughter Molly asked on our second day. 'It looks exactly like it did in the pictures!' It's true: the Maldives struggles to disappoint, which may be why it remains an immensely popular destination, attracting over a million visitors a year, despite the distance and the price tag when you get here.
We're here with a purpose: to initiate the last member of our family foursome into the delights of the deep. Dan has reached his 10th birthday, and he's following in his sister's footsteps, attempting his PADI junior diver certification. Having scoured the globe for three decades hunting down the best dive sites to indulge my own passion, I'm convinced there are few better places to learn to love the underwater realm than this tiny atoll nation. The pristine sea and powdery white sand are the stuff dreams are made of. But for me, the country's best assets are hidden beneath the surface. Slipping beneath the warm, crystal-clear Indian Ocean transports you to a hypnotic new world. There, soft corals wave in the gentle swell, and striped clownfish dart in and out of their anemones, while fish with fantasy names like sweetlips and elegant firegoby swim above the nooks and crannies of the coral reefs that are home to crabs and shrimp, nudibranchs and moray eels. If you want your children to love the ocean, there's no better place on earth to kick off that affair.
Like any great love affair, it's one heightened by the tenuousness of its survival. Most of the islands of the lowest nation on earth sit less than 2m above sea level, making the Maldives the first casualty of any rise in sea levels. Global warming isn't a concept for these islanders but a clear and present danger to their centuries-old lifestyle. It may be the greatest peril, but it's not the only threat the islands face. In 1998, El Niño, the water-warming weather anomaly that continues to this day, wiped out 95% of the Maldives' coral reefs in a phenomenon called bleaching, rendering once vibrantly stocked and vividly coloured tropical habitats grey and lifeless, unable to support the multitude of marine life that called it home. This year, it's threatening to return and destroy a further 50% of the recovered coral.
The Maldives is not an exception. Similar devastation is occurring across the seven seas, the result of pollutants and overfishing, global warming and overpopulation. It's an apocalyptic demise for the most part invisible to landlubbers and hard to imagine unless you've seen first hand what the underwater world can be like at its unspoilt best – a place as colourful as any tropical garden, and teeming with life. Imagine Kew Gardens turned grey and without birdsong, the Cotswolds parched and barren, the Scottish moors reduced to rutted brown earth. That's what's occurring beneath the surface of our seas. It's the reason I've dragged my children halfway around the globe to introduce them to a world that could disappear in their lifetime or be resurrected by the concerted efforts of their generation. And yes, we did offset our carbon!
I first visited the Maldives in the aftermath of El Niño and was shocked by a once-dazzling multi-coloured underworld turned ashen. Happily, nine years later, the reefs are recovering, brightly coloured corals are returning to entice the fish life that depend on them and shoals of tiny cartoon-like reef fish (or maybe I've watched Finding Nemo too often in the intervening years) are starting to multiply. Baa Atoll's designation as one of a handful of UNESCO Biospheres certainly helps to focus attention on its unique habitats, and while it doesn't provide any particular protection, it does offer incentives to preserve that status. The biggest threat, of course, comes from man, and since the 1970s the Maldives has witnessed a tourism bonanza. Hotels operations both big and small are being allocated lucrative licences to turn tropical idylls into luxury resorts, with little thought for the environmental impact.
Now, the conservation of this fragile marine habitat has become an urgent priority for those who make a living from its assets. The Four Seasons at Landaa Giraavaru, and its sister resort of Kuda Huraa, are pioneers of this newfound duty of custodianship, thanks to their enterprising general manager, Armando Kraenzlin. On arrival, you're greeted by a landmark marine centre, right on the dock, emblazoned with a giant photograph of a tiny scuba diver and a huge whale shark that delivers an unmistakeable mission statement. The centre is the biggest in the country and one of the largest housed by any hotel in the world, boasting a staff of up to 15 during the busy summer months, when tagging the elusive and much-reduced manta ray population takes place. This takes place alongside the centre's year-round work with a turtle sanctuary and clownfish breeding programme, the latter created to mitigate the global appetite for filling homes and restaurant tanks with Nemo lookalikes.
For us, the turtles were the saddest sight, bobbing around in small outdoor tanks, trying to remaster the art of swimming minus a flipper or two. The current six residents (including one some jokers called 'Lucky') have all lost essential limbs to 'ghost nets' – kilometres-long discarded fishing nets that indiscriminately trap marine life in their web, creating an underwater horror show of the maimed, the dying and the dead. Some can be healed and returned to the wild, but not the many who are also suffering from a mysterious, as yet unexplained, epidemic of 'floating sickness', which prevents them from diving for food and leaves them entirely dependent on the care they receive at the sanctuary. Visiting children are encouraged to help at feeding times and get a talk on the threats to the turtles' habitat, creating pint-sized marine eco-warriors by the end of the stay.
It's a parents' dream to try to pass on their passions to their children, and perhaps to inspire new ones. In reality, however, sending your 10-year-old off to learn a 'dangerous' sport under a stranger's supervision is pretty nerve-wracking. But the Four Seasons' quality of service extends to its large dive operation, lending much-needed courage to quailing parents. Housed in the marine centre, it's staffed by 13 instructors and dive masters, who speak 11 languages between them, and ruled with a rod of iron and surfeit of charm by Angela. There couldn't be a more professional and reassuring set-up to which you could entrust your children.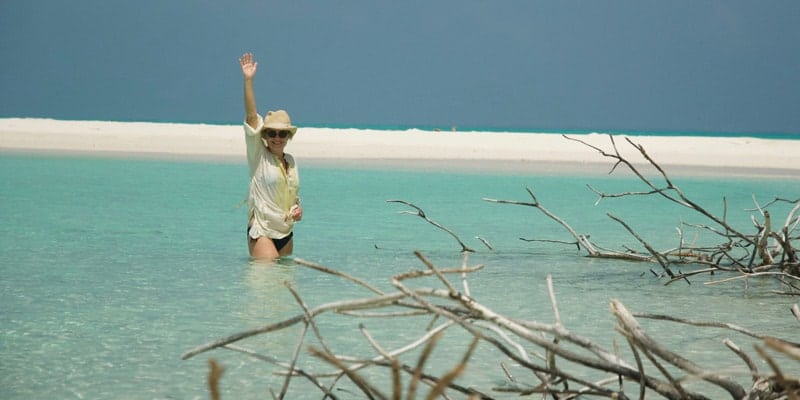 Four days of study and practice dives later, with his newfound friend and instructor Sabrina, Dan was a certified scuba diver, ready to embark on his ocean diving debut. For me, it was a dream fulfilled, but also unnerving to be 12m below the Indian Ocean with both my minnows in tow. How tiny and vulnerable they seemed, flailing around dwarfed by their tanks and flippers. Well, that was Dan and me, at least; my daughter is part mermaid, as graceful as any of the marine life around her, and seemingly equally at home. Watching them explore and excitedly point out comical creatures they'd previously only seen on screen allowed me a precious and all-too-rare moment of pride for my part in their induction. That said, I could have done without my safety-conscious son continually checking my air consumption – there's definitely a career in health and safety ahead for that boy.
On our last night, we lazed under a silvery waning moon, dazzled by the infinity of stars, reclining on floor cushions on the laidback jetty bar. As we sipped cocktails, the kids tried to identify fish and small sharks in the lamp-lit ocean beneath us. A pretty young Russian girl woke us from our reverie with a cry of, 'Look, a Manta Ray,' and with the confidence of their newfound expertise, I heard Molly and Dan politely and precociously put her straight. 'Actually, it's an eagle ray – we saw two on our dive today!' It's a holiday memory I'm still savouring, and the perfect conclusion to a crammed week where we embraced most of the activities the ocean has to offer and some we hadn't even imagined existed. With so many watery pastimes on offer, from waterskiing to wakeboarding, kayaking to sailing, jetskiing to snorkelling and, let's not forget, our new favourite the Jet Pack Joy Ride, it was hard work to commit myself to inertia… though I can assure you, I gave it my best shot.
The Maldives: the lowdown
Price during school summer holidays
Kuoni offers seven nights B&B at the Four Seasons Resort Maldives Landaa Giraavaru in a beach bungalow with pool, including return flights London Gatwick and seaplane transfers. From £13,741 for a family of four (departing 14 August 2016, two adults, two children aged 2-11, sharing).
Learn-to-dive courses
PADI Seal Team, £325
5 aqua missions + PADI Seal Team manual & DVD (min 8 years)
Open Water Course, £625
3 to 4 days' training
Prices include equipment rental, boat charges and dive guides, unless otherwise specified. All prices subject to 23.2% service charge and goods and services tax.
Mariella Frostrup is a proud patron of the Shark Trust. Don't miss these fascinating facts about sharks from Paul Cox, Managing Director of the Shark Trust.