Sponsored Content
Next time someone tells you luxury holidays in The Maldives aren't for kids, point them in the direction of LUX* North Malé Atoll Resort & Villas where kids are not only treasured guests, absolutely everything's done to make family holidays as wonderful as they should be in this captivating part of the world. Obviously nature had a bit of a hand in organising the shallow and kid-friendly lagoon which wraps right round the resort island – a rare phenomena in The Maldives. But apart from that, the atmosphere, kids' clubs, stunning family villas, endless activities and outstanding fun, is all down to LUX* ingenuity, imagination and a second-to-none understanding of what really makes family holidays work.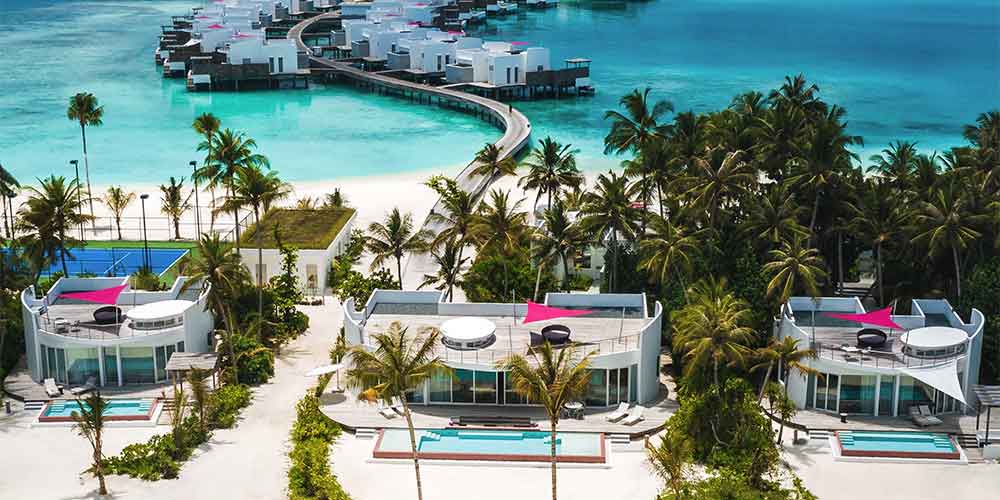 1/4

Family-friendly from lagoon to luxurious residences

LUX* North Malé Atoll Resort & Villas' island's surrounded by a shallow lagoon and, if you know The Maldives even a little, you'll know that's rare and bliss for first-time swimmers, tentative little paddlers and even confident in the water kids.

A naturally family-friendly island is good fortune, but nothing's been left to chance when it comes to the resort's family villas, residences and retreats. They've been meticulously designed from big ideas like roof terraces and private pools right down to the tiny, thoughtful touches that make the difference between great and magical on a holiday with kids.
Two Bedroom Beach Residences with 205m² living space, private pool and rooftop terrace. Opens out onto the beach and sleeps up to six.
LUX

*

Beach Retreat with 970m² living space, three levels, three bedrooms, private grounds, roof terrace and private pool. Beachfront and sleeps up eight.
Prestige Water Villas with one bedroom, private pool, roof terrace and stunning lagoon views, sleeps up to four.
Overwater Residences with two bedrooms, elevated sky-decks with lagoon views, 680m² indoor/outdoor space, sleeps up to six.
LUX

*

Overwater Retreat with 997m² indoor/outdoor space, light-flooded open plan living area, private pool, roof terrace, private dock, sleeps up to eight.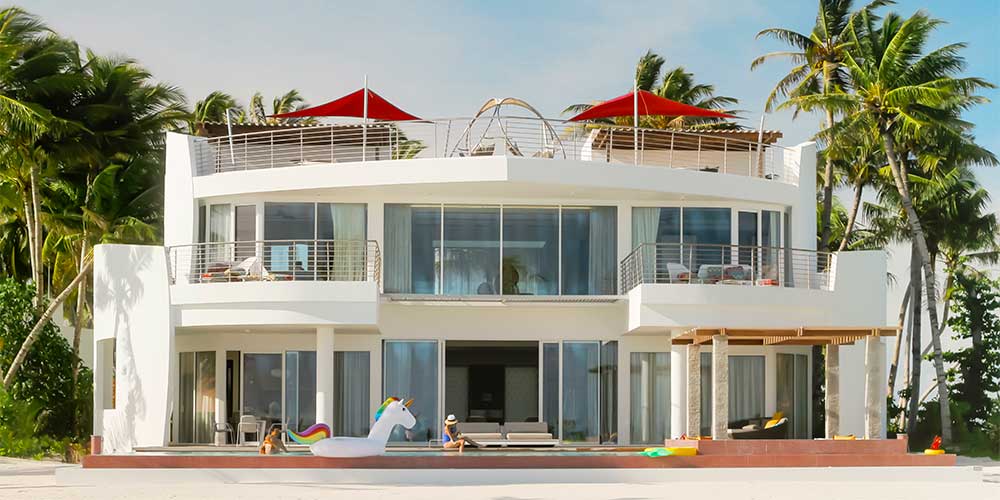 2/4

PLAY takes kids clubs up a level (and then some)

Expect nothing less than extraordinary from PLAY kids club at LUX* North Malé Atoll Resort & Villas. Innovatively designed for young guests from age three to 11 years (under threes are welcome with a parent or babysitter) PLAY has its own indoor splash-park, outdoor and indoor playrooms, a baby 'snoozing' room and makes full use of the entire island for fun and games. Activities change on an hourly basis and are imaginatively created to suit three different age groups – so nobody gets bored or left out.

PLAY and lots, lots more just for kids
Devoted to fun and learning, PLAY builds confidence with age-appropriate group activities for kids from 3 to 5, 6 to 8 and 9 to 11 years.
Studio 17 is the teen club designed to give 12 to 17 year olds freedom to express their creativity, learn new activities, explore the island and make new friends, all under a little light supervision.
Kids' activities include supervised water sports, treasure hunts, round-island eco-adventures, plus craft, art and music activities.
Pack light and just ask LUX

*

North Malé Atoll Resort & Villas to organise the baby and toddler stuff for you, from cots and sterilisers to buggies, they've got it covered.
Twice a week it's kids' movie night at Cinema Paradiso, on the beach and under the stars.
Find out about PLAY and more for kids at LUX

*

North Malé Atoll Resort & Villas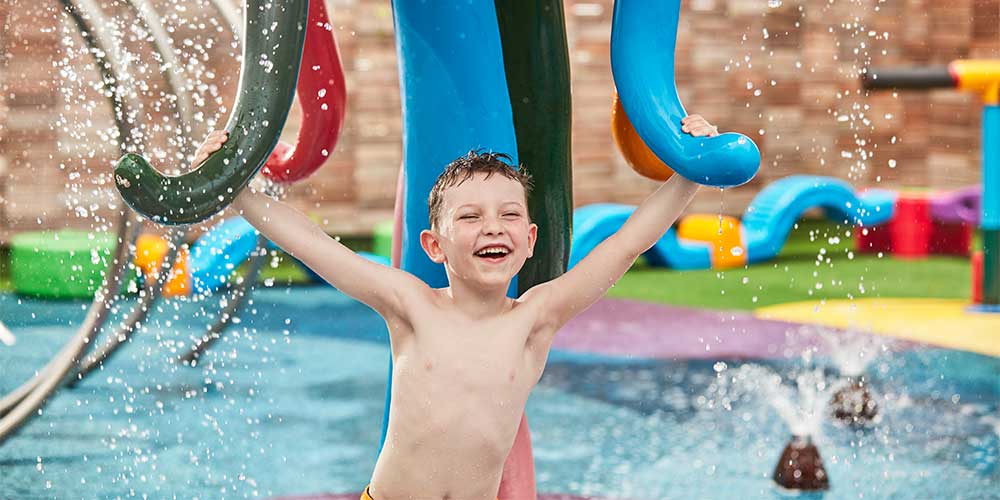 3/4

Kids learn to dive from age eight at LUX

*

North Malé Atoll Resort

Mention The Maldives to any seasoned diver and they'll get a dreamy, faraway look in their eyes almost instantly. Some of the best dive sites in the world are Maldivian, the Indian Ocean's marine life is miraculous and you probably don't need to be told how warm, balmy and transparent the waters are here.

In that spirit LUX* North Malé Atoll Resort & Villas are keen believers in getting kids into scuba as early as possible. The resort Bubble Maker Programme kicks of learning from age eight and progresses kids to two metre depths but never outside their comfort zone. Wannabe divers age 10 and over can join Discover Diving, another innovative programme that builds confidence and lays the foundation for what could very well become a passion for life.
Family activities for everyone to get into
Snorkelling is incredible thanks to the island's safe, shallow lagoon, along with a pristine house reef and crystal clear waters.
LUX

*

North Malé Atoll has its own surf break and it's also a paradise for kite surfing, windsurfing, wakeboarding and water skiing.
Try stand up paddle boarding, catamaran sailing, silly good fun banana boating or knee boarding (great intro to water skiing for kids).
Extremists can give flyboarding a go and the resort has Sea Bobs and semi-submarines too.
Skippered luxury yacht cruises let you explore the wider Indian Ocean. Or if you want to learn the ropes yourself, catamaran sailing instruction is available.
Find out more about family activities at LUX

*

North Malé Atoll Resort & Villas
4/4

Healthy eating – with lots of LUX

*

original treats

With no less than seven bars and restaurants, there's no shortage of choice when it comes to eating at LUX* North Malé Atoll Resort & Villas. Of course, the focus is on fresh and healthy ingredients for kids, lovingly created children's menus add another level of family-friendly into mealtimes, carefully prepped baby food is always available and resort chefs are happy to help out with special dietary requirements – you only have to ask. But is a holiday really a holiday without treats? The quick answer is no and that's why Café LUX* comes good on perfect patisserie (as well as excellent coffee) and the reason that ICI exists to spoil kids a little with home-made ice cream in all the flavours they love, along with extravagant toppings, of course.
Find out more about restaurants & bars at LUX

*

North Malé Atoll Resort & Villas
The lowdown
Where
Olhahali Island, North Malé Atoll, The Maldives
One hour from Male International Airport by private seaplane or speedboat.
How to get there
Direct UK flights to Male International Airport take from 10 hours, 20 minutes.
Now you know that luxury family holidays in The Maldives are made for kids if you pick the right resort island, visit LUX* North Malé Atoll Resort & Villas and see what's happening in 2020.