TV presenter Charlotte Hawkins travels to the Sheraton Maldives Full Moon Resort & Spa with husband and four-year-old daughter, Ella Rose and finds a heavenly beach escape in which the whole family can relax and recharge the batteries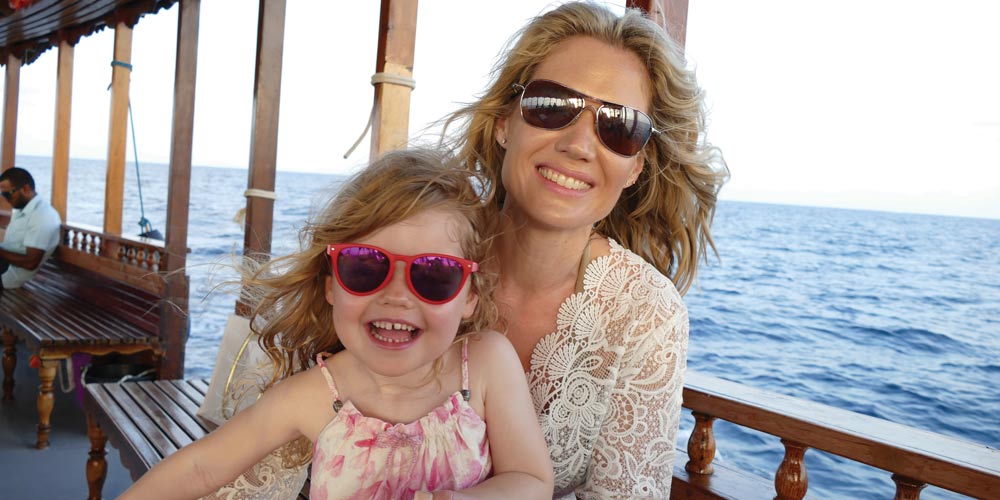 The Maldives is on many people's dream destination list, and it's one of my favourite places in the world. It feels like paradise with its unbelievably white sandy beaches and crystal-clear turquoise waters. For those who wonder just how much there is to do when you get there, the great thing is, it can be as action-packed or as chilled as you make it.
The key to travelling to the Maldives with children is finding the right resort. Traditionally, it was a destination for couples and divers but families are now greeted as VIPs at some resorts. Sheraton Maldives manages to combine having a grown-up feel while still catering for the needs of your little ones, which makes a big difference.
The first plus for this resort is the journey time from Male airport. You don't need to catch a seaplane as you do with many of the other Maldivian resorts, which is a godsend after a lengthy flight from the UK with a little one. Instead, you just have a quick 15-minute hop to the island via speedboat. The downside is you can see Malé in the distance from part of the island, but it doesn't detract from the beauty of the place.
Ella-Rose has just started swimming, so we spent a lot of our holiday based around the central pool, which is perfect for families with a deeper pool for swimmers and a shallow pool with jets for little ones to potter and play. There are plenty of loungers and double beds to make the most of relaxing and watching the world go by. Our room also had a plunge pool, which was great for splashing around in. We moved to an Ocean View room for the last couple of nights of our stay which offered a bit more seclusion. You can gaze out to sea as you put your feet up in a hammock and don't have to worry about the noise from excitable little ones intruding on the neighbours. They do have over-water villas as well, but with steps leading straight down to the sea we decided that, with a four-year-old, a land-based option was a safer choice.
There are more than 176 rooms, but during our stay it never seemed busy and you still get that feeling of being on a secluded island. The beach was popular with sunbathers and the over-water hammock and volleyball net helped for those wanting to spend time cooling off in the water. For those who wanted entertainment on land, there were boules, darts and the biggest giant Jenga game I've ever seen. You can easily stay at the beach all day as the Kakuni Hut offers tacos or quesadillas for lunch and you can order signature cocktails to toasting the sunset.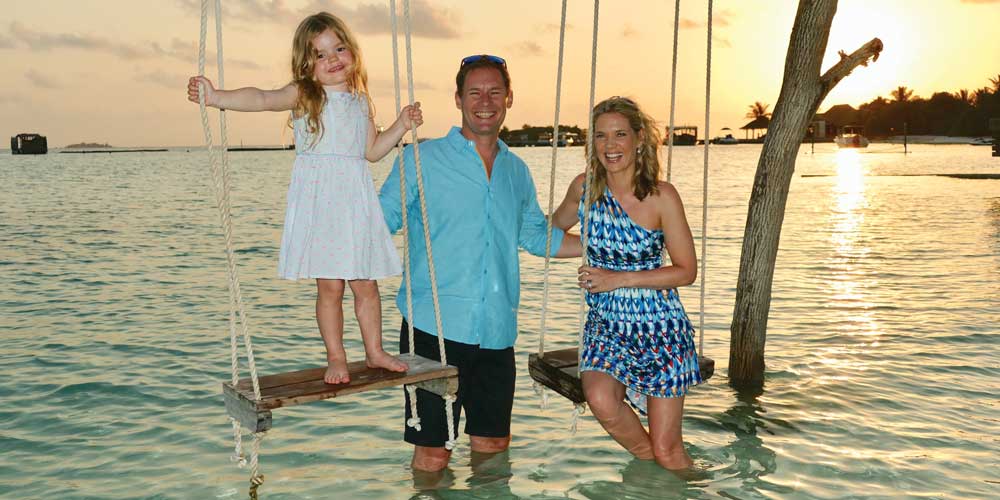 You can't go to the Maldives without making the most of exploring what the sea has to offer. For the best snorkelling, head out on a guided trip –we found it amazing seeing all the marine life up close, including sharks and turtles. It was Ella Rose's first attempt with a snorkel but she happily perched on my back with an occasional look at what was underwater, and we had the reassurance she could have been looked after on the boat if necessary. We also went on a Dolphin trip, venturing out on a traditional Maldivian Dhoni boat to get incredible views of the dolphins as they somersaulted right in front of us.
The wildlife encounters continued back at resort as there are plenty of opportunities for gecko and fruit bat spotting, which turned out to be one of Ella Rose's favourite games. The real highlight however was the Lagoon Lunch, where you sit on a picnic bench immersed in the shallow waters to have a spectacular lunch from the Sea Salt restaurant, surrounded by baby sharks. It was a great experience for all of us and such a special memory. Since our visit, the resort now gives children the opportunity to mingle with baby sharks with the special shark-feeding sessions as well.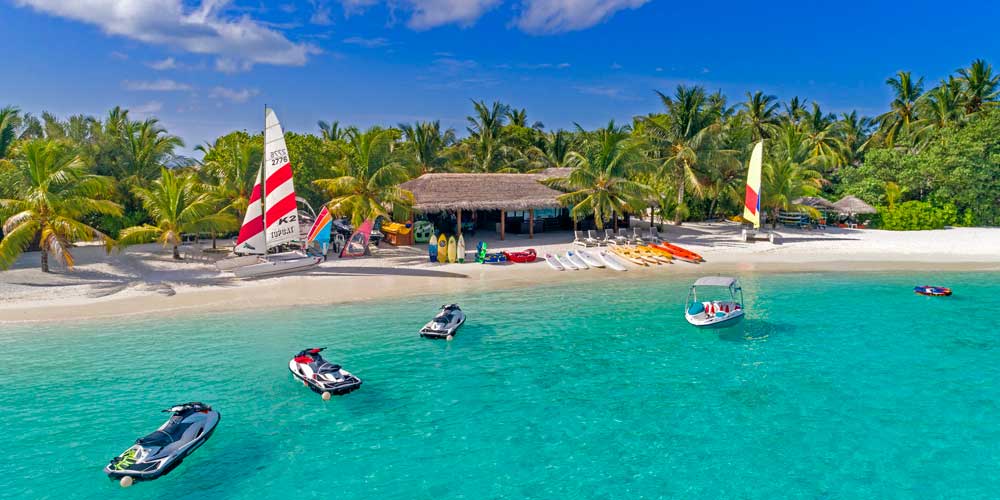 For the adults there are blissful spa treatments at the Shine Spa – we had the couple's massage, which definitely helped ease all the knots out. There is yoga, tennis and football available but we stuck to visiting the gym a couple of times to offset the damage from all the fabulous food. The Baan Thai restaurant was wonderful, as was Sand Coast, which had Asian-fusion food, and its tempura basket was so tempting it enticed Ella Rose to try prawns for the first time and realise she liked them. Our usual lunch spot at the Anchorage bar was perfect as they do half portions of many of the dishes for children.
For evening dining, the children's menu had a great selection of dishes from grilled fish fingers to Maldivian chicken curry and veggie crudite wraps. Ella Rose would like me to give a special mention to her dessert of choice, the Brownie Banana Split, which she would have had every night if she'd had her way! A real culinary highlight for all of us was the Maldivian barbecue night on the beach, where they cooked fresh fish, and even offered to cook a special de-boned version for Ella Rose, which she loved.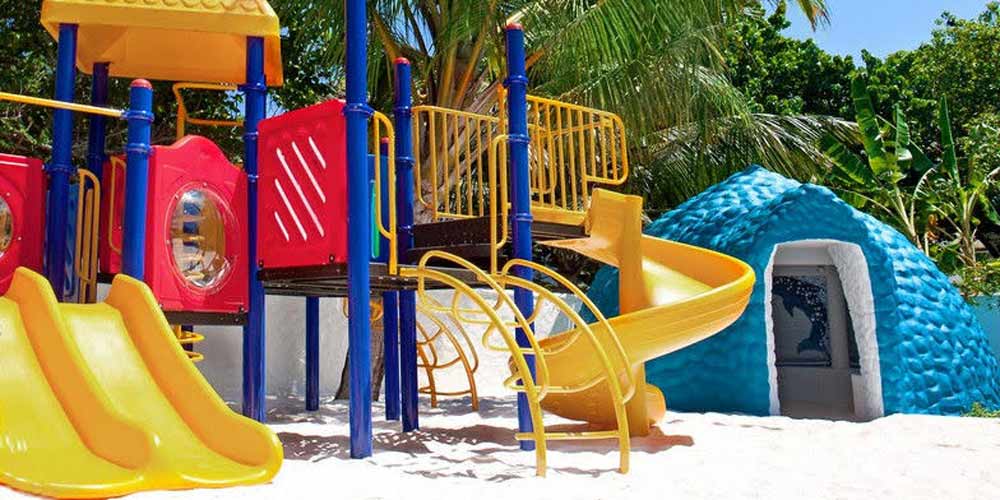 We don't use the kids clubs on holiday very often as we enjoy spending time altogether as a family, but when we popped along to have a look at what they had on offer at the Sheraton Adventure Club, now under the creative eye of recreations manager, Marco Rawhy, Ella Rose jumped at the chance to spend time there. She saw a magician, played with bubbles and water jets, and there were various other tempting sessions such as cupcake decorating and friendship bracelet-making. There were a couple of other similarly-aged girls there at the same time so she was thrilled to make new friends. And she made a firm friend in Wahyu, one of the members of staff who was a favourite with all the children as she always found time to play with them while we were at dinner, which gave us the chance to eat without interruptions.
All in all, we spent a blissful week recharging our batteries and seeing the best the resort had to offer. With wall-to-wall sunshine, comfy loungers, wonderful food and drink and a happy child, it was the perfect recipe for a great family holiday.
The Lowdown
Getting there
Flights to Male from London are available from £2,033 with Emirates return for two adults and one child
Where to stay
A one-bedroom cottage at Sheraton Maldives Full Moon Resort & Spa costs from £315 per night with breakfast