Sponsored Content
Park Hyatt Hadahaa villas look beautiful and feel ridiculously opulent, but it's nice to know they're also the only ones in The Maldives to hold Green Globe and EarthCheck certification for design and construction. So you can indulge in the resort's signature barefoot luxury with a completely clear conscience.
Visit soon and be the first to experience Hadahaa's new two bedroom Park Pool Villas, designed with extra space for families and a private 55m² swimming pool. And if you want to spin your island holiday out, you can also take advantage of Hyatt's Stay More, Save More offer, which gives you up to 15% off each additional night you spend in paradise.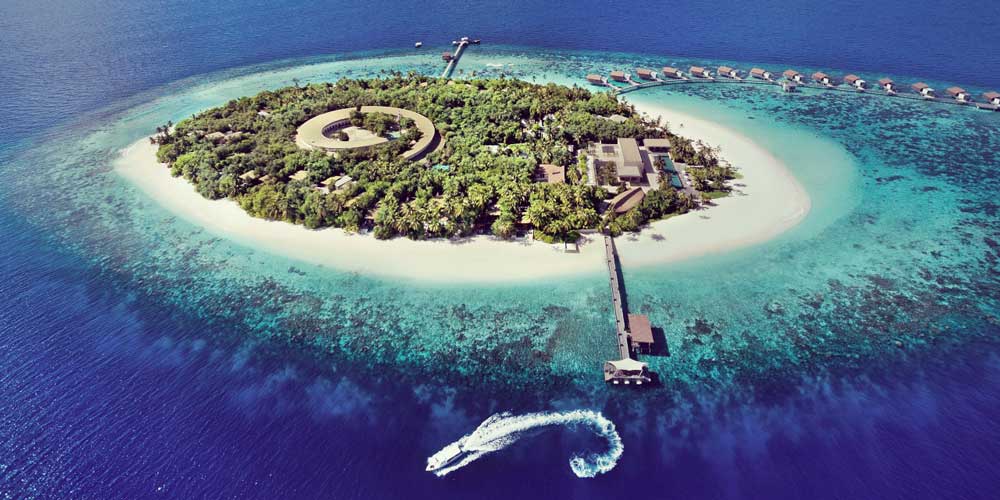 1/5 

The enchanting southern Maldives
Park Hyatt Hadahaa sits at the heart of Gaafu Alifu, one of earth's largest and deepest natural atolls, the most southerly in The Maldives and just 55 kilometres from the equator. It's difficult to compare one paradise island to another in this part of the world, but safe to say Hadahaa would win hands down in any local contest.
The house reef alone is one of the healthiest in the country, there are dozens of internationally renowned dive sites within reach of the resort. Sail to neighbouring islands and you can still see traditional Maldivian ways of life, alive and flourishing. Spend a day fishing on an historic Dhoni boat, and it's an experience kids will remember forever.
Even Hadahaa's Vidhun Spa is inspired by the tradition of Maldivian holistic wellness. Although, with five separate spa villas, a range of soothing treatments and an 80 foot tranquillity pool and jacuzzi, there's no denying the interpretation of tradition here clearly errs on the side of absolute indulgence.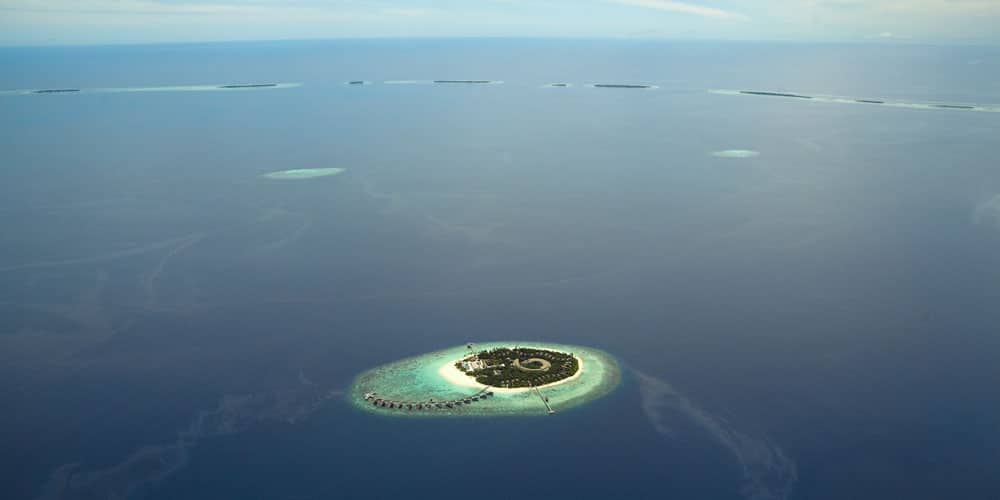 2/5 

An Indian Ocean adventure for kids
The waters round Gaafu Alifu atoll are exhilarating for experienced divers; deep, clear and teeming with marine life. Snorkelling in the house reef is an incredible experience, with a variety of marine life, and there's nowhere quite like Hadahaa to introduce kids to a lifelong passion for scuba.
The resort's Bubblemaker lets wannabe divers as young as eight venture up to two metres underwater. Discover Scuba Diving is an exciting confidence building course designed to get over 10s breathing easily and exploring the wonders of the reef, at their own pace. But, if you're up for some serious holiday bonding, the basic adult diving course is available from age ten, so kids and parents can buddy up and get PADI certified together – best souvenir of all time. 
Splashing around in the sea, exploring the island, swimming in the resort's two enormous pools or playing on white sand beaches, might be enough to keep kids happy all holiday long. But if they've some time to spare, Hadahaa's happy to fill in with dolphin watching, island hopping and fascinating eco-cruises.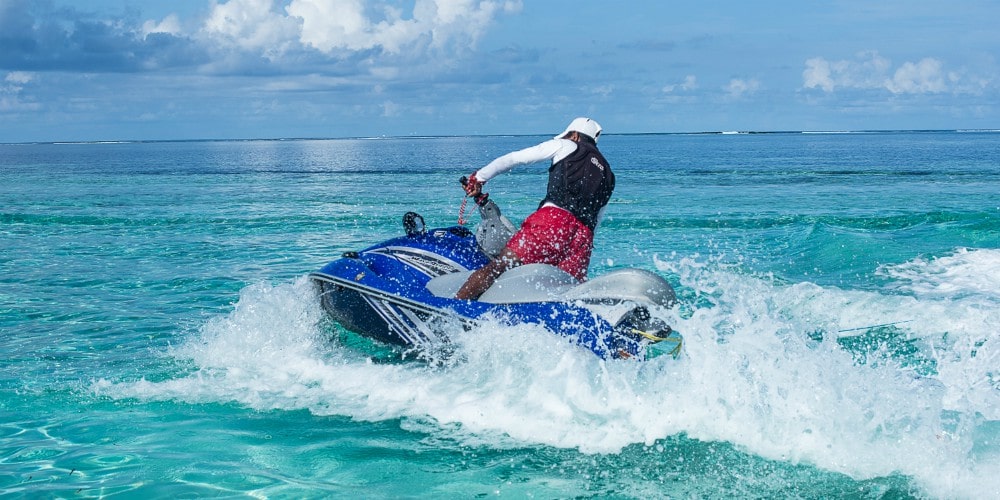 3/5

  A green resort with its own 'sports island'
Park Hyatt is the only resort in The Maldives certified by Earth Check and Green Globe, so its eco-credentials are all-round excellent. Low impact, or better still, no impact, comes with the territory, and taking care of one of the country's most pristine house reefs is a priority.
But an outstanding conservation record doesn't stop anyone having fun, exactly the opposite, Mutteyfushi Sports Island is just 15 minutes by boat from the resort, surrounded by a five kilometre wide lagoon and lets you play to your heart's content. 
Kids can try windsurfing, sea kayaking and catamaran sailing – the calm waters around Mutteyfushi are only perfect for first time sailors. Temperatures hover around 30˚ all year round in The Maldives, so the Indian Ocean's always warm enough for zipping about on Banana Boats, jet skiing, wakeboarding, knee boarding and water skiing. You can even go on Turtle Safari in the lagoon or just laze around the beach and do nothing much at all.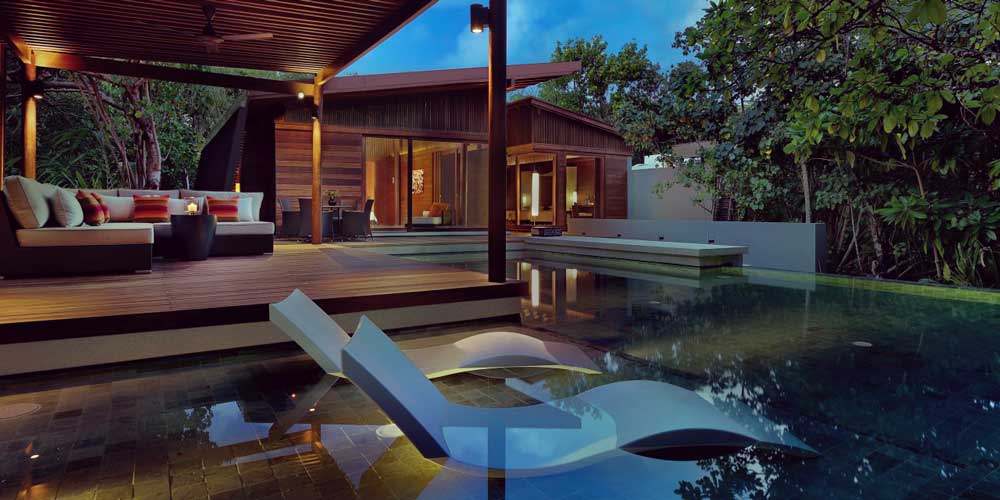 4/5 

New, family-perfect, two bedroom Park Pool Villas
From their sleek, contemporary looks mixed to cloud-soft luxury a keen eye on conservation, Hadahaa's villas are some of the most interesting in The Maldives.
The new collection of two bedroom Park Pool Villas echo the striking design of the resort's original villas, but at 300m², they're roomier than any other on the island and perfect for families. Light and airy inside, with huge floor to ceiling windows, each villa also has its own private 55m² swimming pool and a secluded outdoor terrace, made for Maldivian sunset gazing.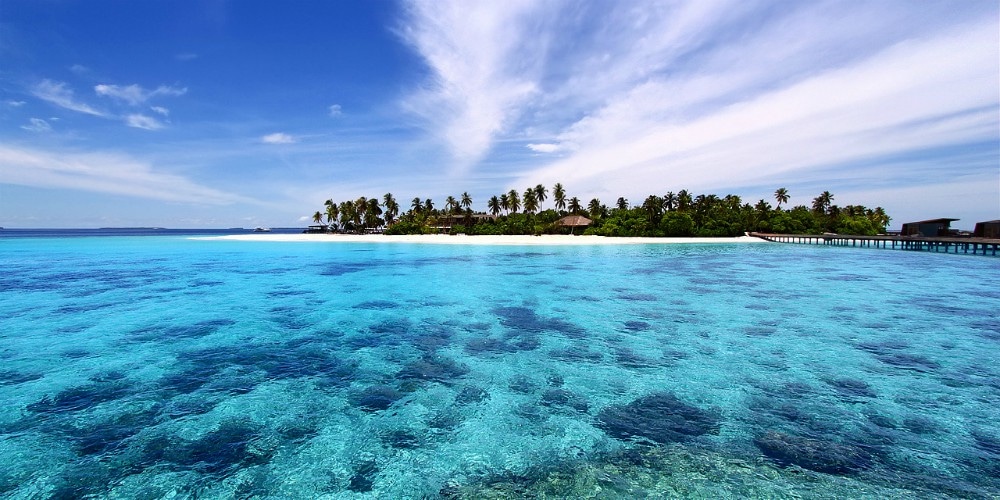 5/5 

Day and night barefoot luxury
Easy going, sand between your toes, barefoot luxury is a big part of  Hadahaa's appeal for families. Nothing is too much trouble, service is exceptional but feels whisper-light and unobtrusive; even meal times are relaxed, which is great news for younger kids.
The Dining Room is light, airy and friendly for breakfast, lunch and family dinners. If you want a few hours' grown-up time, The Island Grill's lovely in the evening, and babysitting couldn't be easier to arrange, you only have to ask. Regular themed buffets let you try Maldivian dishes and you can even take cooking classes to master some local culinary traditions yourself. 
Naturally, a sense of sheer escapism is part of the charm on The Maldives' most southerly islands. But Hadahaa is surprisingly easy to reach; domestic flights from Malé to Kooddoo Airport take slightly over an hour, and the speedboat journey to the resort itself is just 30 minutes. 
Park Hyatt Hadahaa's new 300m² Park Pool Villas have two bedrooms and two bathrooms, an outdoor bathtub and rain shower on the sheltered terrace, and a private 55m² swimming pool with semi-submerged sunbeds.
Find out more about

family holidays at Park Hyatt Hadahaa

on Gaafu Alifu atoll in the southern Maldives. View the virtual tour here.