Save 10% on family holidays in the Maldives with Villa Hotels
With family holidays in the Maldives at the top of the dream travel list again, it's a perfect time to discover Villa Hotels and Resorts Maldives and save 10% on getaways at five idyllic private island resorts in the world's loveliest archipelago.
---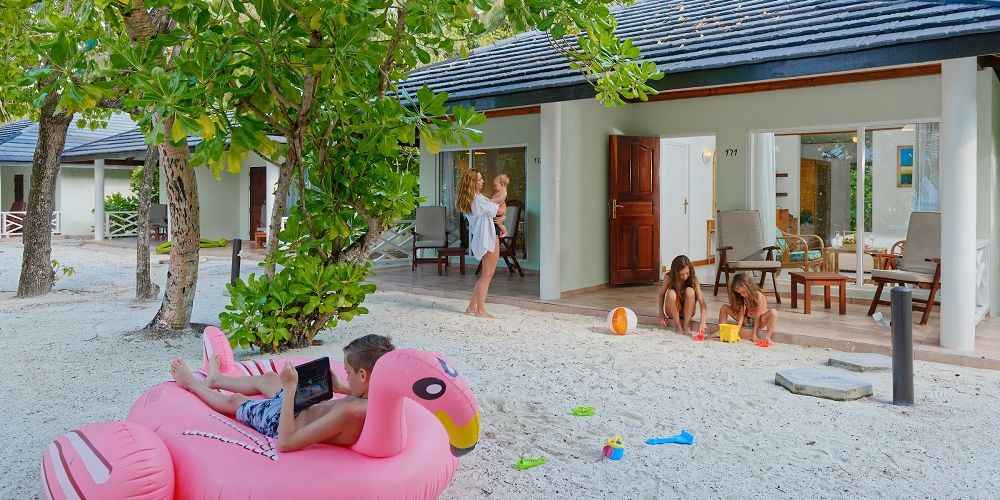 Villa Hotels is one of the longest established companies in the Maldives and one of the largest. So it's a great choice for any style of family holiday you have in mind from beachy and tranquil with younger kids to all-out-active day and night with water sport loving older kids, aspiring young divers or junior marine biologists.
All resorts are a short hop from Malé International Airport – if you know the Maldives, you'll know that's a big plus point for Villa Hotels. Beautifully designed family villas, beachfront with private terraces and space for larger families are luxurious, but standard at all five resorts. You can also look forward to dedicated children's swimming pools; free kids' clubs; professional babysitting; kids' bikes on demand; unlimited water sports and lovingly prepared children's menus in almost every resort restaurant.
Villa Hotels are now offering a 10% discount on all family holidays booked before 5 May 2021, so all you have to do is choose the resort you love best, take a look: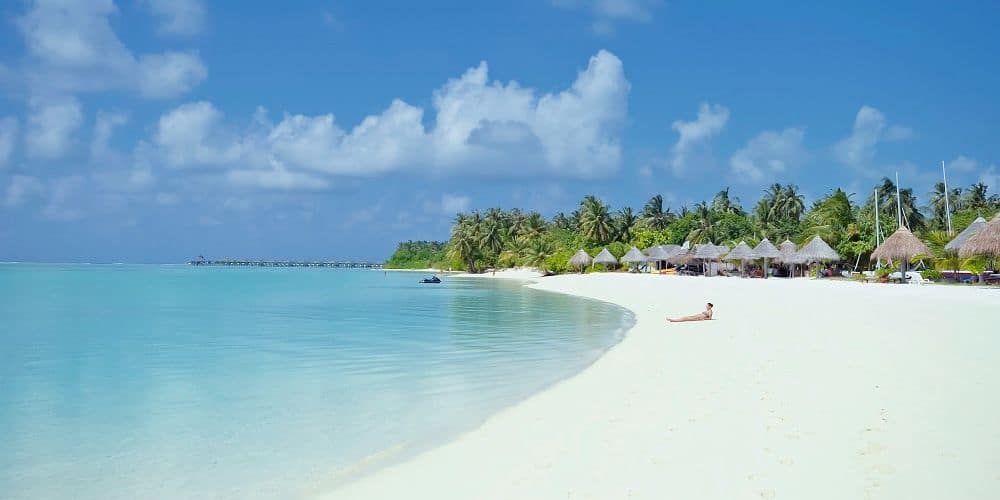 Sun Island Resort & Spa: family-friendly from sunrise to sunset
If you ever imagined the Maldives was too grown up for kids, Sun Island is the resort which clears up that myth every minute of the day. Family-friendly is very much the theme here and it plays out everywhere from crab racing on the gorgeous beaches to a dedicated kids' pool and children's menus in all six restaurants.
Kids' bicycles for the asking, along with a daily programme of activities, only confirms how well the resort understands its youngest guests. Older children and teens can look forward to as much water sport action as they want: all non-motorised water sports are free at Sun Island. Feeding time for stingrays, sharks and tropical fish in the clear waters of the Indian Ocean are a dream for junior marine biologists – parents too. And speaking of family together-time, Sun Island is an expert there as well. So if you've ever longed to go sunset fishing, swim with whale sharks or take a dolphin cruise, those are just a few of the activities lined up for families at this idyllic resort. 
What families love about Sun Island
Sun Island's just south of Malé and only 17 minutes by plane from Malé International Airport.
Two bedroom Family Beach Villas have their own stretch of private beach, sleep up to six and come with a spacious living room, luxury bathroom and any baby or toddler equipment you need – just ask.
A choice of six restaurants including innovative Zero: the treetop restaurant where you choose fresh ingredients from the resort's own gardens.
Araamu Spa offers everything from soothing facials to Ayurvedic therapy in an unbelievably tranquil setting.
Daily kids' activity programme and brand new kids' club set to open in November 2021.
Take a closer look at Sun Island from Villa Hotels and Resorts Maldives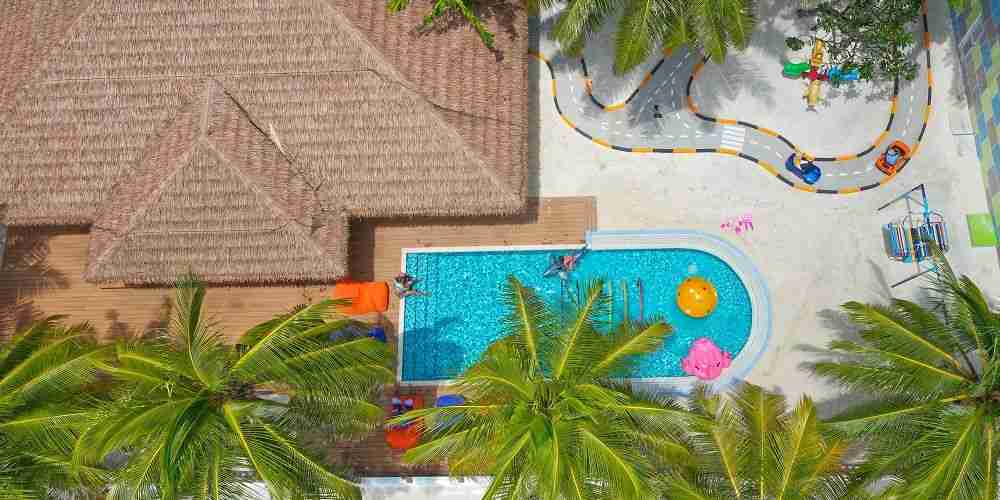 Paradise Island Resort & Spa: playful heaven for energetic kids
Close to Malé International Airport might not seem like a Maldives family holiday deal breaker. But after a long haul flight with kids, a short hop of 15 minutes to Paradise Island resort is the kind of blissfully easy transfer you want. Of course, that's only one reason families love it here and quite a small one compared to enormous two bedroom family beach villas with private sundecks; one of the largest swimming pools in the Maldives; a dedicated kids pool, and five beautifully designed restaurants.
Paradise Island is also the Villa Hotels' resort for Wavy Navy Kids Club with its creative approach to play and the type of warm, cossetting atmosphere that gives parents confidence to take some time to themselves. And from spa soothing to diving, there's plenty in Paradise to fill your time.
What families love about Paradise Island
Set on North Malé Atoll, Paradise Island is only a 15 minute speedboat transfer from Malé International Airport.
Stunning two bedroom Family Beach Villas sleep up to six and, as well as luxuriously large living rooms, also have private sundecks.
All five resort restaurants are equally tempting and all come with views on the side – two actually float on the Indian Ocean.
Fully supervised Wavy Navy Kids Club brings creativity to everything from art classes to beach games, has nap lounges for younger children and its own swimming pool.
Another Villa Hotels resort with a focus on family together time, you can do anything at Paradise from a day's island hopping to snorkelling expeditions.
Take a closer look at Paradise Island from Villa Hotels and Resorts Maldives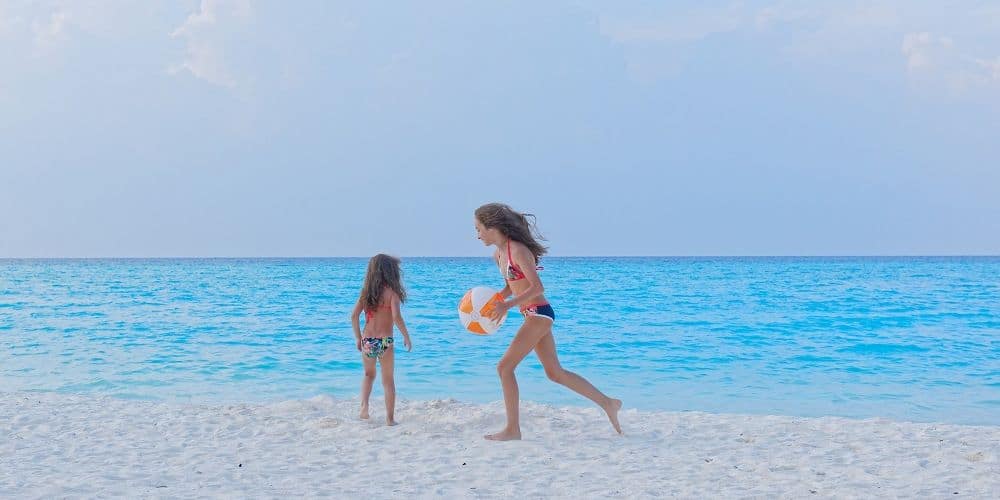 Fun Island Resort & Spa: a tropical paradise for active families
Set in an Indian Ocean lagoon, Fun Island is the choice for families whose perfect luxury holiday in the Maldives is packed with water sports, adventurous activities and entertainment, but has room for just lazing on beautiful beaches too.
Everything from surfing and windsurfing to SUP Ski, catamaran sailing and snorkelling lets you make the most of the incredibly warm, clear waters round Fun Island. And if you want to  explore a little further than your own tropical paradise, you can get up to anything from dolphin safaris to days out in the Maldives' capital Malé.
What families love about Fun Island
Another of Villa Hotel's North Malé Atoll resorts, Fun Island is just 45 minutes by speedboat from Malé International Airport.
Deluxe Beach Villas are ideal for families, sleep up to six and have their own private terrace, outdoor shower and luxurious bathrooms.
Live music, cultural shows and family entertainment add fun to every evening at the resort's beachfront bar.
Fun Island's Araamu Spa specialises in massage therapy, including traditional Maldives and Thai massage.
Dive Oceanus is PADI Accredited and offers courses for children and adults as well as diving trips for experienced divers.
Take a closer look at Fun Island from Villa Hotels and Resorts Maldives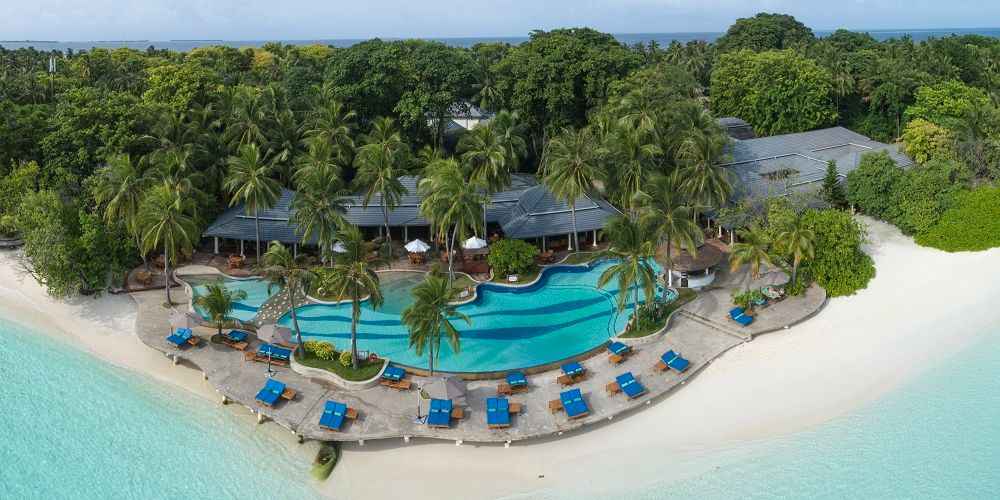 Royal Island Resort & Spa: holidays at the heart of a UNESCO Biosphere Reserve
Royal Island is another flawless private island resort surrounded by a lagoon, only this particular tropical paradise sits at the heart of Baa Atoll, which isn't just lovely, it's also a carefully protected UNESCO Biosphere Reserve. Excellent eco-credentials still leave room for plenty of activity and families can get up to anything here from snorkelling and canoeing to jetblading and surfing. Plus, the main swimming pool has a designated children's area and the dive school offers a PADI Bubblemaker programme for kids. There are also floodlit tennis courts for when you want to be sporty on dry land. And island hopping is just one of the fun experiences to try, if you can tear yourself away from your own island's lovely beaches.
What families love about Royal Island
Otherworldly and enchanting as Baa Atoll is, it's also only a 20 minute flight from Malé International Airport.
Royal Island two bedroom Beach Villas sleep up to 10 and have private terraces, direct beach access and ocean views.
The resort has six restaurants and bars, including the Pool Bar – actually part of the swimming pool – and RaaBondhi Restaurant which specialises in traditional Maldivian flavours and fresh seafood.
The island's shallow lagoon is prime snorkelling territory and if you want to go deeper, Dive Oceanus offers courses and trips to some of the Maldives' extraordinary dive sites.
Private sandbar picnics, morning fishing and guided snorkelling tours are just a few of the activities available for families on Royal Island.
Take a closer look at Royal Island from Villa Hotels and Resorts Maldives

---
Made up of over 1000 coral islands floating in the Indian Ocean, the Maldives is a natural at social distancing. However, you'll be pleased to hear Villa Hotels and Resorts has also introduced a comprehensive Clean Stay programme at all resorts for more of the peace of mind everyone needs at the moment.
Ready to book your tropical island family holiday with Villa Hotels and Resorts Maldives? Great timing, because if you book any resort before 5 May 2021 and use booking code FAMFT21 you receive an automatic 10% discount on your holiday. Email hello@villahotels.com.mv or visit Villa Hotels and Resorts Maldives for more details.