Sponsored Content
The sparkling white sands, transparent Indian Ocean, and charming coral islands are all good reasons to love the Maldives. But for families, the real appeal lies in what you can do with all those amazing natural advantages.
Just ask Furaveri Island Resort & Spa, one of the newest resorts in the Maldives, and the one where incredible family experiences are so important they have an entire holiday dedicated to them.
The Furaveri Experience Family package not only has free meals for under 12s, it includes fun activities, reductions on water sports and the resort spa, buffet breakfast and dinner for all guests, and family holiday transfers, both ways.
With that type of focus on tempting you to visit, Furaveri are clearly a natural choice to pick the Maldives' top family experiences. Here are the five they recommended first.
1/5
 Diving in the Maldives is like diving in paradise
Every seasoned scuba diver describes their passion in a different way, but they all agree; the best dives are the ones where you see most. No surprise to learn the Maldives is one of the world's top diving destinations. Each of the island country's 26 remarkable atolls appear as if they are floating and in the Indian Ocean, so close to the equator, water temperatures sit at a constant 30˚ year round. Visibility ranges from good at 20m up to an astonishing 40m, depending on the time of year, and even monsoon season doesn't put diving on hold.
Beginners can enjoy the shallow waters which are dense with marine life from jolly parrotfish and groupers to graceful sea turtles making the Maldives a perfect environment to gently introduce kids to scuba for the first time.
Furaveri Island's two house reefs are teeming with barracuda, tuna, resident Hawksbill Turtles, and a million and one other creatures; mostly as exotic and colourful as the coral itself. With 30 dive sites across the Maldives, advanced PADI training courses, and access to open-water experiences, and adventure dives, it's ideal for enthusiasts. But, getting everyone into the water and having fun is the Furaveri philosophy. Even babies have swimming lessons here, and older children can dip toes safely into scuba with Bubble Maker classes, snorkelling courses, and the resort's excellent Discover Diving programme.
Find out more about diving in the Maldives at Furaveri Island Resort & Spa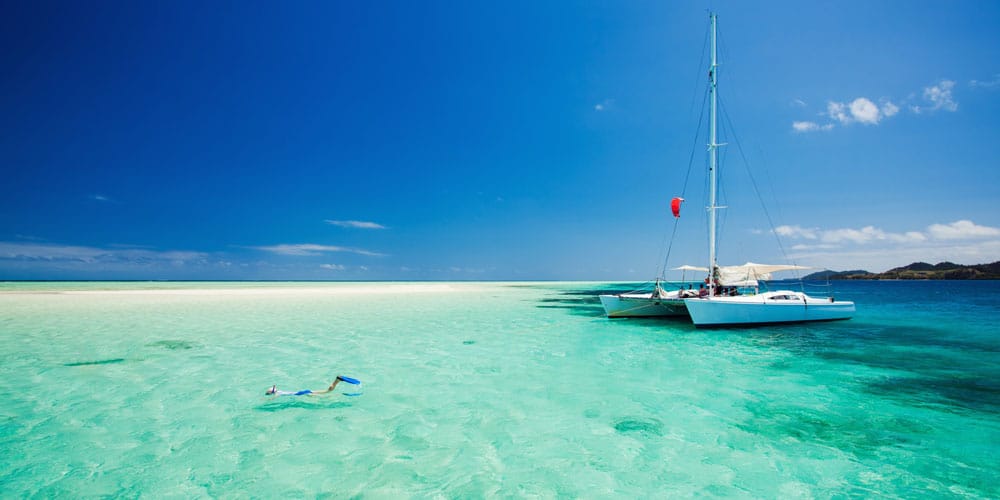 2/5

 Cool, calm catamarans are made for the Maldives
'Smooth' and 'sweet' are usually the first two words out of anyone's mouth when they're talking about catamaran sailing. If you haven't tried it yet, think twin hulls instead of single, and you begin to understand why new navigators, and passengers are such big fans: no lurching from side to side, also known as 'heeling' in master mariner circles.
Tranquil stability aside, catamarans are also nifty movers in shallow water, and pretty much replicate the classic yacht experience without too much sailing experience at all, which probably explains why they've become the craft of choice for luxury holiday resorts over the past 20 years.
They're certainly firm favourites on the calm Indian Ocean waters round Furaveri Island. Used for everything from dolphin watching sunset cruises to catch-and-release family fishing trips, catamarans are an endless source of safe, fun adventure here. But they really come into their own for snorkelling expeditions, building younger kids' confidence, and letting them explore the wonders of the house reef comfortably close to shore. Good news for parents too, because everyone knows it only takes one bad experience in the water to put a child off for life.
Find out more about catamaran expeditions at Furaveri Island Resort & Spa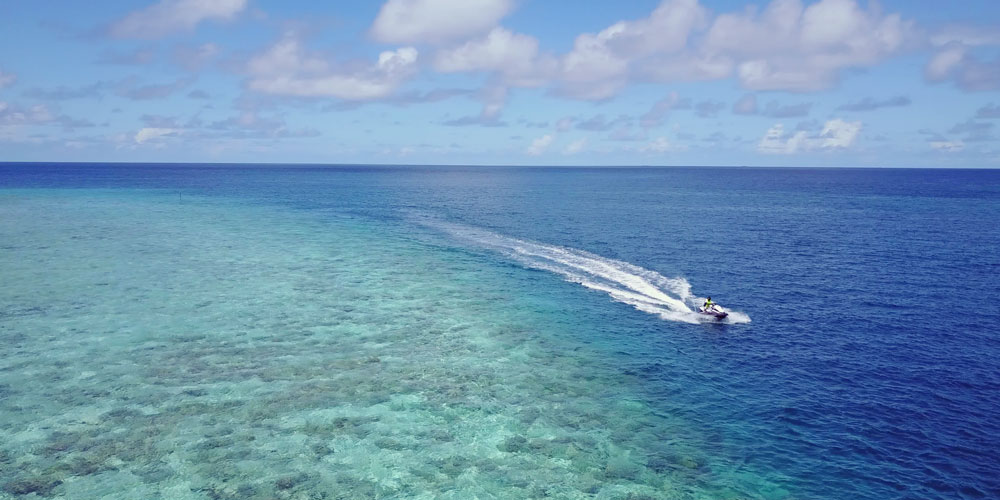 3/5

 Low impact jet-skiing for Indian Ocean adventurers
Jet skis take you where no other craft can go. They get into the nooks and crannies of the fascinating Indian Ocean easily. And 'island hopping', doesn't even begin to describe the exhilaration of zipping across clear, blue-green seas between idyllic, deserted coral isles.
Sounds amazing. But, how does the equivalent of a waterborne motorbike square with the Maldives' long and dedicated commitment to protecting its unique and fragile environment? Furaveri Island places conservation high on the agenda right across the board, from local ingredients on menus to engaging young guests with eco-adventures in fantastically creative kids clubs, and their approach to motorised sports is equally conscientious.
The resort's state of the art jet skis are thrilling, they're also low-noise and low-emission, and designed to make as little impact as possible in this remarkable part of the world. Naturally, drivers have to be over 18, but passengers can be as young as 10, which means pretty much nowhere is out of bounds for families in and around gorgeous Furaveri Island.
Find out more about family jet ski adventures at Furaveri Island Resort & Spa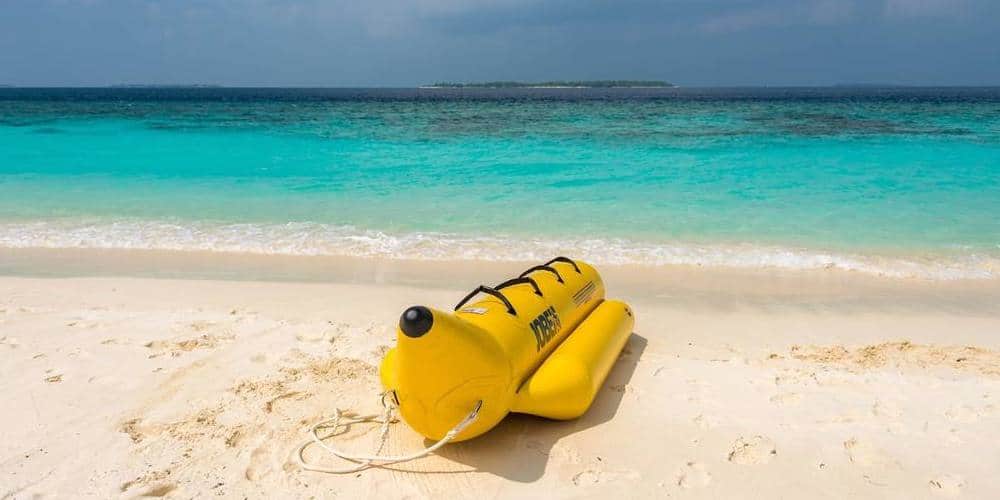 4/5  

Even banana boats are more fun in the Maldives
If you haven't tried a banana boat yet, it's hard to truly understand the sheer excitement of flying across the ocean on an inflatable tube pulled by a speed boat. But once experienced, it's unlikely you won't be bitten by the bug for life.
Furaveri Island's water sport team are masters at keeping nervous beginners on board their banana boats, although tumbling into the balmy Indian Ocean occasionally is all part of the fun. Normally timid kids get pretty bold, pretty quickly, and they're usually the ones crying out for more speed and sharper turns long before seasoned grown ups.
Boats take up to four passengers, so they're great for families, and the 20 minute dash to the outer reef is perfect for burning off some energy, cooling down after a day on the beach, or just because it feels fantastic.
Find out more about family banana boats at Furaveri Island Resort & Spa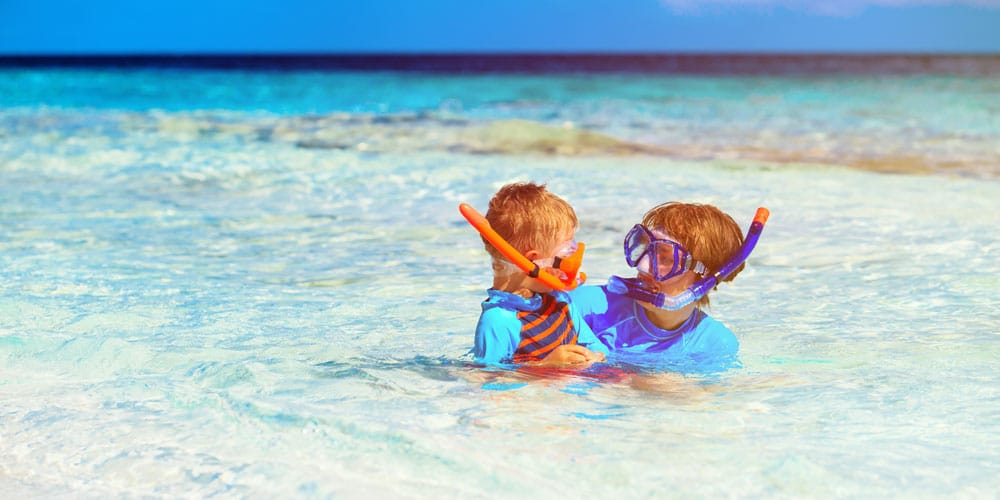 5/5

 Snorkelling's as serious as scuba in the Indian Ocean
Snorkelling in the Maldives is unlike anywhere else. The country's unique chain of coral atolls seem to float in the nutrient-rich Indian Ocean almost right on the equator, so the marine life's spectacular.
Exotic fish travel in huge clouds, too colourful and immersing to be described as mere shoals. Hawksbill Turtles are permanent reef residents; eagle rays glide by like spectres; and merry clownfish and parrotfish compete with dramatic coral for your awe-struck attention.
Furaveri Island's five-star PADI Dive School takes snorkelling as seriously as scuba diving, right down to certificated courses and they provide easy introductions for younger kids. Combined with the resort's excellent swimming lessons, and the eco-experiences woven effortlessly into kids club activities, donning a mask and flippers feels as natural as simply splashing about in the sea, even for younger children. So if you want to launch a lifetime passion early, this is definitely the best place to start snorkelling.
Find out more about reef snorkelling at Furaveri Island Resort & Spa
The Lowdown
Furaveri has a beautifully imagined kids club, packed with creative play and activities for children aged from four to 11. Kids under four years of age are also welcome but must be accompanied by at least one parent.
Teens have their own cool Games Room for adult-free hanging out, and there's also a babysitting service for adults who want some kid-free time.
Find out more about Experience Family at Furaveri Island Resort & Spa