The Indian Ocean straddles the equator, is pretty much the definition of paradise, and never short on awesome sights. But some are just that little bit more jaw-droppingly amazing than others, and can only be found in the southern hemisphere's warmest, clearest waters. Have a look.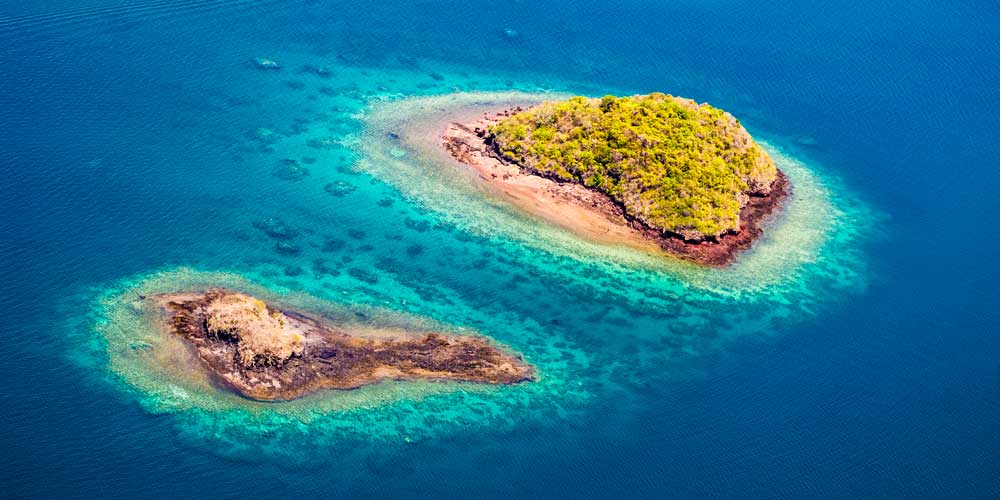 1/10

  The mysterious lagoon island of Mayotte
The largest island in the Comoros archipelago, Mayotte sits off the coast of Mozambique, and close enough to Madagascar to be the only other island on earth with a native lemur species: the cute Laki's ancestors clearly had a talent for swimming back in the day.
But what really gives Mayotte an Indian Ocean top ten spot is its vast lagoon: one of the world's largest, and entirely enclosed by an unbroken, pristine coral reef. Sit on the beach here and it's like being at the edge of an immense infinity pool. And if that isn't quite amazing enough, visit between July and October to see Humpback Whales taking advantage of the supernaturally still waters to give their calves first time swim lessons.
How to get here: Direct daily flights from Île de la Réunion to Mayotte take just over two hours. UK flights to Île de la Reunion take 14 hours.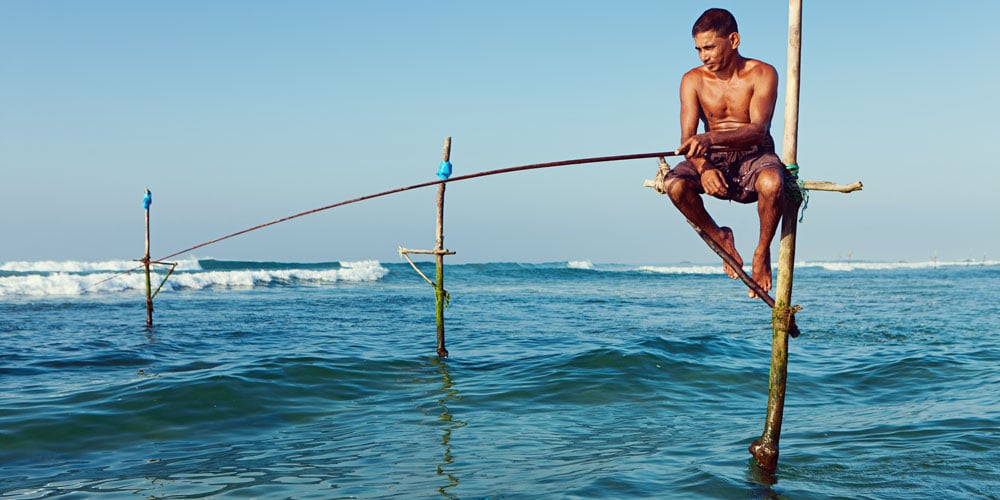 2/10 

The art of Ritipanna in southern Sri Lanka
The sight of fishermen casually perched on sticks over the Indian Ocean, makes Ritipanna stilt fishing seem effortless. But, like a lot of things the talented Sri Lankans get up to, it just looks easy. It really takes tremendous skill to stay still and catch fish, balanced on a skinny pole with nothing but your twined legs for support. You might think it's an ancient art, but you'd be wrong: stilt fishing began in Sri Lanka less than a century ago. Don't let a relative lack of history stop you being utterly mesmerised by its grace and beauty. And only have a go yourself if you don't mind getting wet – repeatedly. 
Where to see Ritipanna: Uniwatuna on the coast of southern Sri Lanka, 20 minutes east of Galle.
How to get here: Direct UK flights to Colombo take 10 hours, 45 minutes. Uniwatuna is two hours drive south of Colombo.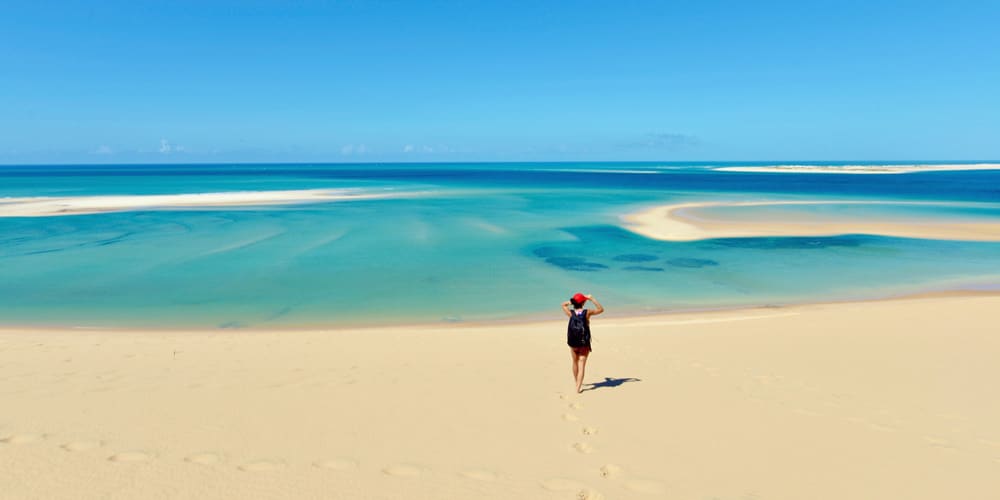 3/10

  Mozambique's squeaky clean Bazaruto Archipelago
Mozambique has Africa's longest Indian Ocean coastline and, floating just 15km offshore, are the extraordinary dunes of the Bazaruto Archipelago. A national park since 1971, these remarkable shifting mountains are so pristine that the sand is famous for squeaking underfoot. There are a few small hamlets on the islands and people are far outnumbered by hundreds of fascinating bird species, like the rare black flamingos seen wading round the archipelago's dazzling blue, freshwater lakes.
How to get here: UK flights to Vilanculos, Mozambique, take just under 15 hours. Vilanculos to Bazaruto Island, one hour by boat.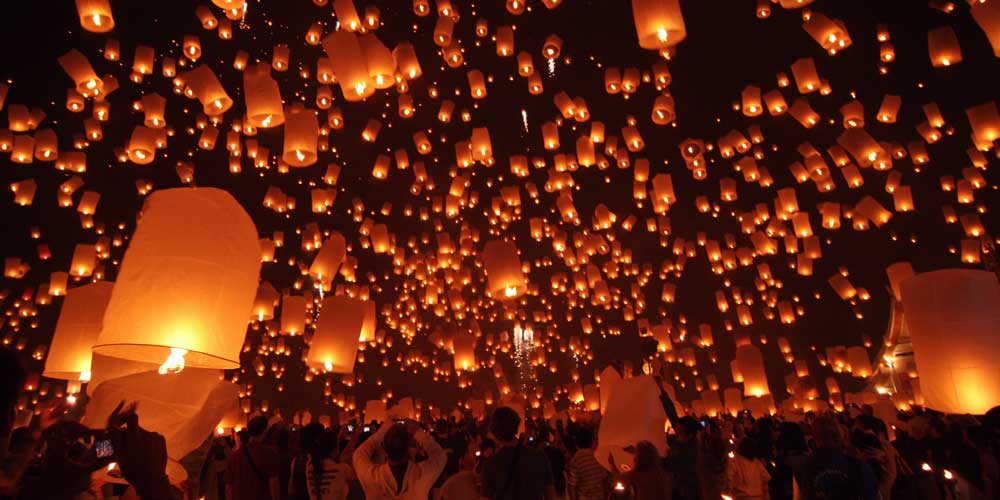 4/10 

Loy Krathong Festival of Lights, Phuket
Each year in November, Thailand's stunning Loy Krathong (Festival of Lights) is celebrated all over the country, and particularly spectacular on Indian Ocean beaches like Kata in Phuket. The ceremonial placing of lit candles in paper lanterns (Krathong) before setting them sail across water has been going on for over 800 years and the typically generous Thai people are happy for visitors to join in.
The aim is to float away your sins, and invite luck into your life for the new year: the further your lantern goes, the greater the chances of good fortune. All that aside, the sheer spectacle of thousands of lights sparkling over the water is enchanting, and a wonderful holiday memory for kids.   
How to get here: UK flights to Phuket take just under 14 hours. Kata Beach is 30 minutes drive west of Phuket Town.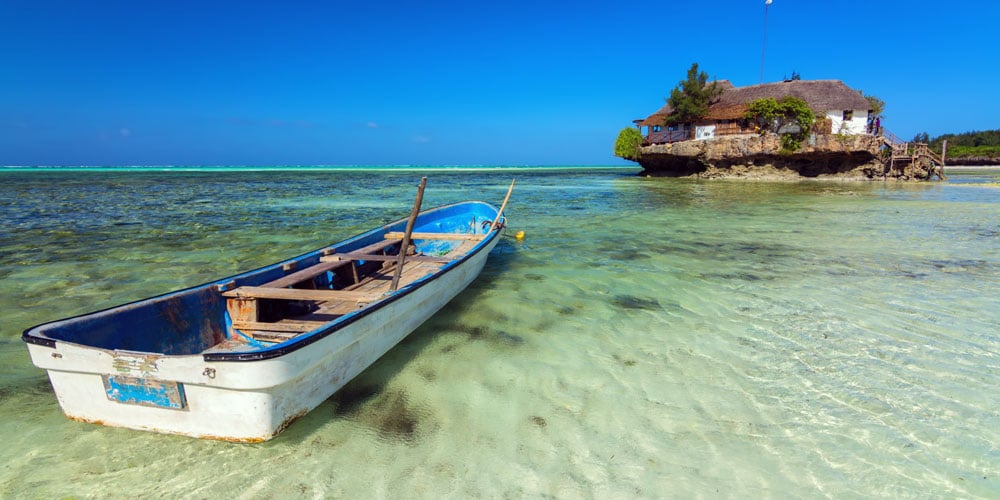 5/10 

The Rock Island Restaurant in Zanzibar
It's a bold venture that can out-exotic Zanzibar, the Tanzanian island with some of the world's loveliest beaches, not to mention dramatic Stone Town and hordes of Colobus Monkeys.
But The Rock Island Restaurant more than holds its own here in terms of extraordinary. It's literally perched on a rock, in the sea, just off the east coast of Zanzibar Island. The food's wonderful, so is the atmosphere, but nothing beats wading through the Indian Ocean for lunch. There's a boat at high tide, if you want to keep your feet dry. And, of course, advance booking is absolutely essential.
How to get here: UK flights to Zanzibar take just under 12 hours. The Rock Island Restaurant is an hour's drive east of Stone Town.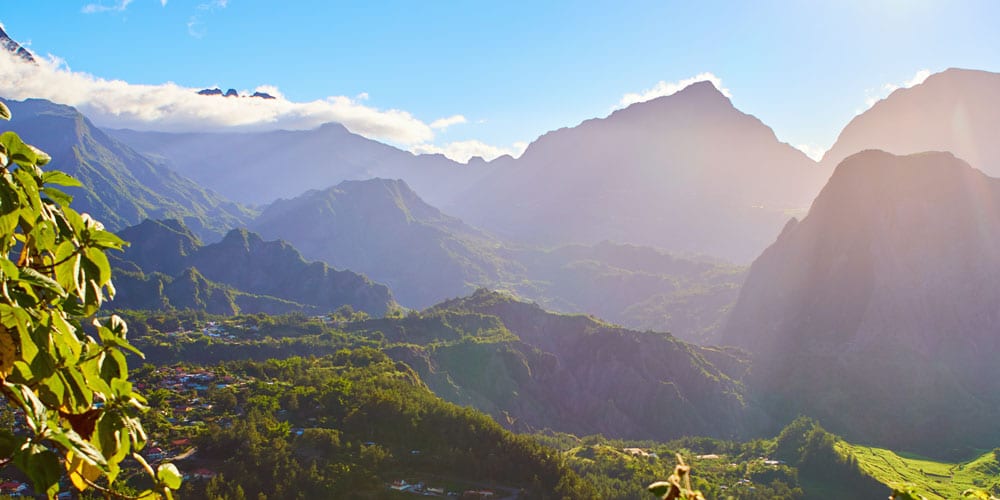 6/10 

Heavenly Hell-Bourg on Île de la Réunion
Islanders on Île de la Réunion are used to living on the edge: they share their lush Indian Ocean home with Piton de la Fournaise, one of the world's most active volcanos. Although, even here, nowhere is quite as edgy as the caldera-rim village of Hell-Bourg in the heart of La Réunion. The setting alone justifies its title as one of Les Plus Beaux Villages de France, but Hell-Bourg adds enchanting, traditional Creole homes into the mix, along with the cutest Post Office in France, and one of earth's tiniest botanic gardens, La Maison Folio.
Brave the precarious mountain road to get here, it's worth it. And when you're done being captivated by Hell-Bourg itself, hike to Trou d'Enfer: translated as Hell Hole, it's the mighty gully at the island's core, washed round by waterfalls as tall as the Eiffel Tower.
How to get here: UK flights to Île de la Réunion, via Paris, take 14 hours. Hell-Bourg is an hour's drive north of the island capital, Saint-Denis.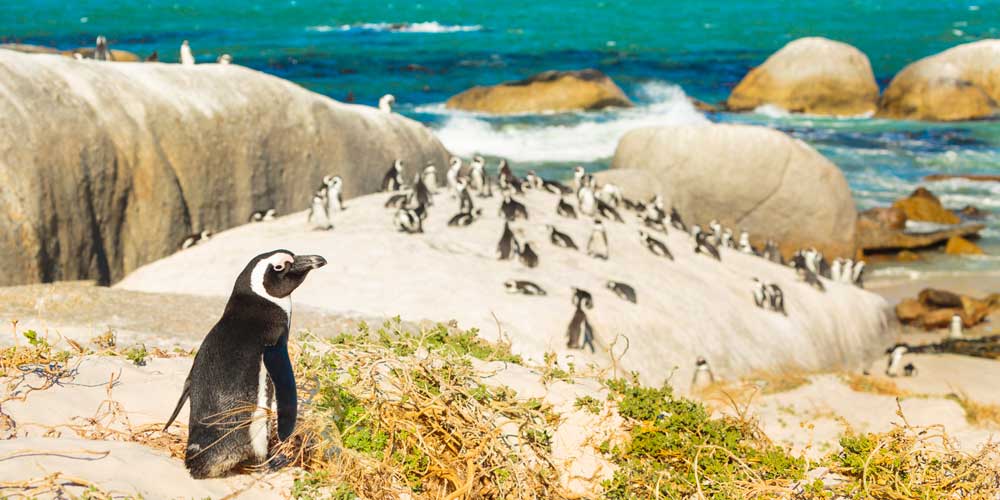 7/10 

The cutest colony on the Western Cape
Boulders Beach takes its name from the enormous, Neolithic rocks littering its Indian Ocean shoreline, but the real claim to fame here is the colony of over 2000 African Penguins, which started with just two breeding pairs back in 1981. Noisy, busy and completely disregarding of the gawping visitors watching them from specially constructed walkways, the birds are now one of the most iconic sights in the entire Western Cape: not an area lacking in legendary attractions.
How to get here: Direct UK flights to Cape Town take 11 hours and 35 minutes. Boulders Beach is in Simon's Town, 45 minutes drive south of Cape Town.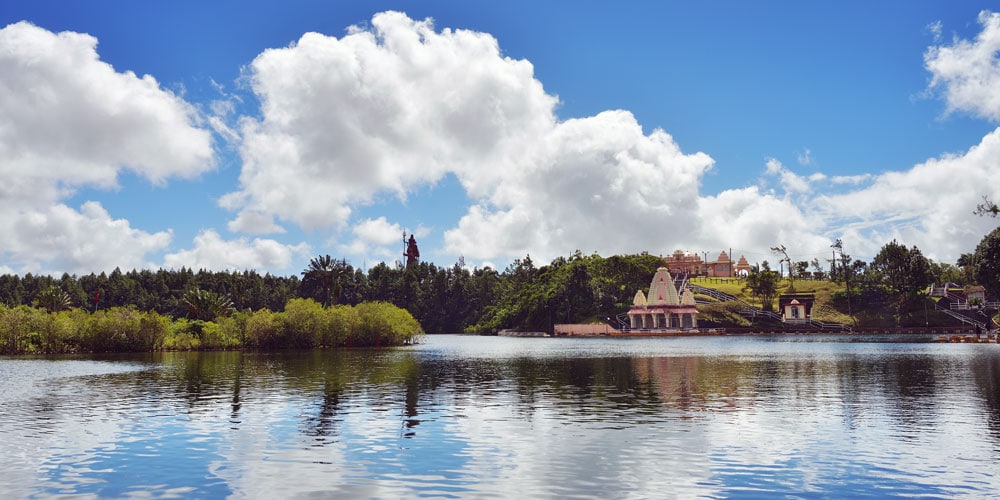 8/10 

Sacred Grand Bassin in south west Mauritius
Mauritius isn't an island short on awesome wonders. But something you might not have expected to find here is one of the most sacred Hindu sites, outside India.  Tucked into the dramatic mountains of the south west, Grand Bassin or Ganga Talao, is an enormous lake which legend says is connected to the sacred River Ganges. Its elaborate temples, towering statues, and colourful shrines look incredible against the lush, Mauritian landscape, and you'll have no difficulty understanding why thousands make the pilgrimage here every year.
Visit at the end of February for Maha Shivarati, the biggest celebration in the Hindu calendar, attended by up to half-a-million followers, and truly a sight to behold.
How to get here: Direct UK flights to Mauritius take 12 hours. Grand Bassin is an hour's drive south of the island capital, Port Louis.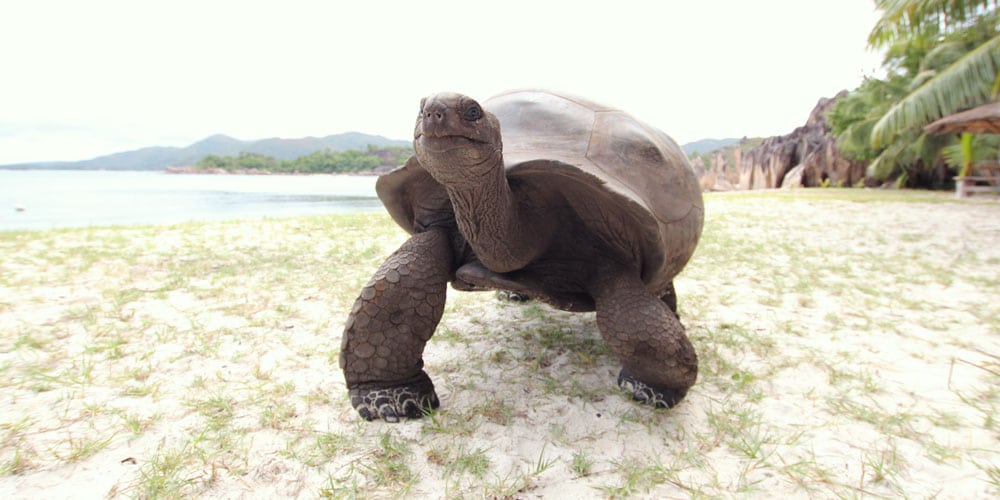 9/10 

Aldabra Atoll: the Indian Ocean Galapagos
Part of the Seychelles and about 1000km south west of Mahé, Aldabra is the world's second largest atoll. It's also a UNESCO World Heritage Site and home to over 100,000 giant Aldabra Tortoises: along with more than 400 other species of endemic mammals, and a vast reef of rare and remarkable marine life.  But before you get too excited, Aldabra is so heavily protected no more than 1000 visitors a year are granted permission to land.
If you are lucky enough to snare a spot on one of the exclusive Aldabra live-on cruises, you can expect to get up particularly close to the wild residents: they have no fear of humans, and you're just as fascinating to them as they are to you.
How to get here: Direct UK flights to Mahé take just over 10 hours. Aldabra Atoll is a 1000km sail south west of Mahé.
10/10 

Christmas Island red crab migration
Christmas Island is Australian territory, but lies in the Indian Ocean a lot closer to Java than the motherland. Flawless white sand beaches, blue seas, lush forest and perfect peace are just a few of the appealing qualities here. But come mid-December every year, the island's main attraction is the annual red crab migration: when upwards of 50 million crabs scuttle seaward to spawn. Roads are closed, traffic halted, streets cleared and, in 2015, the islanders even built a 'crab bridge' to facilitate their famous scarlet flood. Sounds creepy? Apparently it's amazing, and has thousands of Instagram posts as proof.
How to get here: UK flights to Christmas Island take just under 35 hours.
Inspired by the awesomeness of the Indian Ocean? Have a look at some more of its incredible wonders in

Family Traveller's Indian Ocean destination guide

.