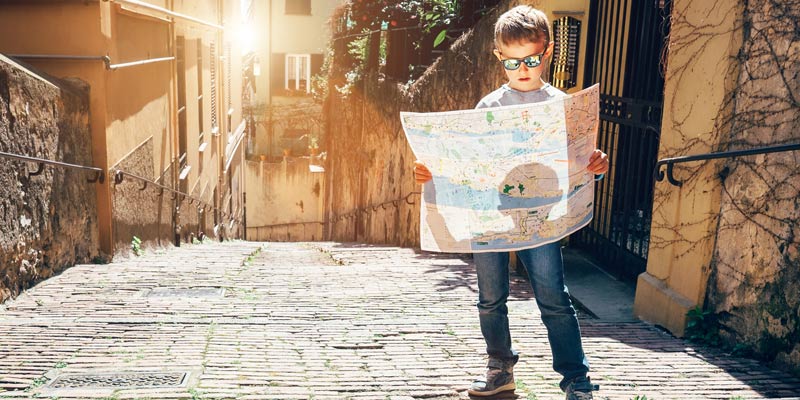 Where to go in 2017: Europe's top travel trends for families

The runes have been cast and travel soothsayers are now predicting all sorts in 2017, from a rise in wellness tourism to even more inspiration/irritation via Instagram –#wanderlust will still be showing us what a pizza looks like in Naples, fear not.
Most crystal balls foresee the UK's post-referendum uncertainty raising European holiday prices and all-inclusive deals enjoying a big hike in popularity as a result. And on the good-conscience front; orange is the new green and community conservation should now be just as important to responsible travellers as eco-credentials.
The trouble with predictions is they tend to be a bit woolly and what you really want to know is: where's good to go in 2017? So here are a few more European travel trends and the real places that are worth thinking about for an on-point family holiday next year.

Paphos, Cyprus
2017 Travel Trend – cultural tourism with an all-inclusive angle

Paphos is reputed to be the birthplace of Aphrodite. The Ancient Greeks pilgrimaged here in droves and today the entire old town's a World Heritage site. So you could safely visit this gorgeous south west corner of Cyprus any time and tick the cultured box. But next year, Paphos takes it to a whole new level as European Capital of Culture 2017. Fittingly, for somewhere that's known more than a few divisions, the overall theme is 'Linking Continents and Bridging Cultures'.
When it comes to putting on a 12-month show, it helps to have 9000 years of history to fall back on. But Paphos isn't relying on the past to make its mark. The year-long programme of art, music, theatre, cinema and performance is vast and innovative. There's exciting new architecture to balance the famous monuments. And it's Cyprus, so no one will be going hungry or off to bed early and kids will be welcome everywhere in this child-loving country of food and festivities.
If you're still undecided, Paphos also comes good on beautiful beaches and the entire south-west coast is the heartland of all-inclusive family holidays. Colourful Limassol is less than an hour's drive from Paphos and, in between, there are resorts like Coral Bay, Aphrodite Hills and Amathus Bay to tempt you. On-trend culturally and cost-wise, Cyprus is definitely worth a look in 2017.
Where to stay
Almost every UK operator offers all-inclusive family holidays in Cyprus. But Thomson break the mould a bit by mixing up beach resorts and cute country villages (close to the sea). Thomson holidays in Cyprus 2017
How to get to Paphos
EasyJet flies direct from London to Paphos. Flight time three hours and 35 minutes. Prices from £193.

Zadar, Croatia
2017 Travel Trend – sharing's going to be bigger and better for families
It's been quite a while since Airbnb was limited to a blow-up mattress and breakfast. Today's shares cover everything from villas in Monaco to brownstones in New York – even Bran Castle, Dracula's Romanian stomping ground, was shared recently. And, while it's true some cities are up in arms about Airbnb at the moment, plenty places are more than happy to be involved.
Begin with Zadar. This tiny Croatian city floats on the Adriatic just over an hour's drive from Split and has a car-free old town packed with almost as many Roman ruins, enormous churches and dramatic forts as the famous neighbour. It also has white sand beaches and an archipelago of sweet little holiday islands just a ferry ride away. But Zadar's less crowded than Split, there's always room by the sea and it's in Airbnb's European top 10 for entire homes. So if you're on a budget and you'd rather sleep on the beach than have an all-inclusive family holiday, try sharing a bit of Zadar in 2017.
Where to stay
From old townhouses to beach apartments and island homes, there are Airbnb entire house lets all over Zadar. Airbnb family shares in Zadar
How to get to Zadar
EasyJet flies direct from London to Split. Flight time two hours and 30 minutes. Prices from £154. Zadar is under two hour's drive south of Split.

Bordeaux, France
2017 Travel Trend – dual-centre destinations (i.e more for your money!)
If you're thinking its nothing but vintage reds and vineyards, you'll be interested to know that Bordeaux is considered a rival to Paris and with good reason.
The capital of Aquitaine is home to World Heritage Porte de la Lune; lording it over the River Garonne, just as it ever did. But these days the UNESCO great has stiff competition from all sides. Newly opened, La Cité du Vin is the world's first wine museum and built to look like an enormous swirl of the good stuff in a glass. Cathédrale Saint-André has recently been restored to 12th-century grandeur. And 2016's Herzog & de Meuron designed Stade de Bordeaux, now puts the city in an urban architectural elite with the likes of Hamburg, Barcelona, Miami, London and Chicago.
Bordeaux has great gardens, impressive bridges, boats on the river, splash-about water mirrors, Europe's longest shopping street, dozens of museums and it does child-size street theatre and fun festivals all summer. The city would rather you didn't drive, so its bike hire's outstanding and comes with kids' cycles to tempt you all out of the car. And, if you head away from wine-country down to the sea, you come to some of the world's best beaches in no time.
Bordeaux's less than an hour's drive from the Landes coast. If you haven't heard of the area, that's because the French like to holiday here and point everyone else towards the overcrowded Côte d'Azur. The Landes is strewn with gorgeous seaside towns, vast stretches of sand and clean, clean sea. It's where you'll find Dune du Pilat – Europe's largest sand dune – and laid-back water sports, water parks, zoos and surfing at gorgeous resorts like Lège–Cap–Ferret, Biscarrosse, Arcachon and Hendaye . It's also the coast for kilometre after kilometre of protected nature reserves and where most French oysters are fished – you can get them fresh off the boat every morning.
Where to stay
The French love camping and Landes Coast sites are excellent. Most have chalets and fixed tents and Camping Municipal are great value, often beachside and always with a laid-back family atmosphere. Camping France
How to get to Bordeaux
Direct flights from London to Bordeaux. Flight time one hour and 35 minutes. Prices from £98.
How many of 2016's trending destinations did you manage to see? There's still plenty of inspiration to be had for 2017's hols!