1/5

Puerto Calero, Lanzarote
This contemporary styled villa comes complete with an incredible games room. Not only is there a pool table and air hockey, but there is also a state-of-the-art home cinema. Perfect for when you want some downtime in the Jacuzzi or private pool and the kids want entertaining. With four bedrooms, four bathrooms and dining facilities inside and out, this villa will suit families both large and small. The villa is handily located a short stroll away from Puerto Calero marina which is great for a day trip or two. You can book excursions including trips fishing for marlin and blue-fin tuna or perhaps even a ride on a catamaran. There are also a couple of diving schools located at the marina. The submarine experience is a must when travelling with children, they'll be wowed by the local marine life.
Best for kids aged: 8 – teen
Price: 2015 prices vary between £2,312 and £6,561 for 7 nights' accommodation
More info: jamesvillas.co.uk
2/5

Argaka, Cyprus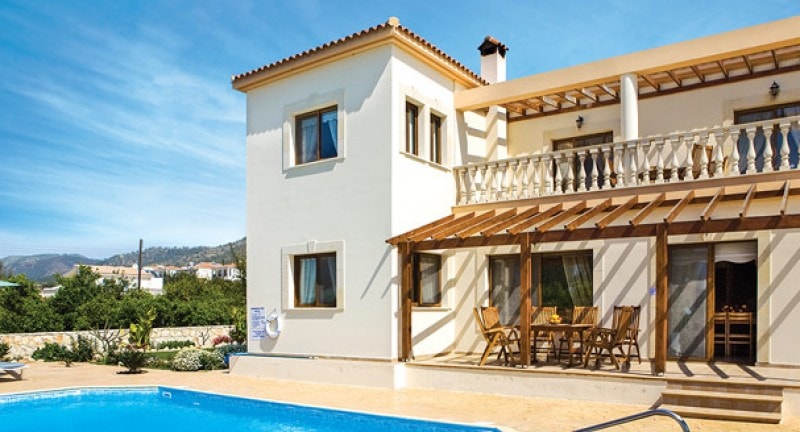 Located just a few hundred metres from the nearest beach, Villa Styliani is a perfect choice for those travelling with kids. You can choose from a day out relaxing on the terrace and lawn area, whilst the kids splash about in your private pool or pack up your towels and stroll the few metres down to the natural Argaka beach. The 2km long beach is perfect for families if you walk along the coastline, you'll find a taverna to stop for a cool drink or a tasty bite to eat. Villa Stylianihas four bedrooms, 4 bathrooms, free air-conditioning and a built in barbecue, perfect for alfresco dining on your own timescale.
Best for kids aged: Any age
Price: 2015 prices vary between £451 and £1591 for 7 nights' accommodation
More info: jamesvillas.co.uk
3/5

Andalucía, Spain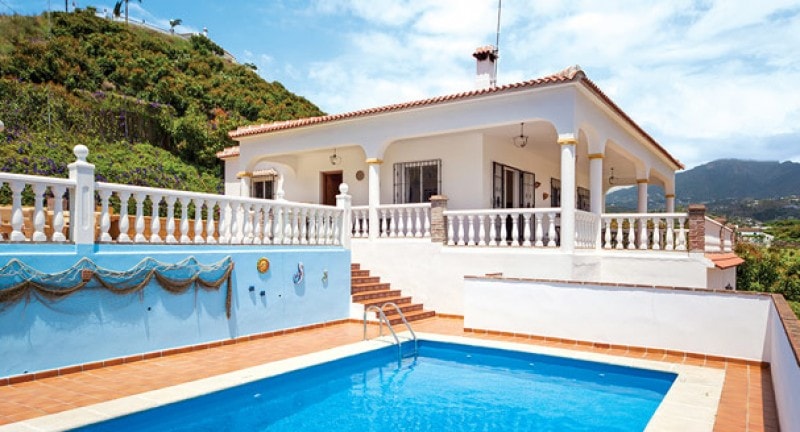 Villa Carmella in Nerja, Andalucia can allow parents to sit back and relax. A gated pool area is ideal when holidaying with toddlers and this enclosed villa enjoys some stunning views across the avocado orchards and Sierra Tejada mountains. Hiring a car is recommended as the nearest beach is 1.9km away and the nearest supermarket 3.7km away, but there are plenty of places to explore in and around Nerja. The Balcon de Europa, formerly a fortress designed to keep out British pirates, is now home to some stunning views up and down the coastline and boasts a wide variety of year-round entertainment for all the family. Take a walk along the marble-paved promenade as it is dotted with cafes, restaurants and ice-cream parlours. What's a holiday without an ice cream?
Best for kids aged: Particularly good for families with toddlers
Price: 2015 prices vary between £491 and £1,281 for 7 nights' accommodation
More info: jamesvillas.co.uk
4/5

  Algarve, Portugal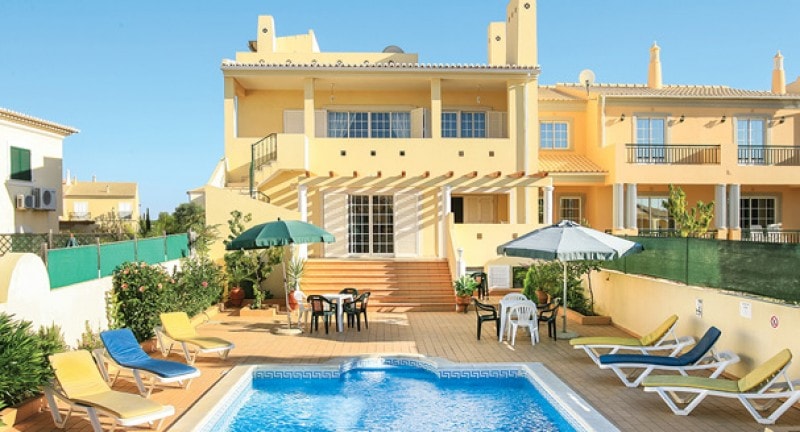 If you are looking for a large villa that can accommodate an extended family or perhaps two family units, then Villa Casa Gomes in Vilamora in The Algarve could be the answer. With six bedrooms, four bathrooms, two kitchens and two lounges, there should be more than enough space for all.
The villa is located in the Encosta dos Oliveras residential development which is just a short distance from the marina that houses some lovely restaurants and shops. The beach is just a short drive away and is well equipped with banana boats and donut rides.
The water is better suited to older children as the water becomes deep quite quickly, but is fine for supervised paddling and ideal for sandcastles on the golden sands.
Best for kids aged: 10+
Price: 2015 prices vary between £871 and £1,851 for 7 nights' accommodation
More info: jamesvillas.co.uk
5/5

La Manga Club, Spain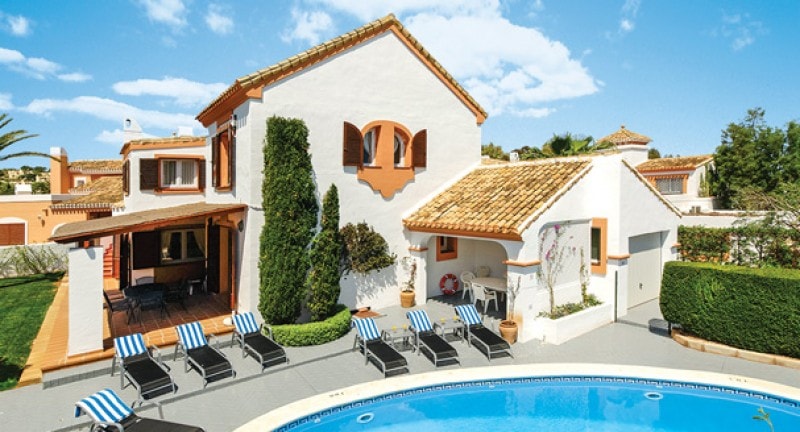 La Manga Club, located in Costa Calida, Spain is a great holiday for those who want activities on their doorstop. Villa Las Brisas 86 is located in one of the most peaceful locations on La Manga Club but yet is just a short walk to the centre of the resort where you'll find an array of facilities.
There's a tennis centre, soccer school, dance academy as well as a private beach and a kids' club for children up to 12 years of age.
If you wish to explore further, a trip to the nearby fishing village of Cabo de Palos is a must. There are a number of restaurants serving outstanding seafood, tapas and ice creams. The villa itself has four bedrooms, three bathrooms and comes with free air-conditioning, wi-fi and pool towels and included.
Best for kids aged: Varied activities mean it's great for all age groups
Price: 2015 prices vary between £825 and £2,765 for 7 nights' accommodation
More info: jamesvillas.co.uk