Forget the Costas
The two Spanish ports of entry from the UK, Santander (from Plymouth and Portsmouth) and Bilbao (from Portsmouth), are gateways to a far less developed, much greener and altogether more authentically 'Spanish' experiences than you'll find on the Costas that front the Mediterranean.
The port of Santander is a city on the sea, 'between the blue and the green', as the local tourist office proclaims. In the 19th century, it was the destination of choice for aristocracy escaping the oppressive summer heat of Madrid. It has sandy beaches that would be the envy of many purely 'resort' destinations, plus gardens, a cathedral and an interesting old town, while the mountains are just a short journey out the 'back door'.
The Cantabria region's beaches, including the sandy crescent of Langre, east of Santander, are excellent, while the artistic medieval village of Santillana del Mar, a stopping point for pilgrims en route to Santiago de Compostela, with its beautiful Renaissance palaces and towers, is essential viewing. So are the Altamira cave's prehistoric wall paintings, which have been called the 'Sistine Chapel of cave art'.
In Bilbao, the world-famous Guggenheim Museum, a magnificent work of art in its own right, boasts an almost 8,000-piece-strong collection. The museum also arranges special workshops for children and dedicated evenings for teenagers. Bilbao is also a superb gateway for families who want to travel into the high hills of the Basque country, taking the motorway to Pamplona, or east to San Sebastián, and maybe nipping across the border to the French resort of Biarritz or the charming St-Jean-de-Luz.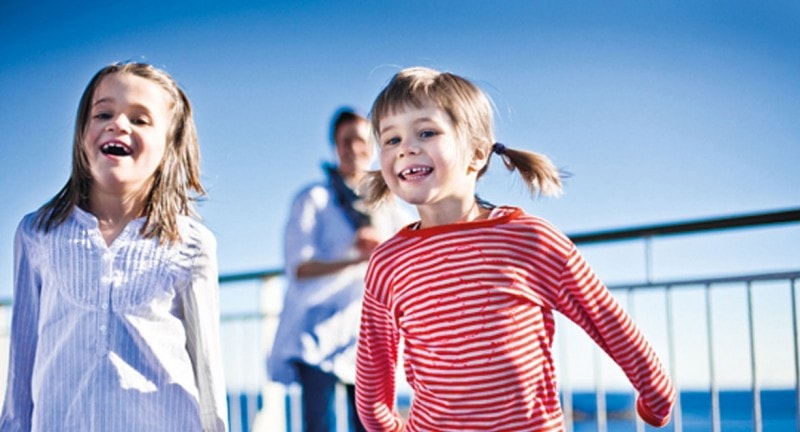 How to get there
Brittany Ferries
0330 159 7000; brittany-ferries.co.uk
Routes and fares
Portsmouth-Santander: A choice of cruise-ferry (24hrs) or no-frills 'économie' ferry (26hrs) from £938 (includes en-suite cabin each way).
Portsmouth-Bilbao: A choice of cruise-ferry (24-32hrs) or no-frills 'économie' ferry (26hrs) from £1,120 (includes en-suite cabin each way).
Plymouth-Santander: Cruise-ferry (20hrs) from £1,144 (includes en-suite cabin each way).
Family facilities: Most ships feature a selection of play areas, games rooms, children's meals and live entertainment. Teenagers can enjoy games rooms with video games and cinemas (cruise ferries only). Brittany Ferries also offers a wide range of holidays that include ferry travel.
Looking for more inspiration for your ferry holidays? For castles, culture (and of course, wine), take the ferry to northern France.