Abi Campbell heads to Hard Rock Hotel Tenerife for a music-filled break that hits all the right notes
A return to Hard Rock
The Hard Rock was once my favourite weekend haunt. I was an angsty teen when it opened in downtown Singapore, circa 1990. It was the first of its kind in the city; nowhere came close for atmosphere. It burst onto the scene with the Billboard Hot 100 blaring out of its fancy black awning and full-size purple Cadillac balancing precariously above. It was decadent and incorrigible and just what the audience wanted.
Hard Rock was going for world domination, opening in major cities all over the planet. It beckoned music and fun lovers of all ages to dance, eat, drink, unite, and they did, snaking patiently around HR venues to get in on the action. It was a global theme restaurant/hotel phenomenon.
It's still the case – in London, at least. Every time I drive past the Hard Rock Cafe in Piccadilly, there's a queue, even when it's hammering with rain. I'm always surprised that after all these years (the first one opened in London in 1970) there's still a fan base. You've got to hand it to Hard Rock, it is still drawing the crowds, which is more than can be said of the wrinkly musicians who share the same timeline.
So, who is the Hard Rock Hotels' market? I'd be lying if I said it was me. And yet, I have pre-teens who would dig its vibe, so why? Is it because I feel the rock'n'roll angle has lost its novelty appeal? Or is it because I'm old… and a tiny bit pretentious?
Having just returned from the Hard Rock Hotel Tenerife, I was able to answer all of the above. But first, I had to forget everything I thought I knew about the Hard Rock brand, except for the good bits.
I'm a sucker for five-star hotels, but in my experience they don't meld well with kids. I'm stressed when my daughter does a cartwheel in a lobby and I feel disapproving eyes boring into me. I'm constantly nagging them to act like adults, paranoid that the hotel will think I'm a terrible mother. It's impossible to relax and, consequently, that's no fun for my children.
The first Hard Rock Hotel Tenerife revelation is that the designers really thought this conundrum through. The hotel accommodation consists of two separate areas around two towers, one adult, one family-friendly. Wave goodbye to the awkward moment when the little darlings charge down the corridors to breakfast and bump into 'grown-ups' only just staggering back to their rooms. The MD said the group's demographic is 'diapers to diapers'. Their ethos is that guests should have fun, whatever their age, and they won't raise eyebrows when they do.
As soon as you pull up to the hotel entrance, you're hit by an upbeat atmosphere. Welcoming staff look current and cool wearing all black, huge smiles and name badges with their favourite bands. The cocktail on arrival is purple and sparkling, just like the first piece of rock memorabilia that greets you in the lobby, Elton John's typically flamboyant, carnivalesque duds. There's music pulsing, and it feels like your holiday has started before you've even checked in.
The only sign that the building was renovated from a '70s monstrosity is the size of the tiny lifts in the family tower, beyond that, you'd never know. Now it looks like a super-sized retro American motel with its groovy pastel-painted balconies. It really feels like they've chucked a ton of money at this place. The rooms, all with sea views, ooze rock chic. Shiny black double vanity units separate the bed/ensuite area, 43in flatscreens adorn the walls, iPod docking stations are provided (naturally). Tongue-in-cheek room amenities with rock references add a personal touch, like the plectrum, for when you feel some air guitar coming on. If you have a young child curfew, tuck them in for the night and request a complimentary Fender guitar or mixing desk to your room (with earphones), and have your own VIP after party. Before you hit the sack, take the kids to see the giant equaliser which pulses light up and down the Nirvana Tower. It comes on at dusk and is a genius piece of installation art.
[soliloquy slug="15878″]
Rockin' kids clubs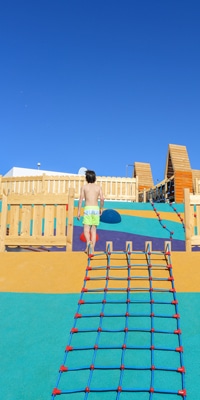 Although the property is vast, its layout manages to impart a feeling of intimacy. At one end of the resort, it's ALL about Little Rock Stars. My children are no stranger to a kids' club. But if I'm honest, on occasion I've overlooked the fact that they were a bit soulless, in desperation for some 'me' time. There will be no guilt trip here when you drop them off. If kids had the autonomy to design their own fun zones this is how they would look.
There are three clubs. Lullaby (6 months-3 years), Roxity (4-9 years) and Teen Spirit (10-16 years). Each offers its own stimulating space and itinerary. For sporty, active kids, there's a basketball court, astroturfed football pitch, tennis, ping-pong, minigolf, beach volleyball, billiards and table football. For the 'other' kind of kid (like mine), there's a virtual gaming area that will blow their minds, featuring Xbox Kinect, PlayStation, F1 simulator, tablets and massive squidgy beanbags to play them in. The music angle is never overlooked, there's drum kits and guitars to bash and thrash that come with a musical member of staff who'll jam along with them. To keep young ones outside, there's an innovative play area and shallow pool with slightly surreal apparatus that wouldn't look out place in The Beatles' Yellow Submarine video.
Splash happy
Tenerife is that bit closer to the equator than the rest of Spain, which means you are pretty much guaranteed escape from winter weather blues. There's a high probability you'll spend a LOT of time at the water's edge. There are three pools (not counting the kids' one) as well as a seawater lagoon. Half-submerged sunloungers and huge Bali beds are plentiful, meaning no requirement to plonk your paperback on one by 7am. Pool DJs spin eclectic tunes, and noticeably, guests aren't wired into iPods but are enjoying the collective musical experience and chatting instead.
If you want to come to this hotel and not leave it until your return flight, you'll be well catered for. There are five restaurants to choose from and a breakfast buffet that's right up there with the most diverse I've experienced. Try keeping your kids away from the chocolate fondue when you're trying to coerce them into eating their five-a-day. There's a stunning spa with thermal water area and treatment rooms, a gym, a sports bar and a roof bar, and the obligatory hotel giftshop selling very cool merchandising, including a kids' range with hipster tasselled toddlers' T-shirts and rocking babygrows.
Opposite the shop is the one piece of famous rock memorabilia that stood out for me: a letter from a 10-year-old Katy Perry to a boy she met on a summer camp. She slags off her sister a bit (as you do), and talks about joining a modelling school, signing off, 'PS, I like you a lot!'. It humanises her and will illustrate to kids that their pop idols had pipe dreams, too. It's possible, even likely, that a young Katy stood in a Hard Rock somewhere, staring at her pop idols' musings, never imagining that one day her own would become part of the fabric of rock'n'roll history.
In a few days, I had answered my own questions. Who <is> Hard Rock Hotels' market? Well, it's me. Today, I booked a half-term break to go back with my kids. I'm a convert. We were all young and fun once, and this might just be the place that reminds you what that felt like. It has for me.
Hard Rock Hotel Tenerife: the lowdown
May 2017 half-term package:
British Airways Holidays offers seven nights at the 5* Hard Rock Hotel Tenerife from £789 per person, travelling 28 May – 4 June.
Includes Euro Traveller return flights from London Gatwick and accommodation with breakfast. Book by April 30. For reservations visit ba.com/tenerife or call 0344 493 0125.
Summer 2017 package:
British Airways Holidays offers seven nights at the 5* Hard Rock Hotel Tenerife from £669 per person, travelling 1 – 31 August.
Includes Euro Traveller return flights from London Gatwick and accommodation with breakfast. For reservations visit ba.com/tenerife or call 0344 493 0125.