Sponsored Content
Family holidays at The Ritz-Carlton, Abama in Tenerife have always been about spending precious time together, treasuring every moment and making wonderful memories.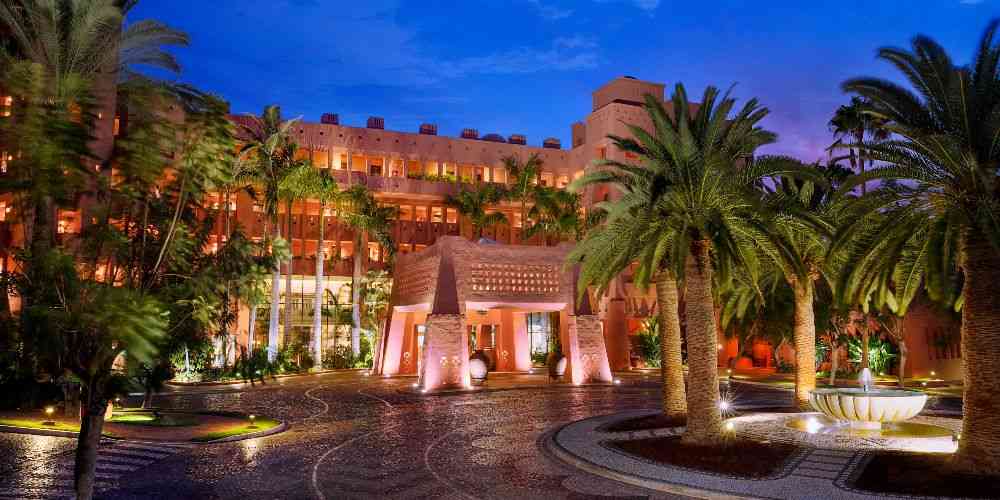 Which of course means The Ritz-Carlton, Abama is on trend as ever. Because after waiting so long for even hugs to be permitted again, 2021 is almost certainly going to be the year when families are keen to reconnect, share experiences and make the best type of holiday memories.
With that in mind, the iconic resort on the south west coast of Tenerife is not only welcoming families for summer and beyond with an incredible collection of new Villa Club accommodation, it's inviting you to stay longer for less and enjoy even more family together time. The Extended Stay Package is available through to October, and gives families 14 nights for the cost of 10 and the choice of luxury rooms and suites at the Villa Club or the Citadel, as well as the option of staying in one of the resort's three exceptional VIP suites.
The Ritz-Carlton, Abama clearly understand you're more than ready for a family holiday, so take a look at why the resort is exactly what you need this summer.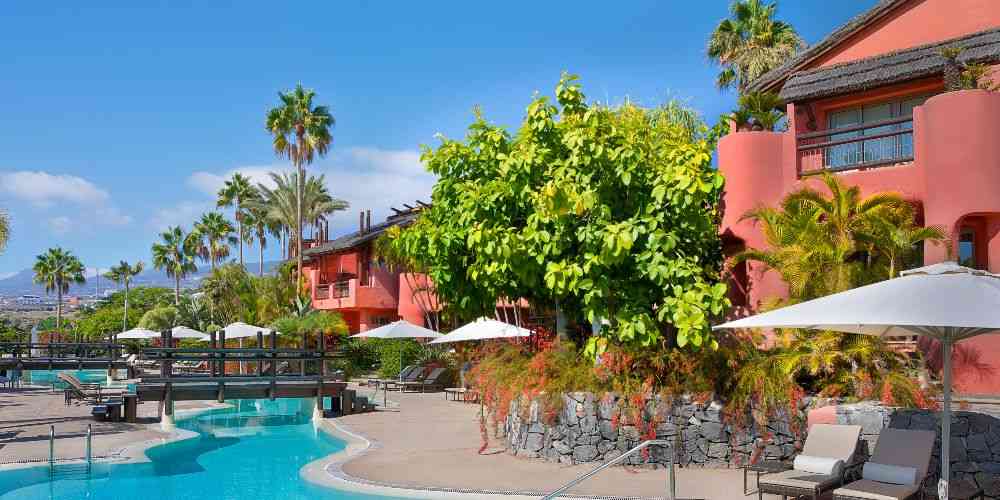 Villa Club – laid back, luxurious and made for families
The Ritz-Carlton, Abama is one of the most impressive resorts on Tenerife's south west coast. Designed like a Moorish citadel and staring straight out over the Atlantic towards the little Canary Island of La Gomera, it's surrounded by 400 acres of lush, sub-tropical grounds and, if it reminds you of an oasis, you're not wrong.
A blend of effortless luxury and laid back Tenerife charm is a design feature in all the resort's 459 rooms and suites, but the combination really comes into its own in the new Villa Club. Introduced in 2020 and created with families in mind, this oasis within an oasis offers a range of one bedroom suites and interconnecting rooms, all with large terraces, ocean or garden views and access to a semi-private swimming pool, set in beautifully landscaped gardens. As an added bonus, Ritz Kids is right next door to Villa Club, plus a dedicated 'ambassador' is on hand to make sure you have everything you need for an easy and completely carefree family holiday.
And on the subject of carefree, The Ritz-Carlton, Abama can also supply you with a wide range of baby essentials – even buggies and car seats – just note the equipment you want when you book and expect it to be ready and waiting when you arrive. The resort also has an easy to arrange babysitting service; if you feel like a night off parenting or some time at The Ritz-Carlton Spa – a specialist in treatments inspired by Tenerife's natural environment.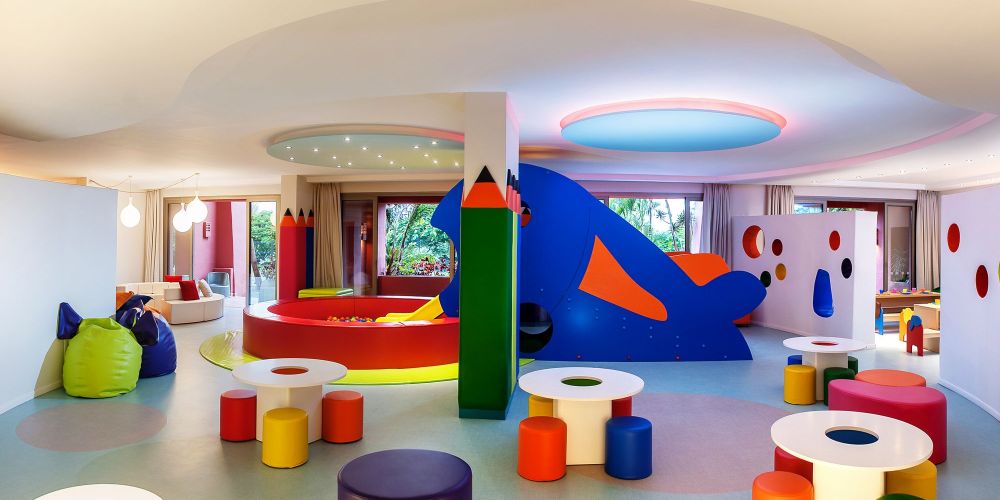 The Ritz-Carlton, Abama is home to the largest Ritz Kids in Europe
Spending every minute of a family holiday together is the dream, but you should be aware that The Ritz-Carlton, Abama has the largest Ritz Kids in Europe, so your under-12s might have other ideas.
Take comfort in the knowledge that Ritz Kids is no ordinary children's club. Even the opening hours are extraordinary: sunrise to sunset, every single day. Kids can look forward to a fresh-daily line up of activities ranging from arts and crafts to storytelling, gardening and movie sessions. And the entire club's designed for maximum kid-appeal, right down to its very own garden and a large, outdoor playground; which all families staying at the resort have complimentary access to during the day. If kids are too old for Ritz Kids (over 12) The Ritz-Carlton, Abama has them covered too, with nicely thought out teen-centric activities like archery, videogames and DJ sessions.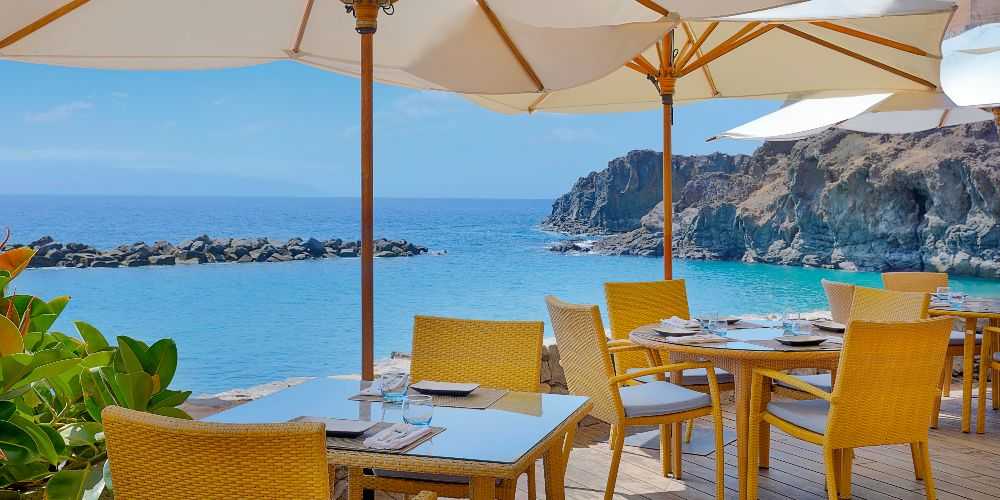 Michelin-starred restaurants where families are more than welcome
Out of The Ritz-Carlton, Abama's eight superb restaurants, two hold coveted Michelin stars and every single one is family-friendly. Michelin-starred Kabuki welcomes kids from age six, and even goes as far as having a special tasting menu created to appeal to children and introduce them early to the delicious complexity of Japanese food. When snacks and a seaside mood are what you crave, the Beach Club is another kids' favourite. And if nothing will satisfy apart from pizza and pasta, head to Verona for some of the best classic Italian cooking in all of the Canaries.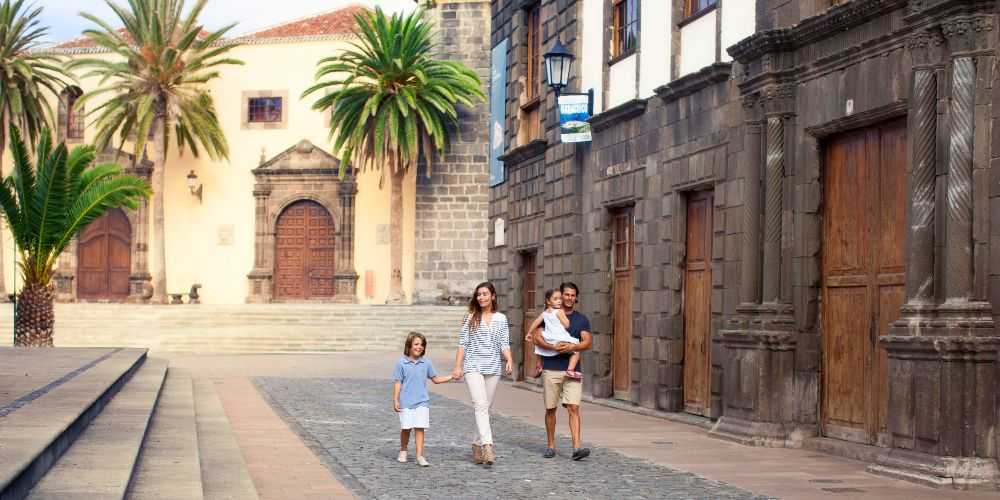 Family adventures in and around The Ritz-Carlton, Abama
The lovely south west coast of Tenerife is best for weather. Temperatures seldom drop below 22°, even in winter, and highs of 30° are the summer norm. So expect to spend plenty of time on Abama Beach: all blissful sunbeds and big Atlantic views coupled with golden sands, natural pools, a wave breaker and a pretty pier. The resort also reserves an area on the nearby public beach exclusively for guests; it's just a short walk away, so kids like to visit, a lot. And you'll find several stunning swimming pools punctuating the resort's lush gardens with splashes of brilliant blue.
When you want water sports, hiking, biking, tennis or golf, you only have to ask, because families have an amazing choice of activities at The Ritz-Carlton, Abama. There's even an on-site cycling centre, and the nearby tennis-academy and 18-hole championship golf course are both easily reached from the resort and open to guests.
Tenerife itself is like an enormous natural playground for families. Known for surfing, rock climbing and spectacular walking trails, it's also home to Mt. Teide: Spain's highest mountain and location of the largest solar observatory in the world. The unspoiled interior is scattered all over with traditional villages. And the charming port city of Santa Cruz is another of Europe's heart-melting island capitals.
The south west coast is also famous for migrating whales – pods of dolphin too – and if seeing them up close is on the family to-do list, you've a pick of experiences here from eco-kayaking to cruises in the company of marine biologists. And for all out white-knuckle adventure, Siam Park is one of the best waterparks in the world and less than a 20 minute drive from The Ritz-Carlton, Abama.
Extended Stay Package 2021
Book 14 nights and only pay for 10 at The Ritz-Carlton, Abama this summer.
Choice of family accommodation includes the Villa Club and the Citadel luxury family rooms and suites, or one of the resort's three residential VIP suites.
Personalise your package with dining plans including: bed and breakfast, half-board or full-board with Michelin-star options from M.B and Kabuki*
Extended Stay Package from £2123 + VAT for 14-nights in a Deluxe Room
Ready for a long-awaited family holiday? Take a closer look at The Ritz-Carlton, Abama in Tenerife and book 14 nights for the price of 10 with an Extended Stay Package this summer.
*Dining at M.B and Kabuki is available with the half-board or full-board dining plans at an additional cost.
Activities are subject to seasonality and availability.