Find secret beaches in Spain with sun, sand and space to play
Finding secret beaches in Spain isn't difficult if you know where to look. Here are eight lesser known Spanish shores, all surprisingly easy to reach, reliably sunny in summer and with plenty of uncrowded space for kids to run wild.
---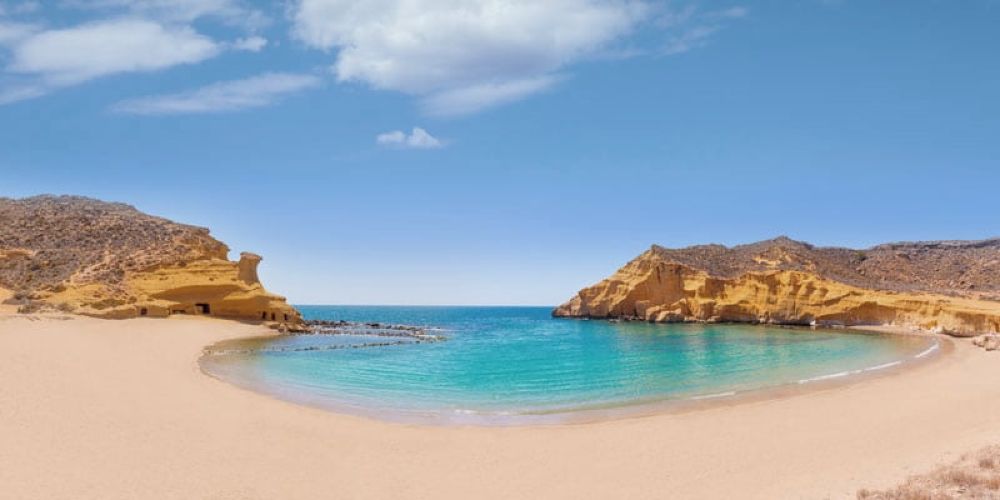 1/8

 Playa de los Cocedores, Murcia
Right on the border of Murcia and Almeria, this is a beach the regions tussle over. In truth it's more Murcia's and, once you're down on the sheltered, shimmering sands staring out at the Mediterranean, ownership seems irrelevant. A little trickier to get to than most Costa Blanca coves, Playa de Los Cocedores is much quieter than it should be considering it's utterly breathaking. The crescent shaped shore is cocooned in otherworldly rock formations, so there's no shortage of nooks and crannies to clamber around for older kids. And the gentle, shallow water's just right for little non-swimmers.
Playa de los Cocedores is tucked round Cala Bay about 20 minutes from Aguilas in Murcia.
Look at Costa Cálida for more secret beaches in Spain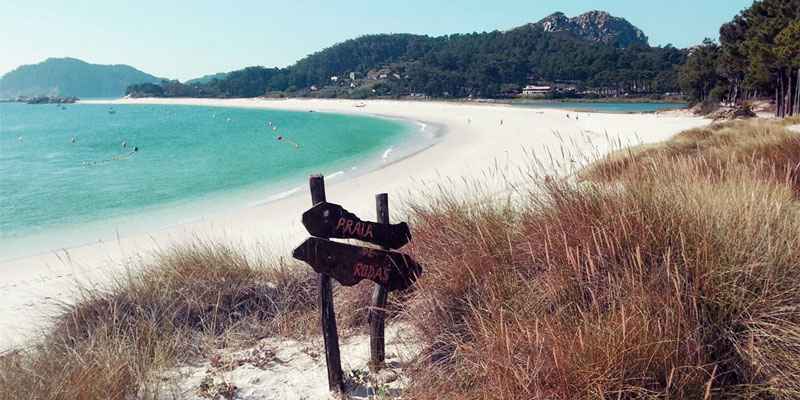 2/8  

Praia de Rodas, Cíes Islands, Galicia
The tiny, Cíes Archipelago on the north west coast of Spain is known locally as the 'Galician Seychelles'. Hyperbole? Catch a summer-only ferry from the port of Vigo to Illa do Faro in July or August and make up your own mind. Praia de Rodas is the kilometre long stretch of beach linking Illa do Faro and Illa de Monteagudo across the sheltered and impossibly idyllic Lago dos Nenos. It's been called one of the world's most beautiful beaches and, technically, should be busy. But the car-free and protected Cíes Islands only allow a limited number of visitors each day so the people to paradise ratio is pleasantly low.
The Cíes Islands are about 40 minutes by ferry from Vigo on the west coast of Galicia in northern Spain. There are a few very good campsites on Illa do Faro and several  restaurants within walking distance of Praia de Rodas.
Go on family eco-adventures to find more secret beaches in Spain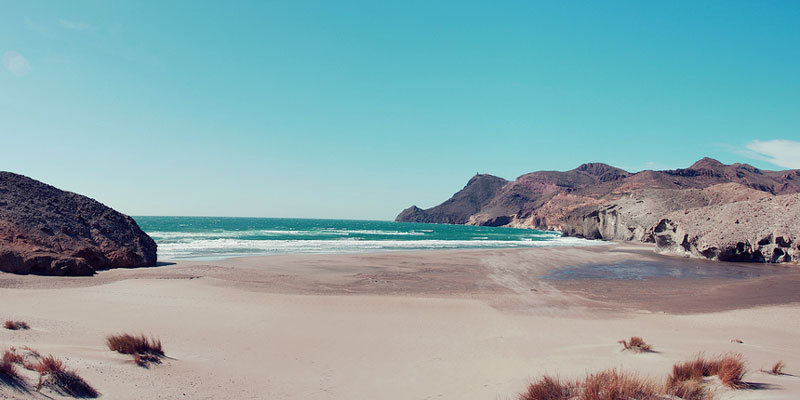 3/8 

Playa de Mónsul, Cabo de Gata National Park, Almeria
Almeria's Cabo de Gata Nature Reserve is the only place in Europe which officially has a hot and dry desert climate. Just don't expect scorched earth. This 400km² park matches a supernaturally low rainfall with some of the loveliest secret beaches in Spain. Getting to most of them involves a hike or a scramble, but nothing too demanding, even for young kids. And the rewards are well worth any effort: think crystal clear waters, sands melding from dove grey to bone white and no crowds, ever. Playa de Mónsul is a little better known than some, so you might have to share the shore with a few other families drawn to its silvery sands, sculpted rocks, and sheer cliffs dropping into the sea.
Playa de Monsul is on the southernmost tip of Cabo de Gata National Park, about an hour's drive from the city of Almeria. The beach is signposted from the little town of San José in the park itself.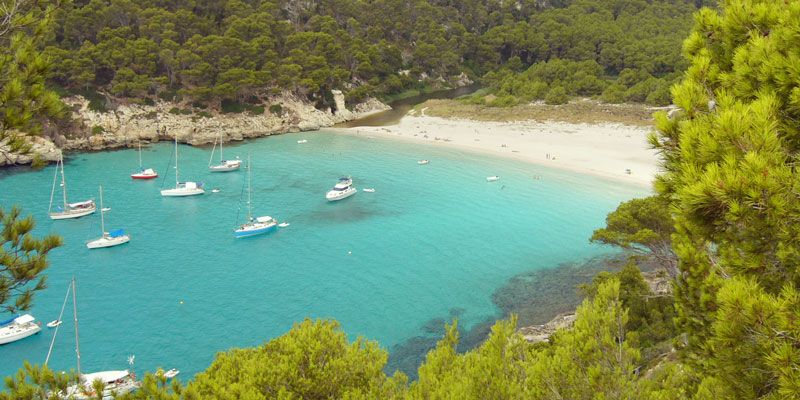 4/8

 Le Cala Trebalúger, Menorca
Menorca's south coast is trimmed right round with pretty, white coves. Most of them are tiny and packed with people all summer. Not so Cala Trebalúger. Just far enough away from Mahon and a bit off the beaten-track, this gorgeous pocket-size beach is almost always peaceful. The only disturbance you can expect is an occasional elegant yacht gliding into the bay. Apart from that, you're pretty much on your own. Wear shoes for the path down to the sands and take a picnic, there's nothing here at all, which is why it's on our secret beaches in Spain list.
On Menorca's sunny south coast, Trebalúger is just under an hour west of Mahon by car and about the same from historic Ciutadella de Menorca to the east.

5/8  

Playa de Masca, Tenerife
Playa de Masca in Tenerife is one of the most secret beaches in Spain, mainly because the only way to get there is by walking down the spectacular Masca Valley from the hilltop village of Masca. The trek takes about three hours, isn't too demanding for older kids and goes through some of the loveliest scenery in the Canary Islands. The cool, clear Atlantic is ideal for soothing tired feet when you finally reach Playa de Masca. If you don't want to hike back up, there's a ferry round the coast and a good chance of spotting dolphins on the sail to Los Gigantes or Costa Adeje.
Masca Village sits at the head of the Masca Valley on the north west coast of the island about 40 minutes drive from Los Cristianos. Several companies offer guided walking tours and can arrange transport from your resort.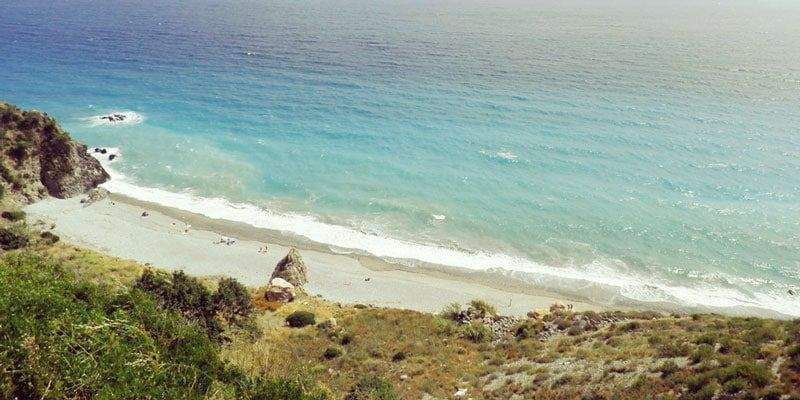 6/8  

Las Calas del Pino, Costa del Sol
The way to guarantee a beach to yourself on the busy Costa del Sol is to find one that requires a bit of legwork. Las Calas del Pino is just 20 minutes from Nerja but it's hidden under a cliff face and the path down's just short of a hike. That said, it's not too much of a challenge – just watch your feet and divide up bags and kids on the descent. You need to take bottled water and a picnic for this secluded beach. What you get in return for the effort is a spotless stretch of silvery sand, clear waters for snorkelling and easy to explore underwater caves.
Las Calas del Pino is a 20 minute drive from Nerja off the old coast road signposted from Maro. The local landmark to look for is Torre del Pino, see that and you're as good as there.

7/8  

Playa Bolonia, Tarifa, Costa de la Luz
Playa Bolonia is on the Costa de la Luz where the Atlantic and Mediterranean converge. Between its swathes of white sand dunes and the ancient Roman ruins of Baelo Claudia, it's another of the beaches in Spain which should be busy, but isn't. Mainly because the winds which surfers love here tend to keep crowds away – or at least on the slightly more sheltered Tarifa sands to the east. A good beach for kitesurfing, exploring and running around, there's usually a chiringuito serving up the fresh, grilled seafood in summer.
Playa Bolonia's 20 minutes drive from Tarifa, the village which looks right across the Strait of Gibralter to Tangier. If you want to keep driving west, Cadiz is just over an hour along the coast.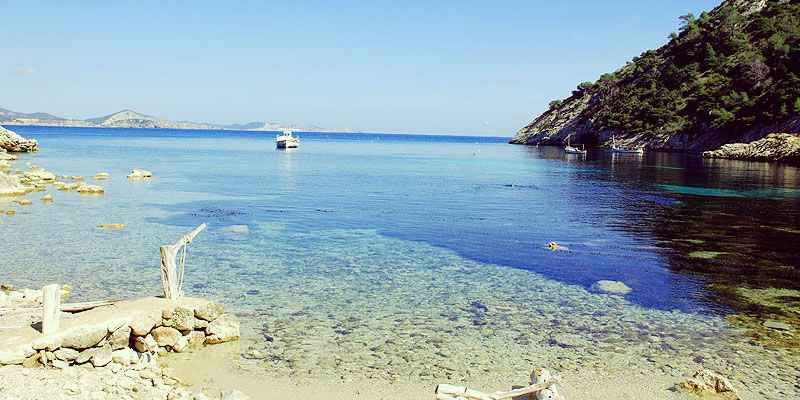 8/8  

Cala Llentrisca, Ibiza
Cala Llentrisca in Ibiza follows the same rules as all the best secret beaches in Spain: almost totally deserted and difficult to find – even with directions. It's about as far south as possible on Ibiza, without falling into the sea. A tall hill shelters the fine-grain pebble sand beach, and the green-blue water's clear and calm for snorkelling or swimming. Take everything you need for the day because you won't find a shop or resort anywhere near Llentrisca; it's not on any ferry routes and the only signs of life you'll see are distant yachts on the horizon.
Lentrisca is about 20 minutes by car from Ibiza Town. Its nearest village is Es Cubells, the tiniest on the entire island, and the steep path down to the beach path is signposted from the village centre.
Take a look at Ibiza in winter for more secret beaches

---
Looking for secret places closer to home? Check out quirky ideas for family holidays in Scotland. And don't forget to follow Family Traveller on Facebook and Instagram for more travel inspiration, news and updates – or just to say 'hi'.