Robert Charles and his daughters return to the family's favourite holiday destination – tucked away in a little-known corner of the Mallorca.
Why go?
I hope my children, as they grow older, will come to think of Sóller as their special holiday spot. Kim, their mother, has been coming to this lovely town, on the northern coast of Mallorca, all her adult life. She introduced me to it more than a decade ago, and I have adopted it as my own. Sóller is our family's favourite place in the world.
Best of both worlds
It is two places, in fact, since Sóller functions as a kind of twin destination. There is Sóller proper, a fine old Mallorcan town ensconced in a fold of the Tramuntana mountains, and then, about four miles away, there is the Port of Sóller – a laidback sandy little beach with safe, shallow waters, its looping curve backed by a broad sweeping promenade. The port and the town are linked by a venerable old tramline that meanders clankily through orange groves, dinging its bell as it ferries holidaymakers back and forth. It couldn't be more old-fashioned, or more appealing.
Activities
Souvenir shopping
The girls spent a long, long time in what they called 'the fan shop', on Avengida di Jeroni Estadas, on the square. It is a souvenir outlet, selling all sorts of things made of olive wood, but with a section devoted to fans. The girls knew this was where they wanted to spend some of their holiday money.
Naomi chose a fan consisting mostly of black lace with painted gold details on the plastic bookendy bits; Eliza went for one made of applewood, with some intricate fretwork on the spokes. (Pearwood, it turns out, is the best material for such fans, but apple is much cheaper.) Naomi thought Eliza's was a bit boring; Eliza said Naomi's looked like it 'was made for a widow or something'. The lady in the shop taught them both how to snap open their fans with the proper panache, and how to flutter effectively.
Discover Picasso
We walked on to the station to inspect the varnished carriages of the Palma train. Somewhat remarkably, Sóller train station has a room full of Picasso ceramics and, on the opposite side of the vestibule, a second room full of Miró paintings. Both are free to visit, which makes the station a great place to while away half an hour, whether you are planning to get on the train to Palma or not. In Naomi's view 'Picasso used to be a bad drawer, then he turned his bad drawings into big art.' On the whole, she preferred Miró's colourful doodles. 'Even though he hasn't done much, it still looks really awesome,' she said, as we ambled back down into the square, in search of the edible work of art that is an ice-cream sundae.
Child friendly 
Eliza, nine, and Naomi, seven, had a daily discussion about whether they wanted to spend their time in the port or the town. Kim and I didn't mind much either way. Both are brilliantly child-friendly. It is not just that children are always welcome in cafés and restaurants; it is that it is  perfectly safe and easy for them to wander off – into the square or onto the promenade – and play for a bit while waiting for their dinner, or for parents to finish their coffee.
And it is easy to set limits – don't go past the bridge or cross the road. You can be with your kids, and keep an eye on them, while also enjoying that rare parental luxury: a decent spell of grow-up conversation.
Where to eat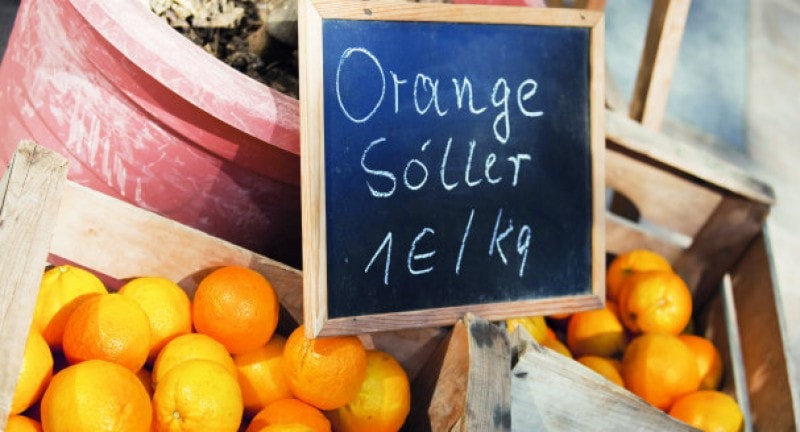 Local vibe
The best place to feel like a local in Sóller town is the Café Central on Constitution Square. It does a great cafe con leche (they bring it to you black, and top it up with the hot milk at the table). But we decided Sa Granja, right next door, had the better kids' menu, and was better value when it came to the evening meal.
We tended to eat early, along with the other pale north-European tourists. At 6.30pm, as we settled in to our chosen restaurant, Sóller's main plaza resembled a big playground. There were ball games, a few courteous teenage skateboarders weaving in and out of the walkers, some smaller children sitting quietly on the parapets around the fountain, a girl in a riding hat zipping by on a Vespa. Everywhere we went it felt very calm and secure.
Treats
One evening, in the port, Eliza and Naomi took great pleasure in taking a few euros to Yomi, the frozen yogurt café, and being parent-free over their pudding while we sipped beer in a bar a couple of doors away. We could still see them even when they wandered down to the sea. The beach is perfectly safe, because the waters are shallow for a long way out. There are no currents or tides and no sudden shelf, which all makes for restful supervision.
The lowdown
How to get there: easyJet flies to Palma from Gatwick from £35.99. If you are hiring a car, it is an easy 30-minute drive to Sóller (via the toll tunnel).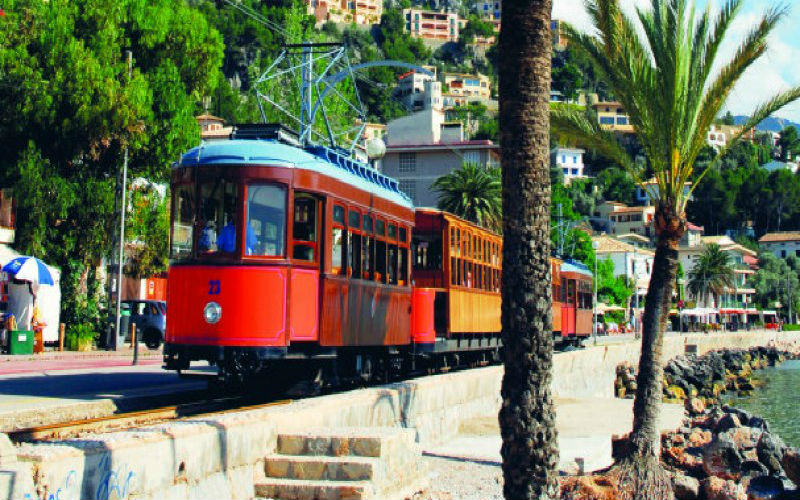 A vintage train also runs, but infrequently, so check the timetable at trendesoller.com.
Where to stay: Hotel Espléndido is family friendly, with separate facilities for those with kids and those without. These include a family sauna, a family pool and, at busy times of year, a family breakfast room; from £168 a night.
The Jumeirah Port Sóller has a kids-and-families pool and separate pool for adults only. There is a club for children aged three to 12, although it is mostly a crèche, and no self-respecting eight-year-old would go without a fight. All guests get two complimentary hours' childcare a day; from £523 a night.
Villa Cami Vora de la Mar, a pretty and stylish villa, sleeps six. There is a tiny pool from which you can glimpse the sea. The beach and the port are a five-minute walk away. The winding staircase might make it unsuitable for toddlers; from £1,340 per week, plus a £56 cleaning charge. Book via homeaway.co.uk
More of what you love…
Discover more great things to do with kids in and around Sóller. Or if you fancy a child-free break, find out more about Sóller for mums and dads.