Year-round sunshine, delectable tapas, classic Spanish architecture and glorious coastline make Gran Canaria an idyllic option for a family holiday in 2020, says Yvonne Otchwemah
It's a crisp Friday morning. My bags are packed and, with enough Euros to last me for the long-weekend ahead, I climb aboard the plane from London Gatwick to Gran Canaria. Within four hours we touch down, before a short taxi journey transports me to the entrance of Radisson Blu Resort & Spa, Gran Canaria Mogán.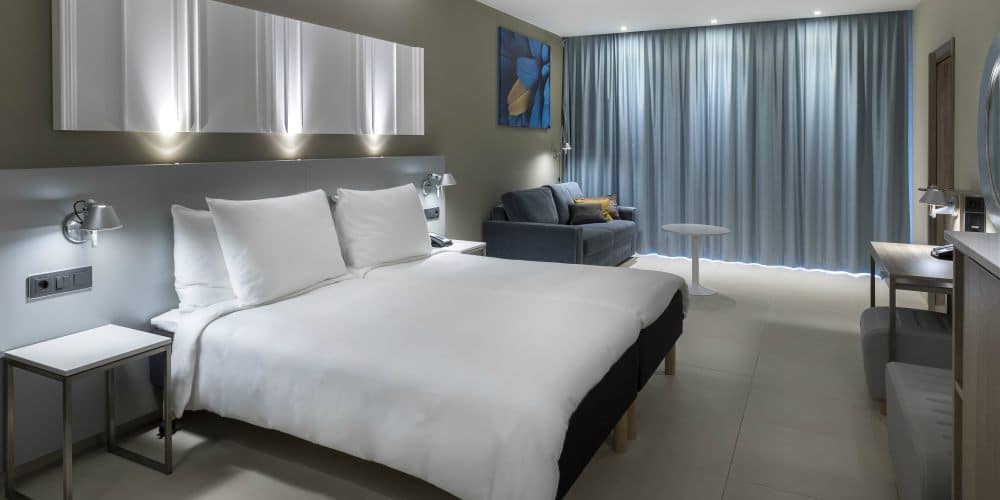 I'm immediately struck by the design of the rooms that are undoubtedly modern yet with a homely touch. Ordering room service for dinner is the convenient choice for my evening before bed.
The next morning I head down for breakfast at The Larder, a stylish restaurant where families can indulge before starting their day. There is plenty on offer, including a chef ready to take your order of omelette or fried egg, a section for cured meats and cheeses, bacon and Spanish sausages, pastries, fish, fruits and other sections for vegetables, yogurts, juices and even fresh honeycomb.
Half Board guests are able to switch their buffet dinner for lunch on the same day. Energised after a hearty breakfast, I feel revitalised and ready to start the day. By this time the sun has risen and the temperature is expected to climb to 26 degrees. The mountains in the distance are fully visible, creating a fascinating desert-like backdrop behind the hotel's sleek structure.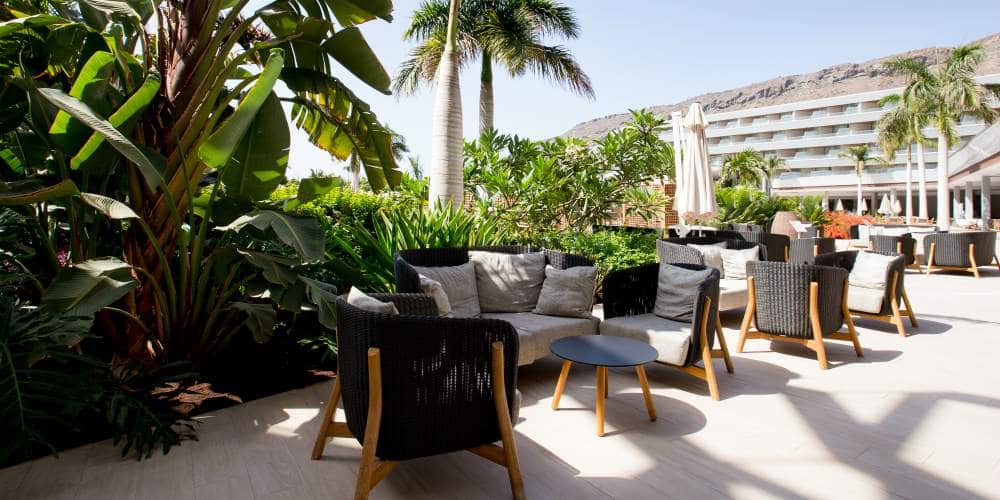 Outdoor swimming pools provide the ideal spot for cooling off, including a child-friendly swimming pool on the ground level. Adjacent to the children's pool is a play area and a kids' club offering supervised care for children aged four and over. If your children are in need of indoor relaxation, Spa In is a great choice. Treat the kids to 'Little Stars Time' and choose from treatments such as a chocolate facial mask (also know as the 'Sleeping Beauty Facial Mask') or perhaps a jellybean massage with jellybean treats to follow.
For mums and dads who want to join in on the fun, 'My Mom and I' and 'My dad and I' are packages that allow parents to enjoy a spa experience with their youngsters, including juices or fruit smoothies for refreshment. The resort also caters to sport and fitness fanatics; tennis courts, volleyball, outdoor rock climbing, a morning yoga class and gym facilities are all available.
If you're looking to explore activities and sites outside of the resort, then there are plenty of options. The streets of Las Palmas are scattered with elegant monuments and grand historical architecture. Gabinete Literario in Plaza de Cairasco, known to locals as one of the oldest theatre buildings in the city, is perhaps the best example of this. With the majority of its original features still in tact, it is a sight to behold, while a quick glimpse inside will allow you a view of the grand staircase running through the middle. If sandy beaches are more your thing, just a short drive away is Las Canteras beach, a popular spot for sunbathing in the city.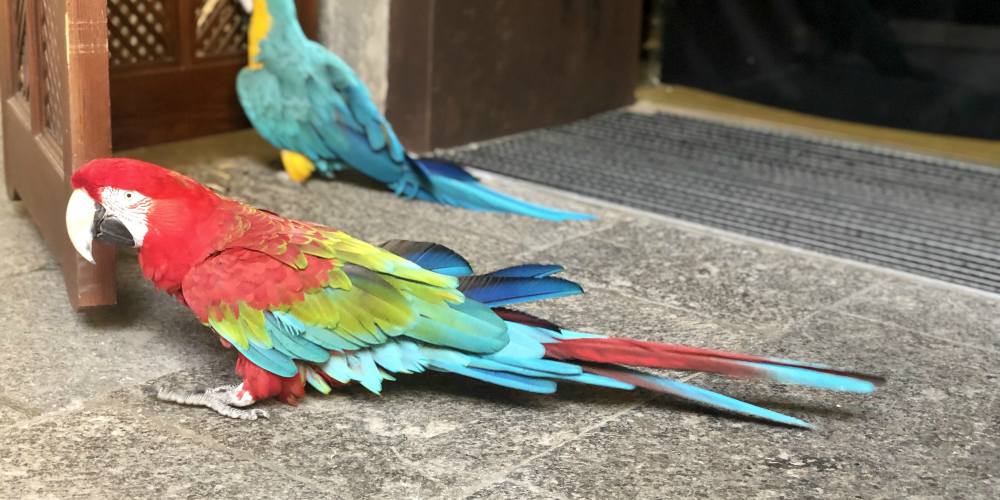 Fifteen minutes away by car is Piscos & Buches, an eatery situated in the Mercado del Puerto food market. The tapas dishes are great to share among families or friends. For history lovers, Casa de Colón is a museum that provides a glimpse of Christopher Columbus' voyages. On display sightseers will discover various artefacts and ship model replicas of which Columbus' is believed to have travelled. The attraction is also home to two parrots who frequent in the courtyard.
Sunday was a day of hiking and exploration in the town of Santa Lucía de Tirajana. Within a 45-minute drive from the Radisson Blu Resort & Spa, Gran Canaria Mogán I'd reached a long windy road leading high into the mountains. The quaint village of Fataga awaits – a rural display of cobbled lanes and white houses, paired with their tiled roofs, scenery fit for the perfect seaside snapshot. It's not hard to see why a number of local artists choose to reside in this quiet community.
Within walking distance you're bound to stumble upon a charming local bakery or restaurant, while the Restaurante El Alpendre, serving fresh local produce, is just a short drive away. For families seeking an archeological edge to their holiday, La Fortaleza de Ansite is a great historical excursion into the rocky surroundings of native islanders who were defeated by Castilian troops in 1483. A hike through caves ensure breath-taking panoramic mountain views.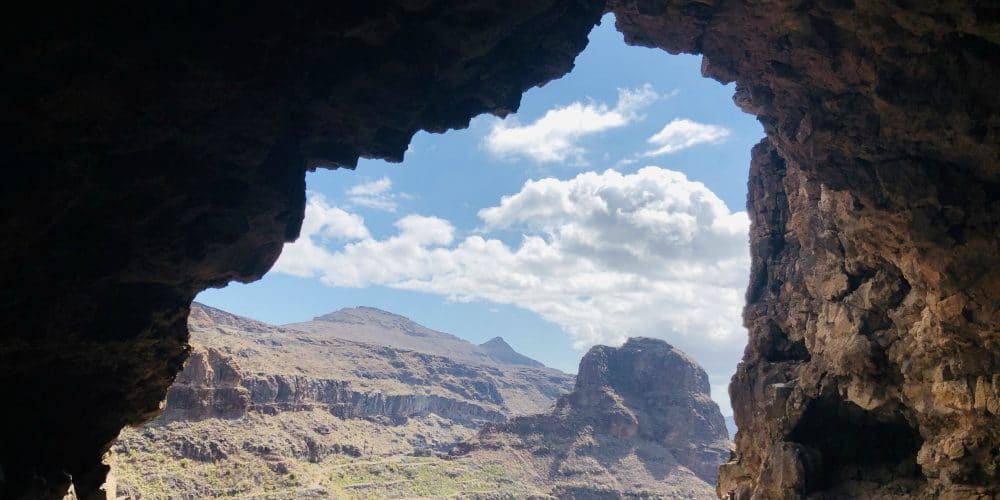 The second part of the day involved exploring Agüimes, a town that continues to delight in colourful Spanish architecture. If your family would like to cool off with a sweet treat, take a trip to Helado Artesanal El Canario, an ice cream shop that prides itself on 100% natural produce using goats milk. Agüimes is also home to the annual festival, Fiestas Del Rosario, which takes place every autumn and includes a two-week itinerary of sporting events, folk music and celebration of Canarian dishes and traditions.
Later that afternoon, I return to the Radisson Blu Resort & Spa, Gran Canaria Mogán for some relaxation before heading to dinner that evening at the one of hotel's Italian restaurants, Filinia boutique dining experience and delicious appetisers, entrees and extensive desert options.  
For a family looking for a luxury hotel experience, Radisson Blu Gran Canaria, Arguineguin is the perfect destination for your stay. Located approximately thirty minutes from Las Palmas airport, this resort comes with incredible balcony and sea views with various choices of Suite types to accommodate all family sizes. Gran Canaria is the ideal destination in the New Year for families seeking both a modern and traditional Spanish experience full of culture, leisure and cuisine in the sunshine.
The lowdown
Radisson Blu Resort & Spa, Gran Canaria Mogán
Family Room prices start at £250 per night including breakfast and suitable for families of 4 to 5.
Airport transfer available from Las Palmas International (30 minutes to hotel) departing every hour during peak time. By car the hotel is approximately 20 minutes away.
Free car park facility is also available at the hotel.
Along with mountain views, the hotel offers 390 rooms and 32 modern suites which include premium furnishings and cosy beds. Standard room facilities on offer include: bathrobe and slippers 48-inch flat screen TV (two TVs with family rooms), sitting area with sofa bed, terrace or balcony with two sunbeds.
Additional amenities include a coffee machine, 55-inch flat screen TV, balcony/terrace with 4 sunbeds.    
Five onsite bars and restaurants: Filini, The Larder, Il Taglio Pool Bar and Restaurant, Pool Lounge, Entertainment Room and Bar.
Radisson Blu Gran Canaria, Arguineguin
Junior Suites sleep four with prices starting from £350 per night including breakfast
Airport transfer available from Las Palmas International (30 minutes to hotel) departing every hour during peak time. By bus from Las Palmas Airport Global Bus Line 91 provides transportation to the hotel (service departing approximately every hour).
Free car park facility for up to 45 cars.
Hotel offers 189 rooms and suites with each room displaying fashionable decor which includes marble floor, balcony with sea view, free high-speed  Wifi, 42-inch flat screen TV, tea and coffee facilities.
Extra amenities in suites include: fully equipped kitchen, separate living area and a coffee machine.
Two onsite eateries: La Canaria Restaurant (breakfast and dinner buffet) and 222°SW Bar & Grill.
Fitness centre – Pace Gym, Outdoor pool, beach volleyball, gym and tennis court