Sponsored Content
Autumn's a great time for a family holiday in Catalonia and the entire region is packed with family-friendly places to explore. But if you want to put sustainability up top in your adventure this year, head to Els Ports in Terres de l'Ebre biosphere.
An easy drive from Reus Airport, Terres de l'Ebre is one of Catalonia' two UNESCO World Biospheres and famous for the extraordinary Ebre Delta. But for autumn adventure, turn away from the coast and make for the mountains to discover Els Ports: a Family Adventure Holiday certified destination and pretty much the land of endless excitement for kids. This is where you'll find Els Port Natural Park and the iconic Ports de Tortosa-Beseit; mile after mile of traffic-free cycle routes; child-friendly history tours; river kayaking and canyoning and opportunities all over the place for kids to try anything from orienteering to olive oil tasting.
Plus Els Ports is an official Family Adventure Holiday destination, certified by the Catalan Tourist Board and guaranteed family-friendly right across the board from accommodation to adventure parks.
The highly coveted Family Friendly Holiday labels are only awarded to the best of the best after a rigorous certification process pioneered by Catalonia to ensure the highest of standards. So you can be sure all labelled destinations and attractions are just right for you and your kids. Here's a hint of what family-friendly looks like in Els Ports, Terres de l'Ebre this autumn: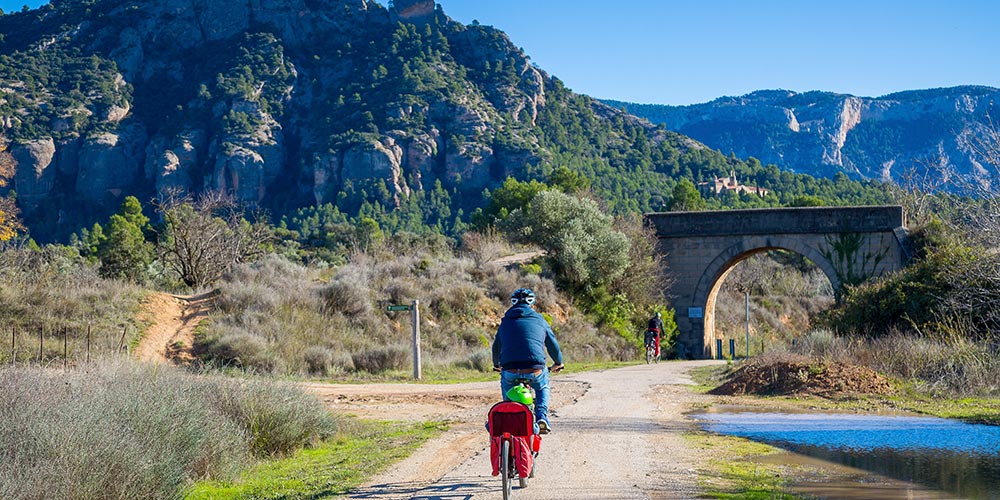 1/5

Have an activity-packed family adventure with Montsport

Montsport believe family adventures should be fantastic fun, low impact and completely sustainable and prove that's possible every day, all year round, right at the heart of Els Ports Natural Park.

Naturally they're very keen on cycling, and the only activity company in Terres de l'Ebre to hire family bikes, where kids sit up front in sturdy seats while you do the pedalling. And you don't have to plan your own route, Montsport will work everything out for you or take you on a guided family cycle – everyone on the team is local so nobody knows the landscape better.

Picking up the basics of orienteering together with Montsport's experts is another exciting activity to get you all out and about all over the park. There are great tours and even ones involving olive oil and wine tasting are designed for families – kids too. Bold teens will love canyoning with qualified and extremely encouraging experts. And most ages are up for the challenge of aerial rope courses at Montsport's innovative outdoor Adventure Park.
Find out more about Montsport in Els Ports, Terres de l'Ebre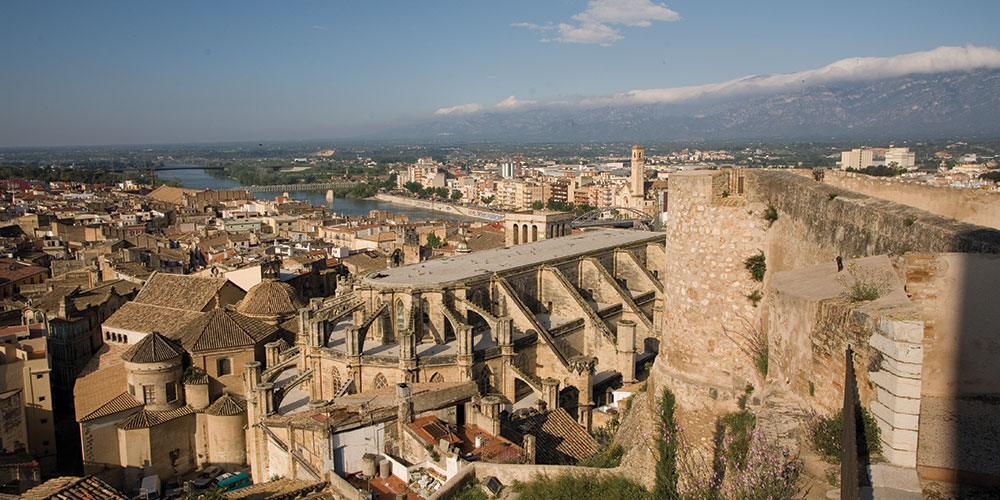 2/5

Take a family tour round the ancient city of Tortosa
Historic Tortosa is the largest city in Terres de l'Ebre and no distance at all from Els Ports Natural Park, so it's a good base for family adventure holidays this autumn. But even if you stay somewhere else – and there's plenty of amazing places to choose from – a tour of Tortosa with local guides is a fantastic experience for kids.
Set on the River Ebre and once one of Catalonia's major ports, it's still a grand city today. And, despite suffering severe damage during the Spanish Civil War, the old town is still incredibly atmospheric and areas like the Jewish and Arab Quarters are so dense with architecture and stories they justify tours all to themselves.
Tortosa on Foot is perfect for an overview of the city, gives kids a look at stately Suda's Castle and the Episcopal Palace, lets them wander narrow medieval streets and gaze on plenty of good old Renaissance grandeur.
Groups are always quite small, there's time to ask questions and most tours cost under £10 per person, so you could easily fit in more than one.
Find out more about family-friendly Tortosa on Foot in Els Ports, Terres de l'Ebre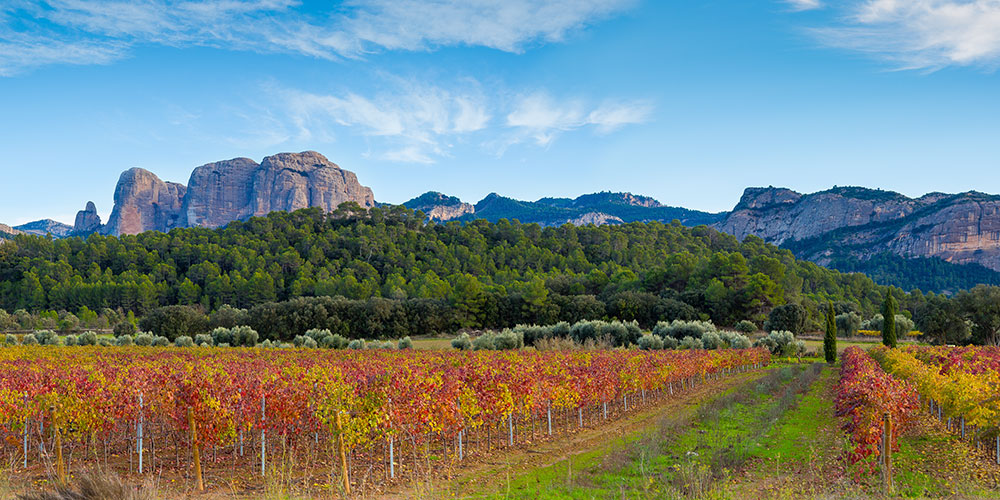 3/5

Explore sustainably spectacular Els Ports Natural Park
If you want to make like a local this autumn, call Els Ports Natural Park, Els Ports and put it front and centre in your family adventure.
Designated in 2001, this 35,000ha spread of sustainable, untouched beauty is part of the reason Terres de l'Ebre has UNESCO World Biosphere status. A diverse landscape of mountains and valleys it's home to majestic Mont Caro and the Ports de Tortosa-Beseit, along with what seems like an endless line-up of lovely villages, wildlife for patient kids to spot, and some of the most wonderfully untamed – yet accessible – places to do anything from potholing and canyoning to hiking, biking and climbing.
Obviously one or two of those activities aren't so child-friendly, but on the whole, the park could have been designed just with families in mind. Several superb local companies offer all sorts of activities which work for even the youngest of kids, and if you want autonomy over your Els Ports experience, walking paths are well marked and there's plenty of guides to places which are safe and easy to explore, but still plenty adventurous this autumn.
Find out more about Els Ports Natural Park in Els Ports, Terres d'Ebre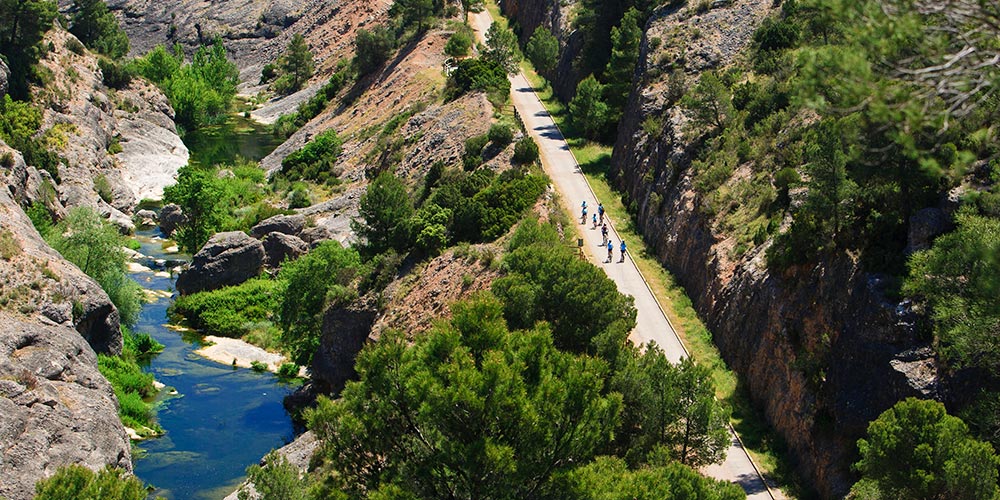 4/5

Cycle the sensational Via Verda Val de Zafán
On top of having a great name, Via Verda Val de Zafán is another one of Catalonia's iconic Greenways repurposed from disused railway tracks for traffic-free cycling or walking.
At just over 52km, this entire route might be a bit of a stretch for younger kids to cycle in one go, but it divides into two easier stages and, of course, you can try as much or as little as you like.
However you do it, the Via Verda runs from just north of Horta de Sant Joan and heads south towards Tortosa. It skirts Els Ports Natural Park, winds through the Canaletes River Valley, covers a fair bit of the magnificent Ebre Valley, and takes in two amazing viaducts, several impressive bridges and quite a few tunnels along the way.
In short, it's a brilliant way to see a lot of Els Ports in one go, and if the full 52km isn't quite enough of an adventure, you can follow the path from Tortosa to Deltebre and end up at the mouth of Terres de l'Ebre's magnificent namesake river.
Several local companies hire bikes or family bikes adapted for carrying young kids up front, and some also offer Via Verda Val de Zafán guided tours.
Find out more about Via Verda Val de Zafán in Els Ports, Terres de l'Ebre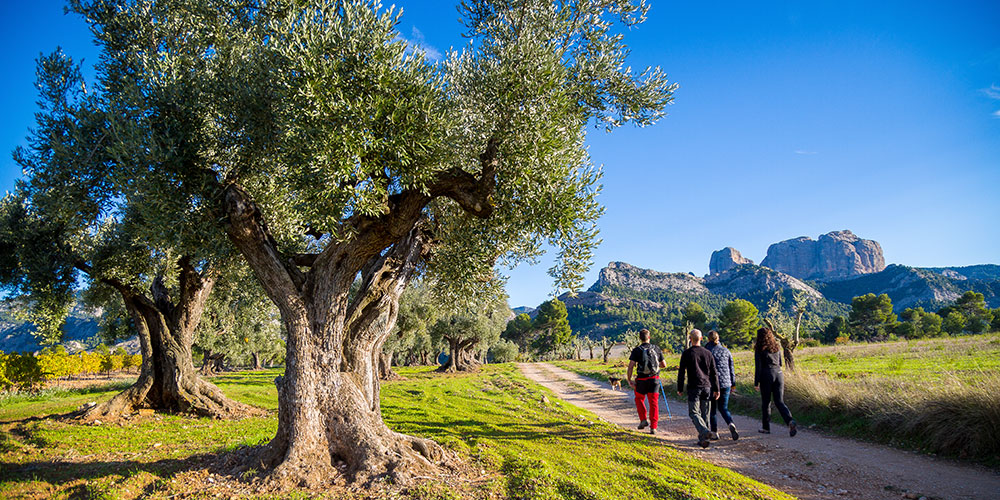 5/5 Have a brush with genius in historic Horta Sant Joan
Gateway to Els Ports Natural Park, Horta Sant Joan is one of an exclusive collection of four Catalan towns which make up El Paisatge dels Genis (The Landscape of the Geniuses). The genius in Horta's case is Picasso who stayed here in 1898 and again in 1909, painted a total of 60 canvases mainly of the local landscape, and once said, 'I learnt everything I know in Horta de Ebre'. So naturally you don't want to miss the Picasso Centre. It's part gallery, part museum, wholly fascinating and kids will love the Cabezudas of Horta: colourful heads created by Picasso and worn to this day by the town's carnival giants during local festivals.
Horta's also the starting point for the Via Verda Val de Zafán cycle route, and the local Els Port Information Centre is where to head for everything you need to know about exploring the Natural Park. Although it's an easy town to explore on your own, there's plenty you might like explained too and the architecture alone justifies a good guide.
Montsport are based in Horta Sant Joan and do several family-friendly tours designed with kids in mind.
Find out more about Horta Sant Joan in Els Ports, Terres de l'Ebre
The lowdown
Where
Els Ports is in Terres de l'Ebre in south west Catalonia
How to get there
Direct UK flights to Reus take from two hours year round.
Tortosa is 55 minutes drive west of Reus Airport.
There are also direct UK flights to Girona or Barcelona.
Ready for your family adventure in Catalonia this autumn? Start planning with a visit to the Catalan Tourist Board (ACT) for information on Family Adventure Holiday labels and all the awesome autumnal destinations where you'll find them.