A Canary Islands guide to the best of
Spain's sunniest islands
right now is just what you need with half term on the horizon. We've explored five of the top Canaries for all types of family breaks this year and found you great value resorts to book too. Take a look.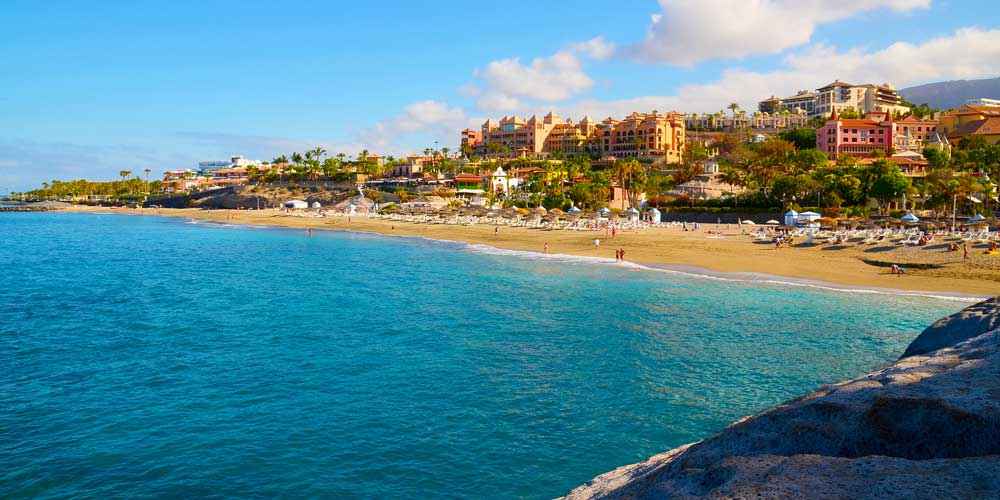 1/5

  Canary Islands guide to Tenerife for multi-gen family holidays
Tenerife is the largest of the Canary Islands and a great all-rounder for multi-gen family holidays. Kids love the beaches and theme parks, especially in the sunny south. But the balance of lively resorts and more authentic towns and villages, goes a long way to keeping everyone happy, even on the busiest coasts. You're never far from untamed landscape anywhere in Tenerife and most of it's amazingly accessible. A wide choice of places to stay, from large holiday villas to five-star resorts is another plus point in the multi-gen mix. Then add in the long, hot summers – or warm winters – and it's easy to see why it's top in our Canary Islands guide for bigger than average families. 
Why choose Tenerife for multi-gen family holidays?
Two airports: Tenerife South and North. Direct UK flights, four hours, year round.

Sunny south coast for golden beaches, watersports, lively resorts towns, luxury hotels, and holiday villas and apartments. 

Slightly cooler north west coast for dramatic, lava beaches; lush countryside, and bustling Puerto de la Cruz.

Walking, hiking and stargazing in Teide National Park.

The historic and cultured south coast capital, Santa Cruz.

Traditional towns and villages like Masca and Garachico.

Authentic local culture, mountain village markets, artisan workshops and artist's studios.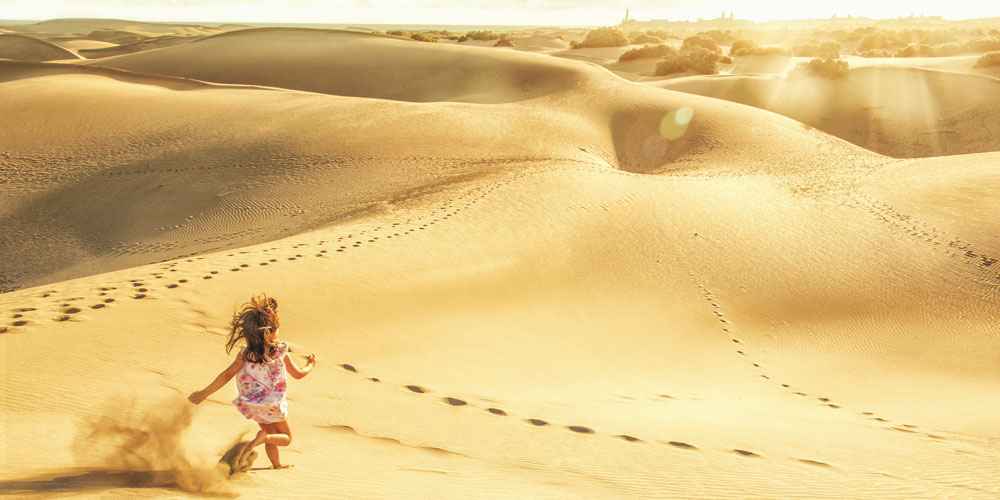 2/5 

Gran Canaria, our recommended island for family activity holidays
Gran Canaria is often called, 'a continent in miniature' and it's not too much of an exaggeration. The number 2 in our Canary Islands guide has over 70km of beaches. It's home to the mighty Maspalomas Dunes – a top Spanish contender for the 'New Seven Wonders of the World'. And if you tear yourself away from the coast, the interior's an enormous mountainous playground for climbing and biking, hiking and just about anything else the more energetic than average family can dream up. 
Why our Canary Island guide recommends Gran Canaria for active families?
Direct UK flights to Las Palmas, year round, four hours, 25 minutes.

Over one third of the island is a UNESCO Biosphere, and it has 32 protected areas including the Maspalomas Dunes and Doramas Jungle.

Summer temperatures average 32˚, and seldom drop below 22˚ in winter.

Excellent for guided hikes, mountain bike tours, and camel trekking.

Catch and release cruises are a great intro to deep sea fishing for older kids and teens.

Of the world's 79 dolphin species, 29 swim off the coast of Gran Canaria.

Over 70km of beaches, best for watersports and sailing on the south coast.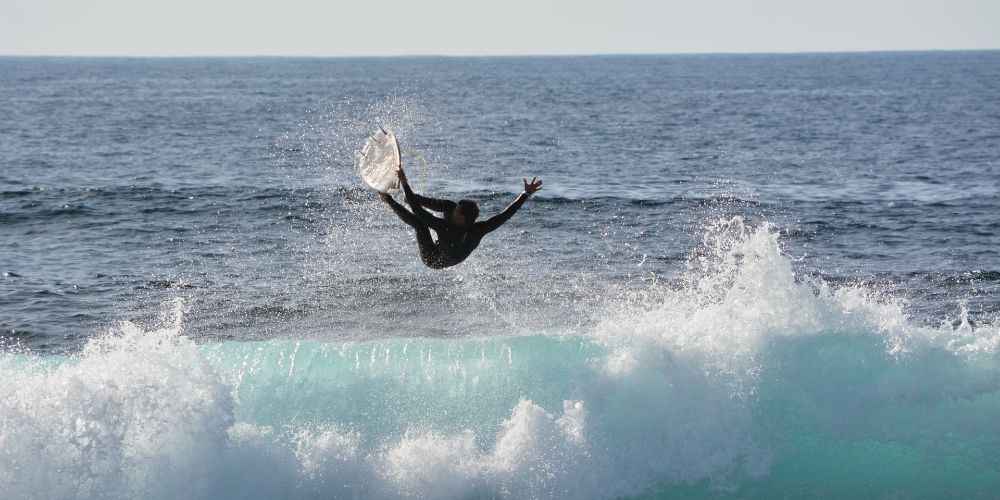 3/5 

Lanzarote – pick of the Canary Islands for older kids and teens
Lanzarote is known as the 'island of eternal spring' because of the amazing weather. It's closer to North Africa than it is to Spain and temperatures can easily hit 35˚ in July and August. Heat doesn't stop play here for a second. The west coast is a magnet for serious surfers and top spot for surf schools and camps. Cyclists rave about the island's smooth roads – and its challenging climbs – so there's a pick of biking adventures here. You can even pedal peacefully along car-free coastal paths. And, because much of the island is also a protected biosphere – the part that isn't immense Timinfaya National Park – it's a spectacular destination for walking and hiking too.
Why choose Lanzarote for family holidays with teens?
Direct UK flights to Arrecife, year round, four hours.

Costa Teguise is top Canary Island destination for beginner windsurfing.

Surf School Lanzarote on the north west coast is one of the best in Europe.

The Risco de Famara range is the island's highest and criss-crossed with biking and hiking trails.

Guided eco-treks in volcanic Timinfaya National Park are fun walking adventures for kids (you can camel trek too).

Enormous Famara Beach is fantastic for kitesurfing (and beginner's lessons).

Try unique caving on guided tours of the underground lava tunnels all over Lanzarote.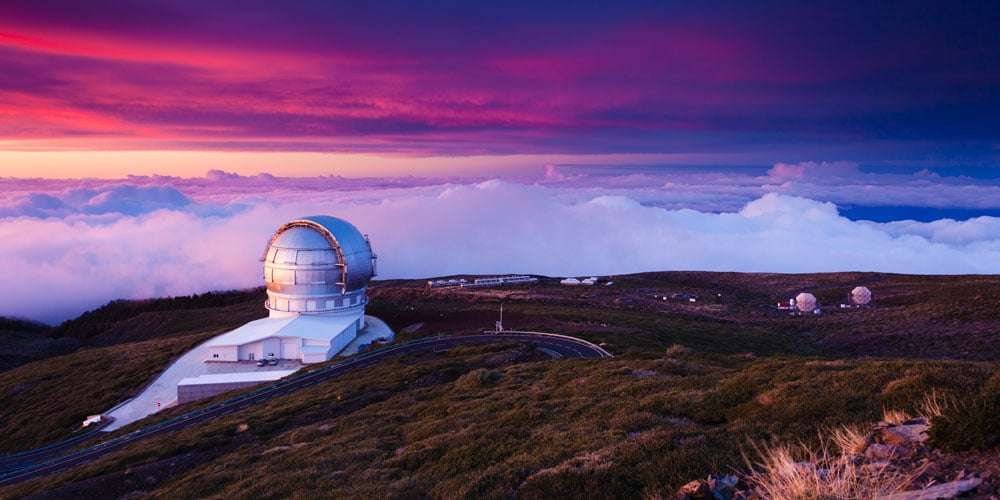 4/5

  La Palma – the cool and eco-friendly island for younger kids
La Palma is said to be the prettiest of the Canary Islands, it's also the least touristy and more given to unspoiled nature than theme parks. The capital, Santa Cruz de la Palma would look perfectly at home in the 18th century. And the entire island is a biosphere, as well as one of Europe's Dark Skies reserves. But Palma still keeps up with the rest of the Canaries in terms of remarkable beaches and slightly cooler summer weather makes for easy holidays with younger kids.
Why choose La Palma for family holidays with younger kids?
The greenest Canary Island, with over 1000km of marked walking and cycling trails.

Roque de la Muchachos Observatory is one of the best in Europe.

Hiking in enchanting Los Tilos, the largest laurel forest in the Canaries.

Exploring the amazing, colour-changing, salt flats of Fuencaliente.

Beaches and seafood restaurants at Port Naos.

Touring colourful Santa Cruz de la Palma, the island's historic capital.

Climbing and walking in Caldera de Taburiente National Park.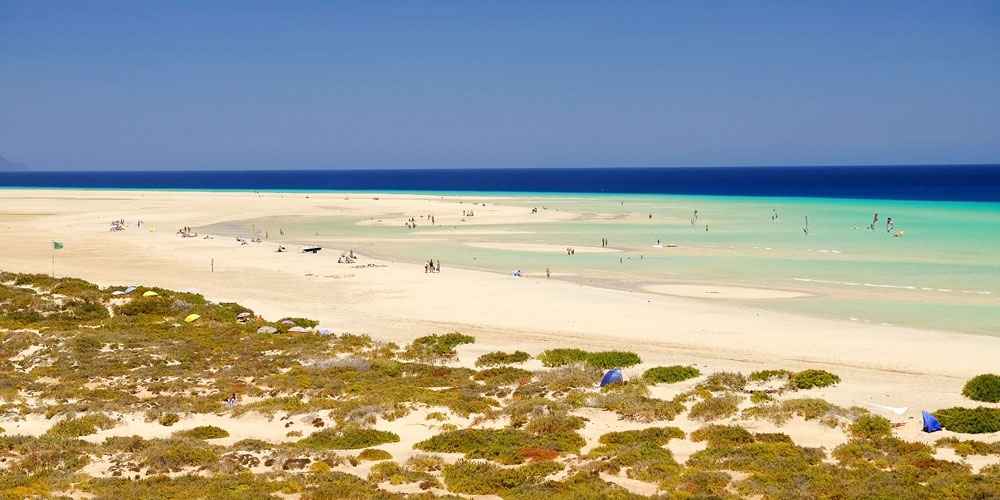 5/5 

Fuerteventura – for best family beach holidays in the Canary Islands
Fuerteventura is the oldest of the Canary Islands and home to over 150km of  beaches – more than any other island in the very beachy Canaries. Just don't a expect acres of sun loungers and crowded sands. The shores here are wildly beautiful and finding a deserted spot is never difficult. Undeveloped Fuerteventura gives younger kids a lot more freedom than its busier neighbours. Sporty teens love the windsurfing, kitesurfing and plain old surfing here. And soulful families have quaint villages and the charming little city of Betancuria to explore – not to mention the island's curious collection of ancient windmills.
Why choose Fuerteventura for family beach holidays?
Direct UK flights to Fuerteventura take four hours, 20 minutes.

A popular day out from Lanzarote: ferry crossing from Playa Blanca is an hour.

La Concha Beach is one of the loveliest in the Canaries.

Lobos Islet Natural Park is a haven for monk seals and sea lions.

Costa Calma golden sand beaches on the south of the island stretch, unbroken, for 10km.

The entire island was designated a UNESCO biosphere in 2009.

Good for quieter family resort towns, holiday villas and apartments.
Looking for more half term inspiration? Check out the warmest destinations in Europe right now. And don't forget to follow Family Traveller on Instagram and Facebook for travel news and ideas – or just to say 'hi'.