Spain wouldn't be Spain without the beaches and there's no argument its coastline's sheer magnificence. But this is also one of the largest countries in Europe and that's a lot of land without a single speck of sea or sand in sight. So if you want to step away from the sun lounger for a change this summer, there are still some wonderful family holidays to be had in Spain. Here's eight for starters.

1/8

  Camping in Picos de Europa National Park, Northern Spain
Even in a country as blessed with mountains as Spain, the Picos de Europa stand tall: over 2600m tall in the case of Torre de Cerredo. Climbers the world over speak of these immense mountains with awe and they're the centrepiece of Picos de Europa National Park which covers 647km² across the regions of Castile y León, Cantabria and Asturias.
But families shouldn't be put off by the grandeur. The park does foothills and lush valleys with as much ease as mighty peaks. So it's more than manageable for the youngest mountaineers and few places come close for camping.
You don't even have to bring your own tent (or stay under canvas at all). Several of the park's campsites have chalets, cabins and static tents. Or you can always opt for eco-luxury and choose a converted, traditional farmhouse as base-camp after a long day adventuring.
El Cares Camping sits at the highest point of Valle Valdeón in the heart of the park. Cute, bunkhouse style log cabins sleep up to four and cost from £71 per night.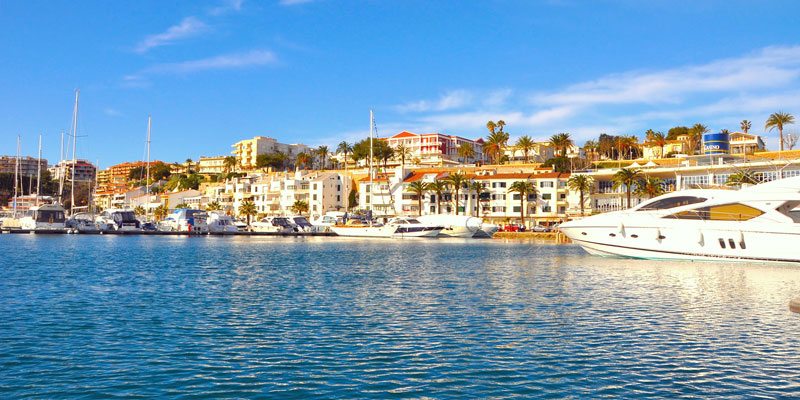 2/8

  Summer sailing holidays in Menorca
Whether it's the size of the country, dedication to conserving traditions or simply part of a sharing culture, Spain is hard to beat for fantastic skill-building holidays. And there's just about anything you can think of on offer. So while it might be a bit early to introduce kids to Flamenco guitar or cooking classes at La Boqueria, a fun-for-life sailing holiday on Menorca begins teaching kids the ropes from as young as six.
It's not really surprising that the most family-friendly Balearic has this type of experience covered and Minorca Sailing are the best of the best on the island.
You can mix group and private tuition, learn to windsurf and sail, raise the game if you aren't a complete novice or start from scratch. Naturally there's a bit of downtime to explore, but mostly you and the kids will be out on the water for as long as it takes to have you sailing like a master mariner.
Seven nights with Minorca Sailing in July or August for four people including all tuition, crèche and kids club for under sixes, self-catering beach villa and return flights from Gatwick to Mahon costs from £2036 per person.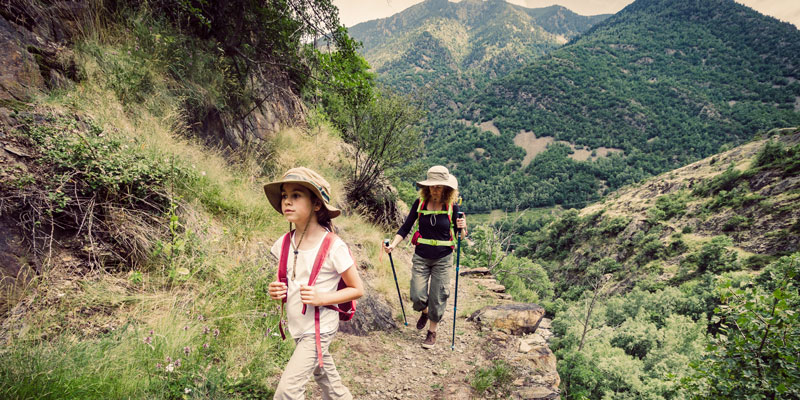 3/8  

Mountain trekking in the Catalan Pyrenees
Summer trekking in the magical Catalan Pyrenees is family adventure taken to the wildest extremes of wonderful. And it's even better when someone else is transporting all your luggage for you, charming hotels are included along the way and the entire itinerary's beautifully mapped and self-guided.
Ribes de Freser on the edge of Serra Cavallera feels like the middle of nowhere and sets the tone for seven days of glorious walking through some of Europe's most majestic mountain scenery. When you aren't trekking, there's canoeing and kayaking, swimming, archery and even golf to get up to. Towns and villages like La Roca and Camprodón are delightful distractions. You'll see the volcanic marvels of Garrotxa and, when the going gets too tough, mountain railways take some of the strain.
Ribes de Freser is just over an hour by road from Barcelona or Girona Airport.
Seven day's trekking in the Catalan Pyrenees from Ribes de Freser to Setcase including hotels; breakfast, dinner and picnics; luggage transfer; mountain transport and activities. The holiday's with Inntravel and costs from £635 per person. This is a family holiday and walking's suitable for kids over eight.
Find out more about the Catalan Pyrenees in north west Spain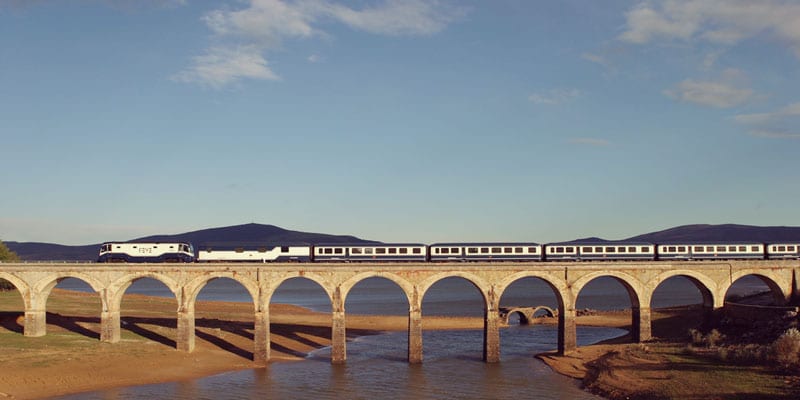 4/12

  Spain's greatest train journeys
Spain's rail network criss-crosses the entire country. There isn't a remote and stunning wilderness it doesn't wind through. Tracks traverse the tallest of mountains and run from coast to coast. High speed trains connect great cities and tiny towns. Vintage locomotives span impossibly perilous landscapes. And everyday engines run round dozens of islands.
So instead of sweltering in traffic this summer, pack up the kids and hop aboard a train instead. Try iconic El Transcantábrico across Galicia. Consider a medieval tour between Barcelona and Segovia with the likes of Salamanca and Toledo on-route. Or voyage into the heart of ancient Andalusia without a sunburned tourist in sight. Choose from luxury sleepers to hotels along the way and make the journey as long or short as you like – unforgettable is included in the ticket price as standard.
Great Rail Journeys offer nine classic train holidays from the north to south of Spain and across the Balearics. Costs from £1025 per person for eight nights.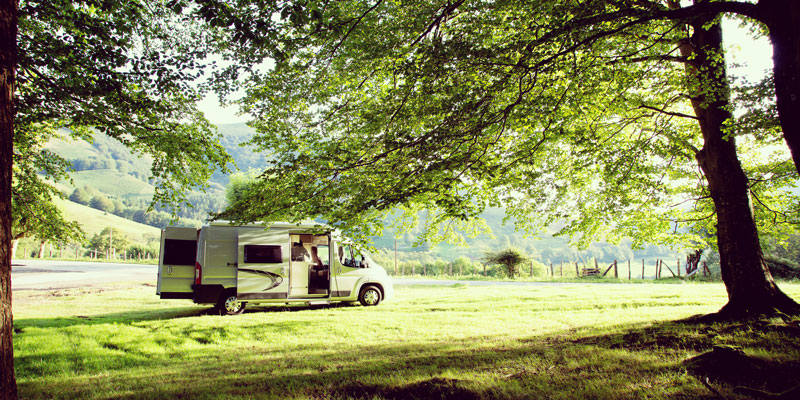 5/8

  Spain's a classic campervan road trip
Hire a campervan and every holiday essential's covered from accommodation to stick-a-pin-in-the-map adventure. Spain's roads are excellent (even in the wildest spots) and with over 500,000km² worth of land to drive round it's impossible not to create something amazing.
Take to the Basque Country and see Bilbao, San Sebastian and Pamplona. Head west for the wilds of Asturias and León, the Cíes Islands and Santiago de Compostela. Hit the central regions and make your way round La Mancha, drop in on Toledo and visit Madrid. Go see Barcelona and Girona and tour the Pyrenees: planning the route's all part of the fun.
Campervans can be collected and dropped off just about anywhere. And, as an added incentive, you get to make the holiday as inexpensive or high-lux as you like.
14-night hire of a Fiat Ducato Sporty 4-bed campervan, collected and dropped off in Toledo (ideal for La Mancha, Madrid and Las Lagunas de Ruidera) costs from £908 in August 2017 with Indie Campers.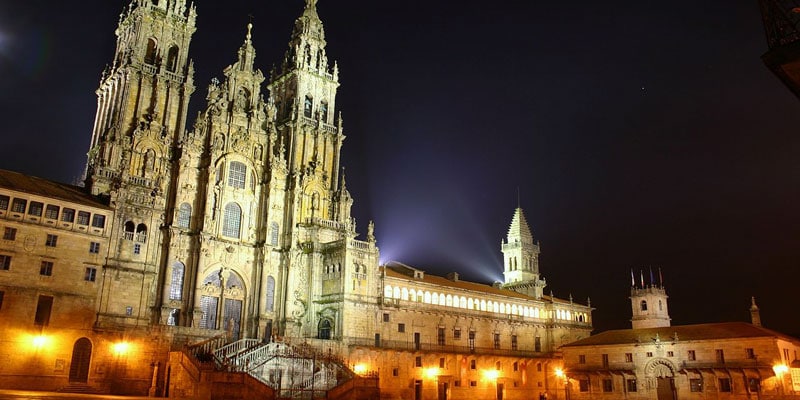 6/8

  Semana Santa in Santiago de Compostela
The great cathedral city of Santiago de Compostela has to be seen at least once in a lifetime. It's one of the world's most sacred sites and if you really want to witness the splendour, visit for Semana Santa. This is Spain's biggest Easter celebration and thousands of pilgrims walk the 500km long Camino de Santiago to arrive here in time for Good Friday.
Don't miss the nightly parades during Holy Week when street lamps are extinguished and flickering candles light vast processions of hooded penitents marching slowly to the sombre beat of a solitary drum. Many of the orders are carrying shrines so heavy they take up to 12 men to lift above the crowds. It's a remarkable spectacle and not easily forgotten.
On a less melodramatic note, the city matches penitents with celebrants so there's plenty of fun and lively activity too. Naturally, Easter Weekend's high-octane passion. But it's worth hanging on a few days until the crowds melt away then you can really explore sacred and secular Santiago de Compostela.
 
7/8

  Family cycling holidays in Catalonia
The Catalans haven't fought fiercely in pursuit of independence for centuries without good reason. Their rugged and magnificent region in the west of Spain is fascinating, complex and deeply mysterious. It's also brilliantly outdoorsy if you happen to have energetic kids and don't mind a little legwork.
The Catalan countryside is minutes from Barcelona and round these parts it's about as rural as you'll find anywhere in Europe. Great for walking and even better on a bike.
Responsible Travel tailor-make cycling holidays to suit children's of all ages. It's up to you how active it gets and how far you're all prepared to pedal. But don't expect to spend every minute in the saddle, anything from canoeing to climbing, canyoning and wild swimming can be added into the mix. There's built in space for some quiet time too. And teenagers never refuse a chance to check out the hustle and bustle of irresistible Barcelona.
Eight days' cycling in rural Catalan and staying in boutique country hotels with Responsible Travel includes bed and breakfast accommodation, bikes, outdoor activities and local guides and costs from £616 per person.

8/8

  Learn Spanish in Seville this summer
Seville is one of the loveliest cities in Europe. The Moorish mosques and palaces compare to Granada's equally stunning medieval architecture and, some would say, Seville edges ahead just on the basis of numbers. Great to visit in early spring for orange blossom, a little later for the sensational Feria d'Abril and now it's the place to head even in sweltering summer if you're interested in injecting some education into a holiday.
Intensive Spanish language courses for families might sound a bit heavy going, but the Giralda Centre have over 30 years experience successfully balancing teaching with fun and getting exceptional results. Kids and parents learn together, visiting local families is part of the process and there's a programme of cultural events and activities too.
Surprisingly, you still have time to see Seville, fit in a few of the city's fantastic theme parks and, if you can't leave Spain without lying on a beach at least once, the Costa de la Luz is just over an hour's drive south.
Find out more about Giralda Centre's Spanish Language Courses for Families in Seville.
Need a little more Spanish inspiration? Take a look at Family Traveller's guide to family holidays in Spain.