5 fantastic family villas to rent in Spain
Spain as good as invented villa holidays, and it's still one of the most places to rent in Europe; continuously scoring high on everything from sunny weather, and fantastic beaches to amazing islands, good value, and sheer variety.
Private pools are standard on Spanish Costas, and larger villas for multi-generation, or multi-family groups, are easy to find, even in quieter regions.
Opting for a little independence in Spain also lets you avoid the package-holiday downside of many otherwise gorgeous areas. You'll find lovely villas in most of Andalusia's pretty, sugar-cube mountain villages, only a short drive from the fun coasts. Inland Majorca is magical, uncrowded, and authentic, but never far from beaches. The same is true of most of the Canary Islands. Or you could mix urban with rural, rent in the countryside and surround yourself with iconic Spanish cities.
Here are five gorgeous villas which clearly show why Spain is still Europe's number one choice for independent family holidays.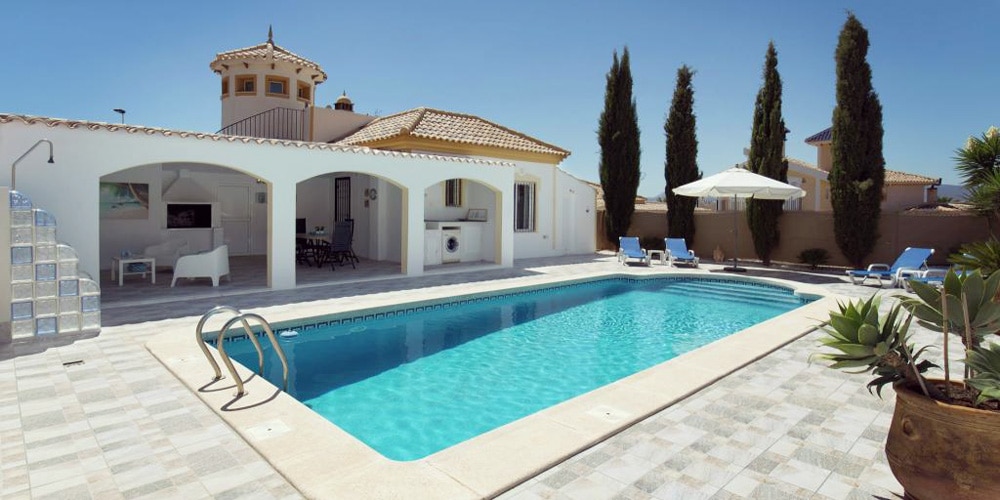 1/5

Mazzarón Country Club Villa, Costa Cálida

Sleeps up to four. Entire villa from £590 per week.

Just 10 minutes from the historic Mediterranean port of Mazzarón, this two bedroom family villa has a large private swimming pool, spacious outdoor dining terrace, and enclosed grounds. The design is cool and contemporary, and traditional features include an open fireplace in the living room, and an unusual tower bedroom.
2 bedrooms
2 bathrooms
Sleeps up to four
Private pool, dining terrace, enclosed grounds
Country Club setting with golf, beaches, and parkland.
10 minutes drive from Mediterranean coast.
Just over an hour's drive from Alicante Airport
About the area
The villa is part of Mazzarón Country Club, and has access to golf courses, beaches, and extensive parkland. Mazzarón town is one of the most popular resorts on Costa Cálida's Mediterranean coast, and just 10 minutes drive away. The ancient city of Cartegena, famous for its remarkable amphitheatre and Modernist architecture, is less than an hour east of Mazzarón.