Sponsored Content
2016 was a colourful year for Slovenia: Ljubljana spent 12 months as a European Green Capital and, in September, the entire country became the world's first 'Green Destination'. If you're lucky enough to have visited already, none of these glittering prizes will come as news. From the soaring Alps in the north to its sunny Mediterranean coastline, lush wine country and park-scattered cities, Slovenia is proof positive that it's possible to be beautiful, eco-conscious and sustainable and still do amazing holidays, all year round.
Visit in spring for lush Alpine meadows and fun family spas. Summertime's perfect on the beach, in the countryside or celebrating day and night in festival-filled Ljubljana. Come Autumn, rural Slovenia's awash with fascinating ancient traditions. And winter's the season to discover dozens of ski-resorts within driving distance of the capital – or even in the city itself.
So now you know why you should visit Slovenia, the only question is 'when'? And that's tricky because there isn't a single month of the year without a good reason to go.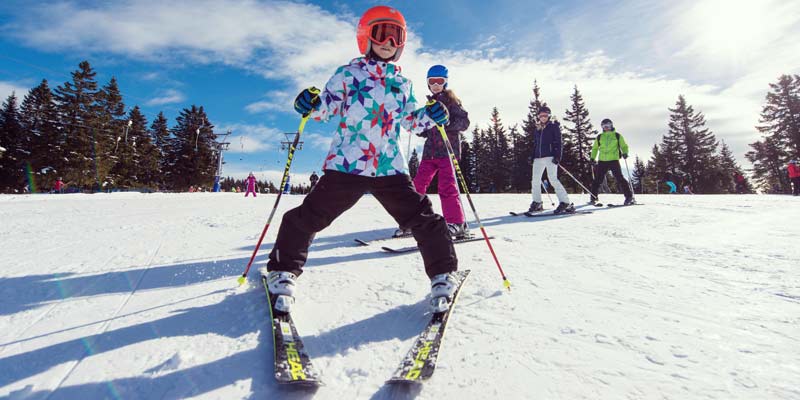 January – The Vogel Ski Resort, Bohinj
Vogel sits on the southern edge of Triglav National Park, overlooking Lake Bohini's glacial beauty, and has the type of traditional Alpine charm you always hope for in European resorts, but seldom find these days. Pretty wooden chalets and cosy inns are more common here than concrete hotels and the atmosphere's relaxed and friendly: skiers are more interested in skiing than who's wearing what on the slopes.
And the skiing is good because, despite appearances, Vogel's every inch a slick, modern resort. The snow's real snow from December through to March and even experienced skiers find demands on intermediate runs. Cross-country's satisfyingly challenging (wonderfully scenic too). And thrill-seekers have anything from paragliding to ice-climbing and air boarding to get excited about.
Families love Vogel and the resort does a lot to justify their affection, from excellent schools to free kids parks, fun events, Snow Parks for young boarders and affordable childcare. Winter ski-packages are available all season and include accommodation, lift passes and access to the resorts facilities and family activities.
Good to know: Vogel is an hour's drive from Ljubljana and 30 minutes by car from fairy tale Lake Bled, so a lot more than skiing fits into a family ski holiday here.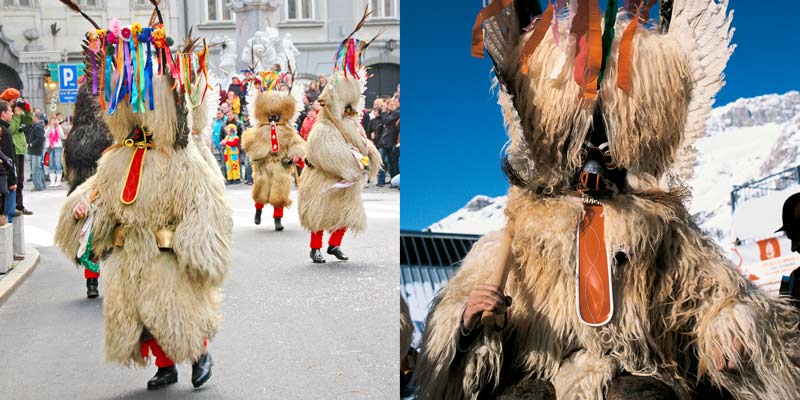 February –

Kurentovanje Carnival, Ptuj
Carnival season's amazing the world over and making it a mission to do as many as possible is a worthy ambition. Unfortunately lots of the better known events are so crowded and commercialised they're hard to describe as family-friendly. Kurant Ovanje in Slovenia's the exception.
It has winter-driving-out demons (Kurent), a week long list of kids events, parades and parties, true Mardi Gras style feasting and a warm, friendly local atmosphere – even at its busiest. The carnival's held in Ptuj which is Slovenia's oldest town so even the dress-up has historic roots with endless variations on earth spirits, jesters and ancient aristocracy. But the Kurents beat all: disguised in sheepskin, covered in cowhide, horned, masked and boisterous, they're great fun and kids find them more entertaining than terrifying.
Good to know: Ptuj isn't just Slovenia's Carnival Capital, it's also one of the country's iconic thermes and almost as famous for family spas and waterparks as festivals.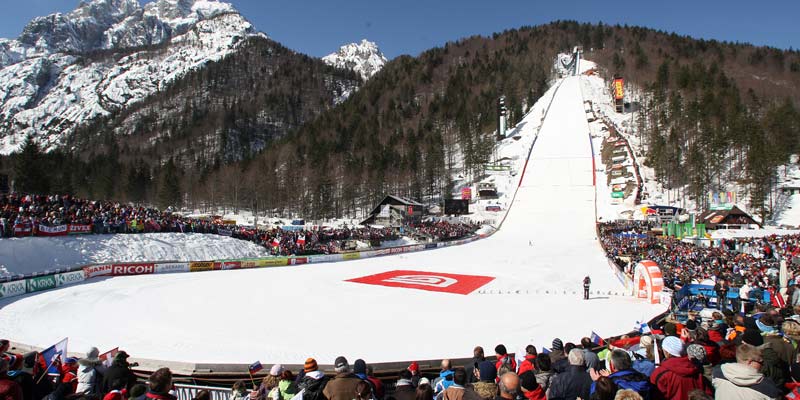 March –

Planica international ski-jumping
Participant or passionate spectator, if you know anything at all about ski-jumping you'll recognise the name Planica instantly. This sporting legend regularly hosts World Cup Ski-Jumping finals. And, more recently, staked a strong claim on international competitive cross-country too.
But high-flying's nothing new to Planica: the first ski jump was built here in 1930 and in 1936 it was joined by another, the world's highest at the time and nicknamed, 'the mother of jumps'. In recent years, World Snow Day has been held here every January. And March is a great month for major ski events, fun family activities, races and international competitions.
If you're new to ski-jumping, seeing world-class athletes compete on some of Europe's highest slopes is thrilling. Many events have free entry for kids up to age six and tickets for under 18s cost a few euros. Plus Planica shares the same ski-area as Kranjska Gora, one of Slovenia's best known resorts and another snow-sure favourite with families well into March: a good base for checking out competitive skiing and honing your own downhill at the same time.
Good to know: the 566m long Planica zip-line descends Planica Big Hill at a speed of 90km per hour. It's one of the world's highest and fastest and said to be the closest experience to ski-jumping itself – if you dare.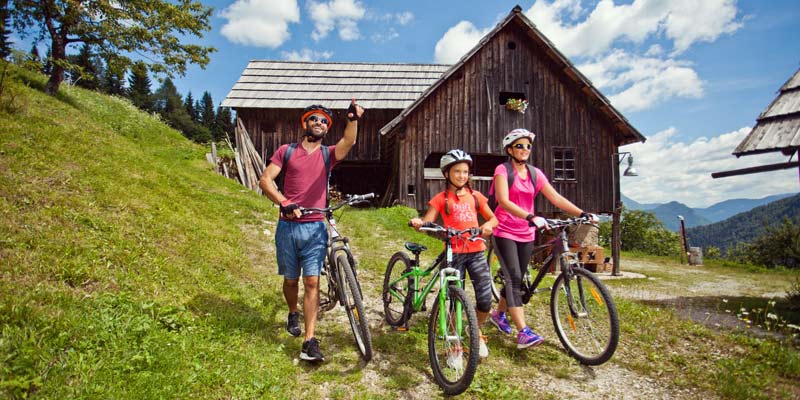 April –

family cycling in Kranjska Gora

Kransjka Gora in north western Slovenia is one of the country's best loved ski resorts in winter. Come spring, swap skis for bikes and this gorgeous area becomes another fantastic family playground altogether.

The Alps are as imperious as ever, glimpsed through dense forests and over wildflower scattered meadows, beside pretty roads and reflected in magnificent glacial lakes. There are easy routes along deserted railway tracks, punctuated by cute covered bridges and with barely a single climb, only perfect for families. And mountain bikers can get in some practice for the real thing with dirt tracks, obstacle courses, wild jumps and swings at Kransjka Gora Bike Park.

Days out are great fun, but cycling round the entire Julian Alps is an unforgettable family holiday. The well-marked circular route's almost entirely car-free and breathtakingly beautiful. 232km round sounds daunting but the circuit's divided into five easily managed stages. There are charming inns and country hotels to stay in and a million and one reason along the way to stop, catch your breath and go exploring.

Good to know: if Kransjka Gora Bike Park isn't exciting enough, the 1229m long Vitranc 1 Cable Car to get there should fill in any thrill gaps for young riders.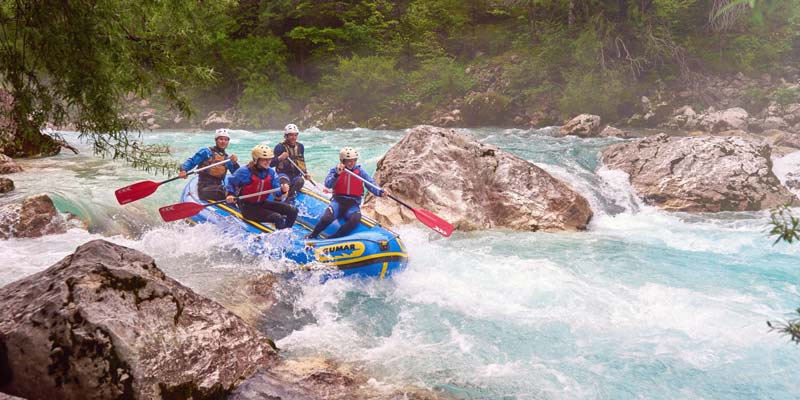 May –

Soča River rafting
Who isn't up for a May half-term adventure? Slovenia's great outdoors certainly is and nowhere says fast and furious family fun louder than the Soča Valley. Land of rushing rivers, clean and clear waters, tall mountains and thrilling extremes, this is where to find some of the country's best rafting conditions in late spring.
Take the plunge for a few hours and prepare to be challenged, soaked and exhilarated in equal measure. Soča Rafting have several different experiences from easy starts to more technical sailing and they're absolute experts on every centimetre of the Soča River's most scenic 10km stretch.
Good to know: Soča Rafting is minutes from Bovec Adrenalin Park, the biggest ziplining park in Slovenia with eight cables from 250m to 400m long running through the rugged Učja Canyon.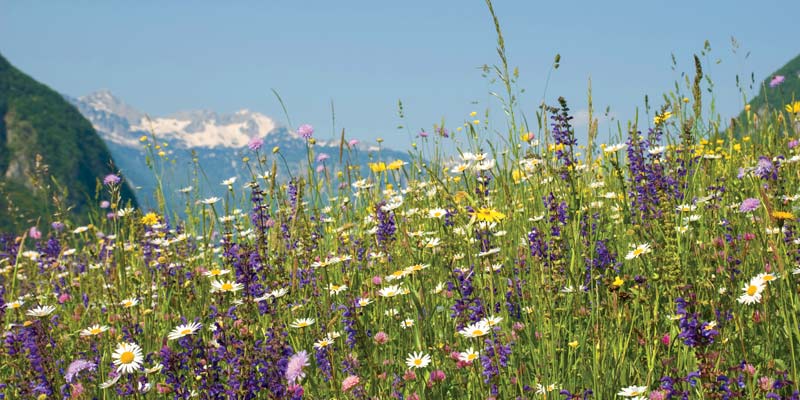 June –

Brda Cherry Festival
Brda is cherry country and the annual harvest festival here in June is one of Slovenia's biggest summer's events. Tens of thousands of visitors travel to this lovely western region every year to celebrate luscious fruit, pretty farms, wonderful local food and wine, charming traditions and, at the end of it all, the charming Brda Wedding.
The two week long festival's packed with events, parades, competitions, cultural performance and family activities. Ancient customs are brought brilliantly to life for kids. And it's a true rural spectacle at heart, without a hint of pretention. and quite probably the warmest, friendliest atmosphere of any major international food festival in Europe at the moment.
Good to know: Bohinj International Wild Flower Festival is another world famous celebration of Slovenia's natural beauty in early June. Set in Triglav National Park this colourful two week event is as entertaining for families as it is fascinating for serious botanists and now ranks alongside cultural icons like Salzburg Music Festival and Oktoberfest in Munich.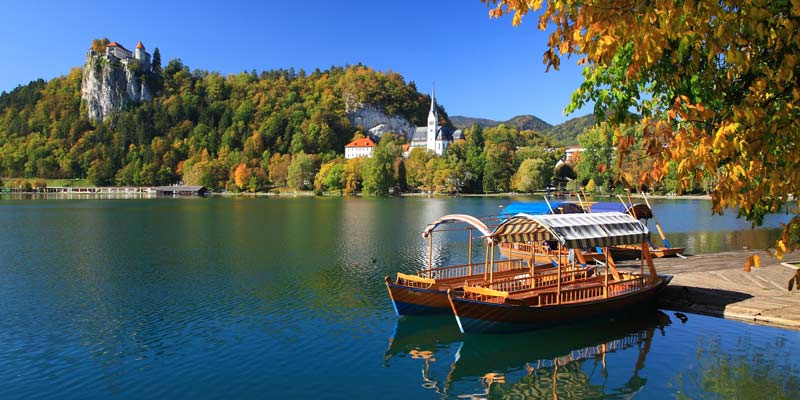 July –

glamping in Bled
Glacial Lake Bled in northern Slovenia is one of the country's most recognisable images. It's a classic Alpine beauty with tall, graceful mountains reflected on a still surface and the castle in its centre is so fairy tale, if a local were to tell you it only appeared once every five years, you'd believe them.
There's soaring grandeur on all sides in Bled, from deep, mysterious forests and poetic hiking trails to awe inspiring viewpoints and vast, opens skies. Camping here's a family tradition, but communing with nature doesn't mean roughing it these days. Feel at one with trees, birds, wildflowers, winsome castles and adorable villages and then come home to glamping in the woods, with the outdoors as your garden and almost nothing missing in terms of luxury.
Good to know: Sava glamping cocoons are built from wood and natural, breathable materials. They sleep up to four and, if you miss out on summer, cosy heating means you can see Bled rimed with frost in winter: the ultimate fairy tale.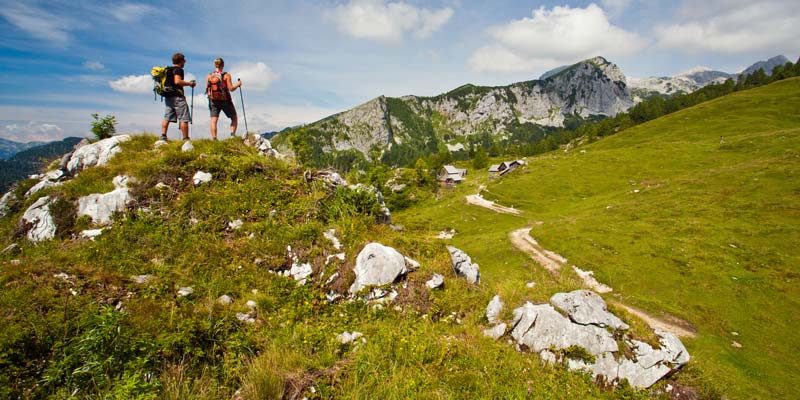 August –

hiking in Triglav National Park
Nowhere sums up Slovenia's accessible scale better than Triglav National Park. At just under 900km², it's far from small. It also surrounds Mount Triglav, the country's highest mountain. And with three Alpine lakes, four gorges and both Savica and Kosjak waterfalls within its boundaries, the beauty's immense. But, fly into Ljubljana, and this magnificently wild and unspoiled park's less than 40 minutes' drive from the airport.
A family hiking holiday here in summer is astonishing. The series of well-marked routes and trails are mapped to make the most of every scenic marvel. And a network of inns, hotels and campsites, historic villages and year-round resorts make planning the right adventure easy, even with younger kids.
Good to know: Bled Castle and Postolovski Adventure Park are fun breaks from hiking and Triglav's famously good for kayaking, cycling, mountain biking, climbing, paragliding and horse riding too.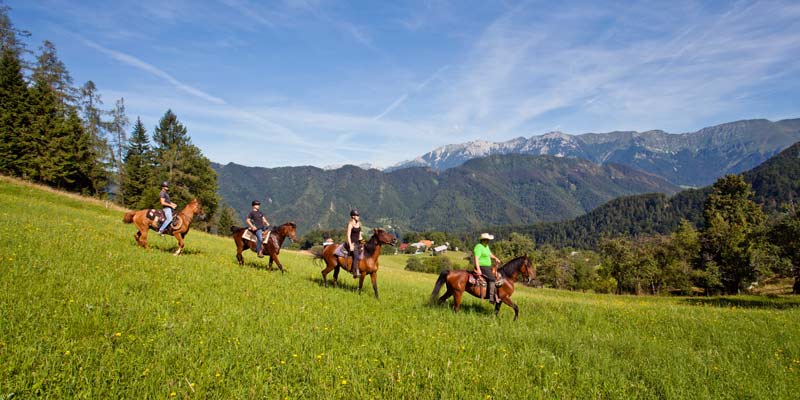 September –

family farm stays in Alpine Slovenia
The wildly beautiful palette of colours across the mountains, lakes and forests of the Kamnik-Savinja Alps gives autumn legends like Bavaria, the Douro Valley and Loch Lomond, stiff competition. But the difference is: Slovenia's spectacle is as peaceful and undiscovered as it is awe-inspiring.
Bring the kids for a week on a working Alpine farm and pretty scenery's simply a backdrop to an incredible adventure holiday. They can help out as little or as much as they like with chores, explore the countryside and get up to everything from archery to kayaking, cycling, hiking, climbing and trekking. The food's fantastic and farm-fresh – naturally. And pure mountain air makes even sleeping feel indescribably good.
Good to know: Kamnik-Savinja's the heartland of Slovenia's great value farm-stays and also where to see the famous Planšarsko Jezero Pasture Lake and Snežna Jama Snow Cave.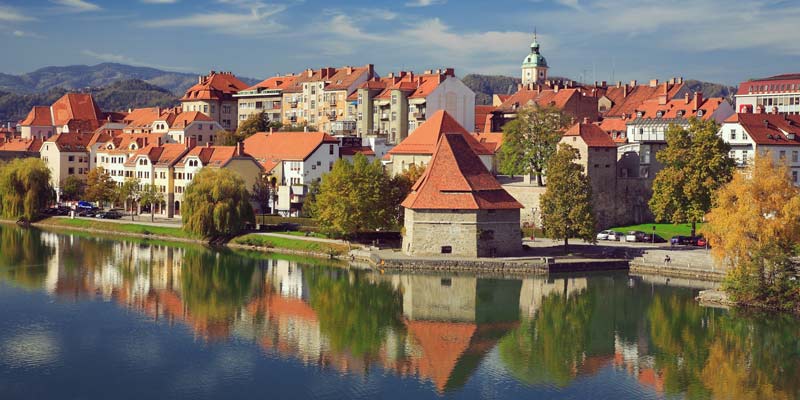 October –

Old Vine Festival in Maribor
Maribor is Slovenia's second city and capital of Slovenian Styria. It's also home to the world's oldest vine which grows in the ancient Lent quarter and gives cause for celebration every year in October.
World class wine paired with outstanding local produce are at the heart of the Old Vine Festival. But the unstuffy atmosphere, joyous traditions and gorgeous surroundings have plenty of appeal for non-drinking younger visitors too. The weather's still kind enough for cycling and walking the famous wine routes – the annual Halloween Hike's fantastic fun. Delightful Lent Old Town is fascinating well beyond the legendary vine. Everyone gets caught up in the grape harvest festivities and there are family events citywide to mark St. Martin's Day on 11 November – the biggest one day annual celebration in all of Slovenia.
Good to know: Only Ljubljana is larger than Maribor and the city's one of the world's top ten tourist destinations.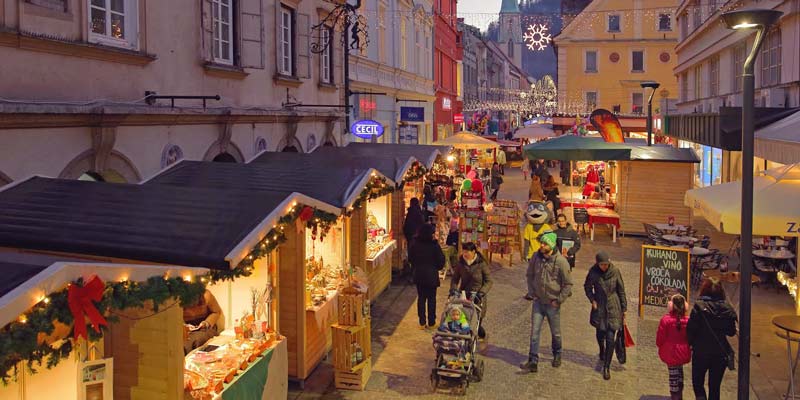 November –

Ljubljana Festive Market
When a Festive Market makes it on to Europe's top ten list, you can't help but be intrigued. In 2016, Ljubljana joined the likes of beautiful Baroque Innsbruck, medieval Bruges and mighty Strasbourg (AKA the Capital of Christmas) as one of the best places to shop, eat, drink and make merry in the lead up to 24 December.
This year the market doesn't intend to rest on its laurels. So you can expect to turn up in the snowy Slovenian capital from mid-November and just let enchantment sweep you away. The Grandpa Frost Procession kicks everything off and sets the tone for child-size magic, cute Alpine charm, colourful traditions, great street food and pretty much endless music and theatre. And if you're on the lookout for truly original gifts, local arts and crafts are just another of this delightful market's many talents.
Good to know: Ljubljana doesn't simply put up a few decorations for Christmas, it has an entire all-singing, all dancing citywide extravagance of dazzle and glitter that's more performance art than mere fairy lights.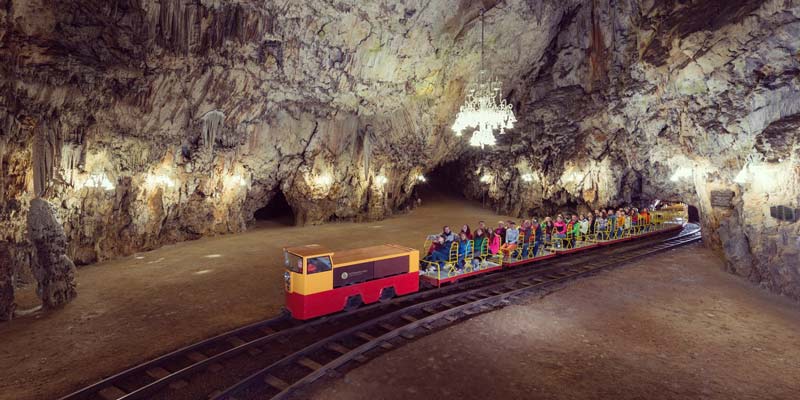 December –

Postojna Cave Living Nativity
The Postojna Cave Park, close to Slovenia's Mediterranean coast, is one of the world's most remarkable sights. First opened over 200 years ago, its vast network of caverns and underground rivers and lakes now welcomes thousands of visitors to take adventure tours all year round.
But between 25 and 30 December, the wonders of Postojna become truly miraculous. For six days, the Christmas Story is celebrated throughout the caves with live nativity tableaux, hundreds of performers, thousands of twinkly lights and fantastically atmospheric music. There are five kilometres of footpaths to wander round or you can take the vintage train – exciting for younger kids. But, however you visit and whatever your beliefs, this is an only in Slovenia experience to both move and mesmerise completely.
Good to know: Postojna Cave Park is open in November and December and there are adventure tours daily, morning and afternoon.
Want to know more about the world's first Green Tourist Destination? Have a look at the guide to family holidays in Slovenia.