Family Traveller reader Karen Shuttleworth takes her two young boys on a unique visit to one of Poland's most fascinating tourist locations.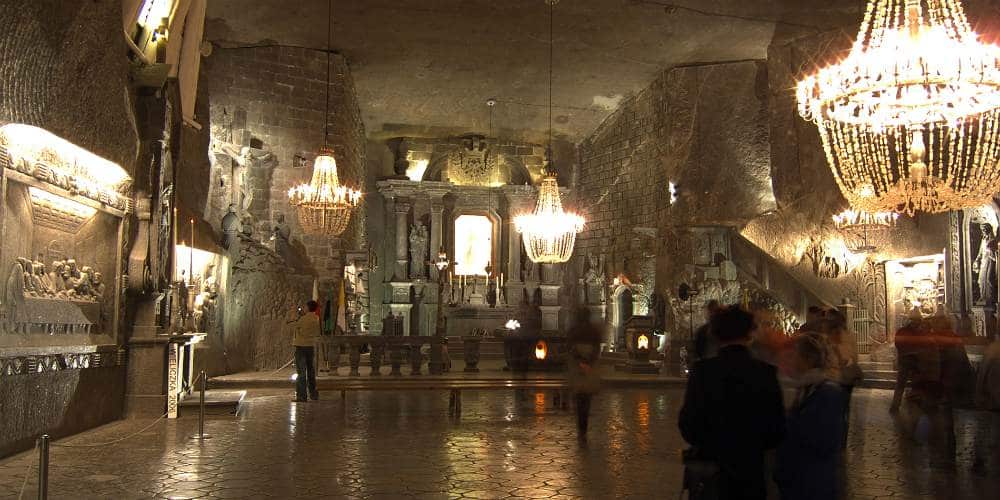 It's not often you visit an attraction only to hear your tour guide say, "You can lick the walls if you want," followed by, "but leave the sculptures alone." However, this is exactly what happened when my family and I visited the UNESCO World Heritage site of Wieliczka Salt Mine, located just 14 km south east of Kraków, Poland.
Tours of the mine, while very popular, are extremely well organised and seem to run smoothly throughout the day. We had already bought tickets beforehand (£50 for a family ticket), so when we arrived we simply joined the queue marked by the British flag. There are tours at least every 15 minutes in a variety of languages, including English, German, French, Russian, Polish, Spanish and Italian, with corresponding flag-marked queues (tours in English were every half an hour).
There were about 30 people in our group; my two boys, aged four and seven at the time, were the only children, and we were all given headsets so we could clearly make out what the guide was saying. The headsets, it turned out, were an absolute necessity; it would have been virtually impossible to hear our guide without them due to the size of the group, not to mention the sheer number of people in the mine. It's safe to say that mines are probably not built with guided tours in mind.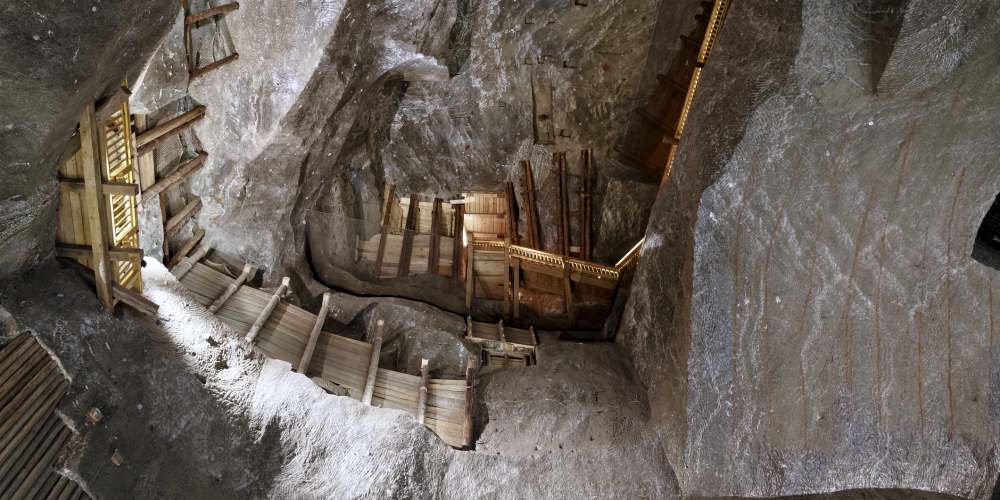 The tour starts with about 350 steps down to reach the first level on the Tourist Route. This does seem to take quite a long time, especially with a four year-old, but he coped admirably. If you are thinking of visiting with very young children, bear this in mind, however there is a lift to take visitors back to the top.
There is another route you can visit called the Miner's Route, which looks a lot of fun, but the minimum age is ten, so my little ones didn't qualify. Once at the bottom of those steps, your guide then leads you through an underground metropolis consisting of passageways and chambers, while the whole time explaining to the group about the mine, its history, and the daily challenges experienced by generations of miners who had worked down there.
While principally a site for commercial salt mining since its excavation more than 700 years ago, the mine was also used during the German occupation of Poland in the Second World War as an underground facility for war-related manufacturing.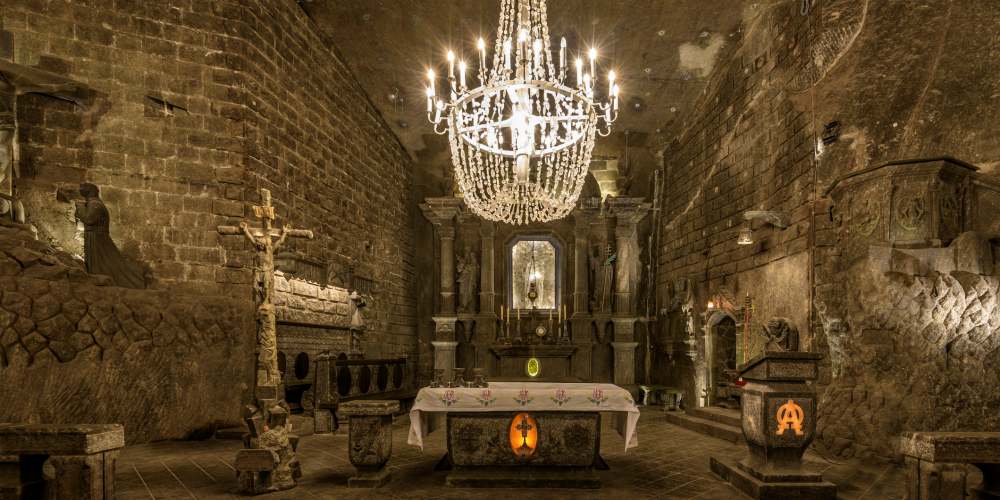 Pretty much everything is made of salt: floor, walls, ceiling, statues, even the chandeliers found in the very impressive Chapel of St Kinga. There are wooden struts and beams in places but it's mostly salt which means, as our guide informed us, you can lick the walls if you want, or touch them and lick your hands afterwards. This delighted my seven year-old so much, I think he tasted almost every wall in every passage and chamber.
The tourist route covers three levels, the deepest of which is at 135m, providing the mine with a very comfortable temperature in comparison to the blistering heat we'd experienced in the days before. We'd taken jumpers with us, but didn't actually wear them; we were fine in shorts and t-shirts.
There are a few places where multiple groups come together, such as the chapel and an area selling snacks and souvenirs, so sometimes you have to remind yourself that you're underground in a mine as it feels as though you could be anywhere. We walked about 2km on the tour and it lasted just under two hours. As well as the actual salt mining that took place, the miners also carved sculptures and chapels out of the salt. The level of craftsmanship that has gone into the sculptures is astounding, and they were evidently produced in the spare hours between working in the mine.
There are a series of underground lakes in the mine, most with a salt level of more than 30 per cent (to put that in perspective, regular seawater has a salinity of around 3.5 per cent). We are told that tours used to offer boat rides, but that this was discontinued years ago due to fears over health and safety. Although there aren't specific activities or play areas aimed at young children, the unique setting of the tour provides plenty of entertainment for young ones. My seven year-old in particular was really taken with the place, and bought a lump of salt as a souvenir with the intention of carving it as the miners had done all those years ago.
There is quite a lot of walking involved – including steps – and you will need to stay with your group in order to keep up with your tour guide, so it's probably not the best place for very young children. However, I think most kids would get something out of it and find it quite exciting being underground in a place carved entirely from salt.
If you go, I highly recommend buying tickets in advance, either online at least three days before you intend to visit, or in the salt mines ticket office in Kraków on Wilna street (which is what we did). We were travelling round Poland using public transport so caught a bus from outside the large shopping centre near the train station in Kraków and arrived at the mine about half an hour or so later. The bus stop is right outside the main entrance of the mine, however, there are also tour agencies running tours via minibus if you don't fancy catching the local bus.
About the author
Karen is the mother to two young boys and she hopes to instil in them the same love of travel and sense of adventure that she has. This summer they travelled from Bratislava to Zürich via Vienna and Innsbruck, swimming in lakes and climbing mountains along the way. They also squeezed in a weekend in Belgium, sampling lots of waffles.
Want to become a PAID writer? Contribute an article to Family Traveller by submitting your work through the readers' travel notes section of the website. Don't forget to add images and include a short bio at the bottom.