Sponsored Content
The secret to a successful Portugal road trip with kids comes to down to a good plan and knowing it's fine to go off-plan occasionally too. Factor Kwells* into your plans because, from days out to longer holidays, Kwells has been helping to prevent and control travel sickness since 1949 and – as all parents know – making sure everyone enjoys the journey is just as important as picking the perfect route. Of course a good route is important too, so try our route from Porto to the Algarve, it takes seven days – or longer if you feel like it.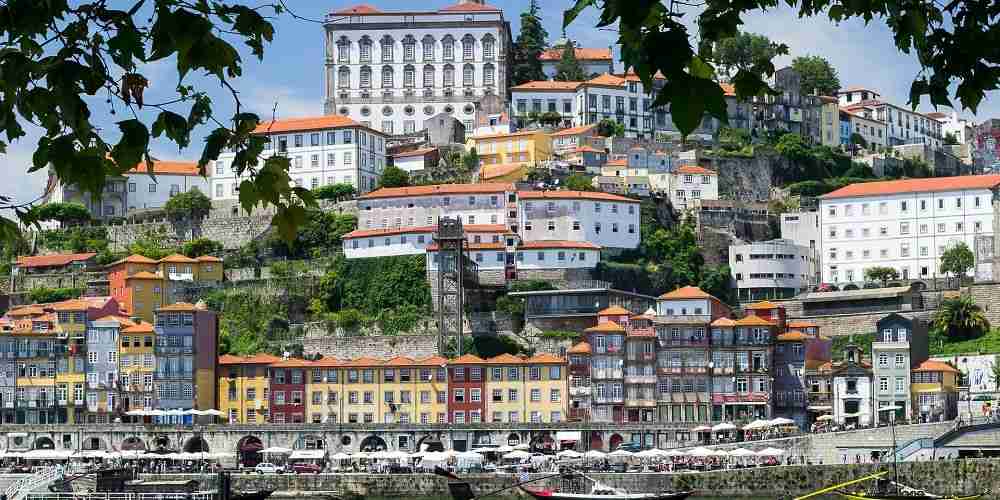 Day one:

Factor Porto into your Portugal family road trip

Direct flights from the UK to Porto take just over two hours and the road trip starts with an easy drive from the airport to the city centre – less than half-an-hour. Porto grows on you slowly. But with just a day and night to explore, stay in Ribeira, the medieval heart of the city and a World Heritage Site. Climb to the top of Torre dos Clérigos to get your bearings fast. Then head to Livraria Lello, the oldest bookshop in the world. It's incredibly grand and possibly the inspiration for the library at Hogwarts. Take a walk along the banks of the Douro to watch traditional wooden Ribelo boats at work. And if you feel like moving a bit faster, catch a tram and rattle round Ribeira's sights like locals.

What to see: Pont Dom-Luis; Torre dos Clérigos; Musée Soares dos Reis; Livraria Lello; Café Majestic; Muralha Fernandino; Viacaterina Shopping; Alfândega do Porto.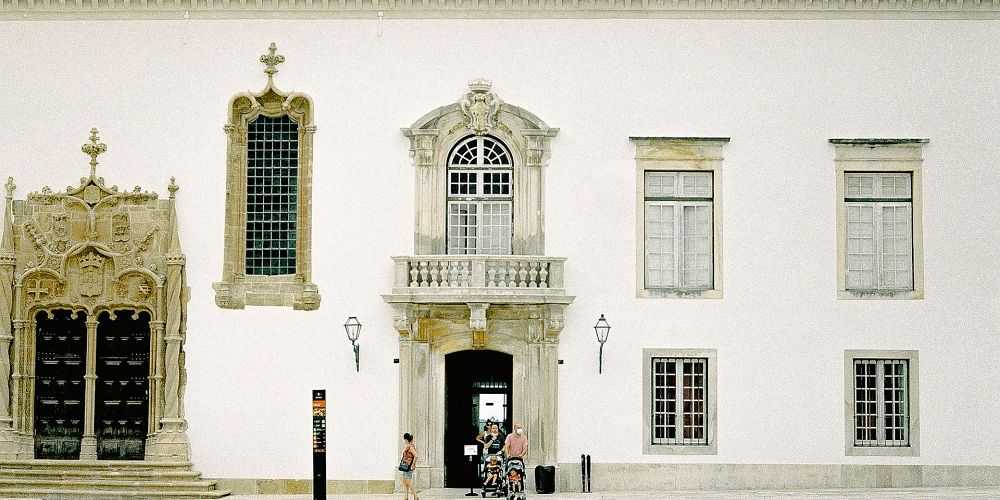 Day two:

Drive Porto to Coimbra to see another side of Portugal

This part of the road trip is a chance to see another side of Portugal, away from its Atlantic coast. The countryside's lovely, so take your time. Coimbra has one of the world's oldest universities, and traditional Portuguese Fado music was born here. Don't be too surprised to hear melancholy singing just about everywhere you go, especially in summer. The city was also Portugal's medieval capital and hasn't lost much original grandeur over the centuries. Stay in the central Almedina district, then walk through the historic quarter which tumbles gently downhill from the ancient university to the River Mondego. Don't forget to take kids to see Portugal dos Pequenitos, where miniature versions of all Portugal's most famous sights have been made into a play park.

What to see: Biblioteca Joanina; Fonta Nova; Portugal dos Pequenitos; Paço das Escolas; Coimbra Live Science Centre; Machado de Castra Museum; Choupal National Forest.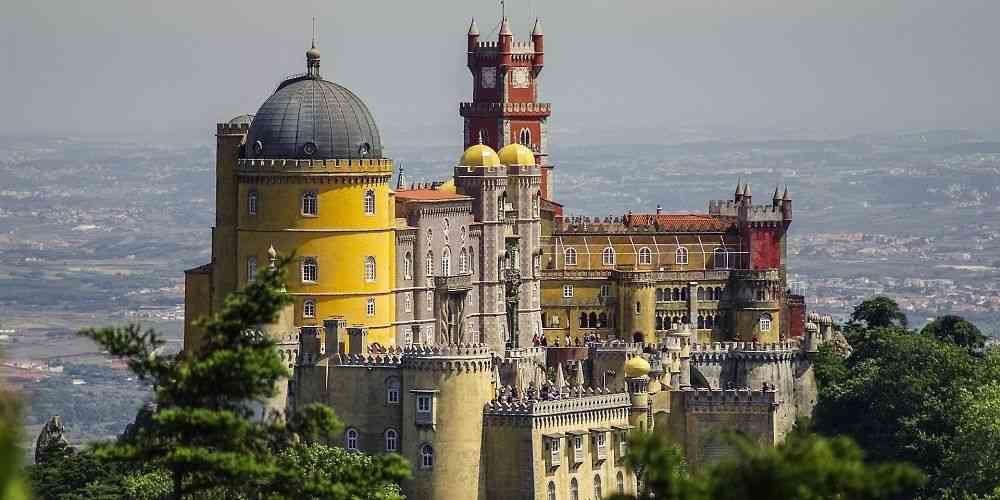 Day three:

Sintra to Lisbon, a Portugal road trip classic

UNESCO World Heritage Sintra is Portugal's most visited town and looks like the magical kingdom Disney wishes it was. Younger children will love its fairy tale charm, and roaming round century spanning history is fun for older kids. Make sure you leave time for lunch in the town itself and don't miss the Montserrat Estate. Sintra's just over 30 minutes from the centre of Lisbon and the drive through Monte de la Lua is an unforgettable road trip in itself. Leave in the late afternoon to give yourself plenty time and think about staying in Lisbon's Bairro Alto district or in atmospheric Alfama.

What to see: Sintra town; Castle of the Moors; Montserrat Estate; Sintra National Palace; Sintra Mountains; Cabo da Roca; Ursa Beach; Sintra-Cascais Natural Park.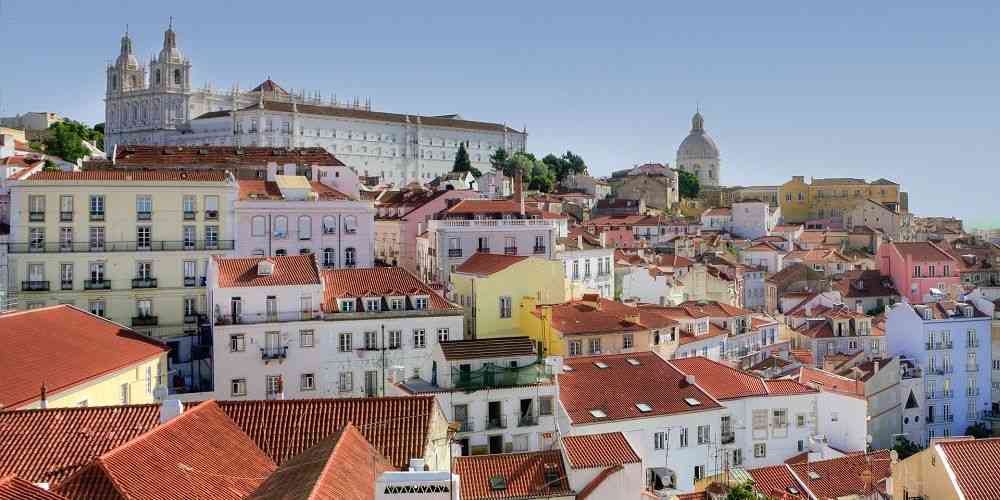 Day four:

Lisbon, enjoy some downtime on your Portugal road trip

Lisbon isn't an urban sprawl and you can see lots on foot, so take a road trip pause and walk a little. Start with Belém, the waterfront district for Torre de Belém, Padrão dos Descobrimentos, and Mosteiro dos Jerónimos. If you can resist delectable custard tarts from Pastis de Belém, reward yourself with lunch at Mercado da Ribeira's Time Out Market. Then you've more than earned a few hours browsing the smart Chiado shopping district. In the evening try the restored waterfront, east of April 25th road bridge, for restaurants.

What to see: Torre de Belém; Padrão dos Descobrimentos; Mosteiro dos Jerónimos; Chiado Museum; Elevador Santa Justa; Praça do Comércio; Lisbon Story Centre; Museum of Puppetry.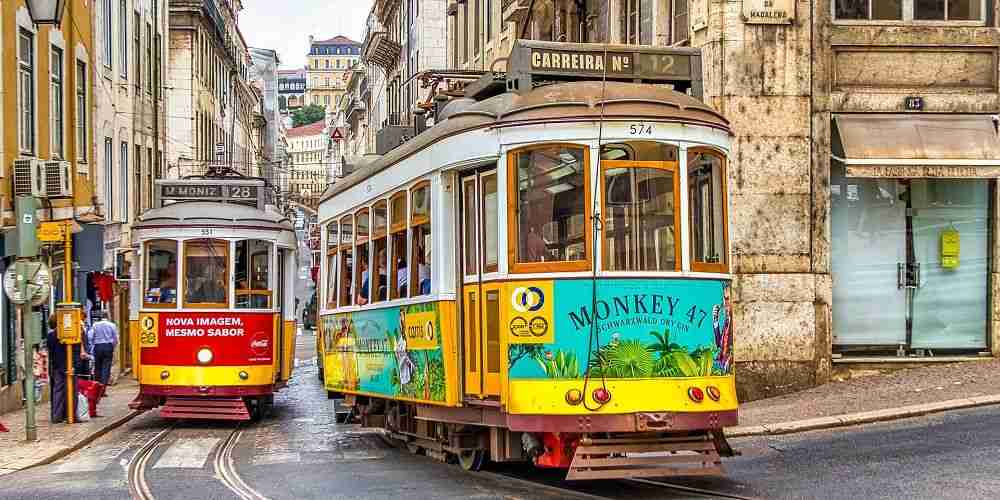 Day five:

Lisbon, catch a tram and let someone else drive

First visit to Lisbon, or one of many? Alfama is always the district destined to steal your heart. Spared from the city's historic earthquakes, its cobbled streets, steep staircases, charming Fado bars and tall, skinny buildings have remained almost unchanged for centuries. Start right at the top at Castelo de São Jorge. This medieval legend satisfies kids completely, so you can enjoy a gentle walk back through Alfama without complaint. If little legs get too tired, hop on historic Tram 28, it's the bright yellow one with the jingly bell. Late afternoon's the best time to climb aboard 47m high Elevador de Santa Justa and make the stately journey up into Bairro Alto. Then spend some time wandering the famously quaint streets and scouting out places for dinner: rooftop restaurants are the stars in this district.

What to see: Castelo de São Jorge; Tram 28; Lisbon Cathedral; Arco do Castelo; Muralha Moura; Mirador dos Portas do Sol; Porta do Mar.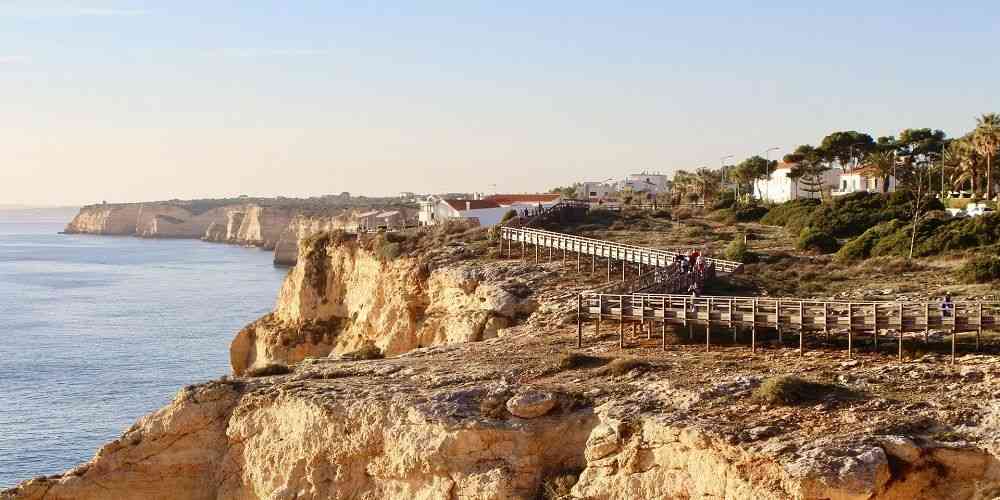 Day six & seven:

Lisbon to Algarve, journey's end on Europe's best beaches

The beach bit of your Portugal road trip begins with one of those iconic drives where the skies become bluer, and the air gets warmer, the further south you travel. Amazingly, Lisbon's only two and a half hours from the Algarve, so kids can be down on sand with plenty of playing time left, before the sun sets over the Atlantic. Think about staying in lively Vilamoura, it's one of the region's best family resorts, Praia da Falésia and Praia da Oura count as local beaches, and both Faro and Albufeira are less than 20 minutes drive away.

What to see: Dolphin Cruises, Albufeira; Parque Aventura; Aqualand; Santa Bernarda Pirate Cruise; Burro Ville; Costa Vicente Natural Park; Slide & Splash; Benagil Cave.
Make sure everyone enjoys family road trips this summer by finding out more about Kwells*. Because, from days-out to longer holidays, Kwells has been helping to prevent and control travel sickness since 1949.
*Kwells 300 microgram tablets. For the prevention of travel sickness, suitable for adults and children aged 10+. Contains Hyoscine Hydrobromide 300 microgram. Kwells Kids 150 microgram tablets. For the prevention of travel sickness, suitable for children aged 4+. Contains Hyoscine Hydrobromide 150 microgram. Always read the label.