Jane Anderson and family head to the North Atlantic archipelago for a volcanic adventure.
I'm standing on a slippery black rock at the top of a 6m waterfall in a subtropical landscape of ginger lilies, hydrangeas and Japanese cypress, the clear water cascading into a deep pool of green below. The scenery is straight out of Lord of the Rings, not to mention the Hobbit-like village just down the way. In front of me is my nine-year old son, Fin, making little concentrated breathing noises, corralling his courage. I'm wondering why on earth I'm just standing here in my dripping wetsuit and not yelling at him, 'NO, DON'T DO IT!' Then off he goes with a defiant whoop, falling, falling… splash, into the emerald water, as he bobs back up elated, his wide grin under his bright yellow helmet says it all.
We're not on the other side of the world in New Zealand, but just a three-and-a-half-hour flight away in the North Atlantic archipelago of the Azores, a group of nine volcanic islands 900 miles west of Lisbon, but we're fast discovering that we could be in any number of long-haul locations from the volcanoes, black sand and surf of Hawaii, to the hot springs of Japan.
The island we've chosen to visit is São Miguel, one of the most easterly of the group, also referred to as 'The Green Island'. During our action-packed stay with Activities Abroad's new group family trip, we discover this under-the-radar destination is on the cusp of a tourism boom, helped along by relatively new direct flights from the UK by Ryanair and national airline SATA. To put things in perspective, up until the 1970s, the airport was a grass field and the pilots had to scare the cows away before they could land. Just a few years ago, visitors were primarily botanists, scientists and hikers.
Our holiday begins with the smiling face of local guide Sandy Soares, who cheerily bundles Fin, Scarlett, 12, me and their Dad Steve, along with six other families with kids and young adults ranging from nine to 22, into a coach outside the very comfortable São Miguel Park Hotel in the capital of Ponta Delgada, with its majestic colonial Portuguese streets and impressive harbour. We're heading west to Sete Cidades, which Sandy tells us is the only place in the world where you can live on the inside of a volcanic crater – cue Fin's saucer eyes as he imagines a town on molten lava! To up the wow factor, Sandy adds that the island of São Miguel has 200 small craters, which look like small hills, across the landscape, and has more than 700 tiny earthquakes every year, due to its precarious tectonic plates below. Eyes like dinner plates!
But the real jaw-dropping wow moment comes when we stop at a viewpoint overlooking the vast crater of Sete Cidades, a green lake 12m deep reflecting the algae and forest, side by side with a blue lake 25m deep reflecting the sky and the water depth, divided only by a low bridge. Sure enough, there's a smart village of whitewashed houses and a beautiful Catholic church in there too.
It's possible to hike around the top of the crater, and there's even a crazy car race that takes place every year, but we're here to do some gentle kayaking across the lakes, try our hand at stand-up paddleboarding and grab a bike and cycle round the village. I'm impressed by the new equipment and the laidback efficiency of the guides. They leave us to decide which activity we fancy and for how long. For parents, it's a bit like being a child again, with someone packing a lunch for you, driving you around and arranging all the gear!
We all feel very small in the middle of this vast lake in our two-man canoes, a bit like Sophie in in the BFGs Giant Land, but it's certainly exhilarating, with huge green valleys cascading into the lake. We stop paddling in the middle and listen to the silence, something you just don't get to do in London. The SUP-ing is great fun, with Fin trying to straddle Scarlett's board and other high jinks.
Next stop is a dip in an incredible hot spring right in the ocean at nearby Ponta Da Ferraria, the site of the island's last major volcanic eruption in 1811. After scrambling across black volcanic rocks, we climb down the ladders into a cove formed by fast-cooling lava, where the water is almost unbearably hot up near the land, getting gradually cooler as it mixes with the ocean. As we bob on the handy ropes strewn across, Sandy explains to the kids that the magma close to the surface is heating the water. The lower the tide, the hotter the water, from 28 to a sweltering 40 degrees. Who needs a classroom when you have holidays like this?
The volcano theme continues throughout the week with a trip to Furnas, a pretty town with a fierce sulphurous odour. Here, you can see boiling springs and steam rising from hellish-looking pits. Nearby is another stunning lake, which unfortunately is not for swimming, due to the pollution caused by agricultural pesticides run-off, which has caused an algae bloom. This is also caused by the lack of endemic laurel trees, which have been replaced by aggressive invasive species, such as ginger lily. This very pretty plant, brought here from the Himalayas for its looks, has caused havoc due to its shallow heavy root systems, which make the already unstable pumice and ash soil more susceptible to landslides, thanks to the islands' high rainfall. Sandy tells us the current government is committed to a replanting of the laurels with their stable roots, but it's a difficult task.
Nevertheless, we take a gorgeous walk around Lake Furnas, with its wooden sculptures among the lush vegetation, on the edge of a vast, untamed botanical garden. Lakeside is a mini-cathedral, built by gentleman farmer José do Canto for his terminally ill wife, completed in 1882. It's a beautiful anomaly that adds a Gothic element to this volcanic landscape. We end up in a curious piece of roped-off flat ground, which is actually a series of underground ovens heated by the natural steam and used by locals to cook cozido, a traditional Portuguese stew of blood sausage, chorizo, beef, pork, chicken, cabbage, yams and sweet potatoes. After seven hours in the ground, it's reminiscent of overcooked Sunday dinners of old, and not such a big hit with the kids or adults. And I notice our guides are tucking into egg and chips! What we do enjoy is the gorgeous creamy soft cheese from São Jorge Island and the 'fofas', yummy Azorean éclairs.
After lunch, we head to the Terra Nostra botanic gardens, which date back to 1775, home to Malaysian rhododendrons, rare cycads from Australia and over 600 species of camellia. In front of an impressive mansion is an insanely hot spring in the form of a vast walled pool of hot water roughly the colour of mustard. Black bathing suits are recommended, as everything comes out rust-coloured. I adore the warmth and the hot water fountains on my shoulders. Fin says the water tastes like licking an iron post, as he admires the teenagers in our group doing backflips into the hot mustard! The great thing is that now, midway through the holiday, all the kids are playing together, despite the vast age range.
Other island delights include a walk through a 10,000-year-old lava tunnel, the black sand and incredible surf of Santa Bárbara Beach with its cool Eco-Beach Resort and Bondi Beach café, perched high up on the cliffs with an Aussie vibe. We all love the Priolo Environmental Center, which is fighting to save the Azores bullfinch as it struggling with the loss of its native laurel tree habitat, and the Chá Gorreana tea plantation and factory, where we could be in China as we gaze over 32 hectares of tea bushes. Inside the factory, it's like something out of Wallace and Gromit, with great big Victorian contraptions to roll, oxidise, sterilise and dry the black and green tea. The Hysson green tea is known for being sweet, not bitter, and we take a few bags home as presents – a bargain at €2.90.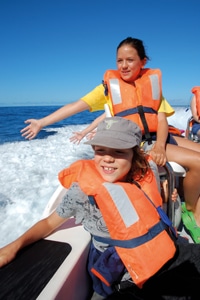 Along with the volcanic action, a major attraction is the chance to not only see wild dolphin in the Atlantic Ocean, but swim alongside them. In the Azores, there's no attempt to tame the ocean for tourism, thankfully only to respect and observe it. Before heading out to watch or swim with dolphins, we're given a thorough briefing by marine biologists Lara and Albert, who tell us there are 25 different whale and dolphin species we might spot.
On our dolphin-watching trip by zodiac along the south coast, we spot playful bottlenose dolphin, the types you see in films with their friendly-looking faces, and pods of common dolphin with two calves. Amazingly, we also see a large pod of Risso dolphin, who are more shy and calm in the water. They have rounder heads and white body scars from giant squid or one another. They grow up to 4m long and are incredible to see all around us.
To swim with the dolphins, we all have to be confident of using a snorkel in open water, and the minimum age is eight. It's safety first, with wetsuits and special lifejackets. When we come across a pod of common dolphin, the compact rib is positioned in their path, and two snorkellers at a time are dipped gently into the water by Laura to spot them. Fin and I submerge at the same time and it's a strange transition to the world beneath the surface. The dolphins look so much sleeker under the water, picking up tremendous speed as they glide beneath us and off into the big blue. Lara tells us they can go up to 200m deep. Scarlett manages to see mother and calves up close, and we're all exhilarated by the experience.
Our guides are all very eager to emphasise and educate us about the island, and take conservation seriously. They are well aware that the Azores has the responsibility of managing its fledgling tourism well. They use the dolphin experiences to collate research data, too, identifying different pods. Some become familiar, such as one called the Bubble Makers, who make bubbles on the surface. I can see Scarlett and Fin taking it all in… but not in a heavy classroom way.
On our final day, we're taken to Nordeste – the oldest (about 4 million years!) and most remote part of São Miguel – for our canyoning in the Ribeira dos Caldeirões Natural Park.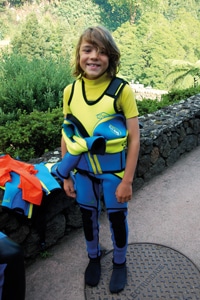 It's here we enter the Lord of the Rings-type forest, don wetsuits and harnesses and climb up and up past waterfalls and deeply moss-lined boulders. There's fresh rainwater running down the moss, which we drink in handfuls. Fin says it tastes like green. Our guides, Clara and Teresa, soon have us all abseiling down 10m rockfaces, sliding on our bottoms down natural rockslides and jumping off 6m waterfalls into pools of rainbow trout, as we descend the valley in style. We all encourage one another on the biggest jumps.
This has been our first experience of a group family holiday. We were an eclectic mix of nuclear families, single parents, teenagers with their mum and her boyfriend, single-child families and a parent with his son, Daniel, who has special needs. His father, Andrew, tells me how good Activities Abroad have been catering for his son's needs. For Scarlett and Fin, it's been a goldmine of fun having other kids around.
Back at school, Scarlett tells me she's studying volcanoes in geography and says surprised, 'I actually knew quite a bit already!' The Azores has certainly been an education.
The lowdown
Activities Abroad offers a seven-night Lava Lands and Dolphin Swimming in the Azores group trip from £1,250 per adult, £1,135 per child (13-18 years) and £915 per child (8-12 years), including flights, transfers, accommodation, 14 meals, guided activities and instructors.
Activities Abroad arrange flights as part of this holiday.
When to go:
This trip runs from April to September. Temperatures in May-July are from 16-20C, and in Aug 20-22C, with highs of 26C. The subtropical climate and Atlantic location makes it prone to occasional thunderstorms.