Panoramic views of the Atlantic Ocean, morning greetings from a descent of woodpeckers, and the proud hosts of the Algarve's largest kids' club confirms Pine Cliffs Resort as the ultimate family escape, explains Ryan Chart.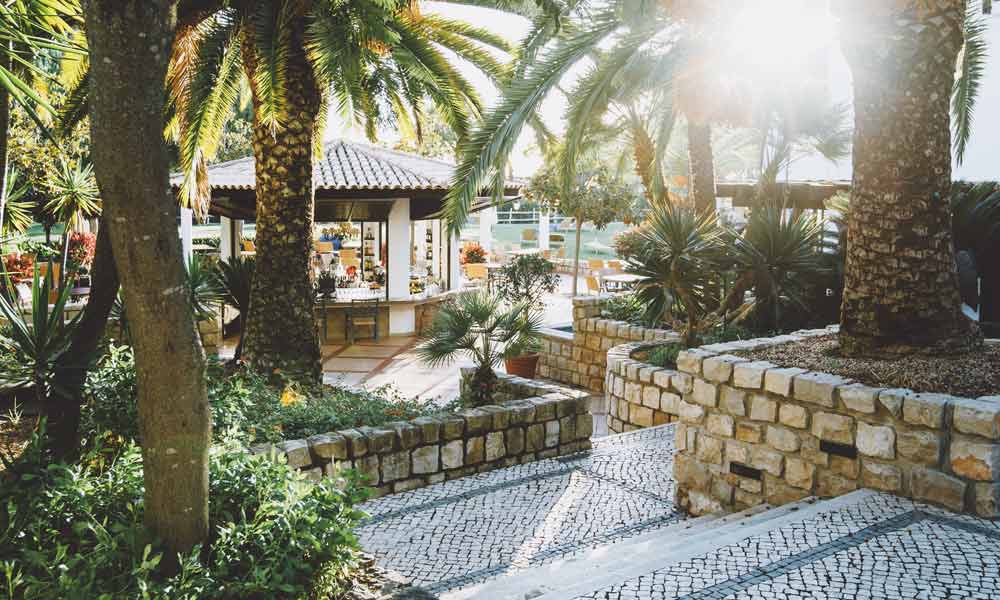 My partner and I were enchanted with the Algarve when we visited several years ago, and so we decided to return this year. Now, after a stay at Pine Cliffs, we are more in love with the area than ever.
As we approached the resort, a quaint gated Portuguese village welcomed us to the next seven nights of relaxation and tranquillity. Pine Cliffs encompasses seven areas; Pine Cliffs Hotel, Ocean Suites, Residence, Village, Suites, Golf Suites, and the latest addition, Gardens – just a year old. The Gardens are composed of four modern buildings, aptly named after traditional Portuguese flowers. We were taken to our one-bedroom apartment – Jasmim (or Jasmine for non-native speakers). Typically, I had forgotten my EU plug adaptor, but the brand new Garden Suites thankfully have their own UK sockets installed to rescue forgetful travellers such as myself.
As the name suggests, Pine Cliffs is surrounded by pine and palm trees, sitting on burnt-orange cliffs leading down to Praia da Falésia – one of the Algarve's finest beaches. A short lift and two-minute walk brings you to the beach, complete with beds and the Maré bar and restaurant – a real treat and surprise, day or night. At the top of the cliff, perfectly located to enjoy the beautiful views of the sunset, is the al-fresco champagne bar, Mirador, which opens late afternoon, with closing time dictated by the sunset depending on the time of the year.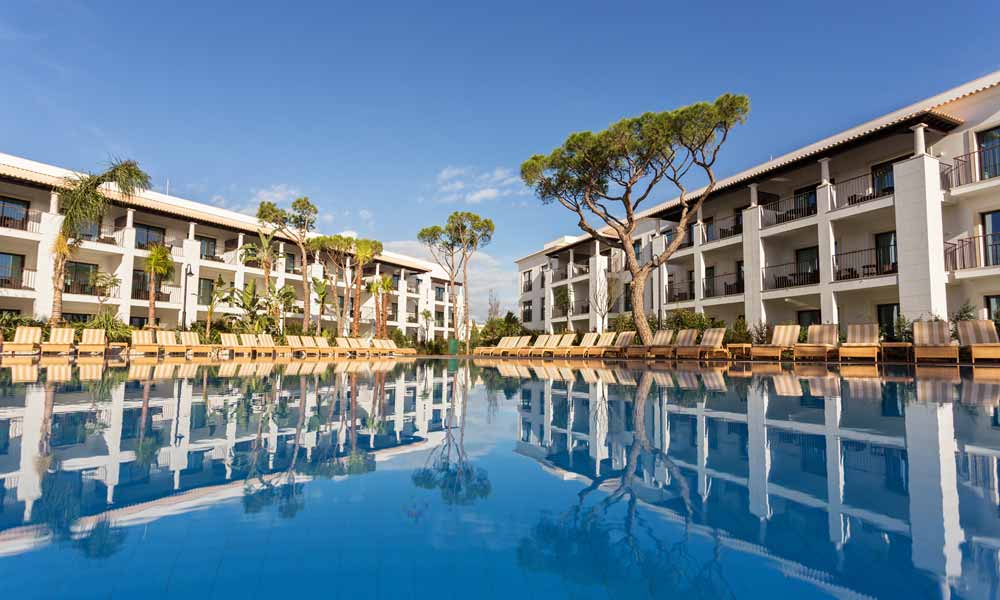 The apartments here are more than ideal for families, with options of one-, two- and three-bed apartments. Naturally, the three-bed apartments are larger and thus offer a brilliant amount of space for little legs to explore their temporary home. Not only this, but the Pine Cliffs Village offer family-friendly villas for slightly more privacy, although the Gardens and its comforting peacefulness left us more than satisfied.
Our apartment for the week was modern, clean and spacey – with a large bedroom, partitioned bathroom, well-equipped open-plan kitchenette and living area – finished with a pool-view balcony. Plenty of space here for two, but a two-bedroom apartment would be required for a family of four to have their own space. However, the rooms are by no means small and offer brand new appliances, furnishings and embellishment.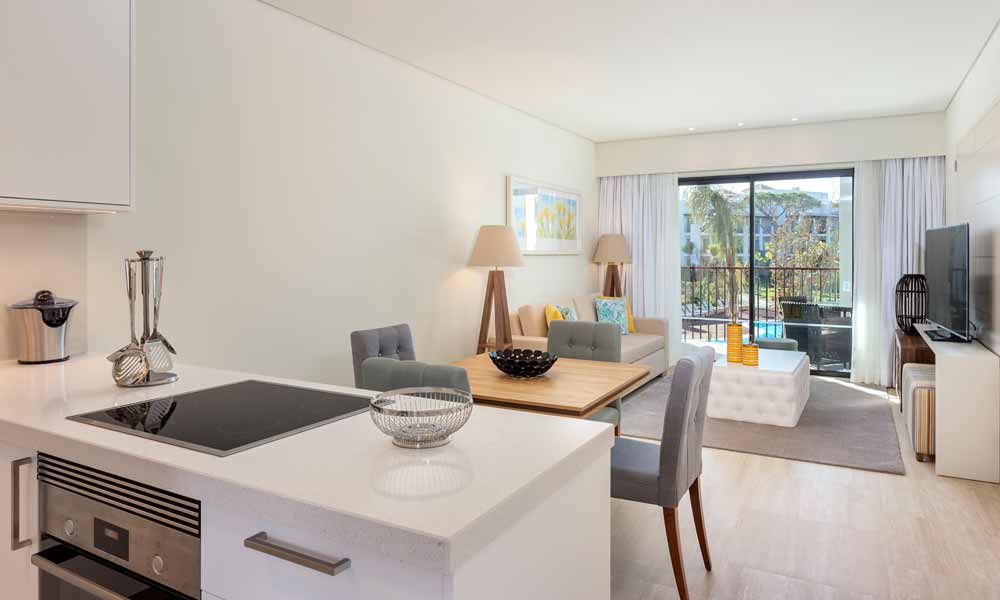 The resort is home to nine child-friendly pools, two fun-filled pirate ships, a games room, tennis and football courts, gym, and multi-award winning 'Serenity – The Art of Well Being' – recently voted Europe's Best Wellness Spa. Partnering the daily facilities at your disposal are 11 restaurants and lounges, ranging from traditional Portuguese fish restaurant, O Pescador, to the immaculate Japanese restaurant, Yakuza by Olivier. Regardless of your location within the resort, guests are free to use the facilities entirely (of course, with exceptions such as the Spa).
Aside from the range of swimming pools and kiddies' splash pools, there are brilliant facilities for kids. The well-loved Pine Cliffs golf course offers kids lessons, a perfect location for young ones to master their swing. The Spa also offers parent and child treatments, from princess makeovers to manicures and nail painting. As well as this, the Mimo Algarve cookery school on Lemon Square (literally a quiet little square within the resort spoilt with lemon trees) offers children's cookery classes, learning Algavarian recipes with ex-Gordon Ramsay trained chef Lucia Ribeiro. On top of this, Pine Cliffs also boasts the biggest kids club in the region, with the Porto Pirata Children's village.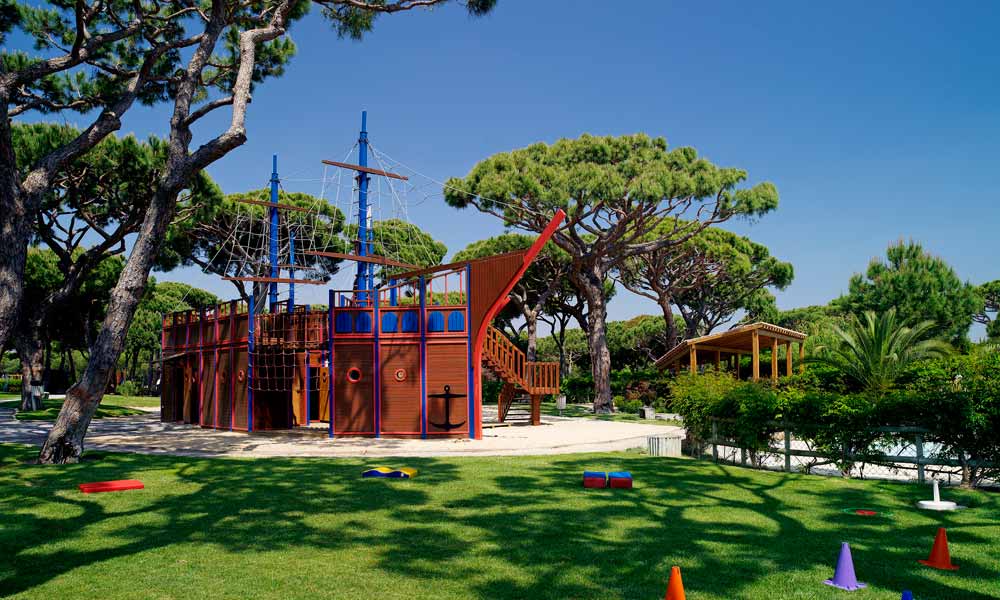 For energetic kids, a play-park complete with two huge pirate ships are free to play on, along with the tennis courts and football pitches. The games room gives those screen-hungry little ones some time in the shade, whilst adults that need some Wi-Fi have resort-wide access. Just below the resort is the incredible beach, which offers sand-castle-building fun, along with lively water sports – or maybe just sun bathing!
One evening we ate at O Pescador, the fish restaurant with an outdoor charcoal grill serving the local fishermen's catches of the day. Al-fresco dining around the central circular bar and incredible views out to sea feels instantly traditional – although it can be a little chilly in the evenings due to the sea breeze. Thankfully, the waiter noticed we had our arms out and brought across some cashmere blankets during our meal. This attention and friendliness is a recurring theme across the resort – you truly feel as though you are spending your holiday within a welcoming little village, with nothing ever too much hassle for the meticulous staff.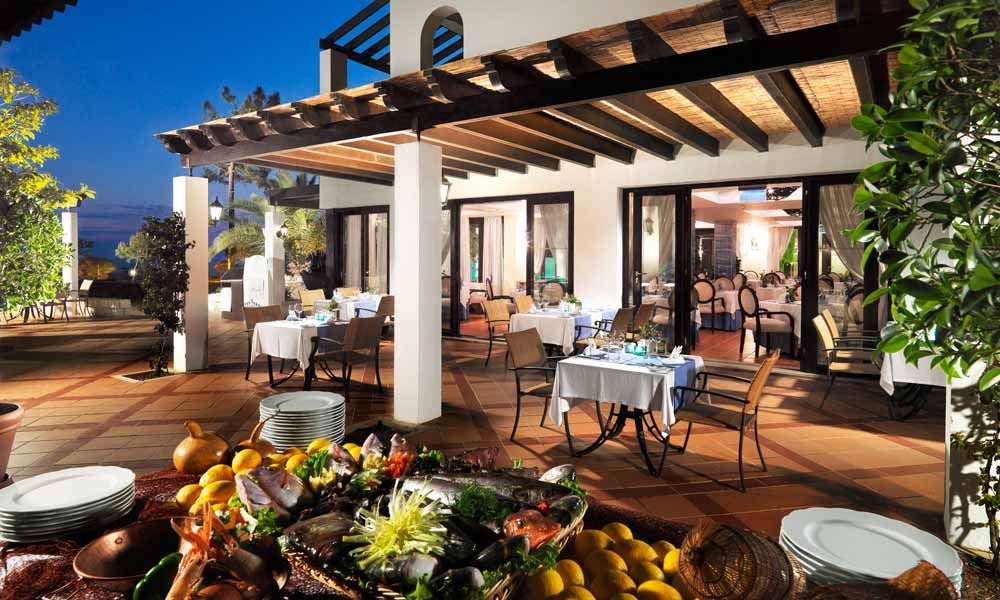 With just over a two-hour flight, and a thirty-minute drive from Faro Airport, Pine Cliffs is an incredible resort to escape the hustle and bustle and enjoy blissful resort-based relaxation. As we left, we couldn't help feeling a great deal of affection towards this little village. However, it was the genuine sense of calm and tranquility that stuck with us. The location makes it incredibly relaxing and the giggles of youngsters across the resort led us to believe the children loved it too.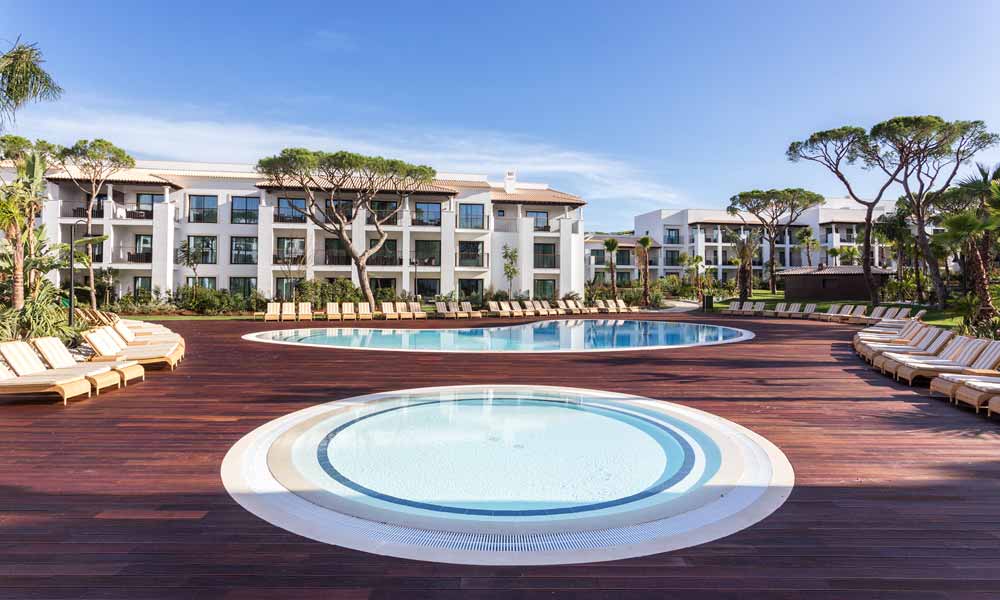 The lowdown
How to get there:
Most London airports fly to Faro in 2hr 20 min
Taxi takes around 30 mins and costs approx. €50
Pine Cliffs Resort Gardens Pricing:
From €520 (high season) / €180 (low season) for a Garden Suite
Pine Cliffs Resort Hotel Pricing:
From €420 (high season) / €140 (low season) per person for a Deluxe Room on a B&B basis
Pine Cliffs Resort Ocean Suites Pricing:
From €480 (high season) / €160 (low season) for a Junior Ocean Suite on a room-only basis
Pine Cliffs Resort Residence Pricing:
From €680 (high season) / €160 (low season) for a Two-Bedroom Comfort Residence on a room-only basis
Want more inspiration? Check out our Algarve destination hub here!