Reliable sunshine from March to October on one the world's most spectacular Atlantic coasts, makes the Algarve a natural choice for family holidays.
It also helps that Portugal's most southern region is almost solely focused on tourism, has some of the largest purpose-built resorts in Europe, and is such a good all-rounder it even manages to convince entire families to book golf holidays.
But for all the Algarve's many talents, there's still nothing to compare to its prowess in the field of villa rentals. East, west or central, deep in the countryside, or right on a golf course, Algarve villas are hard to match for great looks, good value, and wonderful locations. If you need proof, here are five of the finest examples to start with.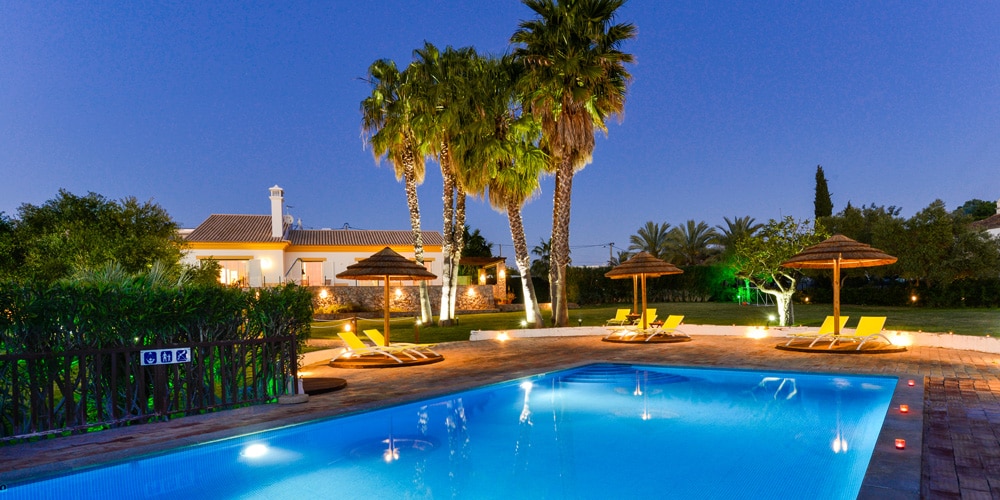 1/4

 Villa Six Palms, Estoi, Faro

Sleeps up to eight. Entire villa from £1295 per week.

An amazing family villa set in 5000m² of enclosed grounds, with an outdoor and indoor swimming pool, small football pitch, and a volleyball court. The house itself has three bedrooms, and four bathrooms, and the spacious living room opens out on to a sun terrace overlooking the huge garden.
3 bedrooms
4 bathrooms
Sleeps up to eight
5000m² garden, indoor and outdoor pool, football pitch, volleyball court
15 minutes drive from Faro and Atlantic beaches
30 minutes drive from Albufeira and Vilamoura
20 minutes drive from Faro Airport
About the area
The villa sits on the edge of Estoi village, surrounded by countryside, and only 15 minutes drive north of lively Faro. An entire Atlantic coast of beaches are within easy travelling distance, along with dozens of golf courses, plus waterparks and adventure parks in nearby Albufeira and Vilamoura. Ria Formosa Natural Park is also just 20 minutes away from Six Palms by car.
Find out more about Villa Six Palms with Spring Villas.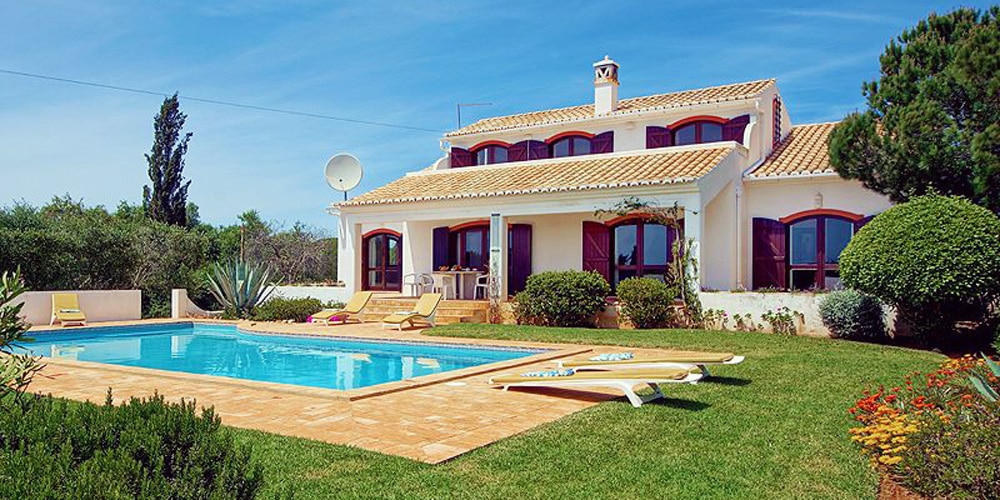 2/4 Casa Rosa, Almadena, Praia da Luz
Sleeps up to seven. Entire villa from £707 per week.

In the countryside close to Praia da Luz in western Algarve, Casa Rosa is a charming three bedroom traditional villa, with open views, and a lovely garden. It also has a private pool, large sun terrace and dining gazebo. Twice weekly maid service is included, and pool towels are provided for all guests.
3 bedrooms
2 bathrooms
Sleeps up to seven
Private pool, large garden, sun terrace, countryside setting
10 minutes drive from Praia da Luz coast and beaches
15 minutes drive from Lagos
One hour from Faro Airport
About the area
The little village of Almadena is 10 minutes from uncrowded, sandy beaches. Western Algarve is the more authentic side of the region, generally quieter, more historic, and interesting to explore. The beautiful walled city of Lagos is close to Almadena too, and the lively holiday resorts of Portimao and Albufeira are under an hour east by road.
Find out more about Casa Rosa with Affinity Villas.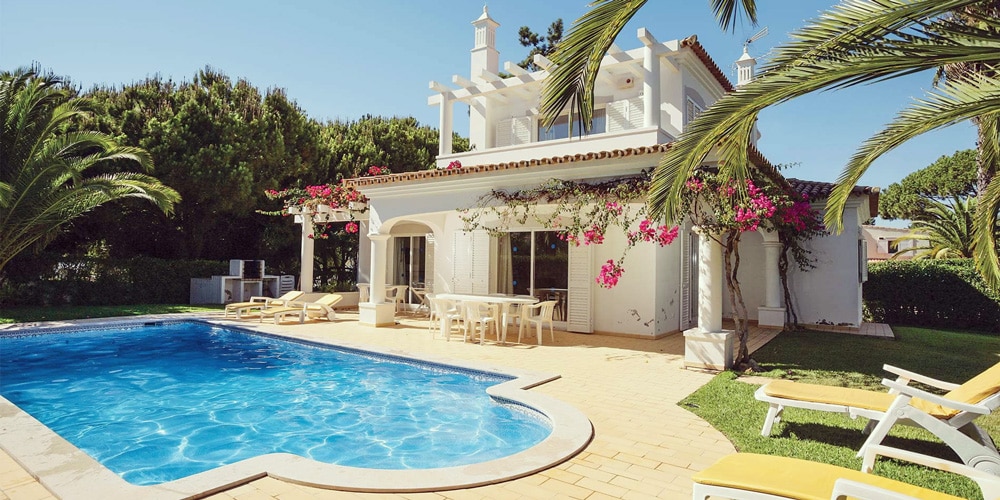 3/4 Villa Vivenda Pedro, Vilamoura
Sleeps up to six. Entire villa from £459 per week.

A bright, sunny villa with three bedrooms, three bathrooms, and an enclosed garden, Vivenda Pedro's ideal for younger kids. The large pool is surrounded by a sun terrace, and patio doors open from the villa direct on to a shady outdoor dining area with stone-built barbecue.
3 bedrooms
2 bathrooms
Sleeps up to six
Enclosed garden, private pool, sun terraces, outdoor dining room
Minutes away from coast and beaches
Close to the centre of Vilamoura
30 minutes' drive from Faro Airport
About the area
Europe's largest purpose-designed holiday resort, Vilamoura is famous for its elegant marina, smart shops, and excellent restaurants. Fabulous Praia da Falésia beach is 10 minutes drive from the villa, and Praia da Oura is just a little further west. Several of the Algarve's award-winning golf courses are also within easy driving distance, and Albufeira is less than half-an-hour away for waterparks, outdoor activities, and water sports.
Find out more about Villa Vivenda Pedro with James Villas.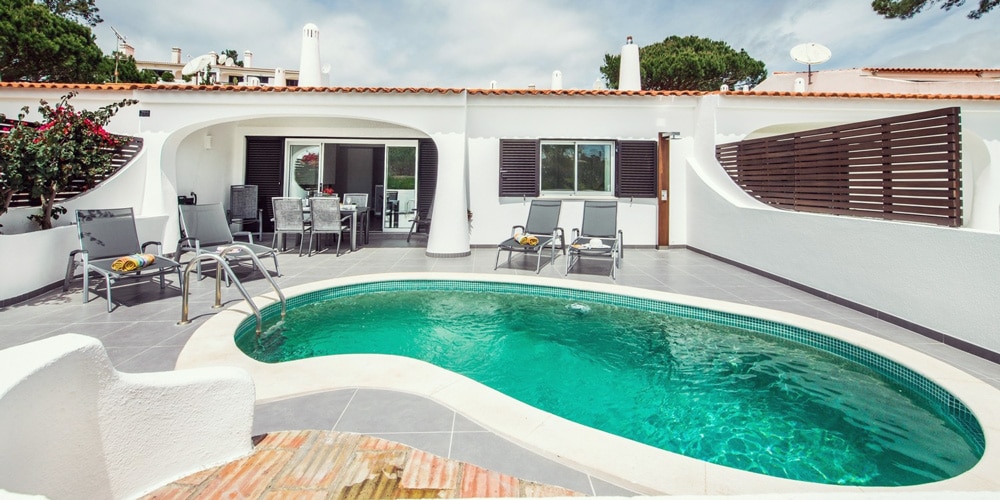 4/4 Villa Flora, Vale do Lobo
Sleeps up to six. Entire villa from £1610 per week.

Set in the Algarve's exclusive Vale do Lobo resort, Villa Flora has three bedrooms, two bathrooms, and a private pool with barrier, in an enclosed and sunny courtyard garden. A complete baby & toddler kit is included as standard, and the villa has also passed a 30 point child safety check.
3 bedrooms
2 bathrooms
Sleeps up to six
Child-safe private pool, sun terrace, enclosed courtyard
Five minutes from beaches and kids beach club.
20 minutes drive from Faro and Albufeira
30 minutes' drive from Faro Airport
About the area
As famous for its large, sandy, private beaches, as it is for golf courses, Vale do Lobo is one of central Algarve's longest established luxury resorts. There's a beach club for kids aged 6 months to 12 years, a good choice of bars and restaurants, and outstanding sports facilities. Faro is under 20 minutes drive east, and Albufeira is just to the west for waterparks, water sports, and tree-top adventure parks.
Find out more about Villa Flora with Tots To Travel.
Want to book your villa holiday now? View a handpicked selection of our favourite family friendly villas in Europe.