Writer David Atkinson dusts off his bicycle clips and takes his daughters cycling in the Netherlands.
David's insightful look at cycling in the Netherlands with kids won the Best City Article in the Holland Press Awards 2016.
Going Dutch
[soliloquy slug="david-atkinson-netherlands-feature"]
It was a two-wheeled baptism of fire. I turned out of the alleyway, freewheeling shakily on a lightweight Dutch city bike and immediately had to turn left into the path of the oncoming traffic. As I wobbled, swerved and nearly took out a couple of pedestrians, I was beginning to think a family cycling trip to Holland hadn't been such a great idea after all – especially as
I hadn't been on a bicycle for more than 30 years.
But if I could get back in the saddle anywhere, it was Holland. This is, after all, a country with 17 million inhabitants, but more than 18 million bikes and 19,000 miles of cycle paths. The Dutch government is also championing initiatives to promote cycle safety and traffic awareness. That's why I have brought my two learner-cyclist daughters – Maya, eight, and Olivia, four – to Holland for a school-holidays escape.
We started our journey in The Hague, a short train journey from Amsterdam's Schiphol airport. Based in Schevenigen, the seaside resort on the city's North Sea coast, I spent the first morning introducing the girls to Dutch culture. Madurodam, the miniature- village version of Holland, offered a breezy résumé of centuries of Dutch history and stereotypes – from clogs via windmills to tulips.
But it was soon time to get cycle serious. We joined a three-hour city-and-sea bike tour with Totzo!, exploring hidden-gem attractions around The Hague, such as the Palace Gardens behind the working Noordeinde Palace. The girls set out in matching princess-pink cycle helmets, Maya on her own bike and Olivia in a strap-on seat behind our guide, while I struggled behind. Maya was nervous at first cycling in traffic, but she soon found her confidence, indicating and turning like a local. Olivia happily soaked up the views.
Bike friendly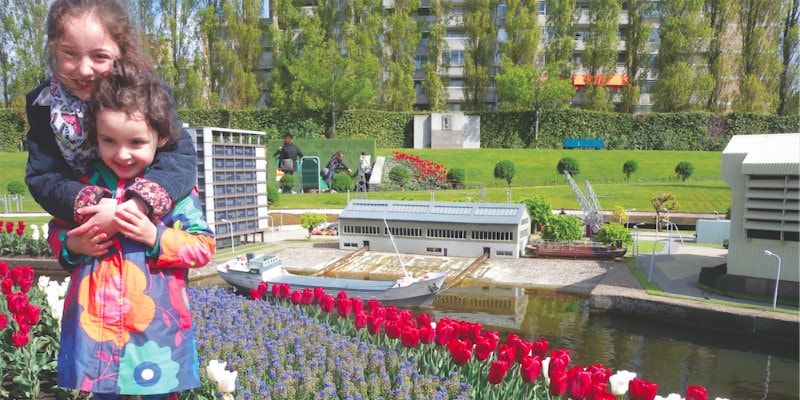 Along the way, our guide, Tymen Willemsen, explained why Holland was named the most bike- friendly country in Europe (joint with Denmark), by the European Cyclists' Federation Cycling Barometer. 'Holland's natural geography is flat, distances between the major cities are short and there's a well-developed infrastructure for cyclists,' he said.
Having negotiated the traffic, we settled into a gentle cruise along Strandweg, the long promenade beside the windswept seafront, stopping to browse in gift shops and tuck into a hearty lunch of fresh fish, spare ribs and garlic-mayonnaise-dipped chips at Zanzibar Beachclub, one of a string of buzzy beachfront restaurants overlooking the North Sea. '
The next day we moved on by train to Utrecht, a small, historic city built around the 14th-century Cathedral Tower and the bustling canal-side Oudegracht district of galleries, cafés and boutiques. Our new base was a house belonging to the Vrienden op de Fiets group, an association of some 3,000-odd affiliated guest houses run by private home owners, offering bed, shared facilities and a basic breakfast for about £24 per night. Many of them are run by cyclists, who are knowledgeable about local cycle routes, and each address has its own particular style.
Daddy, daddy cool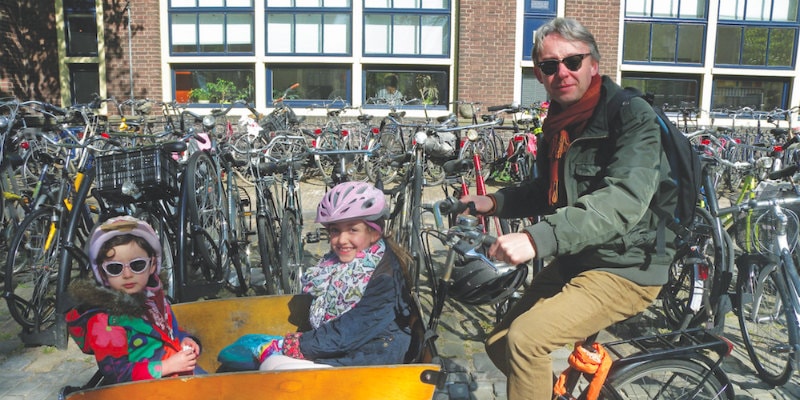 We set out the next morning to pick up our bike for the day, a traditional Dutch bakfiets, or cargo bike. Our sturdy three-wheeler
came with a large cargo box at the front for Maya and Olivia to sit in. It was plain, boxy brown, but some come customised with flowers or mascots and a canopy. The girls seemed a bit unsure about our new mode of transport, Maya somewhat embarrassed by looks from passers-by as Dad swerved clumsily around the narrow, canal-side streets and struggled with a hill start at traffic lights. 'Everyone's looking,' she moaned, cringing. 'Soo embarrassing.'
After a while, however, I got a feel for the bike and really appreciated the greater stability of the sturdy front section while Olivia happily curled up on the cushions for an in-transit power nap as we followed the canal towards the fringe of the city centre. I had stocked up in advance on picnic food at a local branch of the Albert Heijn supermarket chain, and steered us steadily out along the River Vecht towards the fairytale castle of Slot Zuylen, located in the village of Oud-Zuilen.
Brightly painted houseboats bobbed in the gentle waters beside the well-marked cycle lane and birds were singing overhead in a cotton-wool sky. I could feel a new sense of cycling zen starting to drift over me and, after a morning of vigorous peddling, munched hungrily on the spread of bread, cheese, cold ham and fruit.
An unforgettable holiday
[soliloquy slug="david-atkinson-netherlands-feature-p2"]
Over the week we had started to master the art of Dutch-style cycling but, as a single parent with  two young children in tow, how family-friendly did Holland prove to be overall? Generally, pretty good. Everyone speaks English, costs are reasonable compared with home and everything works.
I was impressed that some of the places we visited had incorporated thoughtful touches for kids, such as little booths in the restaurant at Madurodam in The Hague to watch cartoons while the adults finished their food, and the Keuken Restaurant & Deli in Utrecht that encourages kids to eat up with the promise of a visit to the kitchen to make their own ice-cream for dessert.
Given the girls' ages, we were hardly out late. But, generally, if we headed for dinner about 6pm, then we could plan the next day, the kids could do some coloring between courses and I could unwind over a couple of local wheat beers before heading back to the accommodation for a few chapters of Charlotte's Web and lights out.
Even relying on public transport posed no problem. We only splashed out on a couple of taxis in a week and connections were universally easy to negotiate. On the last day we took the bakfiets for one last spin, to the Dick Bruna House, the museum dedicated to the creator of the children's character Miffy.
Upstairs we all posed for pictures – with Miffy – on the medal podium, Maya taking gold for her superior cycling, Olivia the silver for her expert balance biking and Dad picking up bronze for some shaky cycling, but at least not being drunk in charge of a bakfiets. Sir Chris Hoy may not have anything to worry about just yet but, after a week of cycling Dutch style, we're more than just back in the saddle. The Atkinson girls are now cycle savvy.
The Lowdown
How to get there 
KLM flies to Amsterdam, from £87 return.
Where to stay 
Family rooms at the Carlton Beach Hotel cost from £145 per night, including breakfast.  Vrienden op de Fiets  has rooms from £16 per person per night.
Where to hire bikes
Totzo! hires bikes from £8 per day; bike tours cost £19 per person. Free cycling advice next door at Lola Bikes & Coffee . Laag Catharijne hires bakfiets bikes from £12 per day.
Where to visit 
Entry to Madurodam is £12.40 for adults and children, under-twos are free. Entry to Dick Bruna House is £8.80, under-12s are free.
FIND OUT MORE ABOUT HOLLAND.