Sponsored Content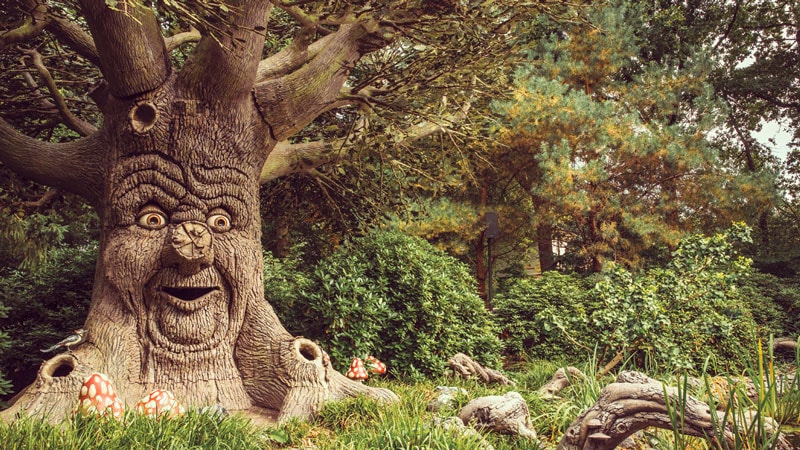 1/10.

  Fairytale forest

Fairytales do exist and Efteling's Fairytale Forest proves it. The enchanting forest is part of the original park and home to 29 famous fairytale characters, including Cinderella, Hansel and Gretel, and Rumpelstiltskin. The newest character is Pinocchio, who took up residence in the forest in spring 2016. In a fun, interactive experience, little ones are asked to help find Pinocchio and his father Geppeto, who are hiding. The Fairytale Forest is also home to the much-loved Fairytale Tree, a 13m tall character whose branches and leaves flutter in the wind as he tells fairy stories to an enthralled audience (don't worry, he is learning English!). The fairytale forest is a special experience for young and old. Little ones will gaze in wonder and the older visitors will remember the stories from their childhood. Nearby is the idyllic Anton Pieck Plein, an old Dutch town square with ancient carousels, where families can enjoy old-fashioned fun and tasty treats. Don't forget to visit the Laaf Village, home to a particularly mischievous population, and for a bird's eye view of the park, take a spin on the monorail.

Park opening times: Efetling is open 365 days a year; 11am – 6pm in winter and 10am – 6pm in summer. During weekends in July and August families can have fun until midnight!

Ticket prices: Park admission costs £27. Children under four years go free.

2/10. 

Family attractions

Looking for exciting and enchanting attractions or spectacular shows? All this and more awaits in the largest theme park in The Netherlands, set in unique natural surroundings. Kids can enjoy themselves in a safe environment where all the staff speak English. In Efteling, unicorns, fairies and forest animals come to life and, when night falls, twinkling lights guide you through the darkness. When the sun comes up, the enchanting forest awakens in Droomvlucht, the indoor dark ride – the most popular attraction in the park. Giant cooking pots spin on a flickering fire on the island of Monsieur Cannibale's spinning cauldrons. Take a boat trip on one of the Gondolettes on the lake, or try the Pirana, the wild river that takes you past waterfalls, rocks and totem poles. The momentum of the water determines your route in this paddle-less adventure that takes you on a journey of discovery through the Far East. On Fata Mogana, another exciting dark ride on water, you'll travel through neighbourhoods of poverty and wealth, where a giant protects the Sultan's precious gems and jewellery. For a bit of a breather, hop on board the steam train at one of the park's two stations and relax during a magnificent tour. With the Stoomtrein you'll experience Efteling from an exciting new perspective.

3/10.

  Rushes for thrill seekers

Upside down loops, twists and turns at more than 45 mph and a free-fall drop of more than 120 feet – for those who dare, there are plenty of thrills to be had at Efteling. There are six rollercoasters and lots of other scary attractions to get your pulses racing. The newest rollercoaster opened in summer 2015. Baron 1898 is a dive coaster with a 37.5m free fall into an underground mineshaft at 90 kph – not for the fainthearted! If you prefer to squeeze your eyes shut, then try Vogelrok, the indoor, dark rollercoaster, which flies along at 65km! There's also a fun water coaster, De Vliegende Hollender, which zooms around the track inside and outside and exits into the lake with a tremendous splash. Or, try the original double tracked wooden roller coaster and compete against the other team to win on the duelling dragons coaster, Joris en de Draak. Want to fly at 60 km/h, slam through corners and feel the wind in your face? Then the bobsleigh run is for you. The Bob is a 524m long run and suitable for daredevils of all ages. If that's not enough to shake you up, try Halve Maen, the world's largest swinging ship, which rocks at a gut-wrenching 180°.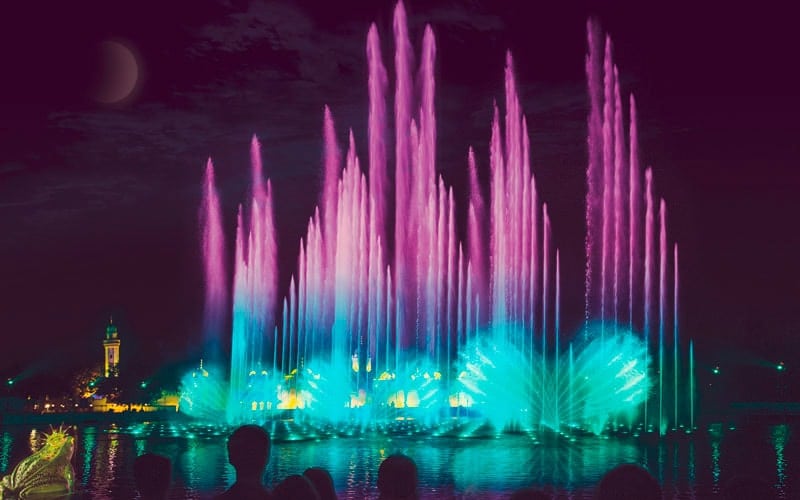 4/10. 

Spectacular aquanura

You can't visit Efteling and leave without seeing Europe's largest water show (the third largest in the world after Las Vegas and Dubai!). Four majestic singing frogs captivate the audience with a ballet which tells the story of the Efteling fairy tale. Experience this spectacular show – a symbiosis of water, fire, light and music. More than 200 fountains and 900 lights transport you to another world during this 12-minute Efteling medley. The show takes place every evening as the park closes – 6.15pm in winter months and 8.16pm during the summer.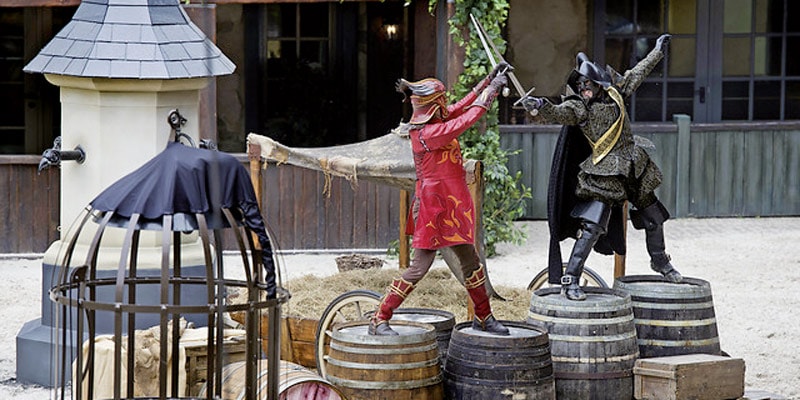 5/10. 

Ravelijn's legend

Watch the story of Ravelijn come to life in a spectacular park show featuring stunt horse riders, ravens, knights and a disappearing Princess. The show tells the story of an anxious nation who are waiting for their oldest prophecy to come true. One day, five talented riders free the village from years of domination by the evil ruler, Count Olaf Grafhart and his five-headed, fire breathing monster – and you get to see it all! There are around five shows a day and show times vary between seasons (closed January to March). The show is free of charge but during busy times, use ticket machines to get your ticket so you're guaranteed a seat. Headsets with English narration are available for those that don't speak Dutch, but the story is easy to follow without them.

6/10.

  Tasty local treats

One thing's for sure – you will never go hungry at Efteling! You'll find everything from sit-down restaurants and banquet feasts to picnic areas, pancake houses and a host of terrific snack stalls. t Poffertje restaurant is the perfect place to relax with a hot drink, and try freshly baked 'poffertjes' (mini pancakes) – a Dutch specialty. Or, choose between savory or sweet traditional Dutch pancakes at Polles Kueken, where you'll watch the pans simmer, kettles whistle and ladles tap around the cooking stove. The recipe for the delicious pancakes is top secret and Polles Keuken made it into the Guinness Book of Records with the tallest stack in the world! If you prefer something less traditional, try In Pinokkio's restaurant, where you'll find a wonderfully chaotic puppet theatre. While his family prepare typical Italian dishes such as pizza, pasta and desserts, Constanzo entertains families with his puppets. Dine at the medieval banquet, where you'll find long tables full of delicious meals and generously poured wine, beer and soft drinks for the kids. The park's snack stalls sell everything from hot dogs and sodas to the tasty Dutch specialty, the Eigneheimer, a delicious spiral potato on a stick.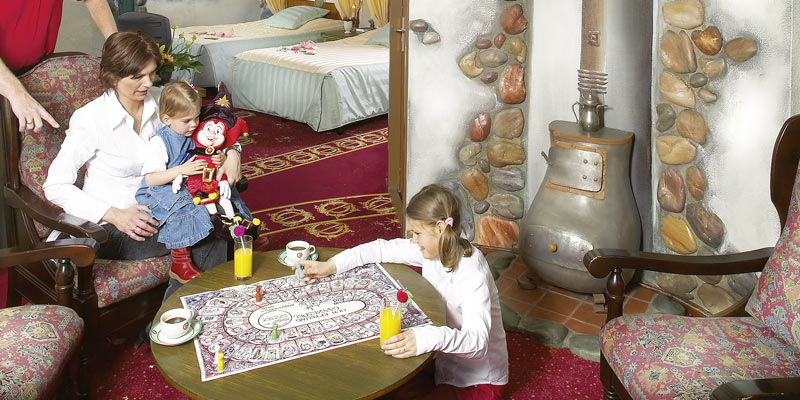 7/10.

  Adventure at the Efteling Hotel

Efteling's hotel is within comfortable walking distance of the park, and guests even have access to the park half an hour before it opens to the public. The 4* property has over 122 rooms, which all uphold Efteling's fairytale theme. Family rooms have two double beds, and cots are also available. A generous breakfast buffet is included, and when you return to the hotel after a busy day in the park, you can settle down infront a family film shown on one of the English-language TV channels. For something a bit special, the hotel offers a number of themed suites. From Cinderella to Hansel Gretel, the fairytale suites are charming. In the Little Red Riding Hood room, two double beds are connected by a quirky wooden hatch – perfect for a puppet show! On chilly evenings, the kids will love snuggling up in the traditional Dutch inglenook, infront of the crackling open hearth. Dining is easy at the hotel, as the restaurant is open for breakfast lunch and dinner serving reasonably priced meals all day. There is a great children's play room opposite so parents so parents can enjoy a meal in peace. During the summer months, mums and dads can eat out on the terrace overlooking the kid's play area. For some time away from the park, hire bikes and explore the Efteling's neighbourhood.

Efteling Hotel price: For a family of four (two adults and two children), staying two nights during May half term, costs £480 for a comfort room; or £654 for the Red Riding Hood suite

8/10.

  Charming Efteling Bosrijk Village

After a thrilling day in the park, retire to the tranquility of the Efteling Bosrijk Village, in an area of rich, natural surroundings beside the park. This holiday village is an oasis of peace where you can spend the night surrounded by trees in a lakeside lodge, charming woodland cottage, a traditional Dutch style village square house or a Gatehouse apartment. All the properties have a fully-fitted kitchen if you prefer a self-catered break and there is a small shop in the reception building that provides the basics. For those who prefer to let someone else sweat it out in the kitchen, the on-site restaurant is open for breakfast, lunch and dinner. For the ultimate in indulgent dining, you can order pizza to be delivered to your door and, in the mornings you can have breakfast croissants brought to your door too – simply order them the night before. Hire bikes and and discover the Bosrijk area or the nearly amazing 'De Loonse en Drunense Duinen' National Park, a beautiful nature reserve minutes from the park. With any luck, you might stumble across traces of the region's rich history, so tell the kids to keep their eyes peeled for bullet casings and stone-age hunters' tools. There is a swimming pool for kids, and a miniature train to take you to and from the park entry mornings and evenings. Efteling is a great choice for extended families or multi-family holidays. At Bosrijk Village you'll now find group houses that can easily sleep up to 24 guests.

9/10.

  Winter in Efteling

From mid-November Efteling tranforms into a magical winter wonderland. Snuggle up around heart-warming bonfires and enjoy live entertainment under thousands of twinkling Christmas lights. You'll find a wide range of exciting winter attractions, including ice skating, a real snow slide and even Efteling's very own cross country ski track! The Fire Prince and the Snow Princess bring their sleighs to meet the children and share their enchanting stories and music. As night falls, the attractions come to life. Marvel at the impressive illusions after sunset and see the breathtaking water show, Aquanura, in the dark, set to music, fire and spectacular lights. During Efteling's winter season you'll be spoilt for choice when it comes to scrumptious warming treat. At Ton van de Ven square kids will be in heaven as they choose from a whopping six kinds of hot chocolate, while the stalls at the Bavarian Market are laden with syrup waffles, churros and smoked sausage.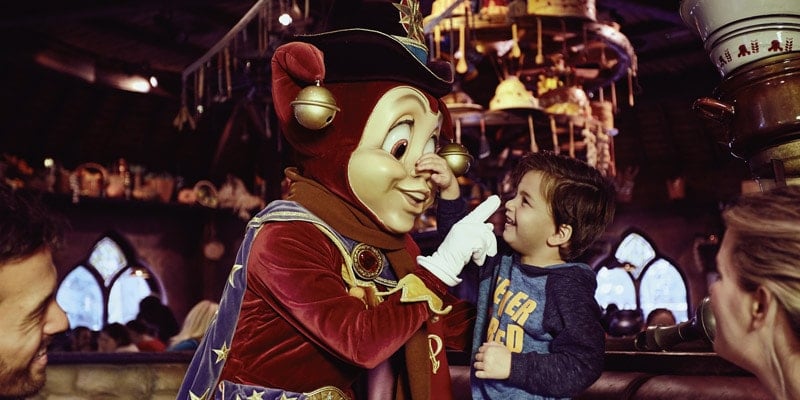 10/10.

  New treats for 2017

In 2017 Efteling celebrates its 65th anniversary and marks the occasion by launching the largest and most expensive attraction ever, 'Symbolica – Palace of Fantasy'. Symbolica will be an indoor attraction for the whole family, based around the themes of reality, dream and fantasy. Efteling's magic jestor, Pardoes, will be your host in the Fantasy Palace, where you will be invited to rediscover their imagination on an adventure through magical, hidden rooms. A maximum of six people will step into a carriage and then choose one of three exciting routes. Each route will offer a different adventure with interactive elements throughout the Fantasy Palace. Symbolica is being constructed in the centre of the park next to 'Polles Keuken' pancake restaurant. 2017 also sees the opening of new accommodation, Efteling Village Loonsche Land. Efteling is investing a whopping €30 million in the construction of a new holiday village, bordering the theme park, Efteling Golf Park and the Loonsche Land nature district. The site, which is more than eight hectares in size, will feature central facilities and holiday homes designed to be compliment the area's natural surroundings. The first guests will be welcomed in the early part of 2017. Once the new holiday accommodation opens, Efteling will offer a total of 3,000 beds: 450 in the Efteling Hotel, 1,550 in Efteling Village Bosrijk holiday park and a further 1,000 in the new holiday village.