Bill Gibbons, Director of Discover Ferries, explains why you should be taking a holiday by ferry this year taking advantage of special offers during National Ferry Fortnight 2017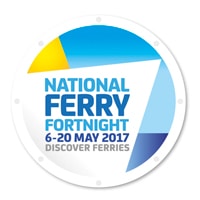 Here at Discover Ferries, we're celebrating National Ferry Fortnight 2017 from 6 – 20 May. This year's Ferry Fortnight theme is 'Ferry Together'. We decided on this as a way to encourage families, who might lead very busy lives, to try to find ways to spend more quality time together.
The hectic nature of modern life can sometimes make this tricky and, in research we carried out this year, we found the average family spends just three weeks of real quality time together each year, and just 36 minutes on an average weekday.
Our research shows just how incredibly important every second of holiday time is in our busy lives, with almost half of the people surveyed saying their entire holiday counts as quality time together. Here at Discover Ferries, our members pride themselves on doing their utmost to make the ferry journey the very start of the family holiday experience. Unlike a plane where you're strapped in, in front of screens, a ferry journey gives people time to stretch their legs, 
share a meal or watch wildlife together. National Ferry Fortnight will be a celebration of ways to spend that treasured family time together.
There are more than 75 ferry routes around Britain, meaning you have a fantastic range of choice for when travelling by ferry. Internationally, you could take the family across the sea to the continent, to countries including France, Belgium, Spain, Holland, or you can go west to Ireland. For families who fancy a domestic holiday, there are ferry routes to the Channel Islands, Isle of Wight, Isle of Man, Scilly Isles and the western and northern islands of Scotland.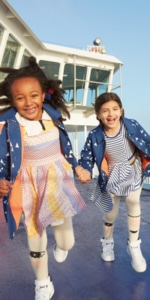 A bugbear for many travelling families is a limit on luggage – one of the main benefits of travelling as a family by ferry is the opportunity to take as much luggage (and as many toys!) as you want in the 
car at no extra cost. Your family has 
the freedom of the road to explore a destination and you always have the option to bring your bikes along as well, or even hire a caravan for a really adventurous holiday. Plus, you don't have to leave your pet behind – unlike when flying – as you can bring this cherished member of the family along on the adventure, too.
On-board the ferries, there is plenty to keep all members of the family entertained, including kids' zones, cinemas, game zones, shopping, table tennis, great restaurants and, for those who want it, Wi-Fi is now available on nearly all ferry routes. And don't forget, ferry travel is perfect for multi-generational travel.
Book a family ferry holiday during Ferry Fortnight – and then travel later in the year – and you'll take advantage of the special offers only available during these 14 days. Our operators are coming up with some exciting deals on offer during Ferry Fortnight, which you can see here soon.
Discover Ferry members include:
Check out 10 of the best holiday destinations by ferry