Can a sports-centric holiday village live up to its promise of nonstop action? Emma Kirkham and her son, Ed, take up the challenge.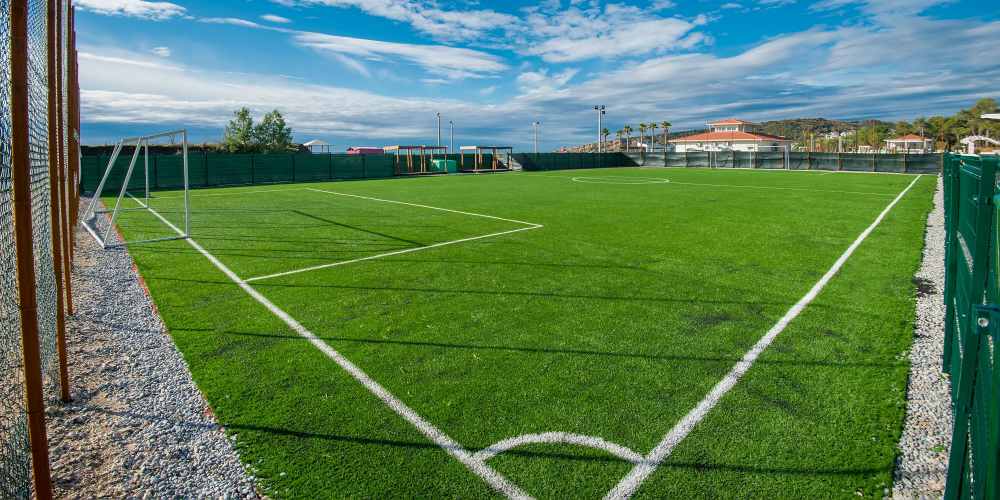 First Choice Holiday Village, Montenegro
Montenegro, land of the black mountains (clue is in the name), is home to the beautiful medieval city of Kotor and, oddly, this tiny Balkan state is also home to the world's most fanatical Only Fools and Horses fans. Nicholas Lyndhurst in particular is held in such high esteem that during one of his visits to the capital, Podgorica, he was given an impromptu standing ovation. He describes feeling 'like a Queen' when he is there.
We were given a similar welcome when we arrived at First Choice's Holiday Village. OK, no standing ovation, but we had singing and dancing 'Widgets'. Gizmo, Whatsit and Doobley are First Choice's trio of colourful mascots from the land of Whatchamacallit, which I think trumps an Only Fools and Horses welcome any day.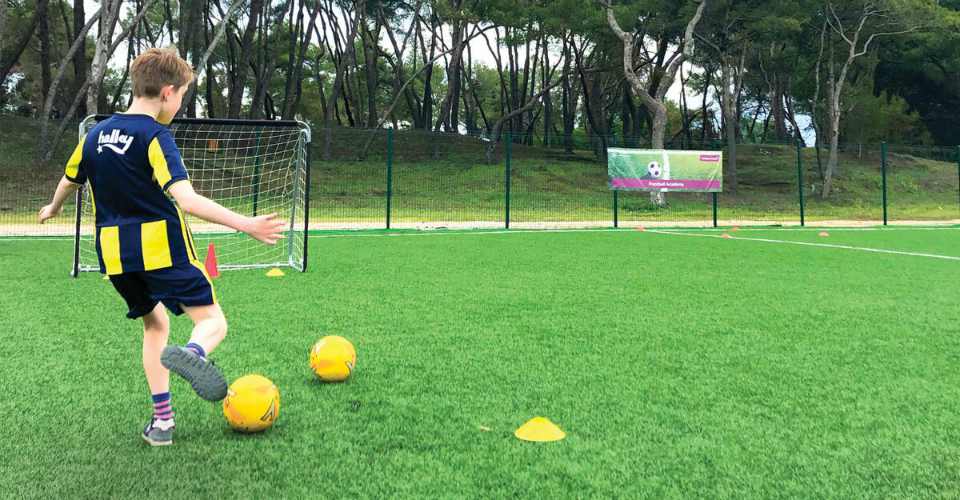 Minuscule Montenegro is 85% rocky terrain, but also has the most breathtaking coastline. Our resort is just outside the old city of Ulcinj, which has the longest beach on the Adriatic coastline and is on the southernmost tip of the country, within touching distance of Albania.
I am here with my 10-year old son, Ed. With boundless energy, in his own words he is, "bored, bored, bored". However exciting the Widgets are, we are here for the wear-him-out sports and number one on our list is the Football Academy. With its full-size 3G pitch and up to four sessions a day, it takes football training seriously.
The Academy's sessions are split into two age groups: 4-8 years and 9-15 years, and last two hours a day. Each session involves warming up, then half an hour of skills practice, with plenty of dribbling, close control and shooting. After a short break, it's on to a seven-a-side match, finishing off with a football quiz, with questions like, "What is the name of the white dot right in the middle of a football pitch?" and "What's the best team in the world" (the answer is QPR, Ed, not West Ham, OK?).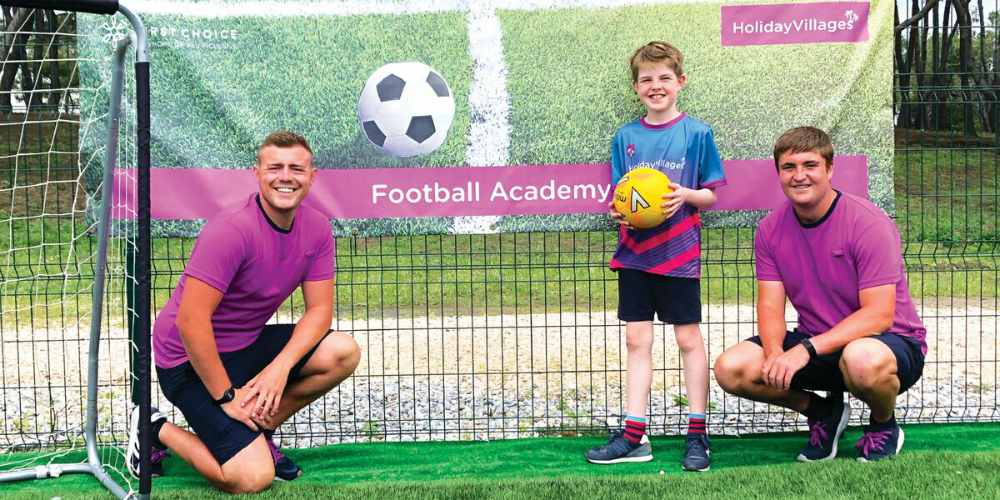 By far and away what makes the football training so brilliant are the two amazing FA-qualified coaches, Charlie and Harry. When they're not running the Football Academy in the summer, Charlie coaches Swindon Town FC's Academy team and has endless patience, specialising in coaching children with SEN and disabilities.
Harry has been coaching over the pond in the States, working for their Football Challenger league, and together they are like the Rashford and Lingard of Montenegro. They are both an instant hit with Ed, which is no mean feat as, like many children, it can take some time for him to come out of his shell when meeting new people. A few shouts of encouragement and some high fives later, and Ed had found his new best mates.
Two hours a day running around playing football is not quite enough, so Ed embarks on a timetable of activities that will keep him busy from dawn to dusk. First off is the Swim Academy and one-to-one private lessons don't get better than this. A good-size pool and Ed perfects his backstroke in no time. Back on dry land, we both try the aerial-adventure assault course, which I think I enjoyed even more than he did.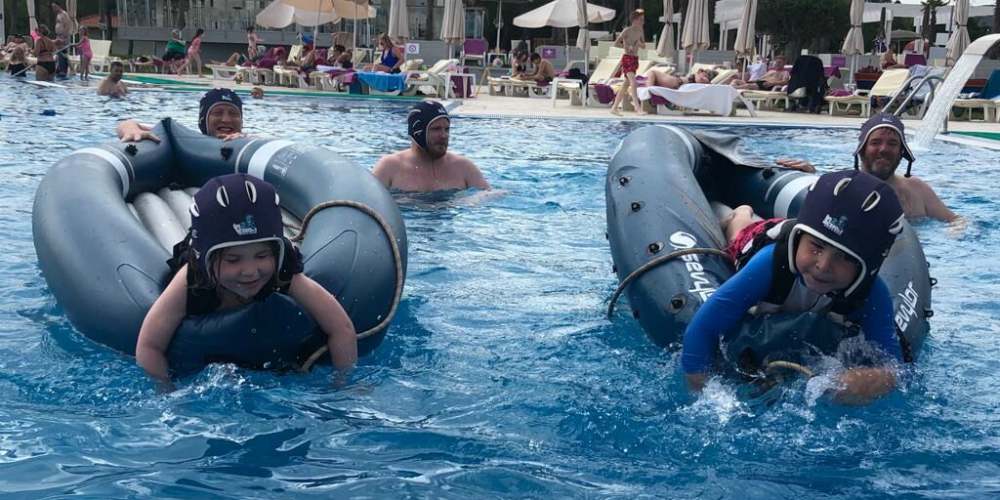 Just looking at all the kids zorbing, playing Aeroball (trampolining while playing basketball) and canoe games in the huge infinity pool (biggest in Montenegro) has left me exhausted. Lucky for me there is a bar with snacks at every turn and plenty of sun beds to admire the scenery from.
We still have some time to squeeze in one more activity, so Rookie Lifeguard it is. The three-and-a-half-hour course over two days is open to confident swimmers eight and up. He had lots of fun learning basic lifesaving and it was a sight to behold watching Ed swim the length of the pool 'saving' his instructor Amy by dragging her under his arm.
On our last night it's awards evening and Ed is now the proud owner of six certificates for all his achievements. A perfect holiday for my now extremely tired son. Job done and it's time to go home and get some rest. Lovely jubbly.
THE LOWDOWN
Getting there
Seven nights at First Choice Holiday Village Montenegro in the May half-term costs from £1,037.61 for a family of four on an all-inclusive basis with flights and transfers.
Kids' activities
Football Academy, £33 for two days,  £44 for three days, £55 for four days.
Rookie Lifeguard course £36 for two days.
One-to-one swimming lesson £17.
Aerial assault course, canoe games and Aeroball free.
THE BEST OF THE REST

Kick holidays into the premier league with these fabulous football camps.
La Manga Club, Spain
Spain's only Chelsea FC Foundation Soccer School is held at La Manga Club this October half-term and next summer from 29 June-27 July and 10-28 August. For kids aged between six and 16, they use the same methods the Chelsea Foundation employs around the world, with up to three hours daily training, plus an official Chelsea Foundation training kit of shirt, shorts and socks, and a certificate and medal after completion.
Game on Soccer school costs from around £270 per child for a week. Seven nights in a Las Lomas Village two-bedroom apartment from £930.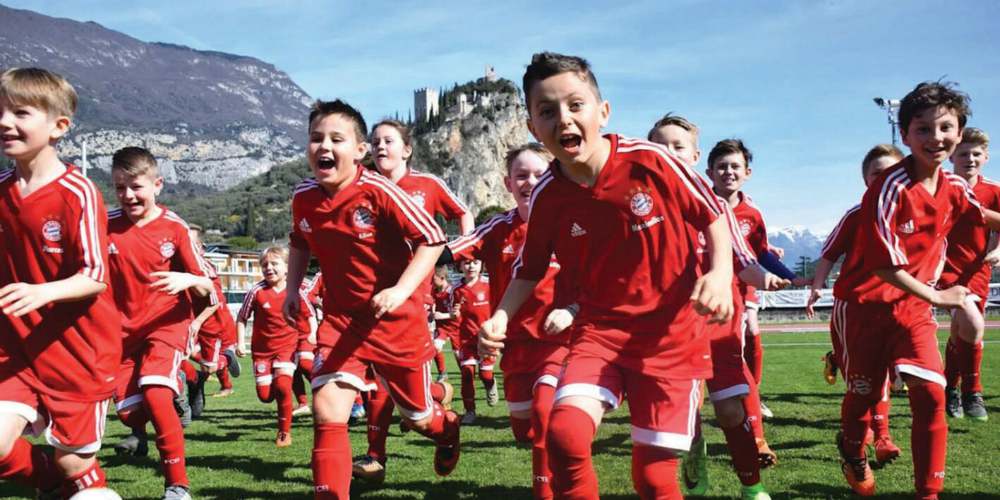 Costa Navarino, Greece
Costa Navarino has teamed up with record- breaking German champion team FC Bayern to give guests aged six-14 years the chance to learn tricks and tips from the FC Bayern coaching team. Skills include ball handling and movement, passing using both feet, defence, offence and, of course, how to score amazing goals, along with lessons of respect and team spirit.
Game on A week at the five-star Westin Resort Costa Navarino, for a family of four costs from £4,147 in July 2020, including flights from Heathrow, with British Airways Holidays.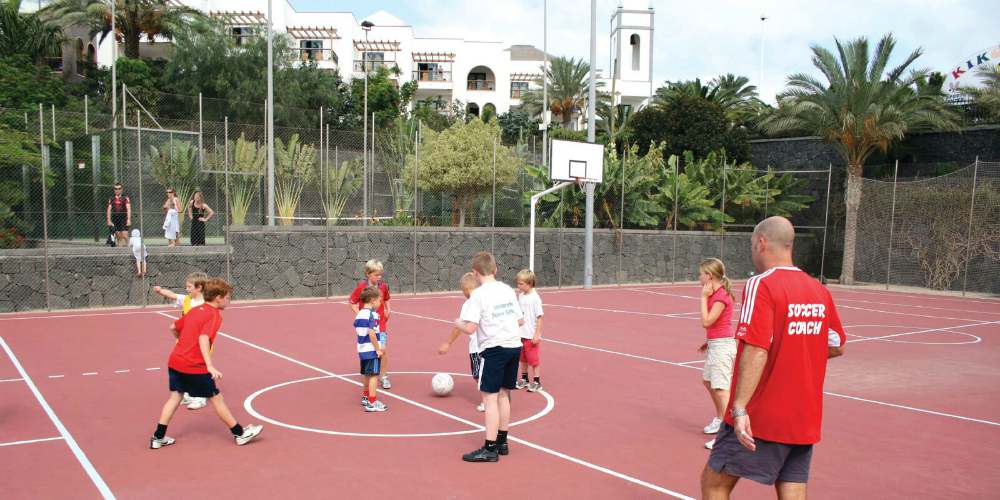 Princesa Yaiza Suite Hotel, Lanzarote
As part of the hotel's kids' club offering, boys and girls aged between five and 16 can join the Princesa Yaiza Soccer School in Lanzarote, Spain. The football classes offer games, coaching, skills and exercise to kids of any ability. The school has been going for 14 years and is led by two UEFA qualified coaches: Gary Sperry, once of Leicester City, and former Rangers star Scott Nisbet.
Game on Football sessions last two hours and cost £37 for two days, £55 for three days and £74 for four days. Family suites at Princesa Yaiza start from around £250 per room per night for a family of four.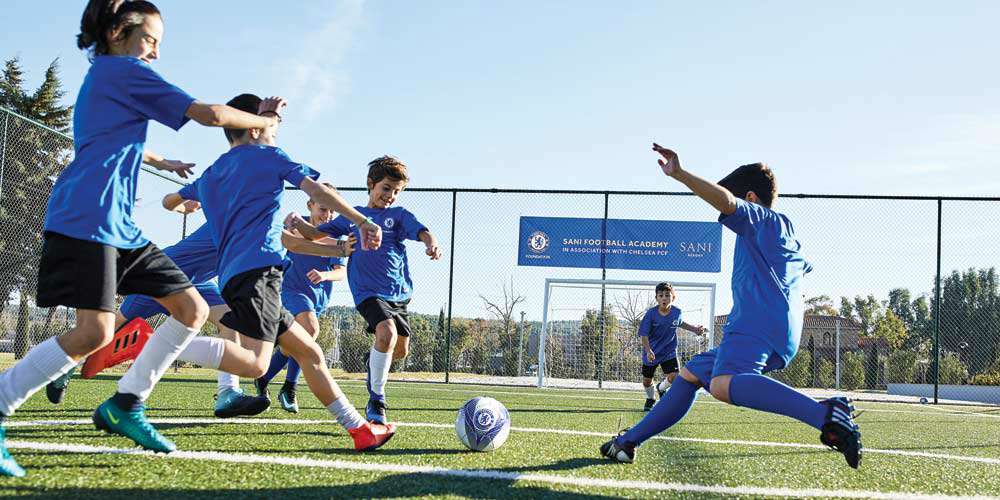 Sani Resort, Greece
Sani Resort has a partnership with Chelsea FC Foundation offering children aged four-16 years coaching sessions with one of the world's leading football clubs. Sessions cover everything from dribbling and shooting to five-a-side games. The training takes place on an EEFA-approved football pitch and in a state-of-the-art club house. Each child receives a welcome kit (uniform, bag, custom T-shirt).
Game on One to five-day courses are available, starting from £87 for a one-day course up to approx. £218 for five days per child. A Family Suite Grand Balcony Sea View at Sani Club starts from £312 per night half-board.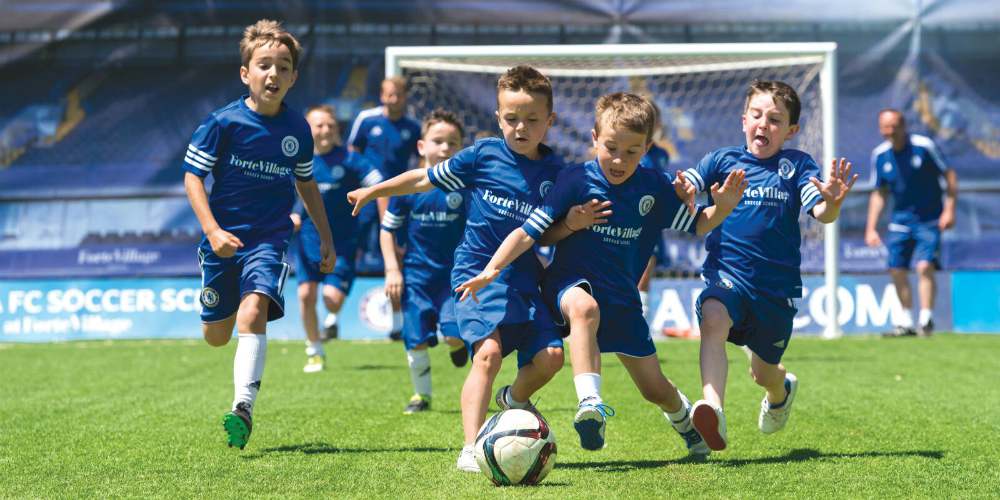 Forte Village, Sardinia, Italy
Forte Village's legend-run academies include football for kids aged between four and 14 years. Star Chelsea coaches are on hand and basic courses last a week, focusing on teamwork tactics and individual techniques, with specific courses for goalkeepers, strikers, defenders and midfielders. Kids are given their own kit and play a real match with a diploma at the end.
Game on The Forte Village Academy costs from £322 per week. Rooms are available from £868 per night, based on two adults and two children sharing a family room on a half-board basis. Children under two stay free.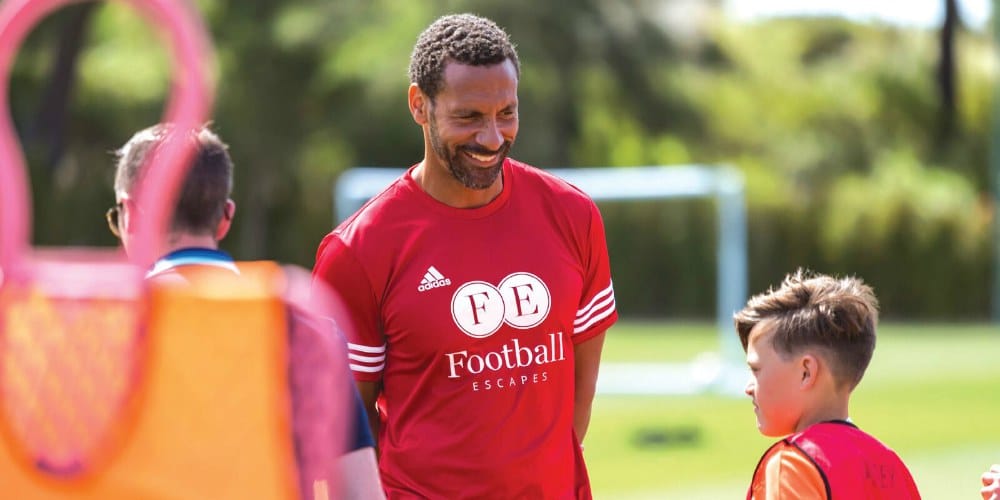 Quinta do Lago, Algarve, Portugal
England footie legend Rio Ferdinand is just one of a galaxy of star names to have hosted junior football camps at Quinto do Lago. This luxury Algarve resort has teamed up with travel experts Football Escapes to offer budding stars of the future the chance to improve their skills with ex-Premier League Players and UEFA-licensed coaches.
Game on Places cost £500 per person for a week-long training programme. Seven nights at Quinta do Lago in a two-bedroom cottage at the Magnolia Hotel (accommodation only) costs from £1,390 based on two adults and two children.
For more active holiday ideas, check out our selection of family adventure holidays.