Sponsored Content
Family boating holidays aren't just the next new thing, it's 'the' thing and the reason is simple: anyone can do it. Turns out that all the old myths about skills and experience are just myths after all and – unless you're planning to enter the Vendée Globe – all you need is a well-formed spirit of adventure, the right waterway and the right boat.
Now that's cleared up, the next step is deciding what and where. Le Boat are Europe's number one boating holiday company specialising in self-drive family cruises for beginners on some of the world's loveliest canals and rivers. So who better to take you boating for the first time? Here are a few of their top recommendations for 2017.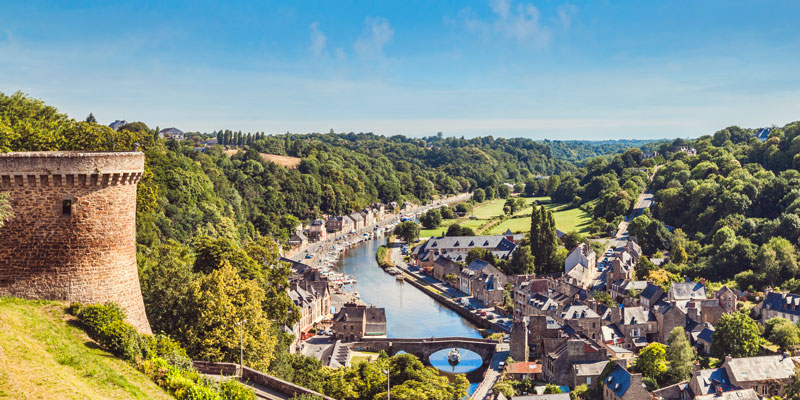 1/5  

Brittany

Brittany's a good choice for a first-time family boating holiday. It's an iconic French maritime region – even the famous stripy Breton jumpers are officially called, 'marinière'. The mighty Nantes-Brest Canal stretches for 385km from coast-to-coast and almost every one of its 238 locks are manned. And the only real skill you need is an ability to resist stopping every few kilometres to go sightseeing.

That said, there are sights you won't want to miss and sorting out the must-sees from the maybe-next-times is made considerably easier with Le Boat themed cruises. Some are more suited to cultured couples, but most work wonderfully for kids.

Nantes is a brilliantly child-friendly city from the steampunk craziness of Les Machines de l'île to Musée Jules-Vernes and year round events at Le Château des Ducs de Bretagne – shopping Passage Pommeraye is in the must-do category here too. Cruise the region in summer and join in dozens of local festivals from enchanting Fête de la Saint-Laurent at Blain to Rennes' Les Tombées de la Nuit in July and August. Or discover Brittany's Celtic connections on a detour round Morbihan.

On a practical note: Brittany's easy to reach by ferry and Le Boat has three regional bases so if you bring your car it can be dropped off and waiting for at your final port of call.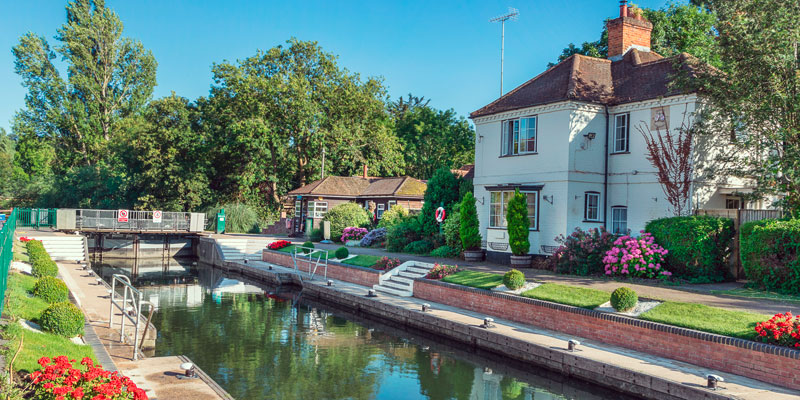 2/5

 River Thames

The scenic Thames' route from Kingston to Oxford has always been famous for cute villages and cosy English pubs. But these days it's equally well known for family attractions, theme parks, splendidly adventurous castles, outdoor activity centres and exciting wildlife encounters.

Even Hampton Court, the most beautifully preserved Tudor palace in the land, is designed to delight younger visitors now and Windsor Castle's another playful royal on-route – if you can tear kids away from LEGOLAND Windsor. White-knuckle thrills and chills are the preserve of Thorpe Park, which is just steps away from Le Boat's Chertsey marina, or you could spend less and still pump adrenalin at Oxford High Ropes – just as daredevil as it sounds.

But the beauty of a Thames boating holiday is down to quieter moments too. So intersperse the action with lazy afternoons drifting along, lunch in local restaurants, browsing museums and galleries, historic city exploring and peaceful rambles round irresistibly lovely countryside.

The route is very easy, no experience necessary and Le Boat's Benson (Oxfordshire) and Chertsey (Surrey) bases are both easily reached by train or car.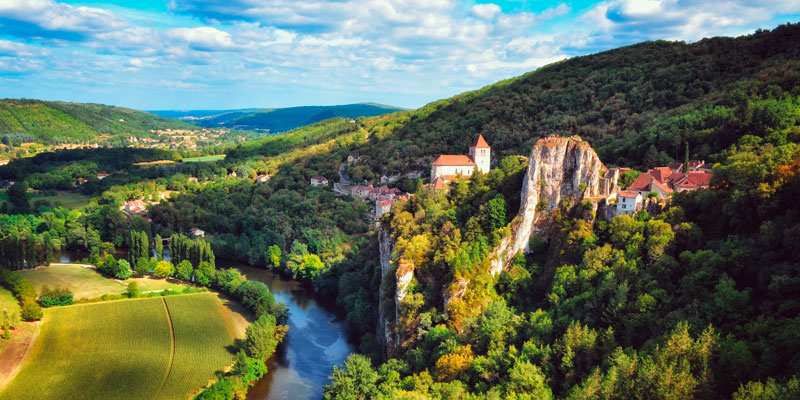 3/5  

River Lot, South West France

At 491km, the River Lot isn't small – the rich landscape of medieval cities, ancient hilltop towns, forests and gorges, sheer cliffs and sweeping vineyards dictates a take-your-time approach to cruising – think meander and wend rather than rush, rush, hurry, hurry. Slowing the pace is also a good plan if kids want to get to grips with the extreme adventuring which comes as standard in outdoorsy south west France.

The Lot's now one of the country's top rivers for wild swimming and, as long as you're aware of currents, it's as thrilling as everyone says. Cycling's another great French tradition to uphold at every opportunity here and young rock-climbing deckhands should remember to pack boots and gloves for this voyage. You even could change craft from time to time and try kayaking, canoeing or paddle boarding and water skiing.

In quieter moments, don't miss Cahors for castles, castellated bridges and long, long lunches. Lovely Saint-Cirque Lapopie should also be top of the list. Is it the prettiest town in France? Visit and decide for yourself. At least one Cave du Vin is another essential – remember to designate a responsible captain for this one. And if fishing is a passion, this is the very river to indulge it to the full.

Strong currents can make the Lot a bit of a challenge, so it's not the best river for a first time boating holiday. It's also worth remembering that all the locks are manual and at least two relatively fit adults are needed to operate them.
4/5  

Camargue, South of France

The deeply mysterious Camargue wetlands in the South of France have attracted sailors since the ancient Romans first navigated these waterways on-route to building Le Sud's amphitheatres, viaducts and villas. So understandably, there's no shortage of fascinating history to explore, but it's the region's natural heritage that really steals the show here.

This is the land of wild white horses, flocks of flamingo and the legendary bulls of Course Camarguaise – novillada without the blood and gore. The saline waters teem with life and over 400 species of birds make it almost impossible not to develop a little liking for the gentle art of ornithology.

Children as young as four can pick up basic equestrian skills at traditional riding schools and cowboy-days make unforgettable holiday memories for older kids. Camargue beaches are sensational too: purest white sands, no crowds, lagoons for swimming and endless summer sun.

Pretty seaside towns mix ramparts, forts and castles with amazing seafood restaurants, waterfront cafés, morning markets and water sports. And, whether you want to celebrate regional wines or weird and wonderful customs, festivals are what summer's made for in the Camargue.

Apart for being a good pick for bold and beach loving kids, the Camargue has no locks and lots of gentle cruising so it's relaxed and stress-free for boating beginners.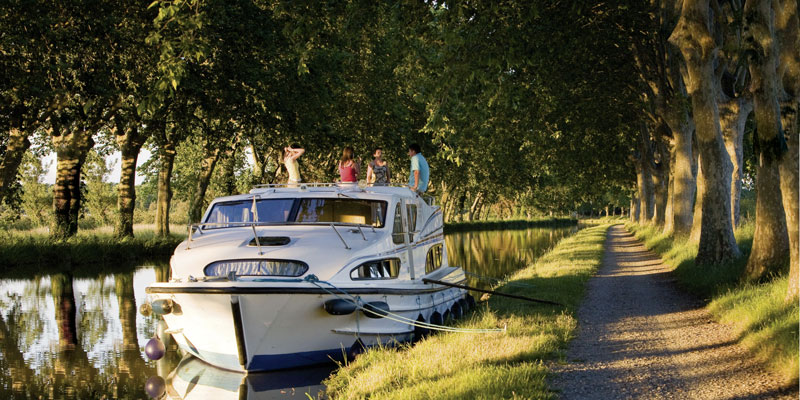 5/5

 Canal-du-Midi, South of France

Navigate from the Midi-Pyrenees to the Mediterranean on 17th century Canal-du-Midi and feel temperatures rise and colours change as you drift from region to region past historic bastide towns and medieval walled cities; through forests; and alongside vineyards, sun-drenched fields and ancient villages. It doesn't take long to see exactly why this great southern romantic is a French family holiday tradition.

Kids love towpath cycling, learning the ropes (literally) and picking up local nautical slang 'en français'. Plus, it's the canal for fairy tale Carcassonne, extravagant summer festivals, medieval re-enactments, lake swimming, amazing beaches and adventuring round theme parks and wildlife parks.

Canal-du-Midi's where Corbières and Minervois come into being, so vineyard visits and wine tasting tours are good grown-up distractions. Ancient cities like Narbonne and Toulouse aren't just museum and monument-rich, they have fabulous restaurants and shopping too. And down on the Med, beautiful Béziers and beachy Agde are treats in store for tired, but happy, boaters of all ages.

The canal locks are fully automatic and manned and cruising's easy. It can be busy during the French school holidays – especially Easter and early August – but on the plus side that means more new friends for kids and a friendly family atmosphere.