TV and radio presenter Katy Hill was married in Villa Fontelunga in Italy and now returns to the same villa to soak up the Tuscan sun with her kids. Will it be just as magical?
Italy is a dream that keeps returning for the rest of your life – Anna Akhmatova
I've always adored travel but now, as a parent, being able to open my kids\ imaginations to the world around them and inspire them to embrace different cultures and live life with their eyes wide open has taken my joy of travel to a new high. It's one of my favourite discoveries on this parenting journey.
There are trips you go on which are about forging new paths off the beaten track – discovering the unexpected and exploring new corners of the globe – then sometimes you visit a place which just feels like home and you want to go back, time and again.
For my family, that place is Italy and, specifically, Villa Fontelunga.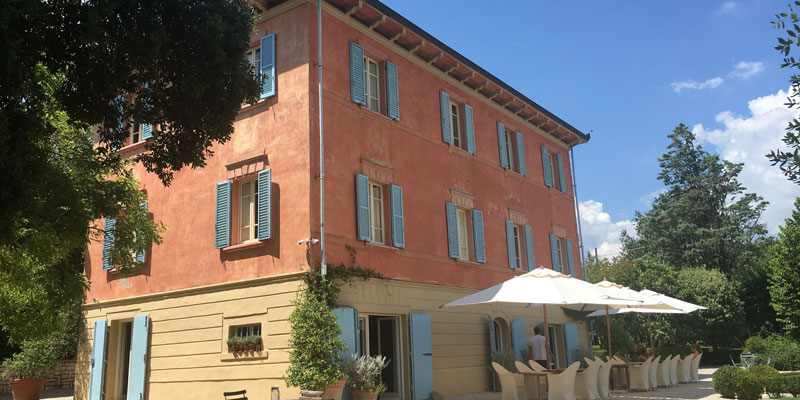 My husband Trey surprised me with an engagement ring on a gondola in Venice in 2003 and Italy has held a special place in our hearts ever since. We holidayed in Tuscany later that summer and one gorgeous afternoon happened upon a stunning boutique hotel in the quaint hamlet of Pozzo, not far from the stunning medieval walled town of Cortona of Under the Tuscan Sun fame.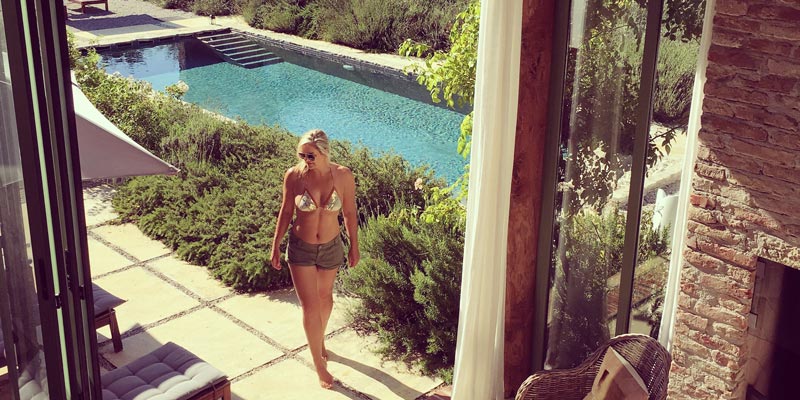 We were instantly in love, with Villa Fontelunga and with the beautiful souls behind it, Philippe and Paolo, who realised their dream of creating an Italian boutique hotel back in 2000. With a background in film set design, Philippe has an incredible knack of seeing a vision then bringing it to life with the help of Paolo. Together, they're a dynamic and totally lovable team and their energy for life permeates the place.
So special was the atmosphere at Villa Fontelunga that, after just an hour sipping coffee on the terrace, taking in the stunning views of the Val Di Chiana, we booked the entire place for our forthcoming nuptials and in the summer of 2004 spent an idyllic week celebrating of wedding with our closest family and friends.
I was surprised to feel mixed emotions as we drove up the familiar lane to the place on our return as a four. We were desperate to show the kids where we got married but suddenly, having flown into Florence and navigated the route en famille, I felt anxious: would it be the same? Was it a mistake to ever go back to somewhere so iconic in the story of your life?
The minute we pulled into the gates, to be greeted by smiles and open arms, I knew I'd been foolish to doubt. No wonder Villa Fontelunga describes itself as a home from home.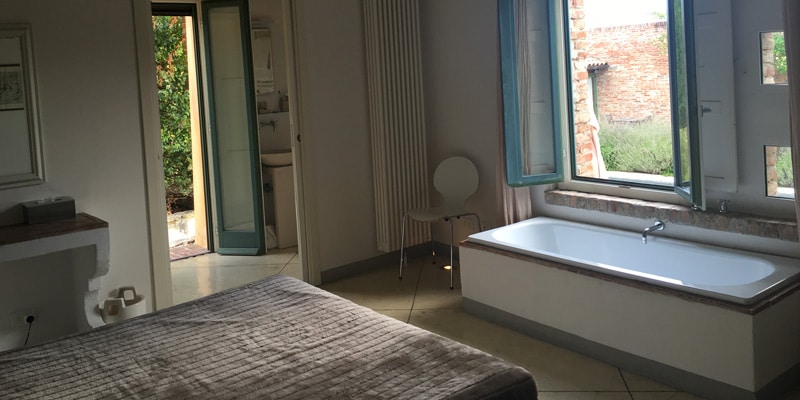 At first glance, the stylish interior and stunning gardens could fill any parent with that too familiar 'don't touch that!' panic but I've never encountered such luxury, combined with such a relaxed atmosphere. Set among olive groves and lavender gardens, children and furry friends are not only catered for at Fontelunga, they're treated as a key part of the experience. Villa Fontelunga describe the vibe as 'informal luxury', the perfect combination for any family wanting to indulge in la dolce vita without the attitude.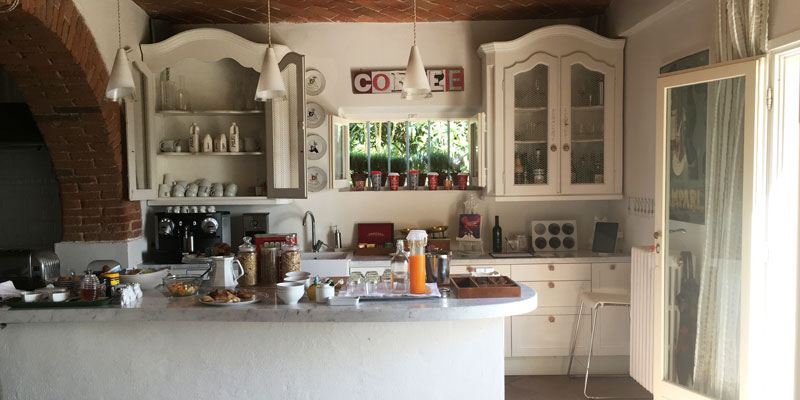 With panoramic views across the tuscan countryside towards the hilltop town of Cortona, Villa Fontelunga sleeps 18, with a swimming pool and tennis court and an additional two self catering villas, Villa Galletto and Villa Gallo, which we were staying in, complete with pool. The ultimate in family experience, we got the privacy of a villa with the social elements of staying in a boutique hotel. Perfecto!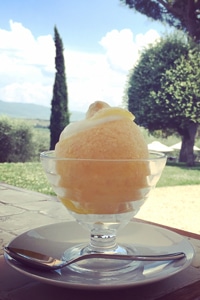 We split meal times between Gallo and Fontelunga where the kids made lovely friends at the pool and we connected with kindred spirits dining al fresco on the terrace. Neither Trey nor myself are generally ones for making friends on holiday – we tend to keep ourselves to ourselves – but dining at Fontelunga is something of an experience, catching up with other guests and comparing notes on Tuscany and relaxing with like minded souls.
Fontelunga forms the perfect base from which to explore Tuscany and we alternated busy days out with lazy days by the pool, devouring home-made Affogatto's and sipping on wine from Fontelunga's very own vineyards and olives from their groves which flank the hillside around the property.
The styling of the place is exceptional. Decadence and high design meet the cosy, relaxed and familiar. Coffee tables decked with high end magazines, bookcases heaving with something for all tastes, corners of the garden to completely lose yourself in holiday bliss, the smell of lavender filling the air. Villa Fontelunga is truly special.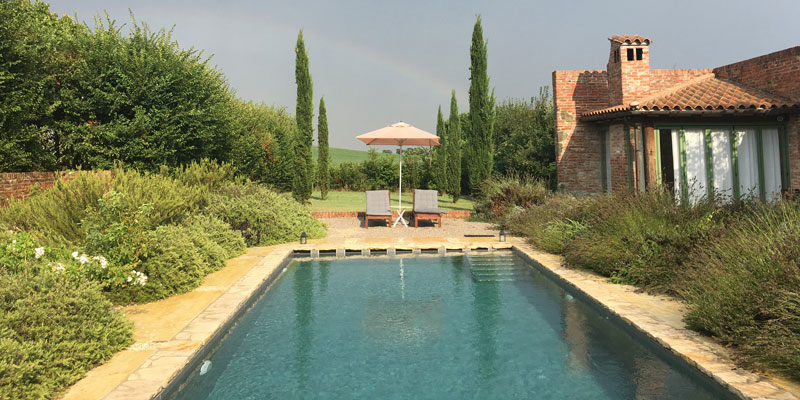 And most importantly,  it hasn't changed since we married there back in 2004, which I love. Returning somewhere exceptional always comes with the risk that it won't be the same, but what was so phenomenal about this trip was returning 13 years and two kids later and loving the experience as much as the first time around.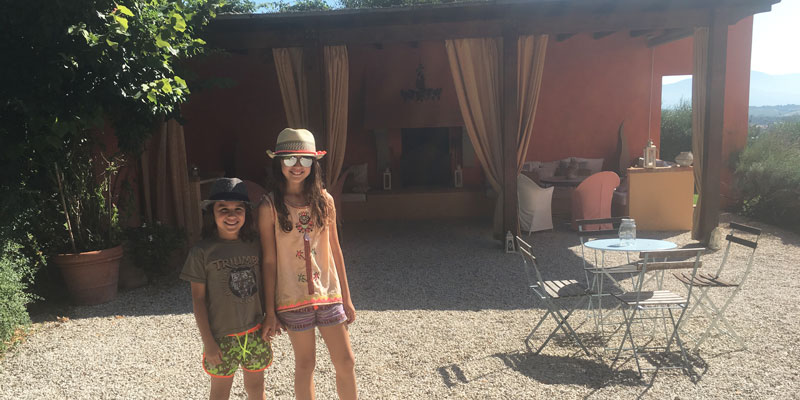 Some places just leave you with that feeling.  You can't quite put your finger on it, but it's a reassuring constant in your life and for us, Villa Fontelunga is that place.
So, while I can't recommend visiting enough, be prepared for a lifetime of returning!
Villa Fontelunga: the lowdown
Where
Via Cunicchio No 5, Foiano della Chiana, 52045 Arezzo, Italia. Flights into Pisa or Florence
Price
From £208 per night