There is a new generation of football schools, where the coaches are celebrity players. Writer Peta Bee and her son report from Sardinia.
The coastline of Sardinia is unquestionably beautiful. Its flawless beaches and flamingo- dotted lagoons, juniper forests and pale sandy bays are made all the more jawdropping by the serenity of the place. Our destination, the Chia Laguna Resort, is an hour's drive from Cagliari, Sardinia's busy industrial capital that sprawls beyond its centre to a backdrop of oil tankers and a huge refinery.
But meandering down the coast towards the south-western tip of the second-largest island in the Mediterranean, it begins to ooze calm, more so than any part of Italy I have visited.
A footie experience like no other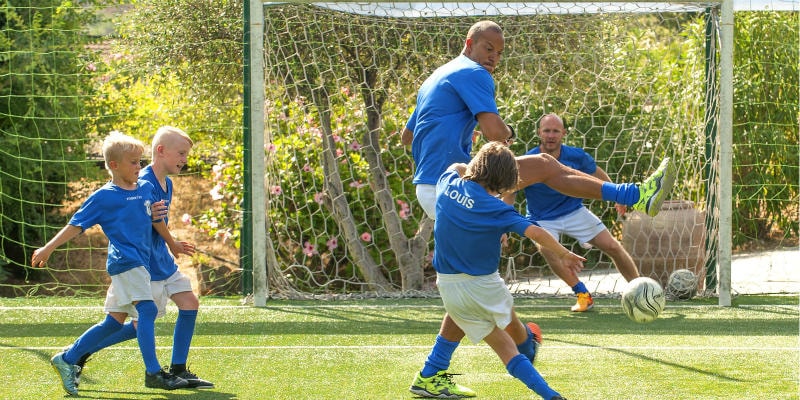 Marooned in the Mediterranean, 178km from the nearest mainland and slightly closer to Tunisia than Italy, Sardinia is renowned for its Caribbean-like landscape. Chia village itself is set back from the sea and home to a few sleepy little local restaurants, but a stone's throw from the series of white crescent bays from which it takes its name.
Not that they will be the focus of the visit. We – or, more precisely, my 10-year-old football-mad son – are here to sample the newly launched Chia Laguna Football Academy, a residential course for six- to 16-year-old footballers, set up and run by former and existing professional players Andy Johnson, who won eight caps for England, and Bobby Zamora, who currently plays for Brighton and Hove Albion.
There are, of course, scores of football-holiday courses for children, both in the UK and abroad, but what sets this one apart is not just its location. All the coaches have played recently at international level or in the Premier League.
Participants who sign up for the programme receive full kit and enjoy guest appearances by coaches from clubs including Chelsea and Birmingham City throughout the week of tuition. Training takes place on a purpose- built five-a-side astroturf pitch
nestled in the middle of the resort, with two daily sessions, in the morning and late afternoon when the heat is less blistering than the typical midday 34C. It's every 10-year-old footballer's dream holiday.
Top quality coaching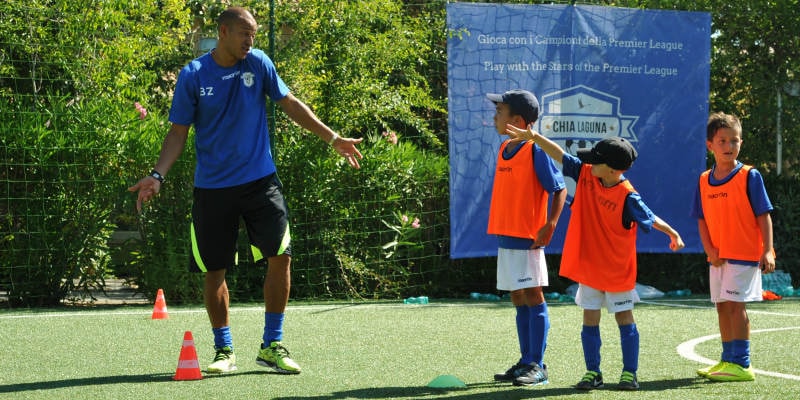 Johnson, whose own children are enrolled on the course, says the idea came to him from a growing sense of disillusionment with the way football is coached in the UK. 'It's become far too serious at far too young an age,' he says. 'You hear six-year-olds stressing about being "scouted" for a top club, and the pressure kids are feeling is immense.
A lot of the time it is just not fun for them any more.' Here, he says, top-quality coaching with mini European-style games is combined with fun. So much so that, much of the time, parents find themselves either watching or joining in, rather than heading to the beach. Indeed, a highlight is a midweek match in which parents (it's mostly dads) get to display their skills alongside the professionals.
With bookings higher than expected, plans to expand the astroturf facilities will mean more courses are available within the next 12 months, when the likes of Rio Ferdinand and Jermaine Jenas are on the radar as coaches. Industry statistics suggest there has been a 35% rise in fitness holidays since the London Olympics, with some companies reporting an even sharper rise. 'Last year, 59% of our bookings were from families who wanted to be doing sports, not sunbathing,' says Marcello Cicalò, a spokesperson for IHC, the parent company of the Chia Laguna Resort.
Purpose-built communities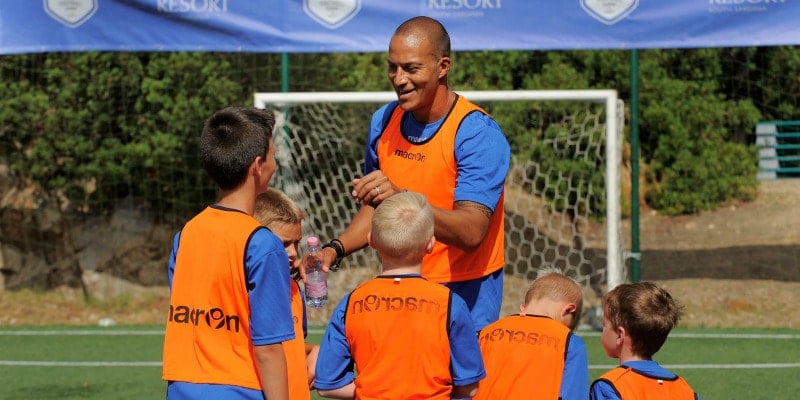 The new breed of sporty destinations are far more subtle about the degree of sweaty effort that can be made, and there is plenty to do aside from exercise.
Most are self-contained purpose-built communities – in the case of Chia Laguna, a mixture of three-star (though currently being upgraded) apartments interlinked with four- and five-star hotels, restaurants and a top-of-the-range spa and rooftop pool that were part of a £30million overhaul last year.
Down the road, at the five-star Forte Village Resort, families are drawn to the sophisticated waterside villas for the junior rugby coaching and triathlon holidays led by professionals. Bigger operators renowned for their sports facilities, like Mark Warner, are also upping their game.
You can now enrol your kids to be coached in pretty much any sport towards which they have shown even a modicum of interest or talent. Should you manage to wrestle your kids away from a ball for even half a day, there is an express land train (or private-transfer service for five-star guests) that carries guests to the nearby Porto Campana beach, which is hidden from the road by dunes.
The resort also has a diving centre and there are some rewarding reefs for scuba divers. But, for younger members of the family, this holiday is mostly about football, football and more football.
Highlight of the week is the awards ceremony, which takes place onstage in the resort's piazza on the final evening. It's a razzmatazz affair that concludes with each budding Beckham having a medal hung around their neck by a footballer they are likely to see next on Match Of The Day. When you are 10, it doesn't get better than that.
The Lowdown
Price: Start at £323 based on two people sharing a room on half board basis. Nightly rates at Chia Laguna's four star Hotel Village start at £197. All rates include wifi, access to fitness facilities and beach service.
Flights to Cagliari with British Airways cost from £77pp each way; Easyjet flights cost from £20pp each way. The Football Academy Clinic is available at around £412 per child and includes full kit.
For bookings and further information, contact Chia Laguna Resort at socceracademy@hotelchialaguna.com or Prodays.
Does a holiday in Italy sound like heaven? Don't miss these incredible family villas in Italy.
Are your little ones keen to sharpen their soccer skills? Discover five more awesome football academies for kids.