In search of the perfect spaghetti bolognaise, Tracey Davies and her three children head to the northern Italian city of Bologna for an unforgettable culinary journey – and, between meals, they make time to explore the breathtaking place known as La Grassa ('the fat one').
Why go?
While often overlooked in favour of Florence, Rome and Venice, Bologna is remarkably beautiful and free from the hordes of tourists that seem to overwhelm the former.
Plus it's compact enough for children to navigate easily without complaining too much. It's home to the world's oldest university and the city's museums are filled to the brim with El Grecos, Titians, Raphaels and even the odd Michelangelo. It has a lively opera season, a great bar scene and, of course, teems with fantastic places to eat.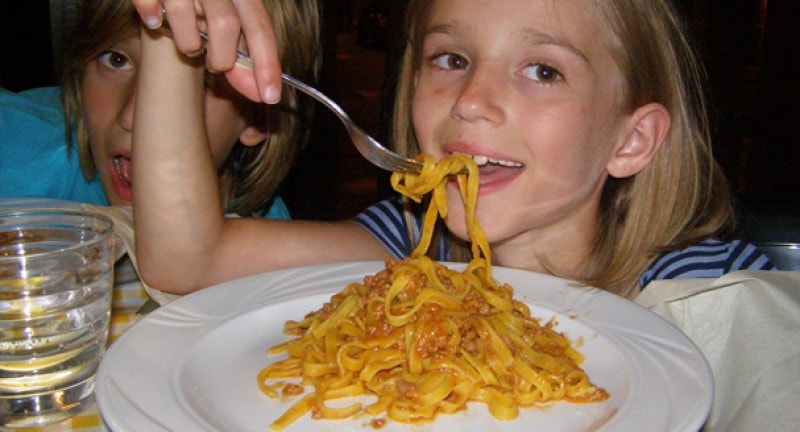 Just one cornetto…
With the nickname La Grassa – the fat one – Bologna is renowned throughout Italy for its incredible food. It's famous for its homemade pasta, meaty sauces and spiced mortadella sausage, and eating is a massive part of life in the city. It was here that Italian cook and author of Italy's first multi-regional cookbook, Pellegrino Artusi, nailed down the recipe for the city's famous ragu back in 1891.
Traditionally made with onions, celery, carrots, minced beef, wine and tomato paste, a true bolognaise is less saucy than its British counterpart, yet it has a deep meaty richness that no doubt comes from being nurtured by nonnas for hours on end. It's then tossed through soft ribbons of homemade egg tagliatelle and garnished with a scattering of salty Parmigiano cheese. Not the heathen's cheddar cheese, which my lot opt for.
Teatime at Chez Davies regularly features Italian staples such as 'bow ties' (farfalle) with pesto, 'fat tubes' (rigatoni) with a tomato sauce or 'pipes' (penne) with butter and cheese. However, my signature dish is spaghetti bolognaise, known to my kids as 'spag bol'.
As a family who travels on their stomachs, we've set ourselves the quest to find the perfect spaghetti bolognaise. Packing a guide book, elasticated trousers and a family-pack of Rennies we head off on our pilgrimage to its birthplace, Bologna in the Emilia- Romagna region of northern Italy.
Activities
We enter the city from the east where we're met by Bologna's iconic Due Torri, two rather precarious leaning towers that stand out from a sea of terracotta rooftops like a pair of awkward teenagers.
While I stop to admire the Renaissance architecture that drips from every corner, the children clatter through the shady arcades, playing hide and seek behind Romanesque colonnades and hopping in and out of medieval doorways. There are 28 miles of porticoes, the covered arcades that criss-cross the city, offering essential shade from the balmy summer heat or welcome cover from the spring rain.
We also head to the Palazzo Comunale where the children race up and down the Bramante Staircase, a peculiar ridged ramp originally designed to enable horse-drawn carriages to reach the first floor.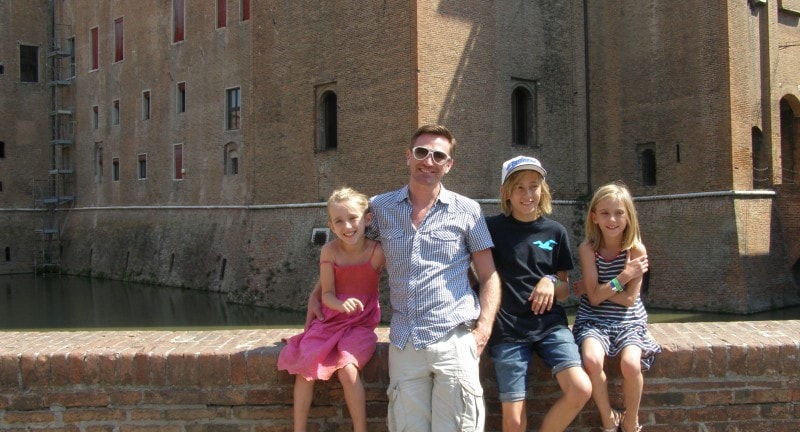 Piazza Maggiore
The next morning, still stuffed from last night's feast, we walk it off with a wander to Piazza Maggiore, the city's main square. Busking students croon love songs for bucks, brooding men in pastel-coloured shirts and Ray Bans walk impossibly small dogs, while ladies dressed in full couture ride side-saddle on the back of mopeds smoking like a modern day Loren.
Santo Stefano
We head to Santo Stefano, known locally as Sette Chiese, the seven churches – although only four now remain. We pay the few euros to enter the basilica (it costs me another euro each to bribe them to keep their chatter at a whisper) and get pleasantly lost in a maze of Romanesque arches, tiny cave-like chapels and cobbled cloisters. Bologna has plenty of sights to explore between meals. The Fontana del Nettuno, on Piazza Nettuno is one of Italy's more explicit fountains. Giambologna's statue of a naked Neptune surrounded by four buxom ladies spraying water from each bosom entertained the children for a good half hour.
Museums
The university has a number of its museums open to visitors. Angus is fascinated by the anatomical theatre of the Archiginnasio, a medieval operating theatre carved almost entirely out of spruce wood.
However, we give the museum of wax anatomy a miss, the all-too realistic cadavers a little too macabre for my delicate constitution.
Cooking lessons
Book yourself into a family cooking course through Le Cesarine, an association run by Italian housewives from all over Italy who teach small groups of tourists how to cook staple Italian dishes in their homes.
Where to eat
Over the trip we fall into an easy routine of a light breakfast, a mid-morning gelato break before seeking out a pizzeria tucked away up a narrow side street for a leisurely lunch.
Trattoria Belle Arti
Five minutes from the university quarter is Trattoria Belle Arti, a lovely old osteria with mismatched dark wood furniture, an arched brick ceiling dating back to the 16th century and the traditional spanked-pink leg of Parma ham getting dusty on the counter. In Italy, eating out is all about family. They embrace the young, which means parents can relax knowing the children are welcome rather than just tolerated.
My trio were immediately whisked off to the table, furnished with menus, water and breadsticks before I have even the chance to recite 'buonasera' from my guidebook. Keen to get stuck into our first taste of Bolognaise cuisine, I order a platter of mixed antipasti and a flagon of vino rosso for starters. Angus, to my shame, orders a ham-and-pineapple pizza, while the twins share a smoked speck and olive pizza the size of a cartwheel.
The children pick at the colourful titbits of antipasti that interest them; bruschetta topped with smoky aubergine, oily slivers of homemade salamis, huge, garlicky olives and slabs of local Squacquerone cheese.
We follow up with our first taste of the hallowed tagliatelle alla bolognaise. The knot of fresh egg tagliatelle, entwined with a silky rich meat ragu, makes me a little ashamed at giving my Dolmio-slash-savoury mince efforts at home the name bolognaise. Showered with the salty bite of proper Parmigiano, it is a magnificent dish.
Contact: Trattoria Bella Arti, belleartitrattoriapizzeria.com, Via Restoro del Meridione, Via delle Bella Arti  14 (+39 051 225581)
Ristorio Del Meridione
It's our last nightand next door to the hotel is Ristoro del Meridione, a tiny trattoria that we seemed to have overlooked. As we dither about whether to go in, the waiter tickles Lola's chin. She smiles (already a sucker for a handsome Italian)and our decision is made.
Sat on the street on tables laid out with yellow gingham cloths we feast on pinky folds of mortadella, fat cubes of creamy mozzarella and purple baked onions the size of ping pong balls. As a final farewell, we all order tagliatelle allabolognaise and universally agree that the rich meaty ragu beats mama's own spag bol hands down. The children have become more adventurous with their eating habits. Lola, inspecting a plum-red sliver of bresaola, licks her finger to taste before scrunching it up like a little red rose and popping it into her mouth. And Nancy refuses to eat bread unless it's drenched in the finest Tuscan olive oil.
Contact: Restoro del Meridione, Via delle Bella Arti 6 (+39 051 267648)
While I may never fit into my favourite jeans again, I've eaten some of my favourite-ever meals in Bologna. The children have consumed their entire body weight in gelato, experimented with new tastes and textures, but most importantly found a whole new respect for their favourite supper.
Also try La Sorbetteria Castiglioni (+39 051 233257) at Via Castiglioni
The lowdown
Where to stay
Stay in Hotel Accademia, a basic but charming hotel in the university quarter. On our first night we ask the manager, Daniela, where we should eat. She enthusiastically cups the cherubic faces of my young daughters and asks them, 'Bambinas,  what would you like eat?' Immediately ditching our quest, my team cry 'pizza!' in unison.
Hotel Accademia (+39 051232318), Viadelle Bella Arti 6, Bologna 40126.
Price: Family rooms start from €99 per room per night including a light breakfast.
How to get there
BA.com flies to Bologna from London Heathrow with prices starting from £71 one-way.