James Gough is a doctor, adventurer and extreme sports fanatic. He has run across the Sahara desert, served in Afghanistan and accessed some of the worlds most remote areas with aid organisations.  He now lives in London with his wife Elle and their new son Wilfred, who was born in December 2015.
Find out what happened when James and his family took a trip to Iceland when Wilfred was just 11 weeks old.

Have baby will travel?
One year ago my wife and I were on a delayed honeymoon in Morocco. It was there, soaked in sunshine and freedom that we found out we were going to have a baby. After the initial elation came utter panic. My wife was worrying about the baby, the house, maternity and all the aspects one should. Rather unhelpfully, I was worrying about the end of an adventurous life! Was this the end of the road? Were we consigned to kids clubs on Clapham Common and package deals on the Spanish coast. Or was there an alternative plan?
My wife, fully aware of my mini meltdown, stepped in to help. We made a bucket list of exploits for our first year as parents. The mission was to have fun, seed the spirit of exploration in our young son and pave the way for a lifetime of travel. We wanted to learn as a family.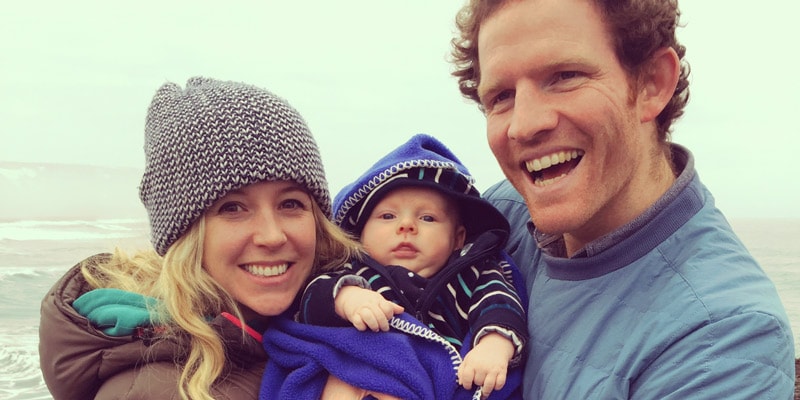 Operation Iceland
First up was Iceland. To make this the epic I hoped it would be, I treated it like a military expedition. Much to my wife's displeasure. Wilfred was 10 weeks old and although he had a decent layer of blubber already, my immediate concern was the weather. This volcanic land of geysers, raging waterfalls, spectacular black sand beaches and vast glaciers certainly stirs the senses. Wrapping our little man in lots of layers, our first challenge was to head to sea to find some Whales. Well, my wife went to sea and Wilfred and I took the warmer option. We headed to a lovely child friendly whale museum in Reykjavik – Whales of Iceland. It was so enchanting that Wilfred's bowels fully relaxed. I was very grateful to find fabulous changing facilities.
Eager to leave the city, we hired a 4×4. Packing it with an emergency camping stove, sleeping bag, food and nappies, I thought I had it all covered. Discover The World thought better of it and provided us with an iPad equipped with all the information we could possibly have hoped for. Quite a dent to my notions of being an intrepid Dad. With our luxurious base at the Ranga Hotel, we were perfectly placed to explore. Our favourite discovery was the natural Seljavallalaug lagoon nestled alongside the notorious Eyjafjallajokull volcano.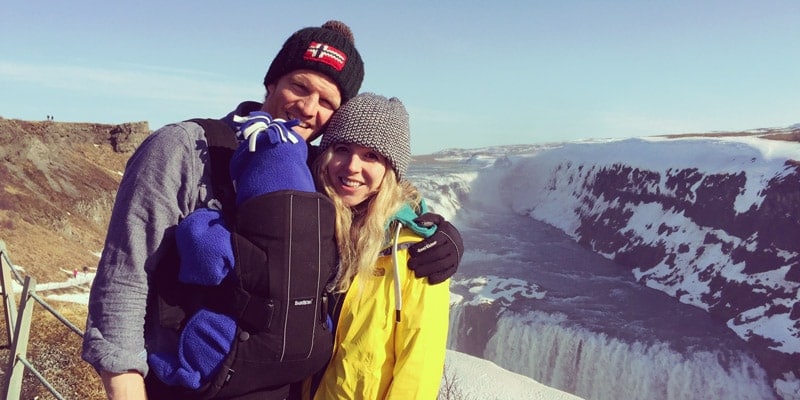 After a 20 minute trek, Wilfred strapped to my chest and staring at the shearing mountains, we were rewarded with beautiful views and an undisturbed dip in hot water. Wilfred didn't fancy the heat and sat this one out. He made up for it that evening however, jumping into Hotel Ranga's outdoor geothermal hot tub. It made for a very special evening under the stars for our little family.
Each day was a mini adventure and we wanted Wilfred's young mind to take in as many experiences as possible. The black sand beaches certainly caught his eye. The sulphurous smells of Geysir and the sound of the Gulfoss waterfall sent him off to sleep. The whole experience was magical and hugely exciting. I can see family travel being even more enthralling than anything we have done before. Here are my top tips for Iceland:
New dad's tips for exploring Iceland with baby:
1. Divide and Conquer
Some things you can do together. Some you can't. Snowmobiling on the Mýrdalsjökull glacier is an adrenaline fuelled, awe inspiring trip. Not to mention a fabulous break from fatherhood.
2. Self-drive
The freedom to drift off the beaten track is so important in Iceland. There are so many hidden gems. It also allows you time to look after the little one without a guide hurrying you along.
3. The Northern Lights
Don't obsess. There is more to Iceland than atmospheric gas and Hotel Ranga offers a wake up call should they appear. We didn't see them and left completely satisfied with our holiday.
4. Midweek flight
Don't fight the masses and make the most of empty seats on the plane. Icelandair were great with Wilfred.
5. Choose Iceland as your first foreign adventure
It offers the perfect mix of city and wilderness. Never did we feel too far from help or adventure.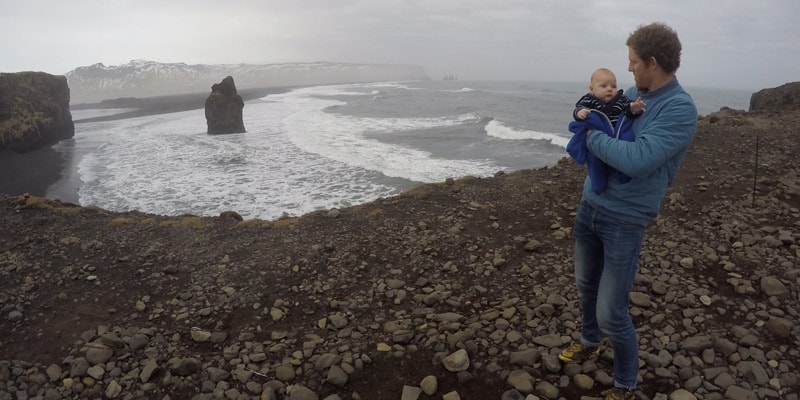 The lowdown: Iceland with baby

Iceland specialist, Discover the World (01737 214 291), offers a range of self-drive holidays and a full tailor made service with an emphasis on expert local knowledge. A three night 'Aurora Nights' holiday based at Hotel Ranga takes in some of the country's most breathtaking natural wonders.
Prices start from £551 per person based on two sharing including flights, B&B accommodation and car rental. Find out more and book, or call 01737 214291
Planning a Nordic break with the kids? Don't miss Family Traveller's essential family guide to Reykjavik