Sponsored Content
You can always rely on Greece to have an original take on things, so when you hear Grecotel Hotels & Resorts are the country's largest hotel chain, safely forget all preconceptions you may have about hotel chains. Because each and every one of the 32 luxurious resorts and hotels in the Grecotel collection couldn't be more its own distinctive and very individual self.
Of course there's a certain amount of uniformity when it comes to outstanding service, a nothing-is-too-much-trouble approach to families, ridiculously creative kids clubs and gorgeous Greek beaches: because everything, without exception, is excellent.
And in terms of location Grecotel have definitely standardised spectacular, with resorts everywhere from Athens and the Athenian Riviera to Western Peloponnese, Halkidiki, Alexandroupolis and Larissa, or on idyllic Greek islands, like Crete, Corfu, Mykonos, Kos and Rhodes.
But really, how does the largest hotel chain in Greece still manage to create some of Europe's most original resorts? Take a closer look at Grecotel Amirandes in Crete and you pretty much have the answer.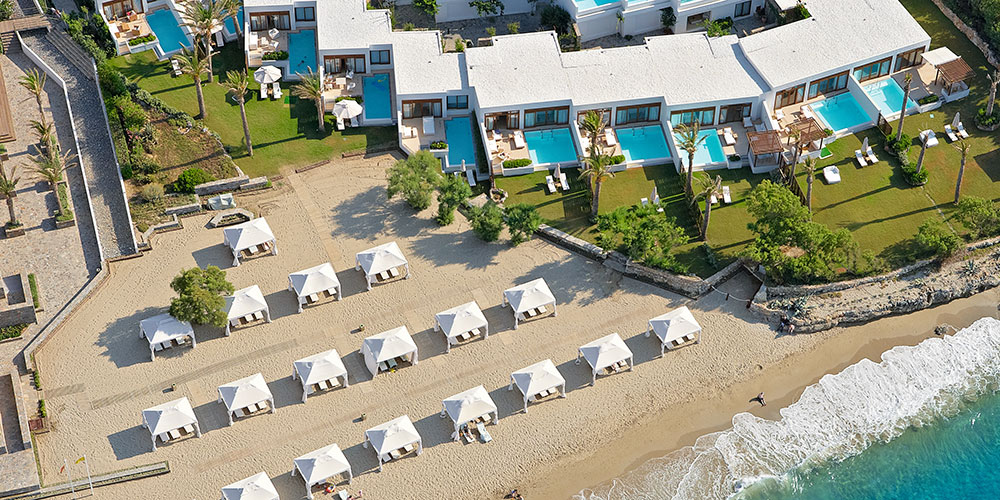 1/4

Grecotel Amirandes: a lux take on authentic Cretan hospitality
Grecotel Amirandes sits on the sunny, sheltered and heritage-drenched north east coast of Crete. It has no less than three private and perfectly peaceful beaches, and both Heraklion and the legendary Minoan Palace of Knossos are its near neighbours.
Such a stunning location might seem a lot to live up to, but the resort's balance of subtle opulence, classical Greek architectural references, traditional Cretan design and a no-holds-barred extravagance in the details, more than succeeds.
There's even an Olympic-size saltwater swimming pool and family movie night happens in an amphitheatre under the stars – where else? The lush garden grounds are enormous. And, unless you walk around with your eyes closed, it's impossible to avoid views of the seemingly infinite Cretan sea: they're everywhere, and yet, you never get tired of them.

2/4

Kids are the real VIPs at Grecotel Amirandes
The level of attention kids can expect at Amirandes should really come with a caveat, warning you that future expectations will be unreasonably high. But that's probably a risk you'll be prepared to take since the rewards are brilliantly creative kids clubs, outdoor adventure programmes and child-size lessons for everything from swimming to tennis and golf. Kids as young as eight can even start learning scuba at the PADI dive centre, and mini-footballers get to train with Valencia Soccer School, in residence for summer 2019.
A freshwater children's pool takes chlorine out of family holiday equation. Kid's menus are carefully crafted to disguise healthy as yummy, and involve plenty super-fresh ingredients from the resort's own organic farm. Cute touches like tiny bathrobes and welcome gifts start the indulgent theme the second you arrive. And even tough to please teens can expect to be won over by Amirandes' understanding attitude to fun with just the right hint of independence, and more than enough space to chill and hang out with other 'not kids'.
And at the other end of the spectrum, GrecoBaby lightens up travel with under threes by having everything from cots and buggies to hi-tech baby monitors ready and waiting at the resort. Just order what you need when you book.
GrecoKids combines fun cultural experiences, outdoor activities, creative play, and skill building, for four to six year olds.
Greco Juniors for seven to 12 year olds is all about learning new things, discovering sports and games, playing outside and in the water, exploring the environment and building confidence.
GrecoTeens is the resort's summer club for ages 13 and over, packed with parties, games, outdoor activities, sports and time to hang out with holiday friends.
All Grecotel kids clubs are supervised by qualified childcare professionals.
GrecoLand is Amirandes colourful and exuberant kid zone dedicated to fun in all its forms. A great space for under fours and parents to get in some playing time together.
A Tasty Corner in GrecoLand and Amirandes family restaurant makes sure kids have fresh, healthy menu options and snacks or drinks when they want, all day long.
Kid-perfect outdoor activities include: mountain biking; swimming; scuba; golf; tennis; beach games and water sports; snorkelling, and football training with Valencia Soccer School.
Find out more about summer holiday fun for kids at Grecotel Amirandes

3/4

Family accommodation designed for real families
Nearly 40 years experience has obviously taught Grecotels that families seldom conform to a simple, single size and shape. So you'll find all their accommodation is unusually big on space and equally generous on choice.
Amirandes alone has options stretching from family rooms with private balconies overlooking the ocean to luxurious family villas sleeping up to eight, complete their own swimming pools and sun terraces, as well as exclusive beach access.
A wide choice of suites and bungalows are perfect for smaller families, and still come with private pools, plus heavenly garden, lagoon or sea views. And for summer 2019, kids under the age of 14 get to stay and eat for free on holiday when they share their parents' room.
Find out more about family accommodation at Grecotel Amirandes

4/4

What else to love about Grecotel Amirandes this summer
Kids can be junior farmers for the day at Agreco, the resort's four hectare organic farm just outside Rethymno. It's the source of fresh produce for all Amirandes' restaurants and also has its own, traditional Cretan taverna.
The resort's seven restaurants and two bars serve everything from contemporary Italian on the waterfront at Minotaur to authentic Asian dishes from delightful Blue Monkey.
Amirandes main restaurant is Mediterranean buffet style, perfect for families and kids have their very own menu choices from the cute 'Tasty Corner'.
Three private beaches; three tennis courts; PADI Dive Centre; Mountain Bike Centre; water sports centre; five-a-side football pitch; outdoor cinema.
Olympic-size seawater swimming pool and separate freshwater kids' pool.
Elixir Alchemy Spa with indoor pool, treatment rooms and gym.
Private villa-only beach area with pavilions, sunbeds and beach service.
Swimming lessons for kids from age four. Tennis, golf, mountain biking and football coaching from age eight, starter scuba instruction from age eight.
Find out more about Grecotel Amirandes in north eastern Crete
Lowdown on Grecotel Amirandes
Where
North east coast of Crete, 23km east of Heraklion Airport.
How to get here
Direct UK flights to Heraklion take from four hours, year round.
Transfer time from Heraklion Airport, approx. 30 minutes.
Won over by Amirandes' enticing blend of traditional Cretan hospitality and family friendly luxury? Or is there another glorious Greek island or perfect peninsula you like the sound of this summer. Visit Grecotel Hotels & Resorts and take a look at the collection of 32 hotels and resorts that may very well redefine the way you think about 'hotel chains' forever.