The crazed biker hurtled along in a blur, his little legs cranking the pedals as he raced towards the point where the path split. One way led to the swimming pool, the other to the waterpark and sports centre. The biker paused, the wheels on his stabilisers still spinning, and he pushed back his bunny rabbit helmet. He looked confused – torn. 'I don't know which way to go next, Daddy,' said Jake, my four-year-old son. 'It's all such fun!'
Spoilt for choice
Such are the challenges facing little ones at Costa Navarino, a quite extraordinary eco-resort of luxury hotels that sprawls across hundreds of acres of the beautiful Peloponnese peninsula, to the south-west of Athens.
Stuffed with enough entertainment to meet the needs of even the most demanding families, Costa Navarino has three swimming pools outside and more indoors, a full-size sports hall with basketball court, four lanes of 10-pin bowling in an American diner, an aquapark, a baby & toddler club, a separate kids' club and children's hotel, squash, multiple tennis courts and three golf courses, an enormous spa, outdoor and indoor cinemas, eight restaurants (I think) and – dare I forget – a sandy beach and the warm waters of the Mediterranean. It's not somewhere you only want to visit – it's somewhere you want to live.
My wife Anya and I had a series of unforgettable firsts at Costa Navarino. Jake swam unaided, for the very first time, and he agreed – finally – to try a bike with stabilisers. Encouraging a contrary only child to take on new things has been tricky. He lacks the peer pressure of an older sibling, or even a younger brother or sister who could encourage him. But a swimming pool with other youngsters and the attention of a few new friends lifted his confidence.
The most memorable moment for me came after a delicious meal and a couple of drinks watching the sunset. We wandered down to the sports centre, found the door to the basketball court unlocked, and spent half an hour with the hall to ourselves, hurling balls around. It was such a treat. Then other families arrived and we had an impromptu football match. Jake talked about the goal he scored for the next week.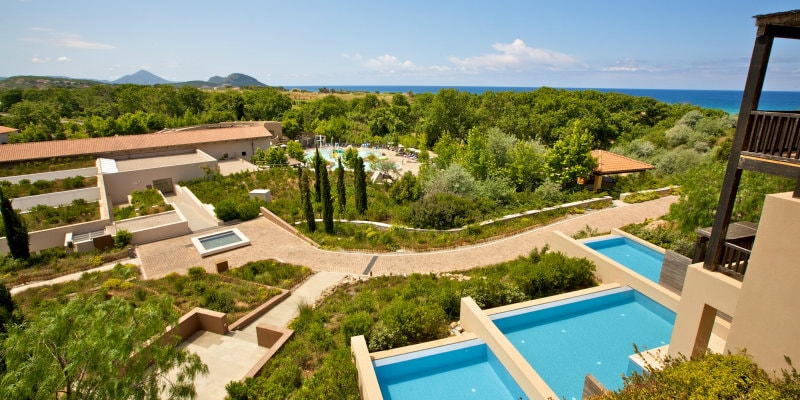 Our little haven
During school holidays there are plenty of families staying, but there are effectively two hotels in the resort, and after a few days, we moved from a child-friendly room at the Westin, close to the aquapark, to the more luxurious Romanos wing of the complex, into a room fit for honeymooners with its own infinity pool. The place oozed grown-up quality.
Jake loved having his own pool at the Romanos, but he really went bonkers for the buttons that opened curtains, blinds and screens, threatening to burn out their motors until I shut him in a cupboard.
Guests at the Romanos were raving about their individual sessions in the spa. I'm not mad about the indulgence of an olive oil wrap or a seaweed scrub, so instead I booked an hour with Maria, a masseuse with powerful elbows. She gave me a spiel, briefly, thankfully, about how the treatments are based on Ancient Greek therapies, before she worked wonders on a niggle in my back, and then let me plunge into a series of cold, warm and bubbly pools.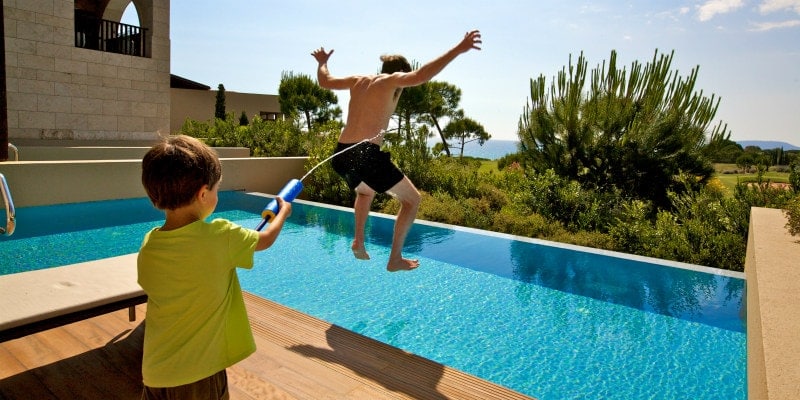 Eco-friendly fun
Diving is encouraged, but don't head to Costa Navarino hoping to rip along the coast on a jetski. In line with the eco ethos of the place, marine sports need to be powered by you or the wind. There's a strong emphasis on nature, culture and sustainability at the resort. Hot water is solar-heated, and food mainly comes from the resort fruit and vegetable farms, or producers within 100km.
It might all sound a bit eco-pretentious, but Captain Vassilis Constantakopoulos, the shipping magnate behind the resort, went to great trouble to make it fit into both the environment and the community. It's said he spent more than a billion Euros building the place. Costa Navarino now provides crucial employment for hundreds in an area that has seen its fishing industry collapse and agriculture go into terminal decline.
I asked a number of locals what they thought of Costa Navarino, and the Captain was clearly their hero. 'Without him, there would be nothing here,' said one taxi driver. 'Everyone would have left for Athens. We owe him everything.'
The Captain's creation is definitely a huge resort, but it's not a place where they're keen to lock the gates and hold you inside. Guests are encouraged to explore the countryside, with cookery lessons in local homes, guided philosophy strolls, Nordic walking, and bikes and cars for hire on the site.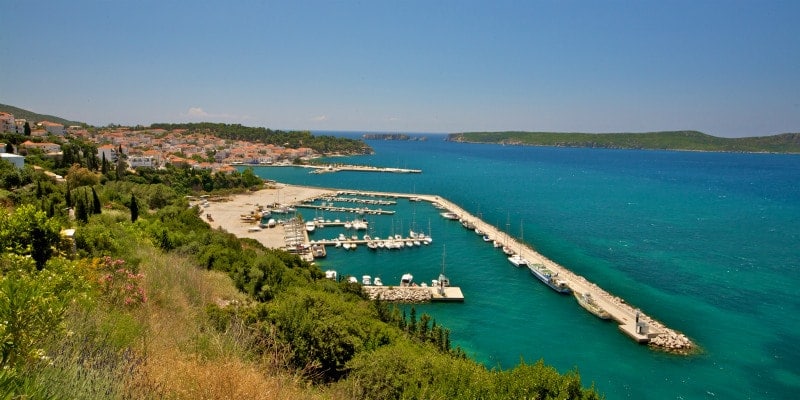 Dreams of Voidokilia
Almost a decade ago, my wife and I nearly bought some land overlooking Voidokilia. We had dreams of building a house and selling olive oil. We decided against it when we heard a massive resort was being built nearby. Sitting on the sand at Voidokilia, we kicked ourselves. It is one of the most stunning sights in Europe – a huge lagoon beach, regularly voted one of the world's most beautiful, with a graceful arc of sand and sheltered shallow water calm enough for even the youngest swimmers.
Yet Voidokilia is just one of many extraordinary sights in the Peloponnese, a glorious area of Greece with dramatic landscapes of mountains and forests, plenty of pristine beaches, vast olive groves and as much history as any civilisation can offer.
The Greeks genuinely and enthusiastically love children, and the staff at Costa Navarino never once looked even slightly irritated by the antics of a dozen youngsters as they ran and played around the buffet area, careering into a waiter carrying 100kg of dirty crockery. You might expect a flicker of annoyance to cross their face before the five-star training kicked in. But not even a trace of it. Such a relief.
Negatives? Very few. Breakfast at Costa Navarino was a bit of a bun fight on a couple of days, but personally, I don't mind using my elbows to get a couple of fried eggs. The only thing that irked was the number of smokers puffing away while eating outdoors. Ex-smokers like me can be pretty intolerant of someone lighting up in the same acre, and Greek and Italian smokers don't like to be restricted to a fag zone, it seems.
But those are small issues. Resort complexes have never been my thing, but I was completely won over by Costa Navarino. It's a brilliant destination for a memorable family holiday and Jake wasn't the only one who was visibly upset when we had to leave. 'Can we go there on holiday again?' he said – several times – when we got home. 'Because I loved it. I really did.'
The Lowdown
Getting there
British Airways flies direct to Kalamata from April 30, departing at the family friendly time of 11.20am from Heathrow. From £138 return
Price
Kuoni offers 7 nights with breakfast at the 5-star The Westin Resort Costa Navarino, Greece in a deluxe garden room, including flights with British Airways from Heathrow and private transfers in resort. Lead-in prices for 2016 are from £2,285 per family, based on two adults and one child under 12 years sharing.
Simon Reeve is one of British TV's most adventurous travellers. Simon has travelled extensively in more than 120 countries and presented multiple award-winning BBC TV series, including Australia, Sacred Rivers, Tropic of Cancer, Indian Ocean and Caribbean.