For more than 40 years Grecotel Hotels & Resorts have worked on the principle of 'receiving each and every guest as dear family coming home from afar'. A philosophy that's clearly served them well, as they now have 30 luxury hotels and resorts across Greece. All as individual and remarkable as their locations and all dedicated to 'a warm, genuine welcome and authentic, heartfelt Greek hospitality', which you can translate to mean fabulous family holidays.
Under twos always stay free at every Grecotel hotel and resort, but this year Grecotel Corfu Imperial Luxury Beach Resort is also inviting kids of 12 and under to stay for free. And they can eat for free too with The Dine Club – a new for 2020 innovation that couples half-board family holidays with 15 outstanding restaurants on Corfu's exclusive Kommeno Peninsula.
And if that's not generous enough, Grecotel works in partnership with British Airways Holidays so you can book a holiday at any Grecotel resort or hotel in Greece – including UK return flights – from as little as £75 deposit, with full ATOL protection and access to BA 24-hour holiday helpline.
Have a quick look at Grecotel Corfu Imperial Luxury Beach Resort and – unless you're in a possession of an iron will – prepare to be seduced completely.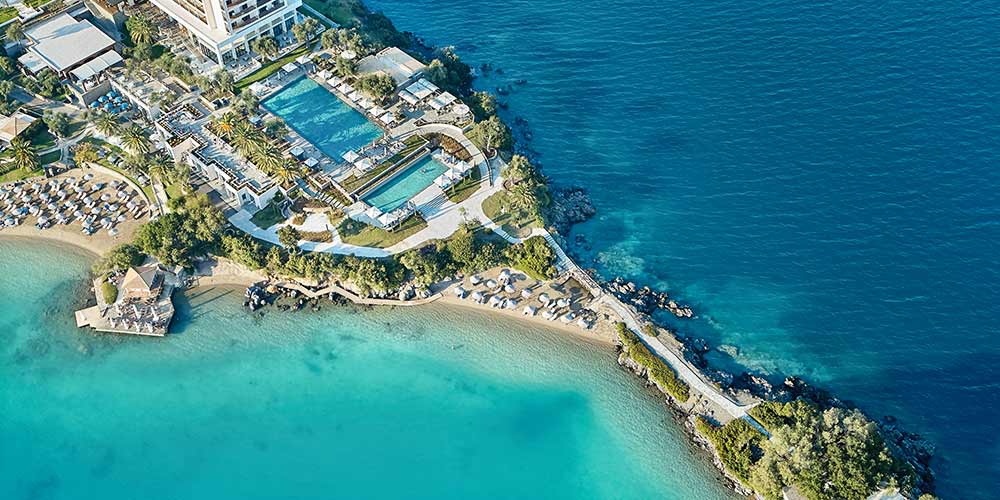 1/4

Grecotel Corfu Imperial Luxury Beach Resort
If you were lucky enough to live on Corfu, you'd probably hanker after a home on the private Kommeno Peninsula, where some of the most enviable villas on the island are found peeping over lush greenery at endless sea views. But if upping sticks and moving to Greece isn't an option any time soon, you could always consider a family holiday at Grecotel Corfu Imperial Luxury Beach Resort instead. Not only does it sit on the Kommeno Peninsula, it probably has the very best position of all: right on the tip, surrounded by elegant Italianate gardens, no less than three beautiful cove-like beaches and the island dotted Ionian.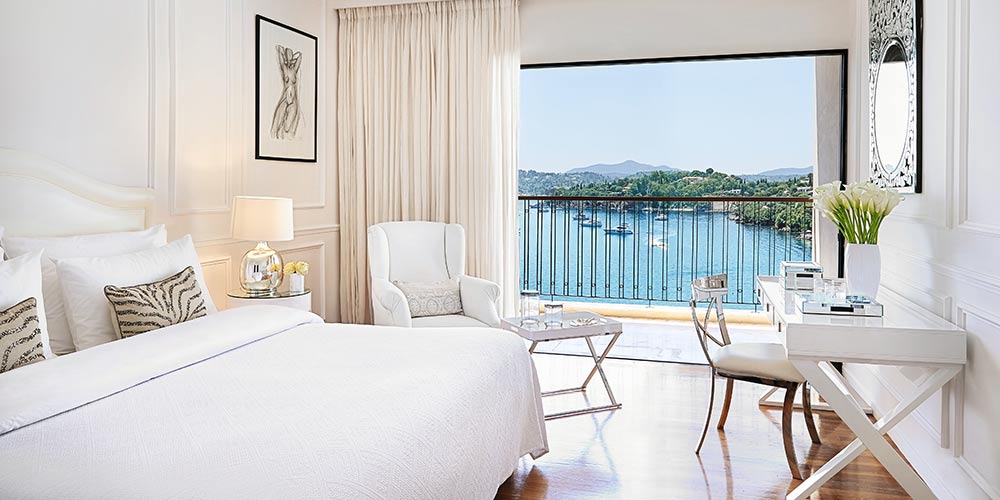 2/4

The family-friendly Il Boschetto collection

Because it's Grecotel, Corfu Imperial is as breathtakingly family-friendly as it is lovely. In fact for 2020, an entire new range of accommodation has been designed just with families in mind. The collection's named Il Boschetto and the architecture has more than a hint of classic Italian – in a nod to Corfu's Venetian heritage. You've the choice of spacious suites and bungalows, villas or palazzos (don't ever expect Grecotel to compromise on luxury for families). All accommodation is cleverly arranged within easy reach of Il Boschetto's sun drenched terraces and pools, and beaches are just a tiny stroll away – perfect for littler legs.
Swim-Up Family Bungalows have an airy open plan layout, ocean and garden views and shared pool. Sleeps up to two adults and two children.
Boschetto Junior Family Suites are either two bedroom or open plan with garden views and sleep up to two adults and two children.
Boschetto Family Suites are beautifully designed to give you a master bedroom and separate kids bedroom. Sleeps up to two adults and two children.
Boschetto Family Apartments have two bedrooms, living space, sensational views and sleep up to two adults and two children.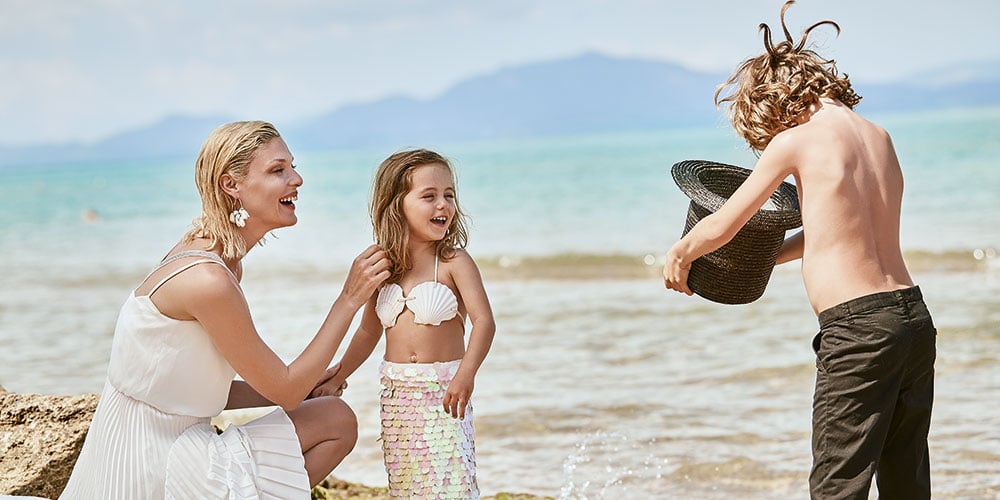 3/4

Kids Grecoland and other young, fun stuff

Of course, kids love new places to sleep but Grecotel isn't under any illusion about what really impresses their younger guests, which is why Corfu Imperial has gone all out on the fun front. Some child-friendly elements come naturally, like the flawless Blue Flag resort beach, others are totally down to Grecotel's creativity and as they're famous for that, you can expect to be just as admiring as your kids – or you could just sneak off for some child-free soothing time at the resort's opulent Elixir Beauty Spa.
Kids Grecoland is the uniquely Grecotel take on kids clubs. GrecoKids for four to six year olds is all about play and learning, plenty of water activities, as well as a little Greek culture and history in the mix. Seven to 12 year olds get active at GrecoJuniors, and over 13s have day and night fun with GrecoTeens. All clubs offer supervised morning and afternoon sessions during summer, but under threes can come along if parents keep them company.
Tasty Corner at Grecoland takes the pickiness out of eating lunch for kids with a thoughtful, fresh and original mini-buffet made just for trainee palates. And because playing is hungry work, Grecoland also lays on healthy snacks and drinks all day to keep energy levels topped up.
Grecoland Discovery Adventures is an innovative activity programme for seven to 12 year olds, designed to raise environmental awareness and involve kids in everything from gardening to astronomy (the night sky over Kommeno Peninsula is startlingly clear and starry). Cooking with the sun is another exciting Discovery project – Grecoland has its own solar oven. And naturally, sea and marine life come into play too.
Wonderfin Swim School transforms kids into mermaids, mermen or sharks (complete with cute accessories) and makes learning to swim as fresh and exciting as you always hoped it would be.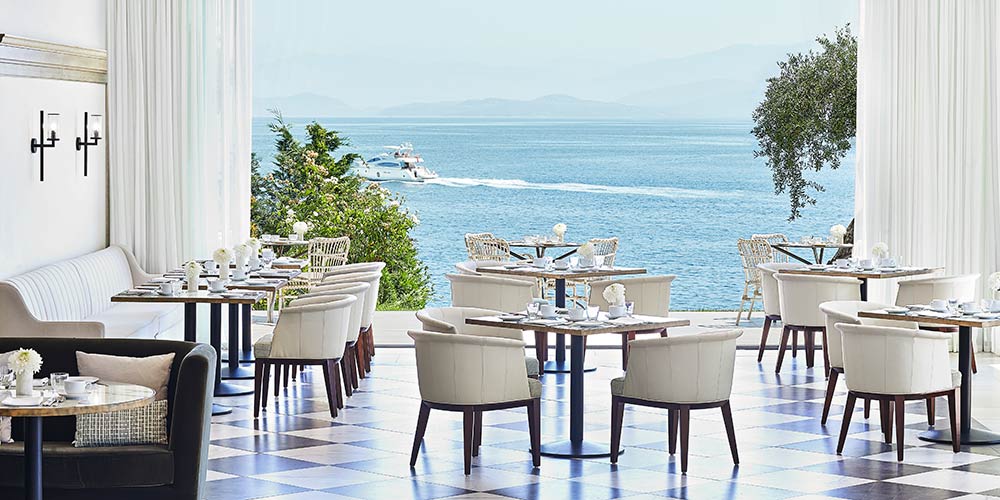 4/4

The Dine Club, new for 2020 at Corfu Imperial

Corfu's known as the garden island and famous for its fresh ingredients and fantastic seafood, so it won't comes as much of a surprise to learn that Corfu Imperial has no fewer than seven restaurants, ranging from all-day Mediterranean flavours to delectable Italian cooking or Asian & Latin American fusion.

And it just gets better for 2020, because Grecotel have introduced The Dine Club for half-board family holidays, which means not only do you have the choice of Corfu Imperial's own restaurants, you can also spread out and eat your way round another eight restaurants across the Kommeno Peninsula during your stay.

As far as kids are concerned, they eat free anywhere you do with The Dine Club, that's on top of free mini-buffet lunches and all-day snacking at Kids Grecoland, of course.
The lowdown
Where
Grecotel Corfu Imperial Luxury Beach Resort, Kommeno Peninsula, eastern Corfu
How to get there
Direct UK flights to Corfu take from three hours, five minutes.
Corfu Imperial is 20 minutes drive north of Corfu International Airport.
Book your 2020 family summer holiday at Corfu Imperial Luxury Beach Resort before 31 January 2020 and kids aged 11 and under stay free. And remember, when you book half-board you have the freedom of The Dine Club and free kids' dining all holiday long.