Sponsored Content
Arguably one of the most famous group of Greek islands, the Ionians still have plenty of secrets to share which is just one of many reasons Visit Greece think they work so well for family holidays. Plus, they're very easy to reach – one even has a road bridge to the mainland and all the best known have international airports with direct flights from the UK.
But because ideal is a bit of a generalisation for something as important as your own family holiday, Visit Greece have gone into a bit more depth on their four favourite Ionians – with a little dip into some very pretty islets too. So here's a closer look at Corfu, Zakynthos, Lefkada and Kefalonia to help you make the right choice.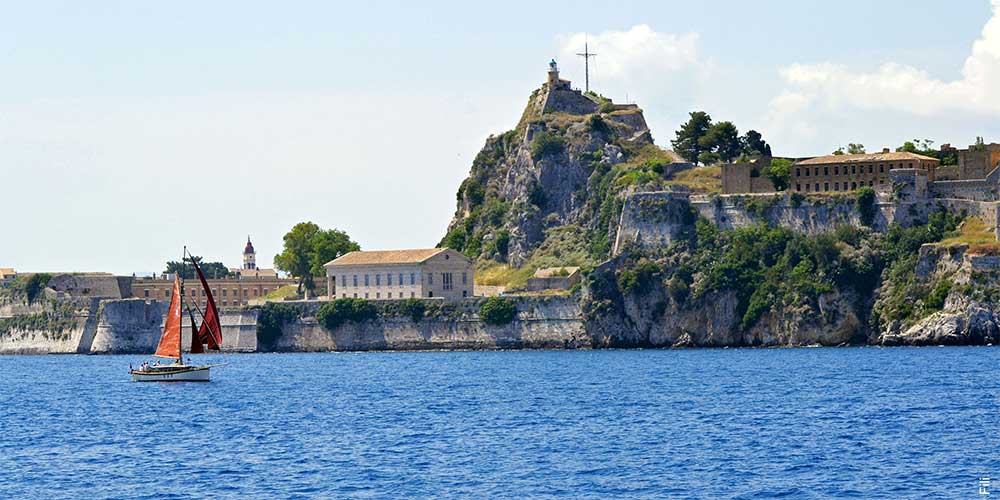 1/5

Corfu
You can be in Corfu in just three hours but that's far from the only reason this enchanting Greek island is an enduring favourite for family holidays. It has over 50 different beaches and an historic capital that's charming, friendly and holds UNESCO World Heritage status. Towns and villages stretch right round the coast ranging from cool and bohemian to full-on family resort fun. And the landscape's incredibly diverse with a type of lushness you only get from long months of brilliantly warm and sunny weather. But most of all Corfu just works for families; it's a seasoned professional when it comes to multi-gen holidays, does travel with toddlers as easily as teens and is almost impossible to better for baby's first break.
Corfu family holiday highlights
Corfu Town is one of the most colourful and charismatic island capitals in Europe. It's easy to explore on foot – even with younger kids. And, as well as being a UNESCO World Heritage site, it's also home to Spiniada, the largest square in the Balkans.
Corfu's coastline couldn't be beachier. There are big lively beaches for water sports, secret little coves, deserted beaches and town beaches, there are even beaches with literary connections as well as beaches for surfing and swimming, snorkelling or simply sunning yourself.
One-time fishing villages, particularly on the east and north east coast, are now charming little resort towns with quaint architecture, great restaurants, family hotels, stunning holiday villas and gorgeous beaches, of course.
For time-stood-still landscapes, ethereal lakes and huge golden sands, fascinating traditions, intriguing customs and amazing local produce (they don't call Corfu 'the garden island' for nothing), head to the less travelled south for the day.
One of the best waterparks in Greece is on Corfu and sits right at the heart of the island, close to the village of Agios Ioannis, and a short drive from Corfu Town.
Corfu's coastline couldn't be beachier. There are lively beaches like Agios Spyridonas and Palaiokastritsa for water sports. Big and sandy beaches such as Sidari in the north are a delight with kids. You'll find fun town beaches and beaches with literary connections, as well as beaches for surfing, swimming or snorkelling. And of course, there are simply beautiful beaches, like Agios Georgios Pagon, which is set in a large bay on the northwest coast and near neighbour to much loved Porto Timoni Beach.
The island also has to offer appetizing cuisine such as pastitsada (veal cooked in sauce flavoured with spices), sofrito (thin slices of veal meat cooked in white sauce), bourtheto (scorpion fish cooked on a fire in a red spicy sauce) and citrus fruits.
Historic Corfu has Venetian Fortresses, royal palaces, dramatic lighthouses and clock towers, archaeological museums and art museums, grand monasteries, classical architecture, mythological sites and countless ancient monuments, all fascinating and open for exploring.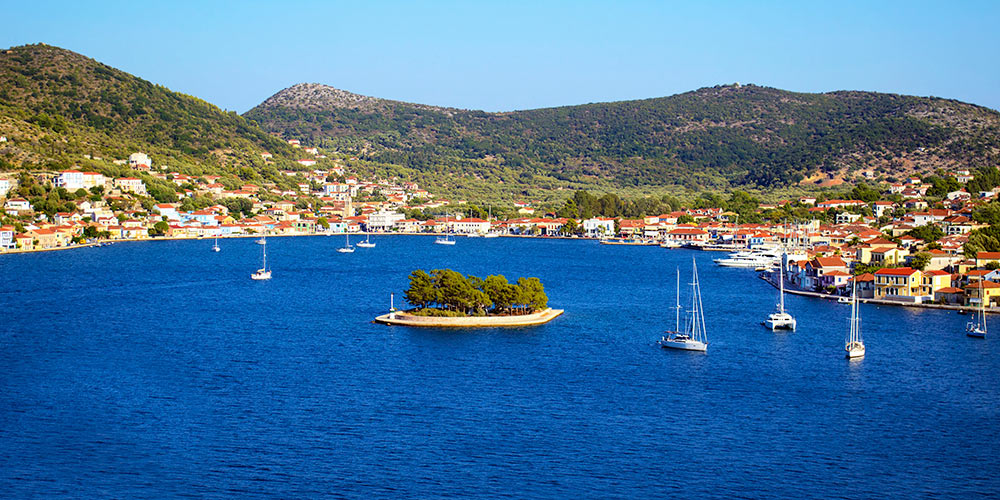 2/5

Corfu's Islets
You may be familiar with the larger Ionian Islands but, unless you're an expert on the area, the chances are you'll have missed these tiny, semi-inhabited islets connected to Corfu by ferry or boat during summer, and made for days out with adventurous kids.
The smallest of the three Diapondia Islands, Mathraki is only two nautical miles from Corfu. It's known for dramatic cliffs on the west coast and a remarkable red sand beach to the east.
Totally flat and almost completely circular, Erikousa is the Diapondia Island for wonderful walking and a coastline of coves with safe, shallow seas. Porto Bay and Fiki Bay are the biggest beaches and both beautiful. About 100 people live on the island and a hike round its inland villages is fascinating.
The largest Diapondia Island, Othoni is hilly with lots of little villages and a thriving summer population. The main port of Ammo is set in a wide bay and worth the ferry crossing alone. The legendary Kalipso Cave is another island highlight and, again, the beaches are breathtaking.
Little Vido is so close to Corfu it takes 10 minutes to sail over. Once you're there check out the ancient French fortress, go visit the lighthouse and see the Serbian Monument, then take a stroll on the walking path which goes right round the island. Or just settle down on one of the two lovely local beaches for the day.
Even smaller than Vido, Lazaretto is the teeny islet between Corfu Town and Gouzia Bay. It takes its name from Corfu's ancient Lazzaretto Hospital, although these days it's better known as a National Monument commemorating partisans killed during WWII.
Just south of Corfu Town, close to the airport and Halkiopoulos Lagoon, Pontikonisi is the greenest of all the islets. Catch the local boat over from the pier next to Vlacherna Monastery to spend a few hours exploring this lush little Mediterranean gem. Keep your eyes peeled for its historic Byzantine church and white stairs leading to the Pantokratoras chapel.
3/5

Zakynthos
Even if you don't know Zakynthos, you'll definitely recognise its most famous landmark: a sliver of silver sand between soaring cliffs and the cobalt blue Ionian sea known as Navagio or Shipwreck Beach. It's one of the most photographed beaches in the world, but get a bit better acquainted with its island home and you'll find extraordinary is more the rule than the exception here. But Zakynthos doesn't get by on looks alone, it's thrilling for outdoorsy types, a bit of a legend on the sports front and drenched in history and cultural experiences. You can balance waterpark thrills with the wonder of the Zakynthos Marine Park. The south east of the island is a marvel for sunny, sheltered coves, but head to the west and the landscape's all drama. Not much of a surprise to discover families return here, year after year.
Zakynthos family holiday highlights
Direct UK flights to Zakynthos take from as little as three hours 30 minutes.
The island capital AKA Zakynthos is historic and intriguing, before you go exploring its streets climb to the top of Bohali Hill, nab a table at one of the local cafés and gaze out over the city – it's one of the island's best views.
A deeply spiritual island, Zakynthos has religious festivals throughout the year. Visit in late August to catch the colourful Feast of Dionysos which matches ancient tradition with fun stuff like fireworks and dancing and takes over the island capital for an entire day.
Olives are amazing on Zakynthos, take kids to see the process from fruit to oil at the Aristeon Ecological Olive Press.
If you want to see Navagio Beach it's on the north west coast and can only be reached by boat. More accessible Gerakas Beach gets a lot of love from families for its soft sand and shallow seas, Caretta-Caretta Turtles nest here too. And St. Nicholas, Alykes and Tsilivi Beaches are brilliant for water sports ranging from SUP to extremes of paragliding and flyboarding.
Zakynthos Marine Park not only protects turtle nesting beaches, it also safeguards migrating birds on the wetlands of Keri Lake and the Strofadia Islands. Take a cruise with kids and there's a good chance of spotting dolphins and rare monk seals, as well as finding out all about the conservation work in this part of the Mediterranean.
Visit Askos Stone Park to see over 200,000 indigenous trees, plants and shrubs. Get to know more about the island's natural heritage with a trip to Helmi's Natural History Museum. Then go check out the more recent history of Zakynthos at the Byzantine and Post-Byzantine Museum.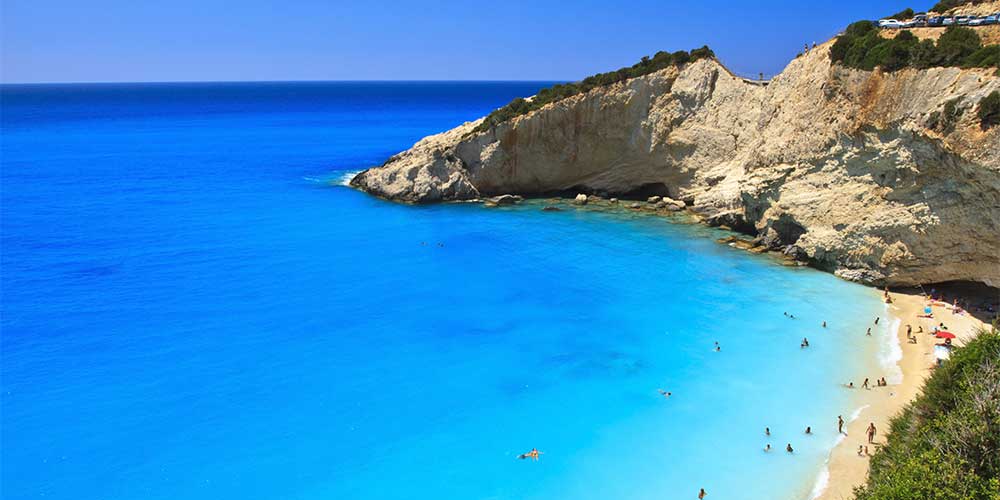 4/5

Lefkada
Tucked into the middle of the Ionian archipelago, Lefkada is all island, but it's also attached to mainland Greece by road bridge and a popular place for weekend breaks during summer, not least of all with local windsurfers – Vassiliki Beach in the south west is one of the best for surfing and sailing in the entire country. Cycling and hiking are big here too and the island's soaring, green mountains are criss-crossed with walking routes and MTB trails. When you just want to chill a little, there's plenty of history traced all over Lefkada and almost as many appealing towns and villages to explore as there are lovely beaches to play on, opportunities for island hopping and summer festivals to experience.
Lefkada family holiday highlights
Thanks to Lefkada's neat size it's possible to enjoy the entire island in one holiday from the untamed and thrilling west coast to the coves and tiny islands in the east, heritage villages inland to lively seaside resorts and historic towns all over.
West coast beaches are often the best ones for wind sports and dramatic rock formations, but they also do whiter than white sands, clear seas and fabulous Ionian sunsets.
The slightly more sheltered east coast comes good on sandy coves and inlets, calm waters for swimming and peaceful little beaches to escape any crowds.
For a different type of swimming head to Dimosari Falls where the water tumbles from heights of 15m into glacially cool, clear pools.
Hike the Melissa Gorge and feel like explorers trekking through untouched greenery, over little streams, past watermills and within sight of hundreds of songbirds. It's a huge adventure, but walks take from 20 to 30 minutes so they're easily doable with kids.
Head to Karya, the island's main mountain village, hidden among green hills and immerse yourself in colourful customs, traditions, arts, crafts and – if you're lucky – local festivals.
Make a point of visiting the island capital – also called Lefkada. Its amazing location surrounded by lagoons, canals and beaches is enough reason to go in itself. Just add in several excellent – and curious – museums; quaint old town architecture and cute little alleyways; endless coffee shops and interesting local shops, alongside the constant temptation to test local sweet treats like Iadopita, and you've more than enough here to fill at least a day.
There are 24 islets round Lefkada, you probably won't have time to see them all but if you've a moment spare try Meganisi for the sea caves; pine covered and scented Kalamos and pretty Kastos for its captivating olive groves and rural tranquillity.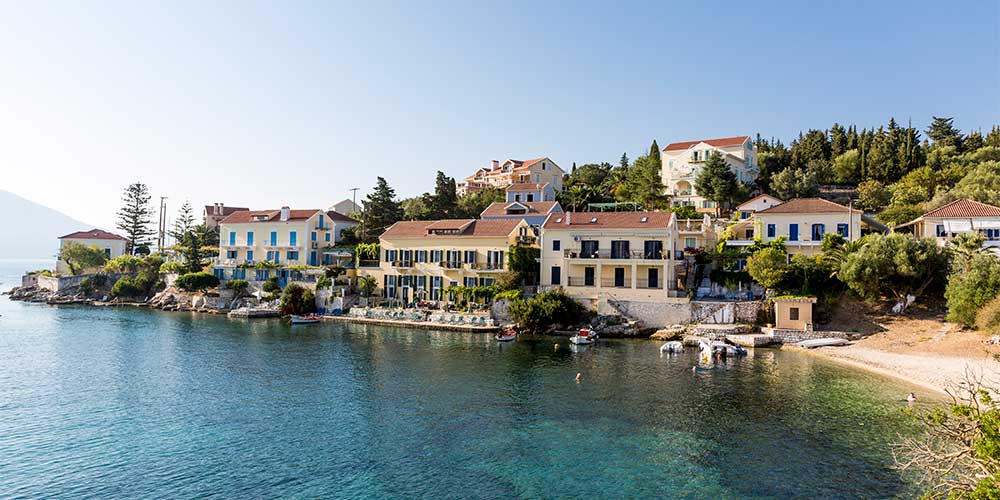 5/5

Kefalonia
Kefalonia had a brief brush with stardom as the setting for Captain Corelli's Mandolin, but don't let that put you off. Just think: good book, terrible movie, absolutely astonishing island. Spend less than a minute here and you can see the allure which pulled location scouts in and holds families in thrall for holiday after holiday. The beaches are spectacular, but many of the best need a bit of a walk, adding to the island's reputation for protecting the natural environment. The biodiversity here is astonishing too: keen-eyed kids might even spot Caretta-Caretta sea turtles, golden toothed goats, wild hare, and seals offshore. Despite all the eco-creds and organic loveliness, Kefalonia is riddled with lively towns, chill nightlife, excellent restaurants and lux resort hotels and villas. Plus, it couldn't be easier to get to, direct UK flights take from just three hours, 35 minutes.
Kefalonia family holiday highlights
Antisamos Beach is a Hollywood great with good reason, but there's stiff competition from beauties like Makris Gialos and Platis Gialos. Ai Helis beach is cool fun for teens and the red coloured sands of Xi Beach are Insta perfect and ideal for sea sports and beach volley
The island's capital, Argostoli, sits at the far end of a natural bay surrounded by mountains and lush, green forest. Its mix of historic Venetian architecture and fresh, bustling atmosphere, along with sunny summer skies makes for an interesting and very relaxed day out with kids.
If you want to see historic mansions, grand gardens, ancient houses and elegant traditions, head to pretty village of Fiscardo, it remains absolutely loaded with heritage.
The Cave Lake of Melissani is one of the most famous natural phenomena in the Ionians, if not Greece. The enchantment is largely due to the cave roof having collapsed so sailing into the lake is like entering a grotto, especially when sunlight filters down on to the water – which it pretty much always does.
Feel like stretching your legs, then hike up Mount Ainos, the tallest peak on Kefalonia and the only National Park on any Greek island. Walking trails are well-marked and graded in order of difficulty, and there are views all the way up so even if you only do a little stroll with kids the rewards beat the effort hands down.
Perfect peace is hard to find anywhere these days, so take advantage of it while you're here and make a trip to the little village of Assos in the north. It's set into the side of a cliff, dotted with cypress and pines and the buildings are painted to blend with the natural landscape. As an added incentive, magical Myrtos Beach is nearby too and ready to mesmerize with its turquoise blue waters surrounded by white sand leading to gleaming white pebbles.
The second largest island town, Lixouri, is a calm town with something of a reputation for local cooking – a great place to try Kefalonia's Robola wine and ridiculously good almond mendales sweets. A  20-minute drive from Lixouri is the striking Kipouria Monastery where you can see some of the best sunsets in the entire archipelago.
Ready to plan your next family holiday? Visit Greece has insider information on everything from accommodation to activities, all over Greece, all year round.