Sponsored Content
Family summer holidays in Greece don't have to mean islands-only. Visit Greece highly recommend the Epirus region in the west of the country. A firm favourite with Greek families what really appeals about Epirus – apart from its obvious beauty – is how easy it is to combine island and mainland in one holiday (or even just a weekend away). It's known as the gateway to the Ionian Islands and you can actually drive to Lefkada from the mainland in a matter of minutes. Interested to know more? Take a look at four place in Epirus which Visit Greece think should definitely be on your list for family summer holidays in Greece.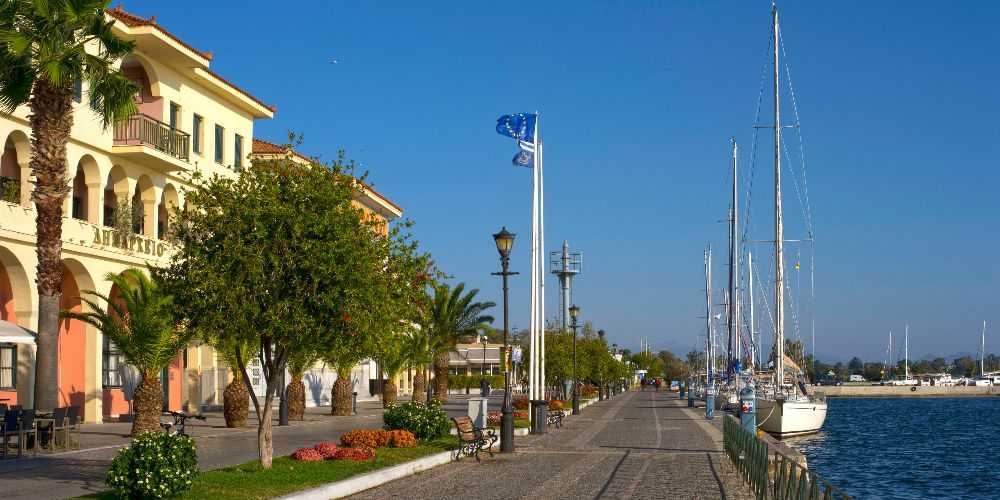 Preveza – a secret gem for family summer holidays in Greece
Most people think Greece and automatically imagine the islands which are undeniably spectacular. Yet not so many know about amazing places like Preveza on the Epirus coast: set on the Ionian Sea; very much mainland; but also less than 40 minutes across the road bridge to the Ionian island of Lefkada. Though you might want to hang around a little before heading island-ward. Preveza is almost unimaginably ancient and has great museums as proof. Wander the delightful waterfront on foot or better still, cycle like a local and spin out the day with a visit to the beach at Alonaki. And apart from being minutes by road from lovely Lefkada, Preveza town is also surrounded by countryside, glorious rivers, legendary archaeological sites and fascinating traditional villages which welcome visitors but are never crowded with tourists.
Why pick Preveza for family summer holidays in Greece?
Daily direct flights from the UK to Preveza take just over three hours, leaving you plenty of time to explore the mainland and then do as the locals do and have a weekend on Lefkada.
A great base for short family road trips, Preveza town's a short drive from the villages of Kamarina and Kryopigi for great Ionian Sea views and a pit-stop at the ancient site of Kassopi on-route.
The ancient city of Nikopolis is just north of Preveza town, don't miss its excellent archaeological museum and impressive Roman Odeon.
Preveza's coastal on the Ionian Sea so of course there are plenty of beaches here too. Try Psathaki and Agio Apostoloi for swimming. Kyani Akti and Monolithi beaches are great for playing on with kids.
Well marked local walking routes should tempt you out of town. Try following the course of the Acheron River and you can reward yourself with a cooling swim in its waters along the way. The river's also a great place to canoe, raft and kayak.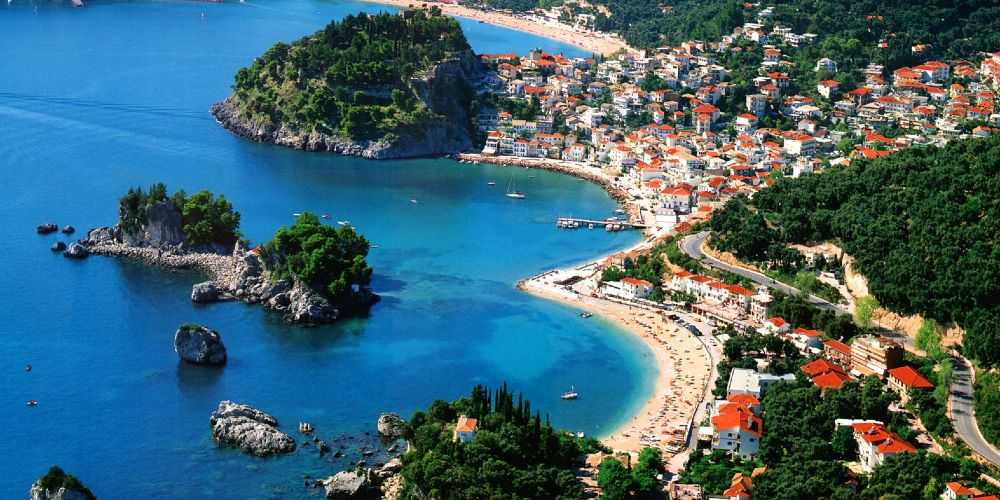 Parga – the prettiest resort on the lovely Epirus Riviera
Colourful Parga has all the qualities of a pretty Greek island harbour town, only on the north west coast of Epirus. It's less than an hour's drive from Preveza and definitely doesn't involve any ferries – unless you want to visit Corfu or Lefkada for a little. Chances are you'll be quite happy to stay put and enjoy the local loveliness and the gently vibrant atmosphere that's earned Parga its riviera reputation. It's another favourite with Greek families who love the cobbled street quaintness contrasted with good restaurants along the waterfront and the imposing grandeur of the Venetian Castle which sits up top in the town and only adds to its 'almost Greek island' looks.
Why pick Parga for family summer holidays in Greece?
Parga looks enchanting but still comes good on fun stuff like a restaurant lined promenade, quirky museums and great beaches within easy reach of the town.
Don't miss Krioneri Beach where you can swim to the islet of Panagia. Lichnos Beach is the one for sea caves. And if you don't want to go far at all, Piso Krioneri is practically in town and couldn't be more family-friendly.
Catch the local train to tour the area's traditional villages (you can drive too). Leave time for a stop at Anthousa for its famous waterfall and Margariti where the waterlily strewn Kalodikiou Marsh will take kids' breath away.
Just south of Parga you can visit the legendary Nekromanteion of Acheron. This ancient temple of necromancy was believed by devotees to be the gateway to Hades through the River Acheron and has been spoken of and depicted in art and literature for centuries.
Horse riding, canoeing, kayaking, sailing, canyoning and mountain biking are just a few of the fun family activities you can get up to this summer on the Acherodas River close to Parga.
For fantastic water sports, diving and snorkelling head to the beaches of Ammoudia just south of Parga.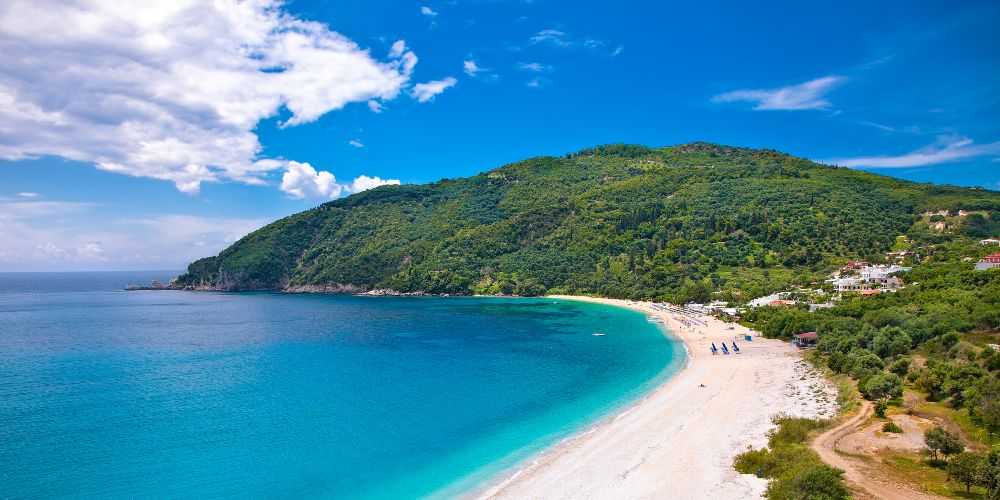 Syvota – the Ionian Fjord for family summer holidays in Greece
Epirus is home to one of the most unusual and captivating natural phenomena in Greece: the Ionian Fjord at Syvota. Just a short drive north of Parga and staring over the sea to Corfu, Syvota is a captivating landscape of green islets, mysterious little coves and tucked-away beaches, brilliantly blue waters and wide open views that will leave you silent with wonder. Glorious weather and calm seas in summer make it almost impossible to resist exploring by boat. Alternatively you could just find  your perfect spot on the sand and give in to the gentle, ethereal atmosphere that makes Syvota so mesmerising.
Why pick Syvota for family summer holidays in Greece?
Bella Vraka is one of many must-see beaches in Syvota. Reached across a narrow spit of sand from the mainland, even getting there feels extraordinary.
Head to Mikri or Megali Ammos beaches and you'll find water sports that prove Syvota might look mystical but it's plenty fun too.
Rent a boat in summer and take advantage of wonderfully calm, clear seas to explore the little islets dotted around Syvota.
Pisina is one of Syvota's most famous beaches and should be on your to-do list for its miraculously soft sands and green-blue waters.
If you want a lush, green backdrop to go with your silvery sands, make for Gallikos Molos beach in the north of Syvota.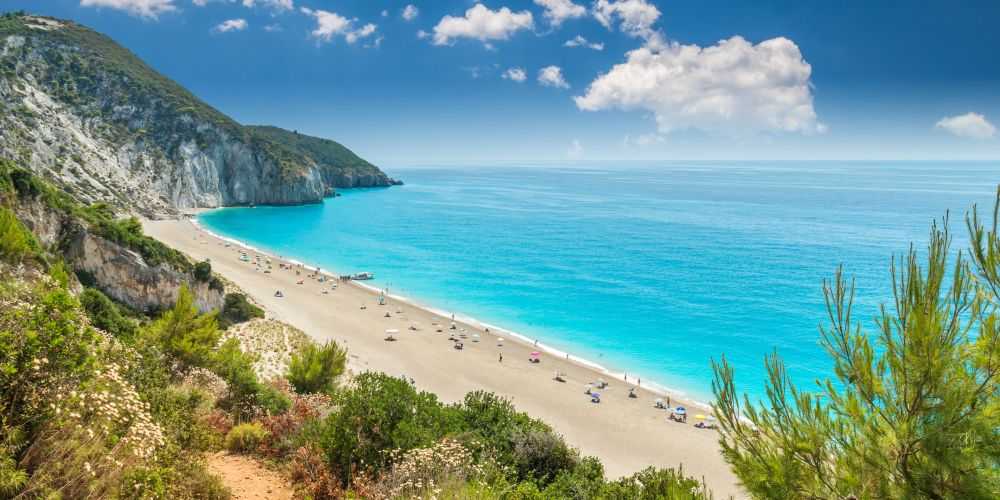 Lefkada – the Ionian Island you can drive to from the mainland
Visit Lefkada and you're in great company. This gorgeous Ionian island is a favourite with Greek families for weekend breaks, not least of all because it's connected to the mainland by road bridge. It's also home to one of the best surfing and sailing beaches in the country – Vassiliki on the south west coast. And the capital, (also called Lefkada) is just enchanting: fun to explore with younger kids, appeals to teens and mixes up museums and shopping, good restaurants, historic architecture and more than enough quaint charm to warrant at least a day wandering around. Almost as easy to reach for UK families as locals, direct flights to Lefkada take just over three hours.
Why pick Lefkada for family summer holidays in Greece?
Beautiful west coast beaches like Porto Katsiki, Egremni and Kathisma are famous for impressive landscape and turquoise crystal clear waters.
Outdoorsy families love the Melissa Gorge. It's wild, unspoiled and a haven for birds – the singing's incredible – but you can easily hike it in under half-an-hour. Perfect kid-size adventure.
Lekfada's known for its jewel-like little islets and a day sail to a few is another family holiday must do. Think Megasini for the sea caves or Kastos for its ancient olive groves and fascinating rural traditions.
Don't miss kite surfing on Myloi Beach (watching or doing). And if you're up for mountain biking, Lefkada's mountain trails are just the right thrilling mix of accessible and challenging.
History loving families want to head to the excellent archaeological museum in Lefkada town, then have an afternoon exploring the stunning Agia Mavra Fort – just outside the island capital.
Epirus is a different way to do family summer holidays in Greece. But different in this amazingly diverse country isn't at all unusual. Head to Visit Greece to see more of the amazing places to visit with kids this year and next, from magical islands to magnificent cities.