Family sailing holidays in chilly UK waters can be a bit miserable for kids. Find out what happened when Family Traveller CEO, Andrew Dent, took his crew sailing to sunny Lefkada instead.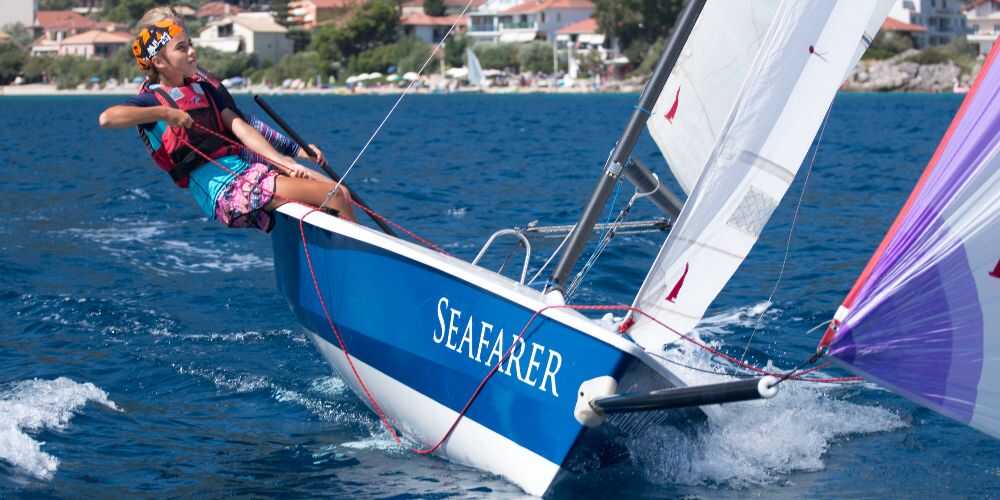 If you really want to encourage kids to learn to sail, family sailing holidays in warm seas are a revelation. As I recently discovered at Nikiana Beach Club on Lefkada in western Greece.
I was unfamiliar with Lefkada island, but if you're into anything water related – from dinghy sailing to windsurfing – it's really worth exploring. We booked with Nikiana Beach Club on the east side of the island. Operated by UK company Seafarer Holidays, these guys have over 20 years experience of running family sailing holidays across Greece and Croatia, so they know their port from their starboard.
Fun family sailing holidays for beginners and skill builders
Nikiana offer flotilla sailing and larger yacht charters. But the main focus here is dinghy sailing  so it's the perfect place for kids to start learning to sail or improve on skills they already have.
Lefkada's share of the Ionian Sea is bluest of blue and unimaginably clear. In fact we were amazed at how far out we could go on a paddleboard and still see the seabed. Then there's the water temperature. In July it's a balmy 25° – perfect for falling into, and kids are more than happy to do just that.
In terms of equipment Nikani is out and out dingy sailing and windsurfing. There are more than enough boats to go around and they range from the starter Oppi to race-ready Lasers . My personal favorite was the Hobie Cat. Being slightly rusty with my skills I went out on the first day with Max a fresh-faced new member of staff. Despite only being in his early 20s he was a master cat sailor and we were soon flying across the bay –it was a truly exhilarating experience and I felt in safe hands. I was given a turn to helm, with relaxed but stern instructions, and was soon back in the groove myself.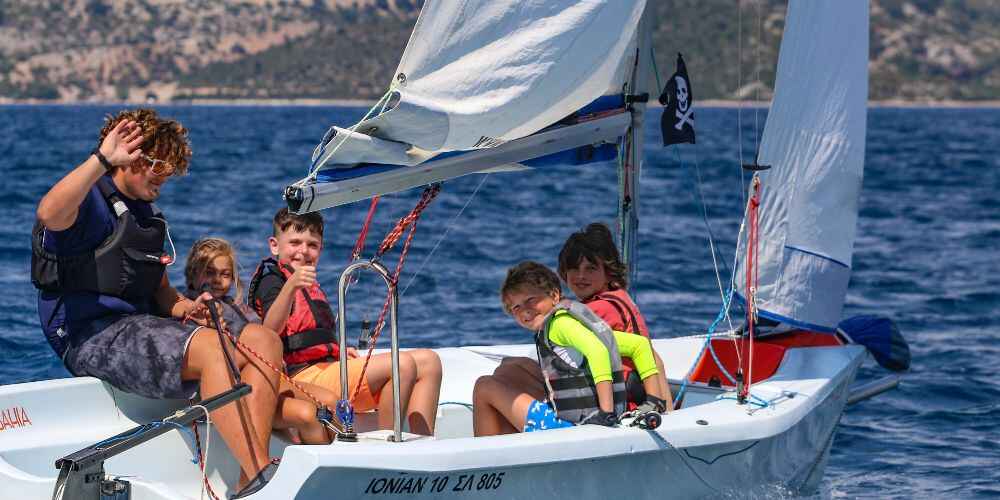 Nikiana Beach Club keeps family sailing holidays relaxed and friendly
With this tuition under my belt I spent the rest of the week going out myself and with other guests. Cat sailing is very sociable and you develop a real bond with your fellow crewmembers. What I loved about Nikiana is that there's no time pressure. You can keep going as long as you want until 6pm. Plus, there's always a staff boat out on the water keeping an eye on everyone. So you're never more than a few seconds away from help if you need it – occasionally they sail up with supportive tips too.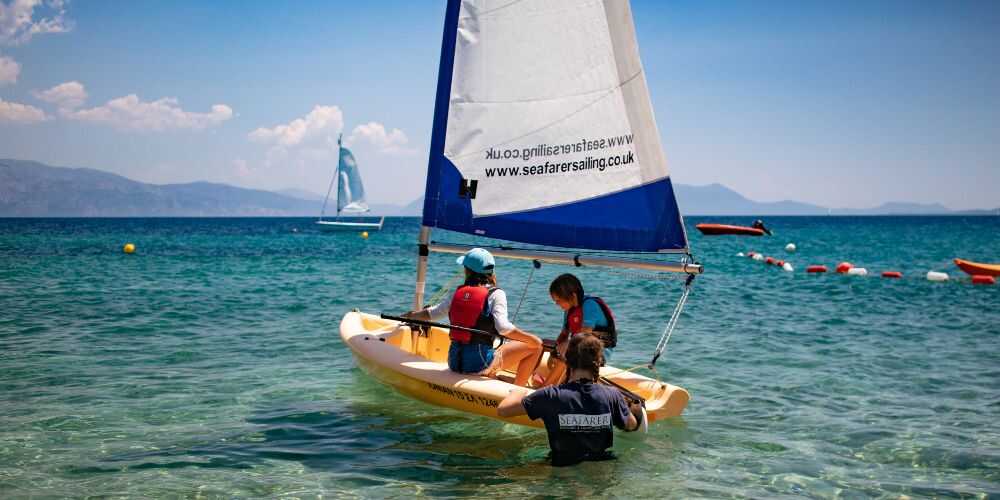 The fun Kids Club lets parents sail solo (or laze on the beach)
The Kids Club program is brilliant for young sailors in training. And children can spend the morning with the team here while parents go sailing – or just laze by the pool or on the beach. The club's mainly about kids having fun and learning new skills. However, the week-ending Regatta is a firm favourite and brings out the competitive spirit in everyone.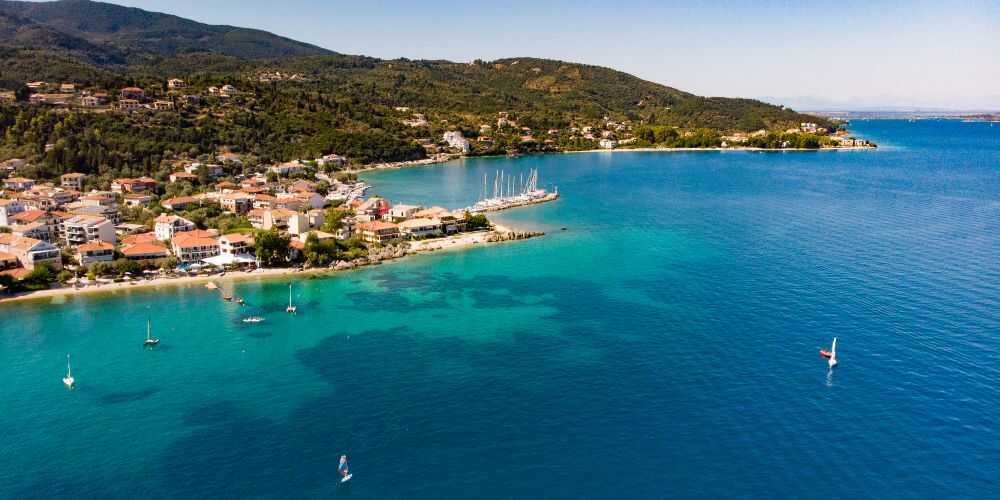 Add some Greek island adventure into family sailing holidays on Lefkada
It's definitely worth hiring a car for a day or two and taking some time to explore the rest of Lefkada. A round trip of the island takes a full day. Beaches on the western side are simply incredible – bear in mind all are rocky so water shoes are highly recommended. It's worth going to Vasiliki in the south. One of the most famous windsurfing beaches in Greece it's known for prime conditions and at any one time there can be 200 boards ripping across the water – pretty spectacular, even if you're just spectating from the shore.
Nikiana Beach Club's accommodation isn't luxurious; more like a solid three star. But the idea of family sailing holidays is to spend as little time indoors as possible. And anyway when you finally do get back to your room, you're usually exhausted after a day on the water, so extremes of luxury don't matter so much.
That said, the rooms are quite spacious with comfortable beds and ensuite bathrooms.  Try to book one with a balcony overlooking the water, the views are stunning. Food is basic and satisfactory as well. Although there are a few lovely local taverna within walking distance of the club. They're great value and make for a fun family night out.
Seafarer is a great little company. They really care about their guests and take pride in nurturing kids' sailing skills. During our stay at Nikiana Beach Club, nearly every guest we met was returning for a second, third or fourth time. And recommendations don't come much stronger than that. We'll certainly be back next year. Plus, 2022 family sailing holidays are available to book now at 2021 prices – just in case you need more persuasion.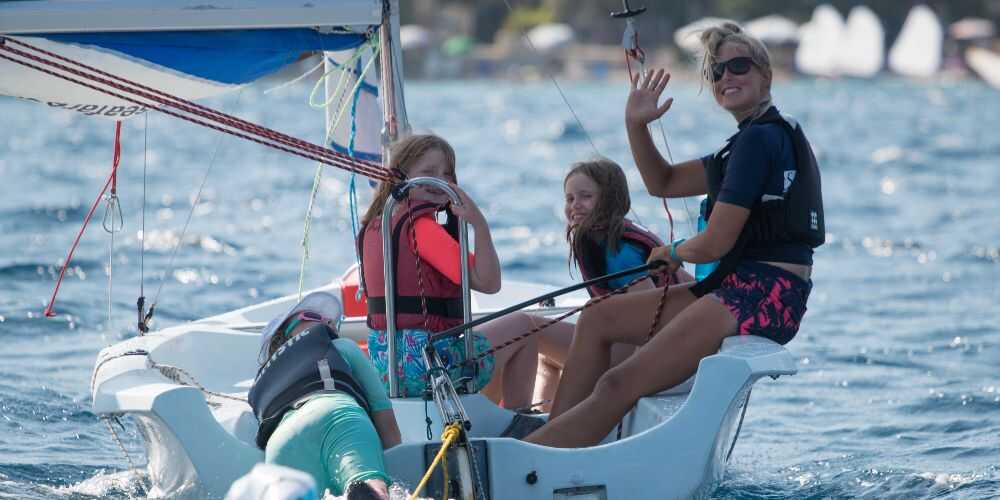 What the most important sailors say about Nikiana Beach Club…..
So that's what Andrew thought about family sailing holidays at Nikiana beach club. But here's the review that really matters: Bella aged 9 and Rosie aged 7.
Our names are Bella and Rosie and we live in Hampshire. We like coming to Nikiana Beach Club because they do lots of water sports like sailing, kayaking, windsurfing and going out on paddle boards. All the instructors are fun and kind and always there for us when we need them.
There's something called Kids Club/Surf Squad – it has two different names. In Kids Club we have the whole morning doing something fun in the sea. They have an amazing pool too which we go to every single day. And they also have cats which are super cute!
Everyone here is friendly and we never feel left out. If you want to learn how to do water sports,  we think you should learn here.
Good to know about Nikiana Beach Club
Where is it
Nikiana Village, north east coast of Lefkada, 45 minutes drive from Preveza Airport.
How to get here
Several UK airports including Gatwick, Bristol and Manchester, offer direct flights to Preveza.
Flight time from 3 hours, 20 minutes.
Lefkada Island is connected to the mainland by bridge, so you can drive from the airport straight to Nikiana.
When to go
Week long family sailing holidays are available from May to October.
Book Nikiana Beach Club for 2022, you still pay 2021 prices for family sailing holidays next year.
Tempted by family sailing holidays in Lefkada? Book Nikiana Beach Club now and pay this year's prices for next year's holiday. Don't forget to follow Family Traveller on Instagram and Facebook for more travel inspiration.