Sophie Chambers charters a catamaran to take her kids on their first sailing holiday around Greece's stunning Ionian islands
My husband and I are lucky enough to have sailed in a few lovely places over the years, though with the arrival of our children Arthur, now seven, and Mollie, four, we sacrificed the sailing holidays we once loved for more baby-friendly alternatives.
Knowing the fantastic freedom that a sailing trip can offer, we had much debate as to when we might return to it and, with both children now able to swim we decided to take the plunge and try a family sailing holiday.
We settled on the Ionian in Greece not only for the great variety of places to visit but also because the winds in summer are generally light and the seas sheltered.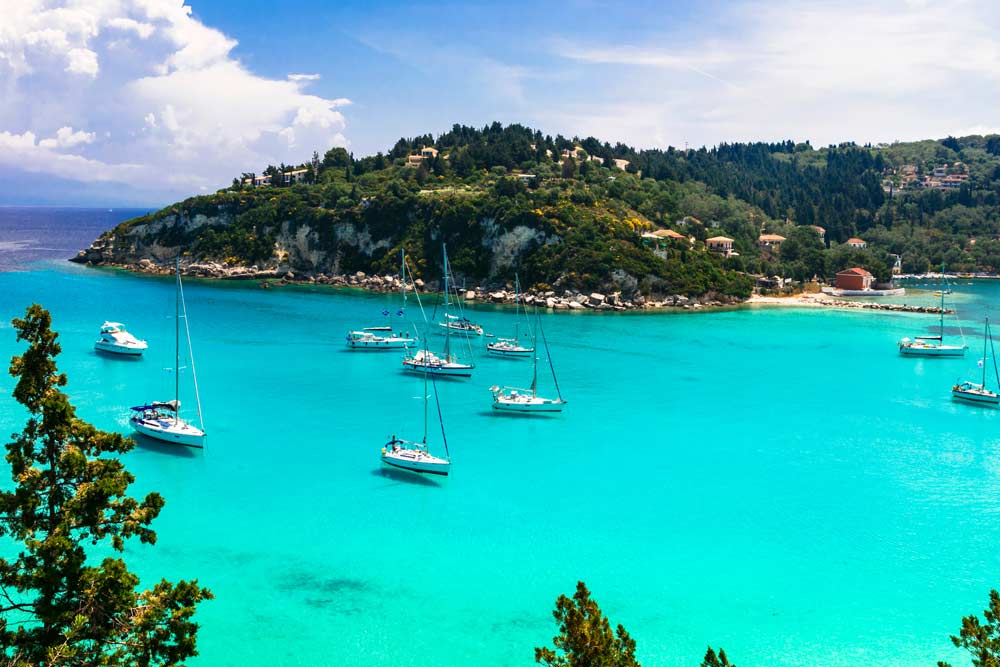 To help us with our plans we turned to a relatively new charter company called Helm who have access to a wide range of yachts, including those from the bigger charter companies. Helm's website provides a useful overview of the fun and adventures to be had at different destinations as well as the types of yachts available.
Hiring a comfortably sized yacht is not as expensive as you might think, certainly comparable to many hotels or villas – and can often be cheaper if you share a bigger boat with friends.
It's a good idea to set your budget and let the team at Helm source the best boat and crew to suit your trip. They can also advise on location and itinerary and will provide a fully bespoke service to tailor your holiday to your needs.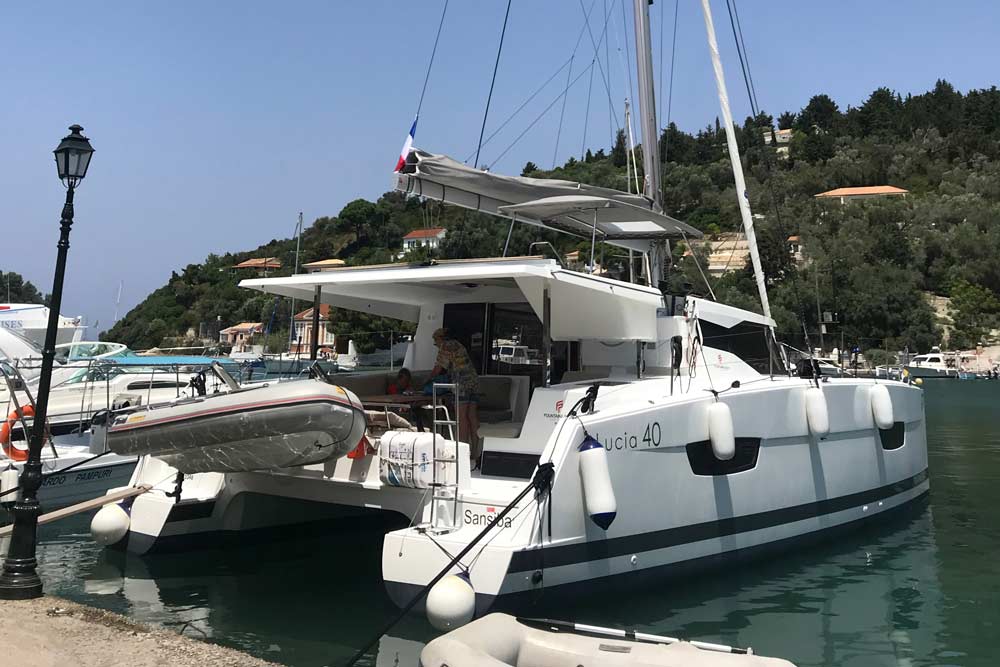 There are three basic choices of boat charter, in decreasing cost order:
Crewed: you sit back and relax, the boat is sailed for you by the skipper and food and drink are provided by an onboard hostess
Skippered: a professional sailor will handle everything on the sailing front, you just have to arrange food
Bareboat: you will need a boat license and you do everything yourselves, from sailing to food
Catering in Greece is easy as there are fantastic and abundant waterfront tavernas at or close to most anchorages, so we elected for the skippered charter. This meant that all practical aspects of the sailing, such as navigation and mooring, were managed by Harry, our 25-year-old Yachtmaster, leaving us to relax and enjoy time with the kids.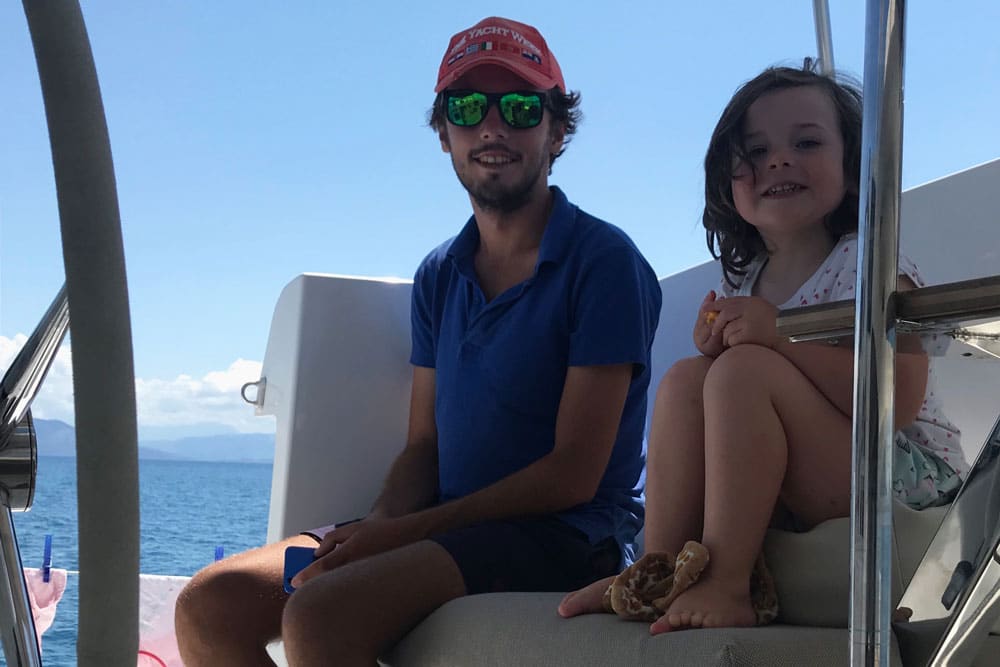 The skipper can handle pretty much everything related to sailing the boat without much assistance, and guests require no prior sailing experience. That being said, enthusiastic guests are given opportunities to be as hands-on or hands-off with the sailing as they prefer. Skippers are generally more than happy to share the benefits of their experience and give basic instruction and advice to novices and experienced sailors alike.  
Peter at Helm recommended a catamaran for us which we had never sailed on before. A 'cat' is not the first choice for hard-core sailing but in terms of comfort and practicality with two small children it is absolutely the way to go. Catamarans have plenty of living space and importantly the galley (kitchen) and interior /exterior living and dining areas are all on the same level, which is invaluable for families.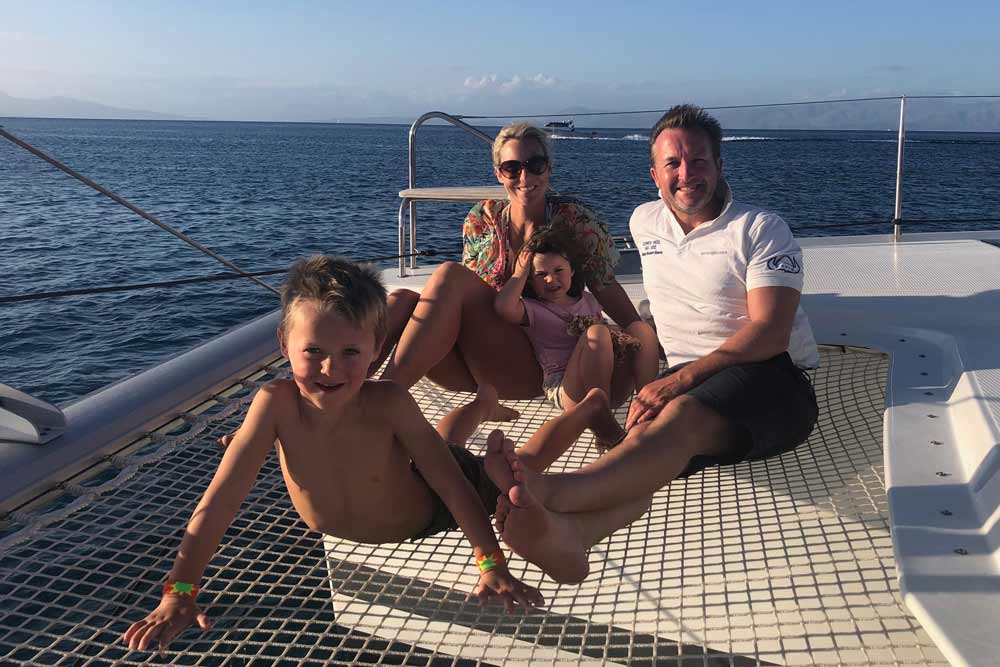 As well as generous cabins and living areas, cats have a huge amount of deck space. They also have a cargo net stretched between the hulls at the front of the boat. There really is nothing like relaxing on this with turquoise seas lapping below as you sail to your next destination.
In terms of practicalities, collecting a yacht in Corfu is a breeze. Gouvia marina is only 15 minutes by taxi from the airport and so it's an easy transition. Helm arranged for our yacht to be pre-provisioned with food, drinks and essentials and made arrangements with the skipper to be ready for our arrival. After a short safety briefing to familiarise us with the boat, we were out of port, cold beers in hand, sailing off to our first anchorage of the trip.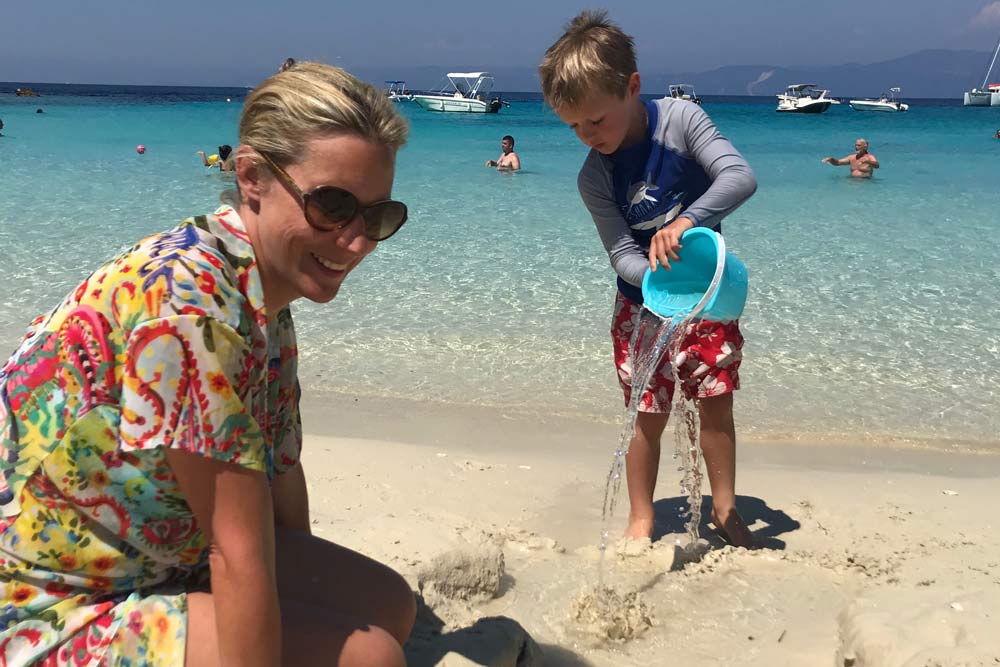 The Ionian has a wide variety of islands, depending on how far you are happy to sail each day. We chose to keep travel down to three-four hours a day. In a week we were able to easily explore Corfu with its beautiful northern bays and remote Erikoussa island, before heading further south to stunning Paxos and Anti-Paxos and finally across to Sivota and Parga on the mainland. For those with more time, the beautiful islands of Cephalonia and Ithaca are also within reach.
Harry our skipper did a brilliant job helping to plan sensible itineraries for our days out on the water and safe anchorages at night, keeping a careful eye on any windier periods. He was also more than happy to sit chatting with the kids at the wheel as we sailed along.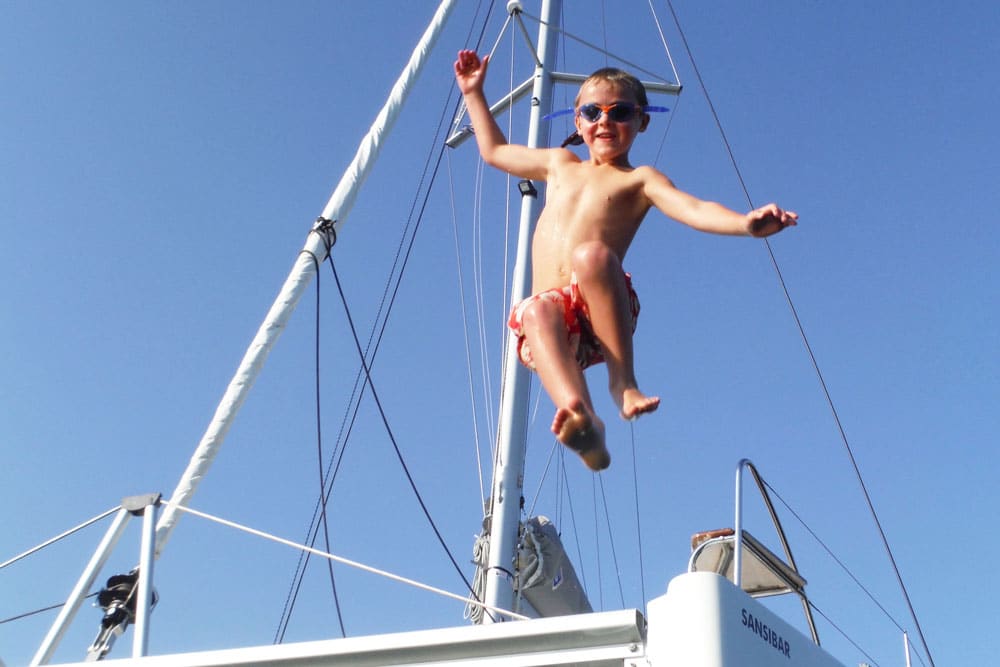 Even in high season July there were plenty of amazingly quiet anchorages to be found as well as moorings in a marina if you so choose. Our favourite thing to do was to find a secluded bay and drop anchor for the night. We could then either cook onboard or take the dinghy to fantastic beach front tavernas that are generally a short hop away. The children absolutely loved the thrill of taking a motor boat to dinner and then buzzing back to the yacht across tranquil waters in the twilight.
We were slightly worried that Mollie and Arthur would feel cooped up on the boat, especially on longer sailing legs, but it actually worked out rather well and certainly better than your average car journey. There's plenty of space to move about and they could nap, read books, play board games etc. and our children love audiobooks which also kept them well occupied.
Arthur and Mollie took to life on a boat like ducks to water – their favourite past-time was leaping from the bows of the yacht into the crystal clear seas as soon as we'd dropped anchor at our destination.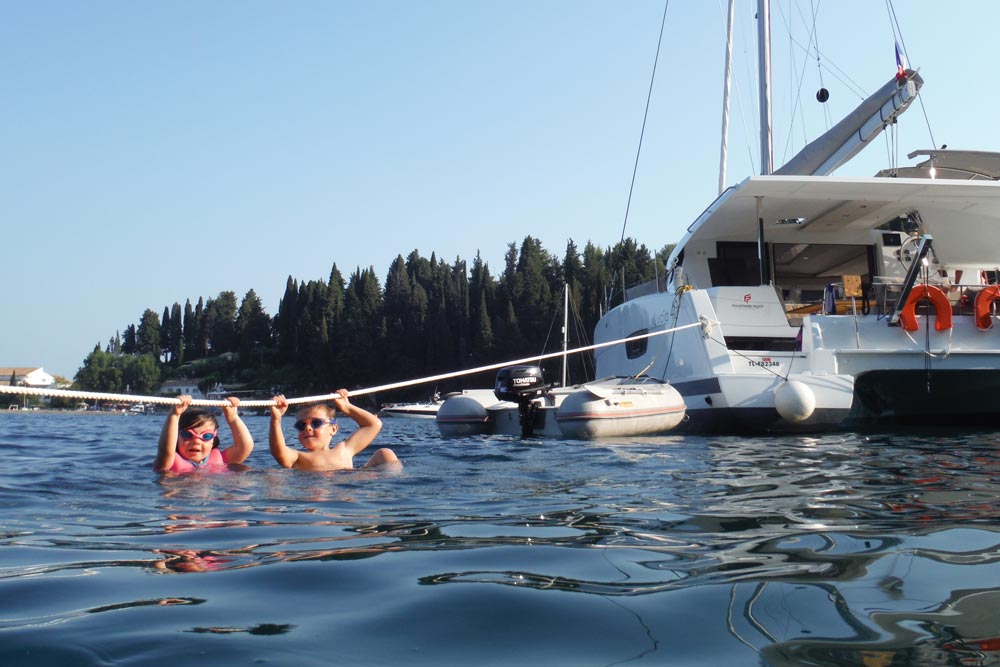 There are so many things to keep children interested and learning – we saw dolphins as we sailed and the children learned to use the skippers binoculars to spot different types of boat and wildlife. Arthur was even keen to learn how to sail the boat. The only challenge was dealing with the children's endless questions as they constantly asked about everything.
There an endless list of ways to occupy families on a sailing trip whether it's snorkelling, a swim to a remote beach, exploring a little island with a beautiful whitewashed church on the shore-front, or relaxing with a book. Then, when everyone is ready, you can just pull up anchor and sail gently on to your next destination – which is another activity in itself!
Our concerns about how the children would adapt to the boat were definitely unfounded. While we are glad we waited until they could swim to a basic level for peace of mind, this experience was a fantastic reminder that a sailing trip is not just for couples. For families looking for a combination of escape, relaxation, great food, sunshine, sea, beach and adventure all rolled into one, a sailing holiday is the perfect solution.
The lowdown: An Ionian sailing holiday with Helm
Fights depart daily from London to Corfu with Easyjet or British Airways
The 15-minute taxi ride from the airport to Gouvia Harbour costs €25
 Yacht charters with Helm start at £2,500 for a week
Find out more about a sailing holiday with Helm