TV and radio presenter Katy Hill embarks on an unforgettable family holiday in Corfu with her husband, Trey and their two children, Kaya and Akira.
This summer, I was faced with a conflict of conscience. Upon discovering somewhere awesome, do you: 1) shout about it from the rooftops, or 2) ringfence the magic with a 'Nothing To See Here' sign to keep everyone else away? That was my dilemma. Luckily for you, I went with option two!
An early wake-up call
Summer holiday break-up saw us reconnecting with a family holiday on Corfu, the second-largest of the Ionian islands, just off the northwestern coast of Greece. We're huge fans of the Greek islands, but this one truly has something special.
I host the Heart Breakfast radio show every weekday, so the irony of my regular 3.55am alarm waking me for our 7.30am flight wasn't lost on me! The Simpson Travel check-in at Heathrow's Terminal 5 was seamless and after a short three-hour relax in the leather seats of our charter flight, we were touching down at Kerkyra Airport, Corfu, the UK's closest Greek Island.
After an hour's scenic coastal drive, flanked by crystal blue waters and olive groves, we were met by the smiles of the lovely Gaynor, the Rou Estate manager, who showed us along a limestone path to the three-bedroomed Villa Muscari.
The perfect start to the week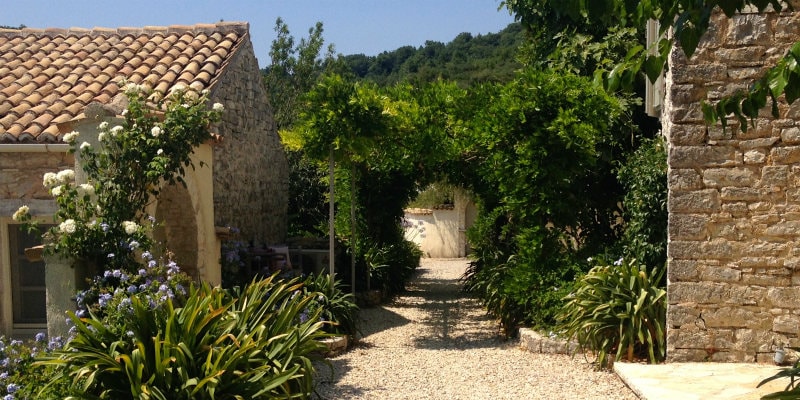 A hamlet in the foothills of Mount Pantokrator in the north-east corner of the island, the Rou Estate boasts 14 stunning stone villas set within fragrant terraced beds of lavender, rosemary and agapanthus. An arched door led onto a private outdoor dining area with breathtaking views out to the sea, and Albania beyond, and while the children excitedly ventured down stone steps to check out our garden and plunge pool, I got us settled into the villa – a perfect blend of contemporary and classic. A food basket in the kitchen was a welcome sight for a mother with hungry mouths to feed, and meant I could instantly enjoy our surroundings instead of heading out for supplies.
And so began a perfect family week of reading under olive trees, exploring the island and lazy days by the pool. But if you're of a more active inclination, the estate boasts its own air-conditioned gym, and all kinds of pursuits can be organised for you – everything from alfresco yoga sessions to bike tours to horse riding are available. In the name of transparency, I confess my gym kit enjoyed its little jaunt to Corfu – but stayed in my bag. There were just so many other appealing things to do.
Ready, set, explore
[soliloquy id="8480″]
Rou is reached along a dirt track through olive groves, which mean every excursion feels special, since it starts with such a picturesque drive. We often had to wait for the local mountain goats to clear the road and sprint up the side of the hill, much to the children's deep joy.
We found the perfect stony beach just 10 minutes' drive away, in Kerasia. The lack of sand meant the water was the most exquisite crystal blue, and perfectly lazy afternoons were spent with the children fish-watching while I indulged in a spot of people-watching on the beach. Then, salty and sleepy at the end of the day, we'd wander to the gorgeous Kerasia Beach Taverna for a spot of dinner. As a family, the relaxed
As a family, the relaxed Corfian taverna experience was refreshing – there's none of that 'dressing for dinner' or evening pressure of so many holidays, you just rock up as you are. Trey and I actually managed a bit of precious couple time while the kids skimmed stones on the beach to pass the time till dinner arrived. Happiness all round.
When it came to sandy beaches, it was all about Kalamaki, about 20 minutes' drive from The Rou Estate, along the coastal road. On the advice of Gaynor, we'd park at Nicola's Taverna in the shade – which becomes the holy grail of parking in temperatures that can touch 45 degrees. The Taverna Cafe had beach toys to borrow and, crucially, the beach was big enough to escape the crowds.
White sand, blue water, loungers, big umbrellas and shallow waters for as far as you could see – perfect for kids to play in safely. Locals braved the heat and wandered along the beach selling everything from fresh coconut and watermelon to reflexology.
Another day, we braved Corfu's biggest waterpark, Aqualand. Given the choice, I would have stayed at Rou on my lounger with a book – a luxury seldom afforded to busy parents. But what a day! Who knew? Waterslides, wave machines, lazy rivers – you name it, we did it. The kids literally didn't
stop and, having been sceptical as to how enjoyable it would be, I can't now recommend it enough.
A home away from home
[soliloquy id="8479″]
But the shining star throughout our trip has to be The Rou Estate itself. The perfect blend of ancient and modern, hotel and villa holiday, the estate has been sympathetically restored around the original fountain.
Nothing beat lazy afternoons  lounging around the main infinity pool, where the children made great friends with the other kids staying before evenings spent catching the last rays of sun before it dipped behind the mountains, then heading down to The Garden Taverna to sample local delicacies.
The estate proved the perfect mix of social and private: the communal pool and barbecue night were a big hit and a great chance for socialising, while private pools and sun terraces meant you could reconnect
as a family behind your villa gate whenever you wanted to.
The set-up also worked well for us as a couple, since, with the children safely tucked up, Trey and I could enjoy a glass of wine on our loungers in the evenings, taking in the views out to sea and listening to the busy crickets around us. It's no understatement when I tell you our week at The Rou Estate was, no contest, the best family holiday we've ever had.
We made family memories that week. And I know they're safely stored in everyone's memory bank. It's the place. It's the styling. It's the staff. It's the ambience. It's the happiest place we've ever been. And we travel a lot. Which is why there were tears all round when we left. And why we're already counting the days till we can return.
The Lowdown
Simpson Travel offers a one-week stay at Villa Muscari on The Rou Estate in Corfu from £749 per person, based on four sharing, in May 2016. Price includes seven nights' on a self-catering basis, return flights and car hire.
When she's not presenting Heart Breakfast or appearing on This Morning, Katy writes her award- winning blog at katyhill.com and tries to open her children's eyes to as much of the world as she can.
Want to find out more about the wonders of Greece, don't miss these amazing family-friendly resorts.