Sponsored Content
If you're still stuck on the idea that Greece is only for sunshine and islands, let Visit Greece introduce you to year-round family holidays in the north western region of Epirus. It's distinctly mainland, but with links to the gorgeous Ionian Islands, very beautiful in summer but equally endearing in winter – even the snow's lovely here – and it's largely off the tourist trail, so pleasantly unspoiled, uncrowded and ideal for kids.
To give you a taste of the region, Visit Greece have helpfully chosen a few fantastic family destinations, each very different but all with the same easy atmosphere and emphasis on activities which is exactly what you want when endless sunshine isn't available. So have a look at Ioannina, Preveza, Parga and Syvota and you may be tempted to see more of Greece, and not just in summer.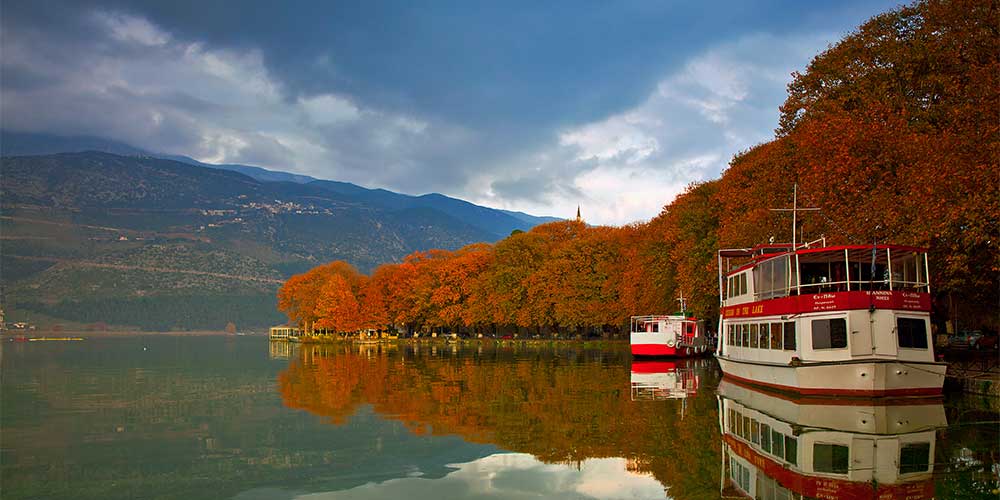 1/3

Ioannina
There's an expression used in the capital of Epirus, 'to live like a pasha in Ioannina', which simply means, living your best life. And you don't have to spend much time in this mesmerising city to slip into the way of doing just that. For a start it's designed around magnificent Pamvotida Lake so there's a natural sense of serenity, though not too serene that the waters aren't fun for boating, frosty shoreline hikes in winter and some spectacular spring and autumn colour displays. Even younger kids will take to exploring the city in seconds, it's filled with thrilling history, scattered all over with intriguing buildings, secret nooks and crannies and plenty to be amazed at on a minute by minute basis. The surrounding countryside is made for outdoor adventuring whether you're up for white-water rafting on the Voidomatis River or a spot of hiking in the Vikos National Park or just taking a drive, exploring local towns and villages and discovering a different side of Greece, that doesn't need sunshine or beaches to be completely compelling.
Ioannina family holiday highlights
Ioannina old town is actually a fortress – the oldest Byzantine fortress in Greece, no less – so to say it's fascinating is a bit of an understatement. It's also very walkable and you can pretty much let yourself be guided by must-sees like the Matei Hussein House and the Ottoman Mosque of Veli Pasha, the grand Stoa Louli Arcade and the mighty walls of the fortress itself.
Don't miss the wonderful Silversmithing Museum in the Castle of Ioannina. The space is stunning and learning about this ancient Epirote art and industry is interesting enough to engage even the most history-shy of kids.
Lake Pamvotida is a constant presence in Ioannina. Take advantage of warm summer weather to catch a cruise, see the mysterious 'nameless' island or just laze on the shore with the locals and gaze at the city from another perspective. It's also a favourite spot for long, winter treks in crisp (sometimes snowy) weather: tavernas on the banks are expert at serving up hearty Epirote dishes such as mouthwatering pies, local cheeses, frog legs and warming drinks to fuel chilly walkers.
If you feel like a bit of mystery, catch the little train in Ioannina and head for the Perama Cave. It's one of the loveliest in Europe, networked by 19 chambers with evocative names like the Hall of Legendary Palaces and Hall of the Cross. The cave covers over 14,500m² and astonishing stalactites and stalagmites form much of its eerie landscape. Tours last 45 minutes and the village of Perama is well worth a visit once you've done the cave.
Vikos National Park is a brilliantly untamed and exciting natural playground where kids can try anything from wild swimming to white-water rafting on the Voidomatis River. Teens will probably be more than up for walking the dramatic Vikos Gorge – or at least some of it: the entire hike takes seven hours, and it's particularly rewarding in late summer and autumn.
Year round UK direct flights to Preveza which is 1 hour and 30 minutes drive to Ioannina. Or you can fly direct to Thessaloniki year round, and Ioannina is about two hours, 30 minutes drive west.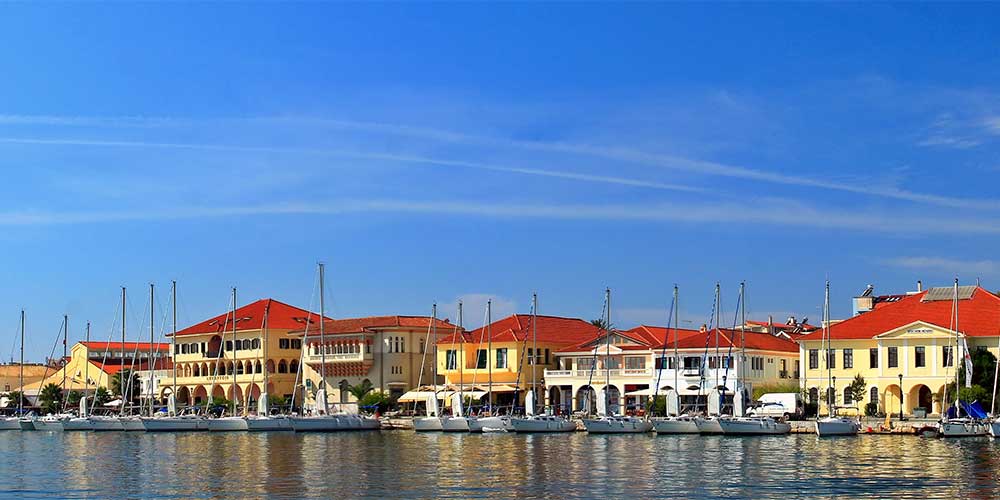 2/3

Preveza
Preveza was once seen as a gateway to the Ionian Islands, but since more and more families discover the potential of Greece for year round holidays, this interesting city by the sea is fast becoming a go-to in its own right. A mix of historic and modern means Preveza engages curious older kids and just as easily entertains fun-seeking younger ones. Plus, the surrounding countryside is a natural for outdoor activities which balance well with more urban adventures.
Preveza family holiday highlights
Preveza has three castles, start with Agios Andreas, then head to Agios Georgios and finish up with Pantokratoras – try to time your last visit for sunset, when views over the Ionian are some of the best in the city.
Another great monument for big views is the clocktower of the Agios Haralambos Cathedral, visitors can admire exceptional frescoes that cover the walls and the ceiling.
Leave plenty of time to explore the historic port, it's where to see some of the city's finest traditional architecture and also a heartland for friendly local cafés and intriguing taverna. Mostly pedestrianised it's easy to walk around with kids and always plenty lively, any time of year.
The seaside promenade is another must-do for fabulous views, island spotting and historic buildings like the Old Marketplace, the impressive Justice Courts and Preveza Town Hall.
Head out of town for the day and spend some time exploring the landscape of gorges, cliffs, pools and falls around the Acherodas River. If you're feeling energetic do the river trek which takes in several mythical landmarks including a remarkable high-walled gulley where the water rushes so dramatically it was known as The Gate to the Underworld in ancient times.
Visit the village of Glyki in spring, summer or autumn and you can walk and swim your way through the Acherontas Narrows. Admittedly not an activity for younger kids, but an exhilarating experience for teens and a whole new take on the notion of wild swimming.
[soliloquy id="48033″]
3/3

Parga & Syvota
If you're in search of a very laid back and friendly riviera, look to the north west coast of Epirus and you'll find exactly that in the colourful seaside town of Parga and its near neighbour Syvota. Both are beachy and beautiful, but the livelier reputation lies with Parga; while Syvota is often known as one of the most exotic spots in Greece, and a little time spent discovering its coves, secret inlets and lush forests soon reveals why.
Parga & Syvota family holiday highlights
Parga is the mainland equivalent of the brightly painted harbour towns you usually only find on Greek islands. Dropping down from an imposing Venetian Castle to the clear waters of its sheltered bay, it's an enchantment at first sight. The old town is all cobbled streets, pretty houses and flower-filled gardens and a delight to stroll around with kids. And the promenade in the evening is perfectly seaside, right down to the cafés and restaurants, little shops and lights on the water.
Head to Krioneri Beach and bold types can swim across to the islet of Panagia. Piso Krioneri is the family-friendly town beach, Lichnos Beach is famous for its sea caves and if you want silky fine sand, Sarakiniko Beach is the one to choose.
Make time to explore the Venetian Castle – it has the best views in town. Then take kids to find out all about the local crop at the Olive Oil Museum. If you're really keen, the museum also holds cooking classes and evening tasting events.
Tear yourself away from Parga to visit some of the surrounding villages: Margariti is where to see Kalodikiou Marsh and its waterlilies – at the right time of year; Anthousa is worth a look for its amazingly tall waterfall and the restored Loukas watermill, and Aghia has views over the Ionian Islands to take your breath away. There's also a train which tours round the local villages and takes in the Ali Pasha Castle.
Syvota is known as the Ionian Fjord with a paradise of blues, whites and greens that you'll probably find yourself drawn back to more than once on holiday. It's the ideal place to hire a boat and sail round the little islets. Alternatively you could pick a fabulous stretch of sand like Bella Vraka and just do nothing much apart from swim and enjoy the peace.
Other Syvota beaches to tempt you are Mikri and Megali Ammos, both of which have good water sports; Zavia Beach which is famous for its turquoise waters and lush, green setting; and white sand Gallikos Molos in the north of Syvota.
Ready to plan your next family holiday? Visit Greece has insider information on everything from accommodation to activities, all over Greece